Classic and delicious gluten free gingerbread cookies that make perfect gingerbread men, snowflakes, and more! This molasses and ginger spiced holiday cookie is sure to please your friends and family.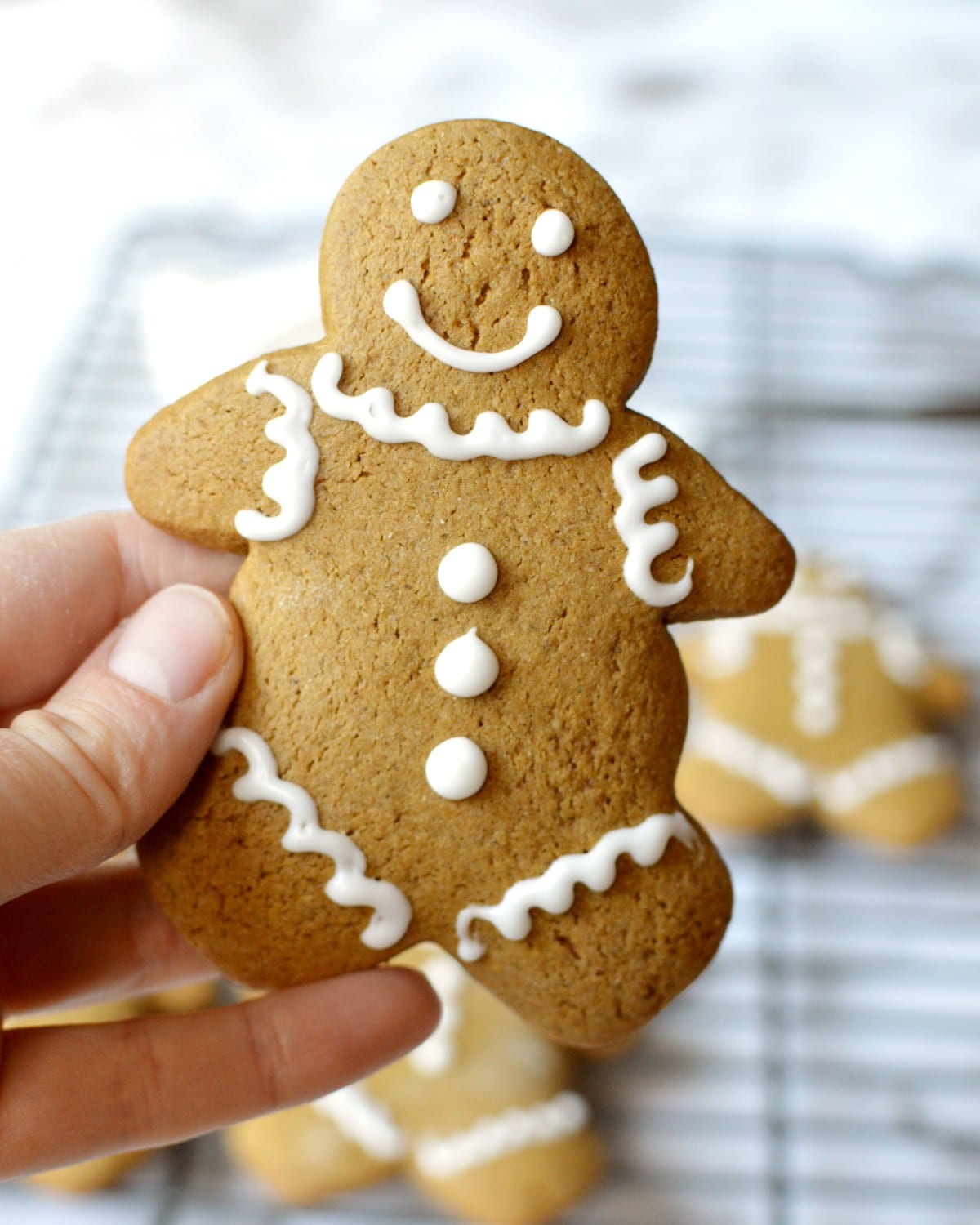 What's Christmas without adorable gingerbread men smiling back at you? I love that spiced ginger and molasses cookie flavor but more than that I love how wonderful it makes my house smell. Plus they're adorable! And adorable things make me happy especially when you can add sprinkles to them.
Disclosure: This post contains affiliate links. In other words, if you click a link and purchase something I will receive a commission at no cost to you. I only recommend products I use and enjoy myself.
The Essential Ingredients
The full recipe is below but here are a few of the ingredients that are essential to these gluten-free gingerbread cookies.
Gluten free flour - I recommend Bob's Red Mill 1:1 All Purpose Flour. It has a delicious taste and texture that I find similar to regular flour. I have not tested this recipe with any other gluten free flour blend so I can't attest how it will come out but I do find King Arthur's brand to be the most similar to Bob's Red Mill.
Molasses - Don't trust a gingerbread cookie recipe without molasses! This along with ginger is what gives it that quintessential warm and spiced flavor you know and love.
Spices - Namely ground ginger but also cinnamon, cloves, and allspice!
Brown sugar - To sweeten them up and for additional molasses
Orange zest - Citrus zest pairs well with the spices in these cookies.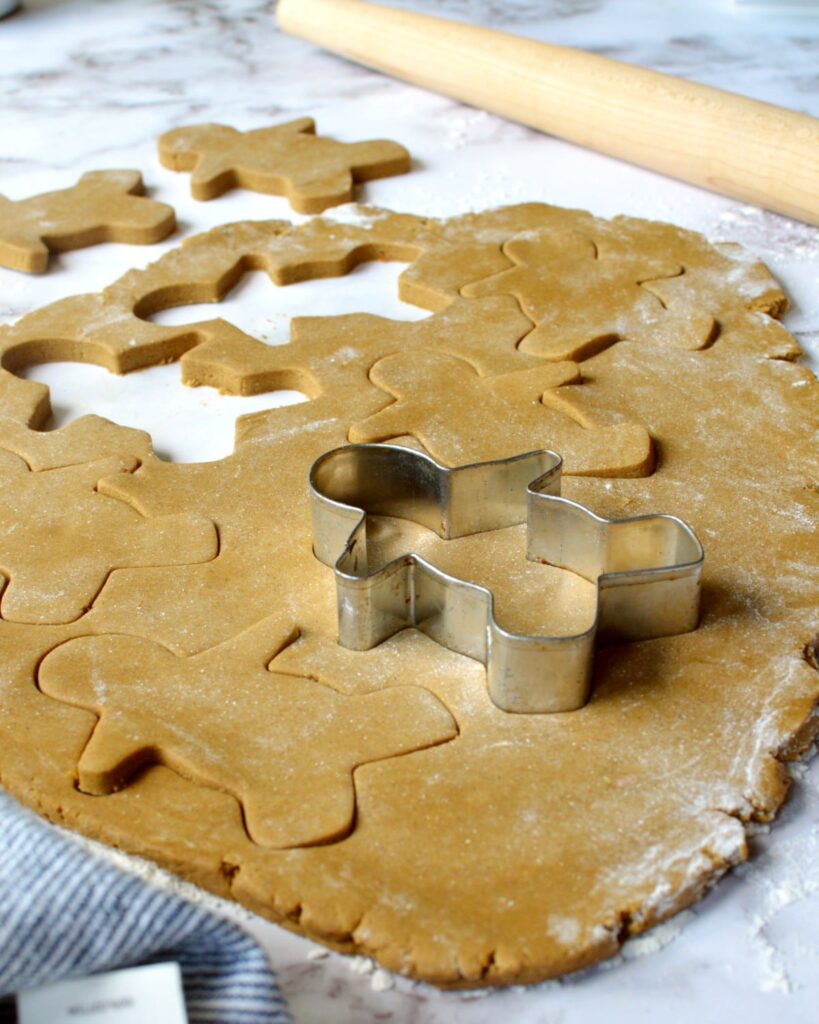 Special Equipment
Because this is a roll-out cookie dough there are a few kitchen utensils you will need.
Rolling pin - I personally like to use a wooden French rolling pin with no handles. I find it easier and more effective than a regular rolling pin.
Cookie cutters - Pull out your favorite cookie cutters! I like to make gingerbread men, snowflakes, and trees.
Stand mixer - A hand mixer will work too if you don't have a stand mixer but a stand mixer is easier.
Parchment paper or pastry bag - Pastry bags are a pain to clean so I like to make my own with parchment paper. It may seem tricky at first but if you do it enough it becomes second nature. Here is a simple video tutorial I found on youtube.
How to make gingerbread cookies
Follow the exact recipe below but here is a breakdown of what you will need to do.
Make the dough. Cream the butter, sugar, orange zest, and molasses together then add the egg and vanilla. Finally add all the dry ingredients and mix until it forms a cookie dough. The dough will be sticky but don't worry about that.
Chill the dough. Use a spatula to scrape the sticky dough directly onto a large piece of saran wrap. Wrap it up and flatten it into a rectangle. Refrigerate for at least 4 hours before rolling.
Roll and cut the dough. Flour your work surface and the top of the dough. Roll the cookie dough out until it's ¼ inch thick. Cut out your gingerbread men, snowflakes, or trees.
Bake the dough. Bake the cookies for 10 minutes and let them set up before moving to a cooling rack.
Decorate - You can make a simple powdered sugar icing with powdered sugar and a small amount of water or you can make royal icing. Royal icing will harden and won't smudge easily once dry. This is the recipe by Sweet Sugar Belle that I always use. It makes a lot so half or quarter the recipe if you want to.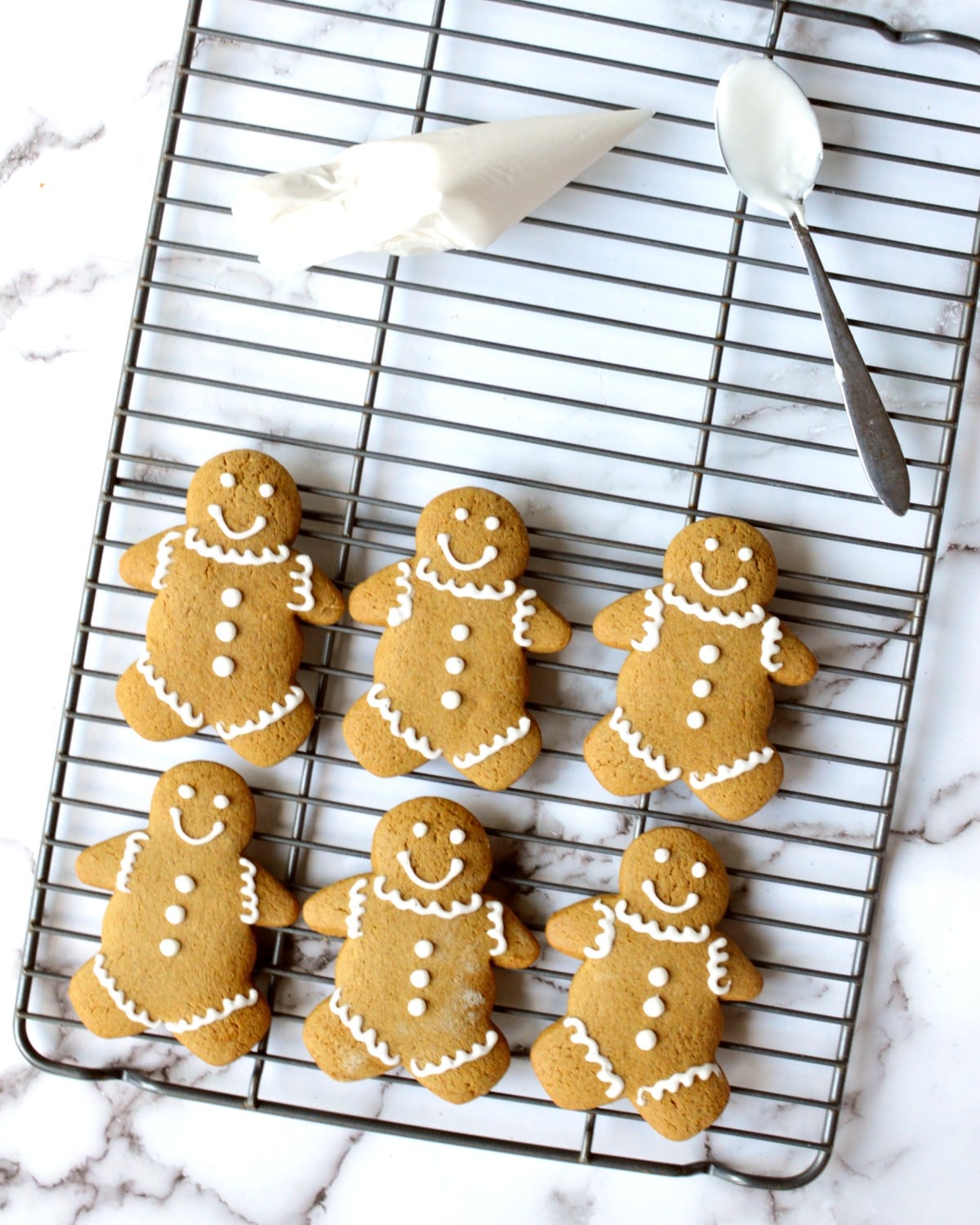 Tips & Tricks
You can cut the cookies out ahead of time. Once the cookies are cut into shapes you can place them on a lined sheet pan and freeze for later. This way you aren't baking them a week early or having to make them right before a party. Once the cookies are frozen saran wrap stacks in sets of 4 or 5. When ready to bake pull them out of the freezer and bake as directed. I do this all the time with cut-out cookies.
It's easiest to work with cold dough. If you find the dough is starting to get hard to work with because it's too soft place it in the fridge for 20 minutes to let it harden up again.
Don't make your icing too thin. Whether you make royal icing or a simple powdered sugar icing don't make it too thin! If you do it won't hold it's shape when piped.
Chill the dough for 4 hours if possible. You don't have to chill the dough for exactly 4 hours BUT it's the perfect consistency to work with. It's not so stiff it cracks (which is fine but harder to work with) and it's not too soft either.
Other Gluten Free Cookie Recipes You Will Love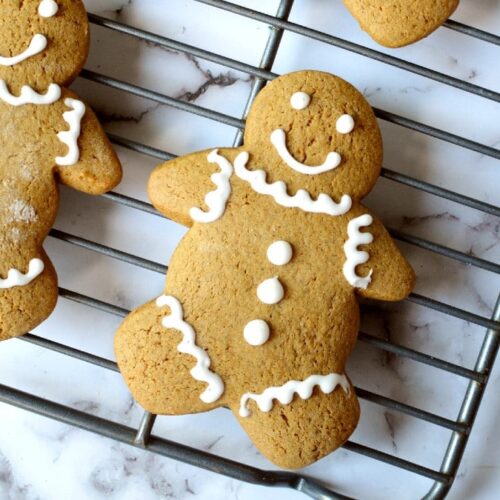 Gluten Free Gingerbread Cookies
Classic and delicious gluten free gingerbread cookies that make perfect gingerbread men, snowflakes, and more! This molasses and ginger spiced holiday cookie is sure to please your friends and family.
Equipment
Rolling Pin

Cookie cutters

Stand mixer

Pastry bag or parchment paper piping bag*
Ingredients
8

tbsp

unsalted butter, room temperature

(1 stick)

½

cup

brown sugar

¼

cup

molasses

½

orange, zested

1

large egg

½

t.

vanilla extract

½

t.

baking soda

¼

t.

baking powder

1 ½

t.

ground ginger

½

t.

ground cinnamon

¼

t.

ground cloves

¼

t.

ground allspice

Royal icing for decorating*
Instructions
In a stand mixer with the paddle attachment cream butter, brown sugar, molasses, and orange zest for 3 minutes on medium speed.

While the butter and sugar mixes measure all the dry ingredients into a medium bowl and stir together.

Scrape the sides of the bowl with the butter and then add the egg and vanilla. Beat on medium speed until combined. The butter may look curdled and that is fine.

Add the dry ingredients to the mixer and on low speed beat it together. Increase speed to medium just until a cookie dough forms.

Using a spatula scrape the sticky ball of dough directly onto a large piece of saran wrap. Wrap it in the saran wrap and flatten into a rectangle disk. Chill for at least 4 hours or overnight. Do not skip this step.

Once the dough is chilled, preheat the oven to 350 degrees Fahrenheit. Line two sheet pans with a silicone baking mat or parchment paper.

Flour a work surface and unwrap the chilled dough and place it in the center. Sprinkle with flour and use a rolling pin to roll out the dough ¼ inch thick. Place 8 gingerbread men spaced out on a sheet pan and bake for 8 to 10 minutes. Repeat until all the dough is gone.

Allow cookies to set up for 10 minutes before transferring to a cooling rack.

Once cookies are completely cool decorate with royal icing.
Notes
*See equipment needed above to read about parchment paper cones
*This is the royal icing recipe I've always used.