Eating your greens doesn't have to be a chore! This spinach arugula salad is delicious with pears, blueberries, feta, and a zippy lemon vinaigrette.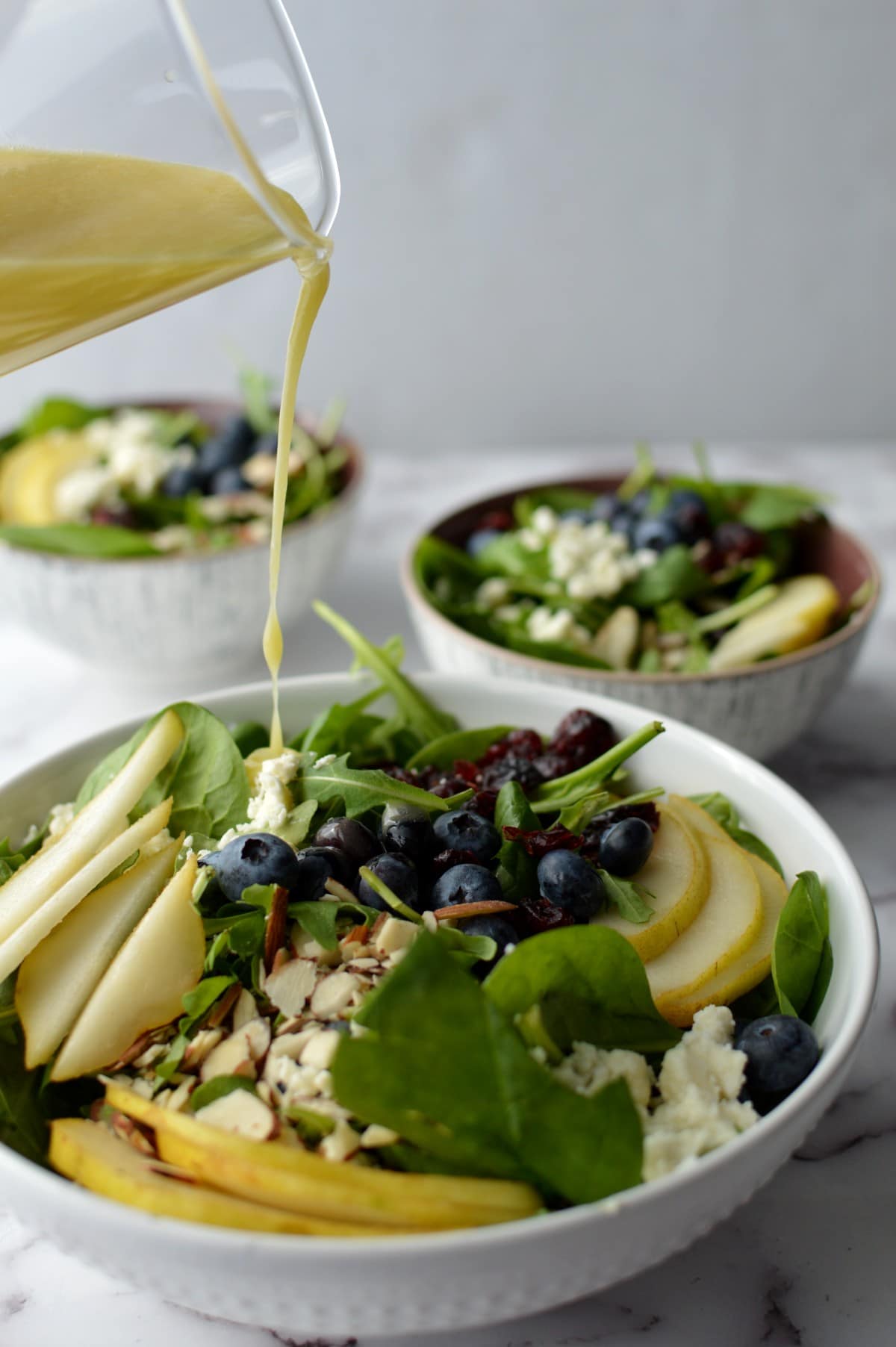 Easy Spinach Arugula Salad
I love peppery arugula (and pepper in general!) but it can be a bit much for some people. A great way to tone it down some is to cut it with another green like spinach.
This easy spinach and arugula salad has all the things! Peppery arugula, sweet fruit, tangy lemon, creamy cheese, and crunchy nuts of course. It really is the salad of my dreams. And it's full of healthy ingredients too! Read on to see just how simple it is to make.
Ingredients
For the Dressing:
Olive oil - Technically you don't have to use olive oil but I love its flavor in salad dressings. You can use almost any neutral flavored oil you like.
Lemon - I like to add equal parts lemon juice and olive oil for this recipe because I prefer the dressing to be a bit zippy and slightly tart. It pairs so well with the sweet fruit and peppery arugula.
Dijon mustard - I will always sing Dijon mustard's praises. It has a strong flavor so you only need a small amount but it tastes amazing in salad dressings, on chicken, or in slaw.
Peach jam - I love to use jam to sweeten up salad dressings. It gives you a bunch of options based on what you're looking for. You can buy sugar-free jam for a low-carb or keto-friendly option. I prefer to buy all-fruit jam or jam that has no added sugar in it. It's still plenty sweet but a slightly healthier alternative.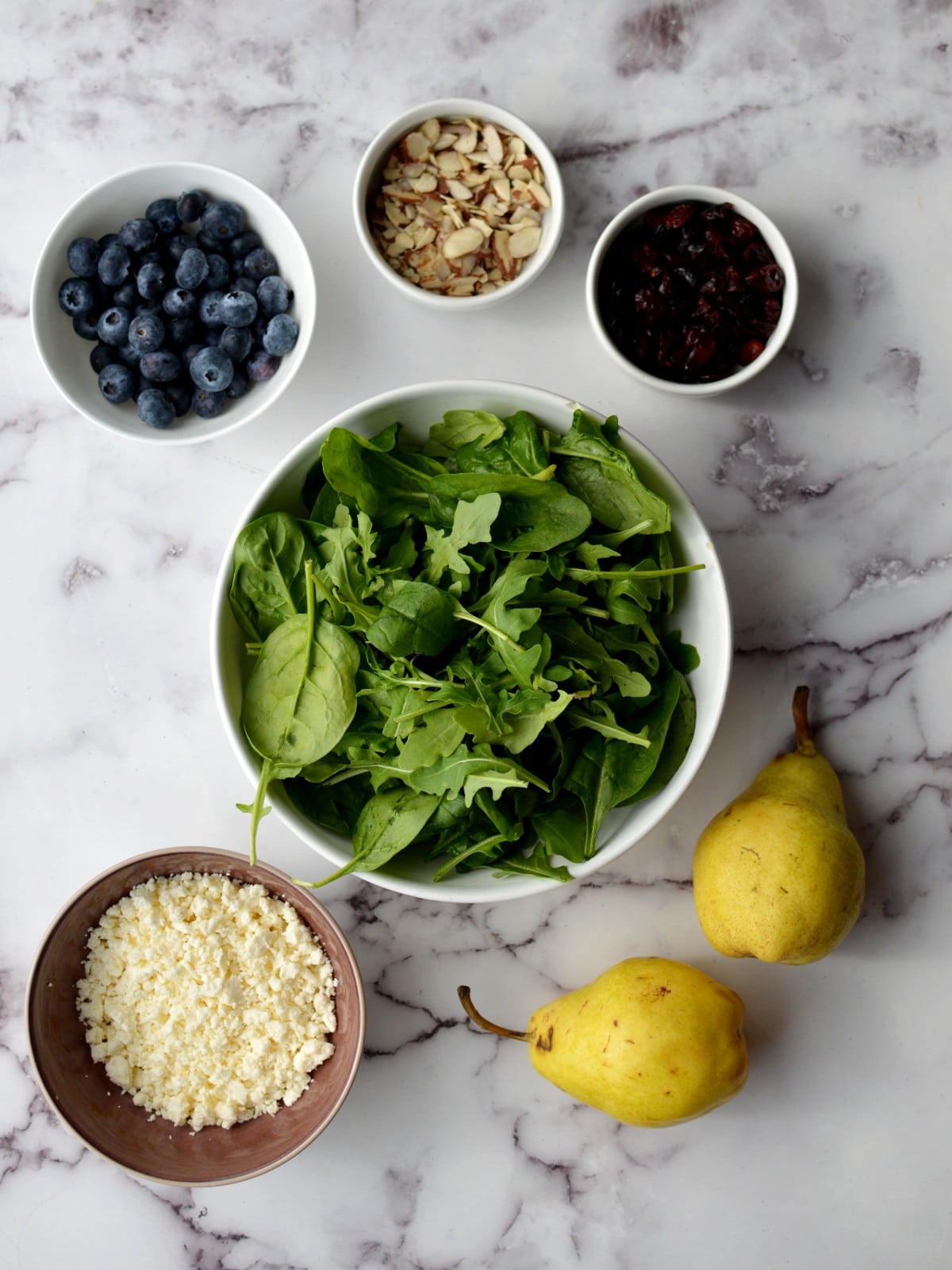 For the Salad:
Spinach & arugula - Arugula has a peppery bite to it and thus tastes amazing with a zippy lemon vinaigrette. Both are incredibly healthy for you and packed full of nutrients.
Blueberries & Pears - I love the combo of sweet sliced pears and blueberries. Make sure you pick ripe but not mushy pears.
Feta cheese - You could also use goat cheese here but feta is a little bit more mild than goat cheese with a nice texture.
Almonds or walnuts - Either taste delicious! You could also use chopped pecans or shelled pistachios.
How to Make the Lemon Vinaigrette
For the lemon vinaigrette combine all the ingredients and use a stick blender to blend it together. I love my stick blender but I especially love it for salad dressings. You will be amazed the difference between just whisking it up and blending it. The lemon vinaigrette becomes thick and creamy but even better it stays emulsified for days.
If you don't have a stick blender a small food processor will work too.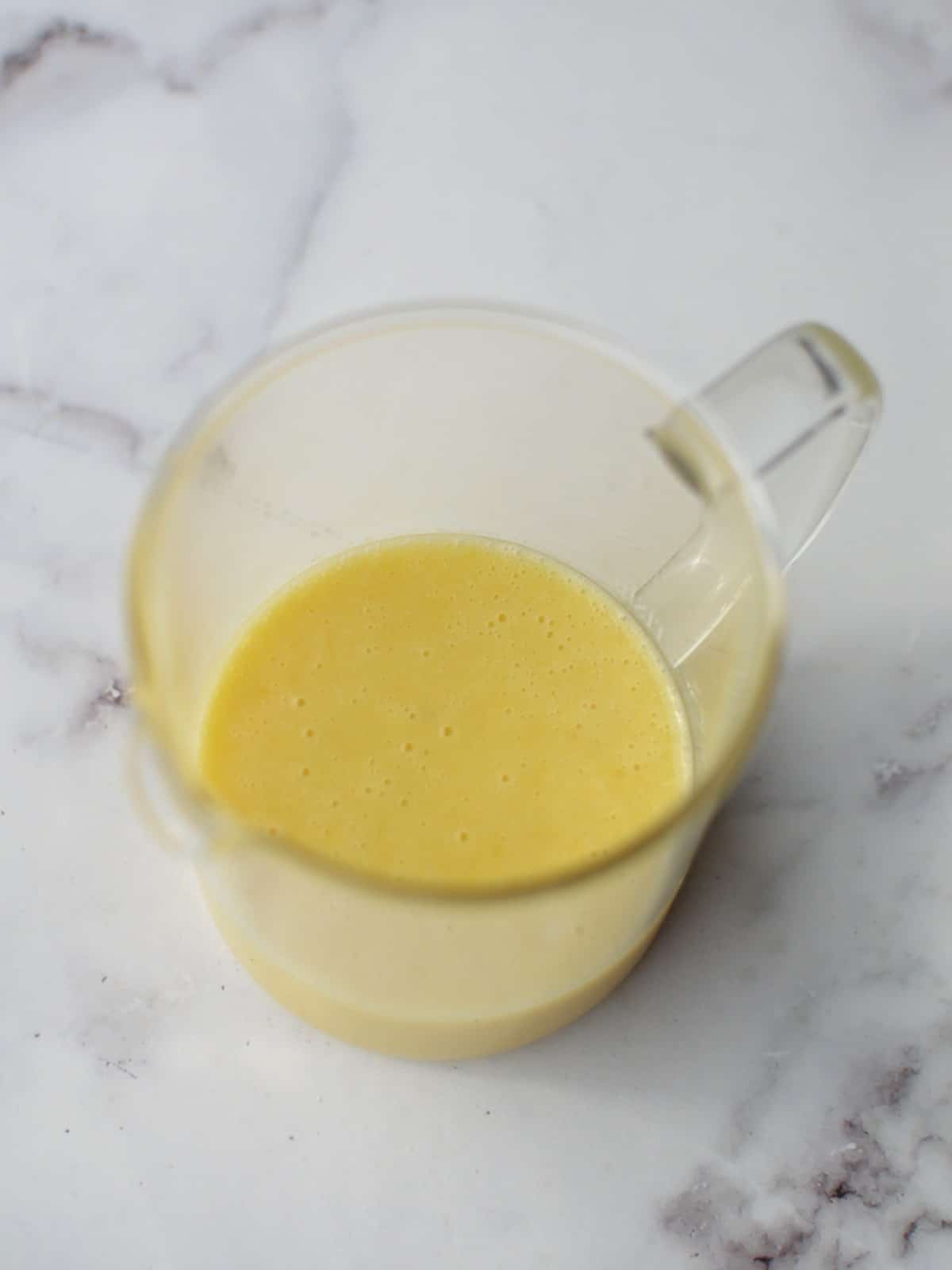 How to Make this Simple Spinach Salad
Once you've made the lemon vinaigrette all that's left is slicing the pears and assembling the salad. You can make this into 4 small salads or 2 large ones.
Divide the greens into bowls. Divide the toppings between the bowls. Add lemon dressing and enjoy!
I gave amounts for the toppings but you can add as much or little as you want. If you love dried cranberries but hate almonds than add lots of cranberries and use walnuts instead.
That's part of the beauty of a salad. It's easy to make and totally customizable.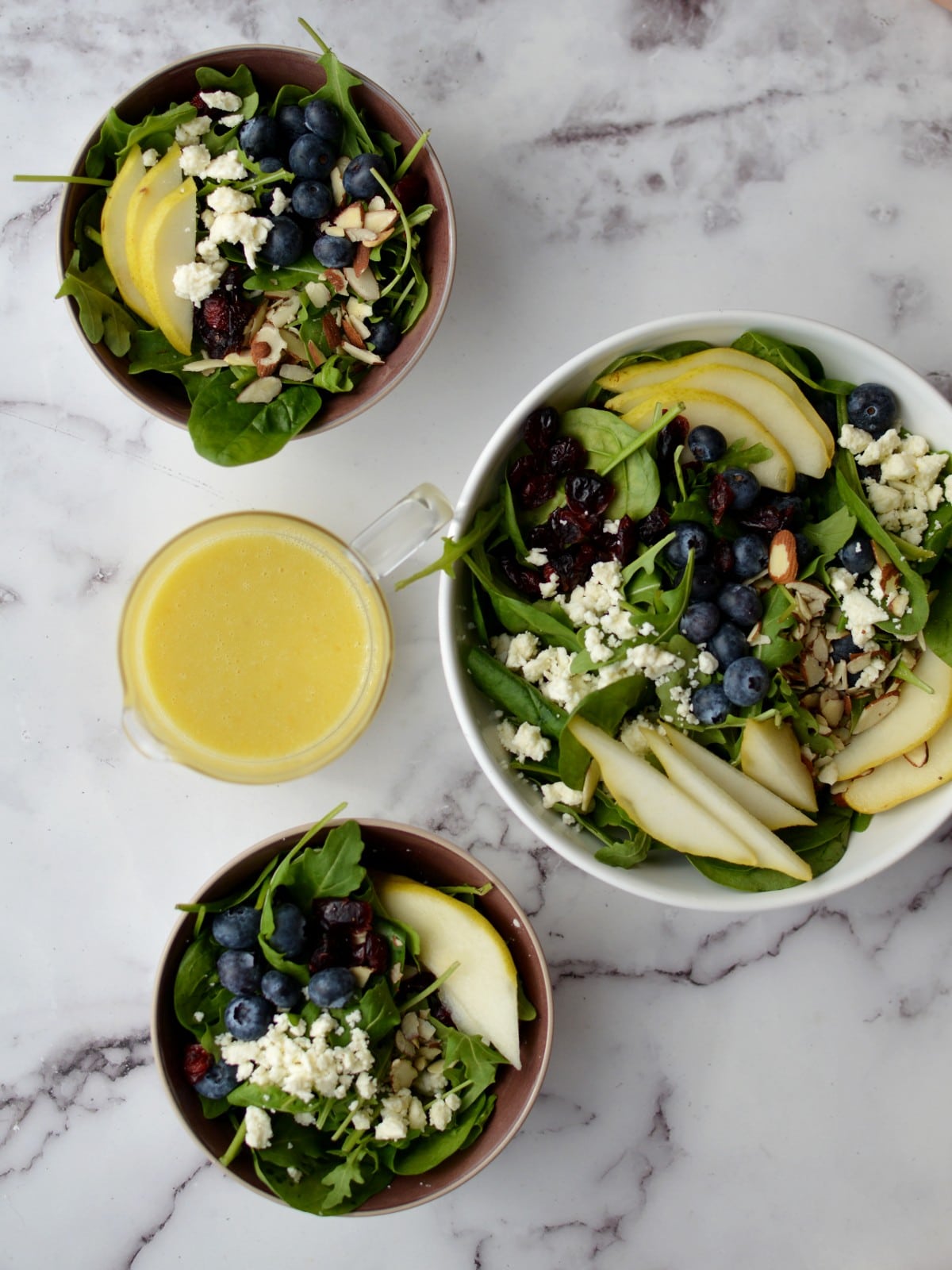 Substitutions & Variations
Spinach arugula avocado salad - Make the salad as directed but add diced avocado to it. Make sure the avocado is firm but ripe.
Spinach arugula salad with goat cheese - Use goat cheese in place of the feta cheese.
Spinach arugula apple salad - In place of pears use thinly sliced or small diced apples. Use a sweeter variety like Fuji, Gala, or Honeycrisp.
Spinach arugula strawberry salad - Use cut up strawberries in place of pears and chopped pecans in place of almonds.
Arugula salad with strawberries - Leave out the spinach. Use strawberries in place of pears and pecans in place of almonds.
Recipe Tips
I love a good pucker but if you prefer your salad dressing to be a little less lemony you can start with 3 tablespoons of lemon juice. If it needs more go ahead and add the last tablespoon.
Be careful not to over-dress the salad. You can always add more dressing but you can't take if off!
This arugula salad with feta is best made fresh but if you want to prep it ahead of time you can. Prep the salad dressing and then assemble the salad and cover. Once ready to eat, dress the salad and enjoy immediately. Do not dress the salad ahead of time or the greens will wilt.
Add as much of the toppings as you like. The measurements are truly just a guide. If you like a lot of cheese then for the love of all things delicious add some more cheese! Or nuts, or cranberries, or greens …. you get the picture.
Other Healthy Recipes You Might Love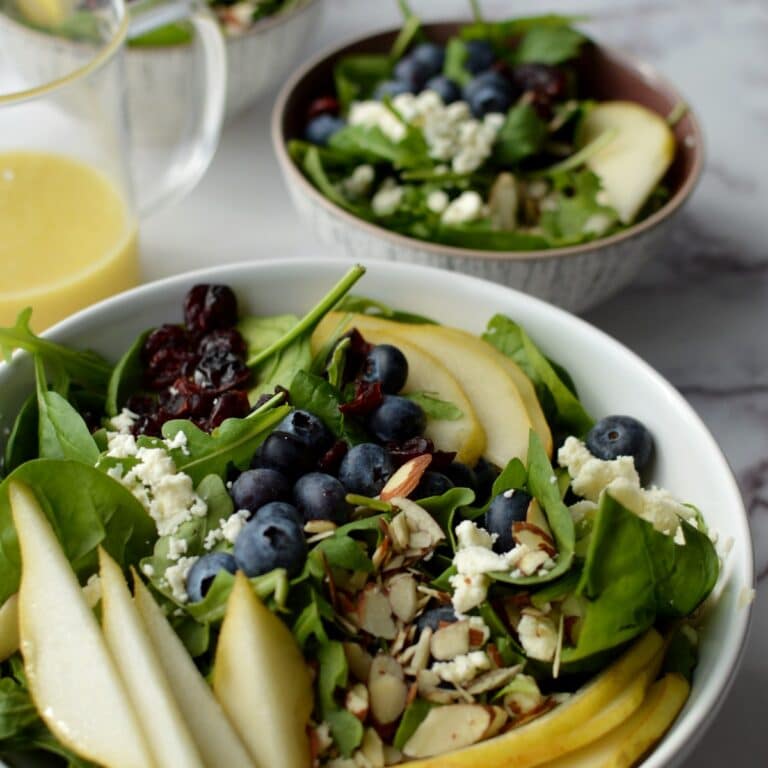 Spinach Arugula Salad with Lemon Vinaigrette
Eating your greens doesn't have to be a chore! This spinach arugula salad is delicious with pears, blueberries, feta, and a zippy lemon vinaigrette.
Equipment
Stick blender or small food processor (optional but recommended)
Ingredients
For the lemon vinaigrette:
¼

cup

olive oil

¼

cup

lemon juice, fresh squeezed

2

teaspoons

dijon mustard

¼

cup

peach jam
For the spinach arugula salad:
5

oz.

baby spinach

5

oz.

arugula

1

cup

blueberries

½

cup

dried cranberries

or dried cherries

4

oz.

crumbled feta cheese

⅔

cup

sliced almonds or chopped walnuts

2

pears, sliced
Instructions
For the lemon vinaigrette:
Combine the olive oil, lemon juice, peach jam, dijon mustard, and a pinch of kosher salt. Use a stick blender to blend until thick and creamy. Set aside.

If you don't have a stick blender you can also use a mini food processor in its place. If you don't have either you can just whisk the ingredients together really well but the dressing won't be as thick or creamy.
Assemble the salads:
Divide the ingredients between 4 medium sized salad bowls. Top with salad dressing and enjoy!
Nutrition
Calories:
498
kcal
Carbohydrates:
55
g
Protein:
11
g
Fat:
29
g
Saturated Fat:
7
g
Polyunsaturated Fat:
4
g
Monounsaturated Fat:
17
g
Trans Fat:
1
g
Cholesterol:
25
mg
Sodium:
392
mg
Potassium:
649
mg
Fiber:
9
g
Sugar:
36
g
Vitamin A:
4331
IU
Vitamin C:
32
mg
Calcium:
300
mg
Iron:
3
mg