This quick and fresh spinach pasta is coated in garlic butter and tossed with white beans, golden raisins, and parmesan. It's light, delicious, and easy to make!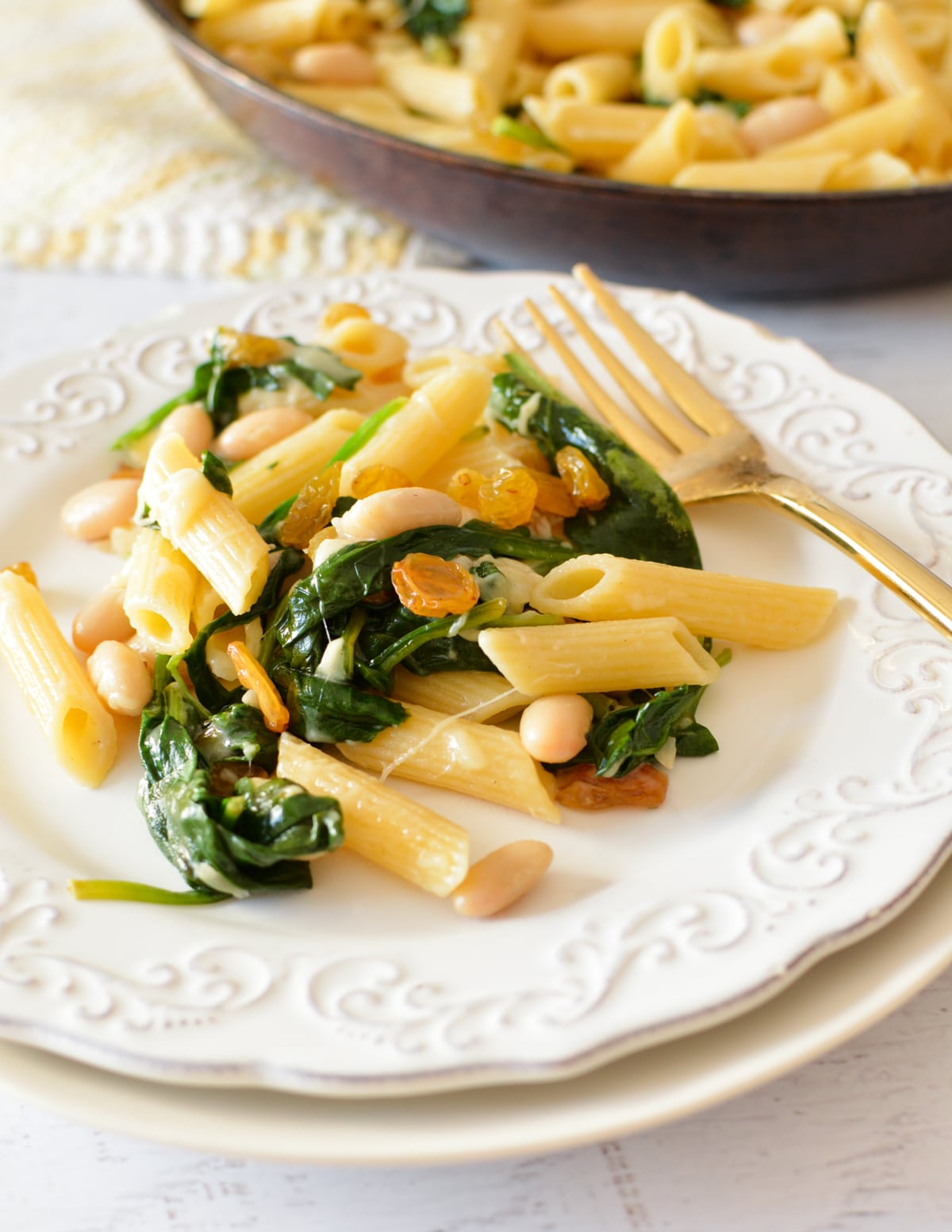 Why you'll love it
This spinach pasta recipe is simple, light, and delicious! It's not complicated or heavy, but it's still cheesy and decadent. The combination of earthy spinach, sweet golden raisins, and salty parm is spot on.
It's perfect for a busy weeknight or a lazy Saturday! I like to serve it with a squeeze of fresh lemon juice and a sprinkle of golden raisins. You can't have too many in this dish. That salty sweet flavor is too good.
Key Ingredients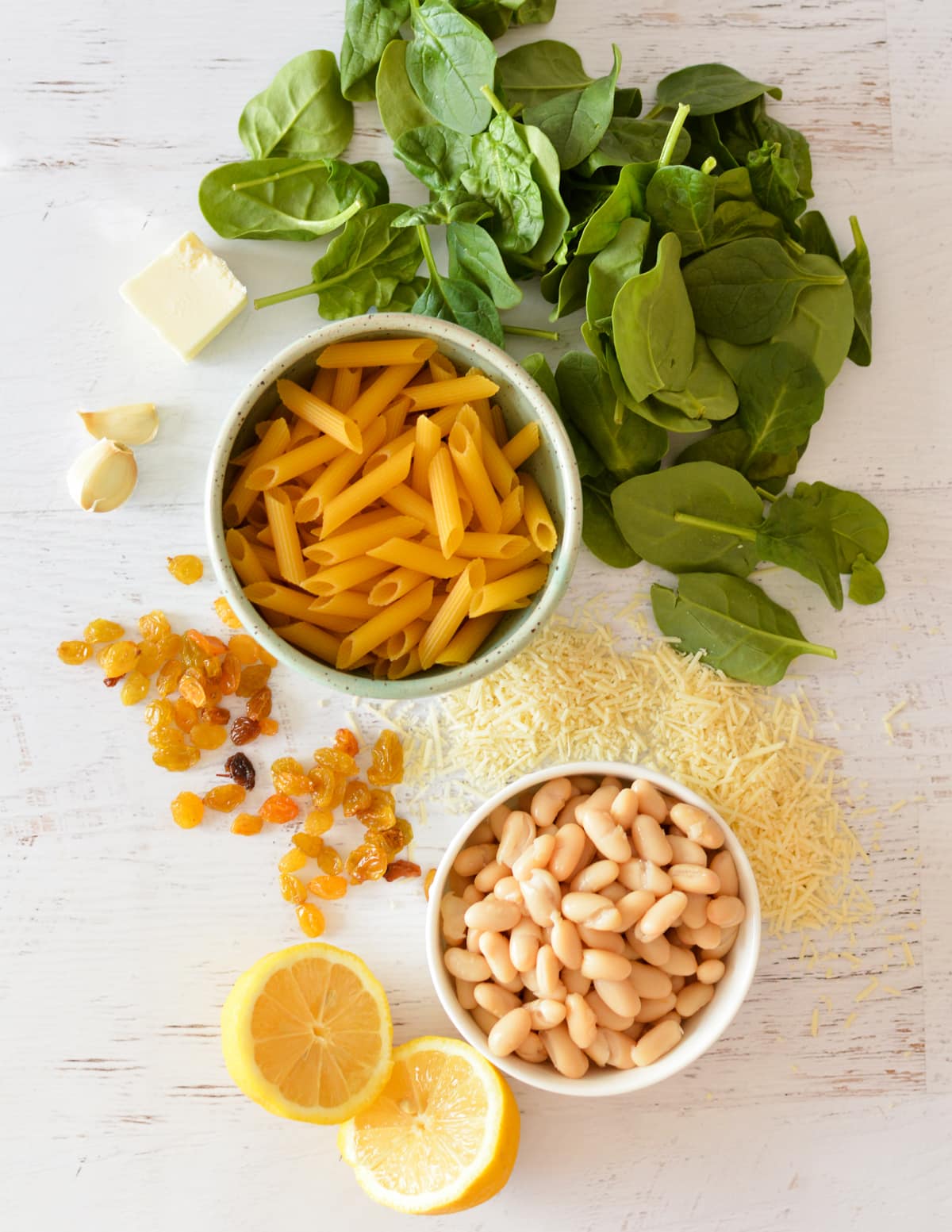 Penne pasta - The size and shape of penne works great in this dish. You can use any shape of pasta you like though. Spaghetti or fusilli are good options.
Butter & garlic - Add depth of flavor to the overall dish. Use unsalted butter so the pasta isn't too salty.
Pasta water - Don't forget to reserve a half cup of pasta water when you cook it. The starchy water adds flavor and cooks the spinach.
Lemon juice - Lemon juice really makes this pasta shine! It's bright, fresh, and pairs so well with the salty parm and sweet raisins. Don't use bottled lemon juice! Fresh lemon juice is WAY better.
Golden raisins - Golden raisins are much sweeter than their darker brown cousins. I'm not a huge raisin fan, but I LOVE golden raisins. Don't omit them from the pasta! It's a crucial element of this dish.
Parmesan - Shaved or shredded works great! No need to be stingy here. Use a full ¾ cup for the best results.
White beans - For plant-based protein and a tender, nutty bite.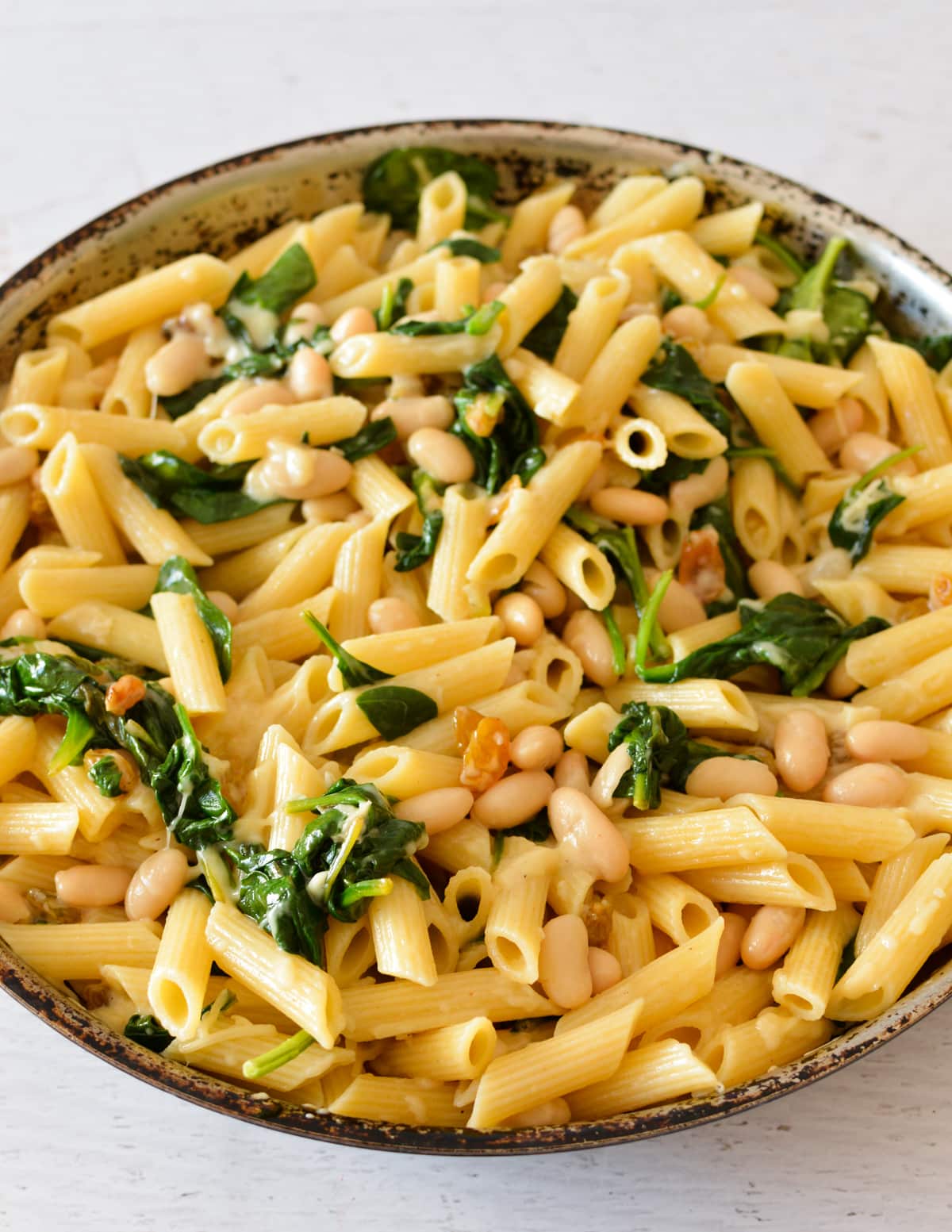 How to make spinach pasta
First, boil your pasta: This is the most time consuming part, and it doesn't take long. Don't forget to reserve ½ cup of cooking water from the pasta. Boil your pasta until it's al dente.
Sauté butter & garlic - Melt the butter in a large skillet over medium heat, then add the garlic. Stir and cook for 30 seconds.
Add pasta water, lemon, & spinach - Add the pasta water and lemon juice and let cook for 30 seconds. Add the spinach and kosher salt, then stir and cook until it's wilted.
Stir in cooked pasta - Add the cooked pasta to the skillet and stir to combine the spinach. Then, add the white beans, raisins, and parmesan. Stir well until all the cheese is melted and thoroughly combined.
Serve - Serve with a squeeze of fresh lemon juice!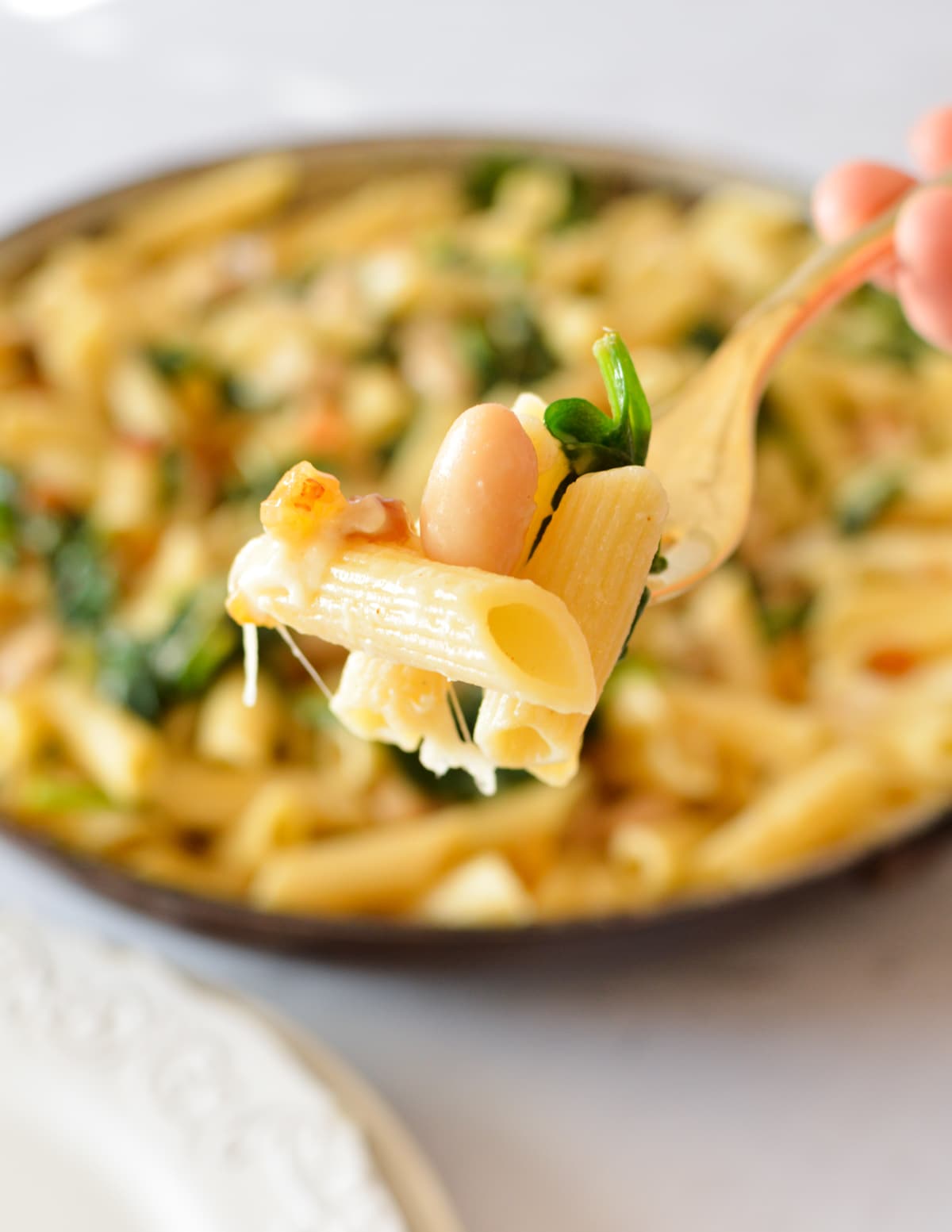 Variations
Pasta - Feel free to swap regular pasta with a gluten-free alternative. If you're looking for a high-protein option, Banza chickpea pasta is one of our faves. It is a tad thicker and denser than regular pasta.
Spinach - Swap the spinach with Lacinato kale or swiss chard if you like. We grow swiss chard so sometimes I will swap it in instead.
Garlic - The garlic in this pasta recipe is subtle. For a stronger garlic flavor, up the amount to three or four cloves.
Recipe Tips
Don't burn the garlic. The skillet should be hot, but not scorching. If the pan is too hot, the garlic will burn instead of getting fragrant.
Don't overcook the pasta. It should have a slight bite to it, so it doesn't overcook in the skillet. I took mine to a smidge past al dente before I drained it.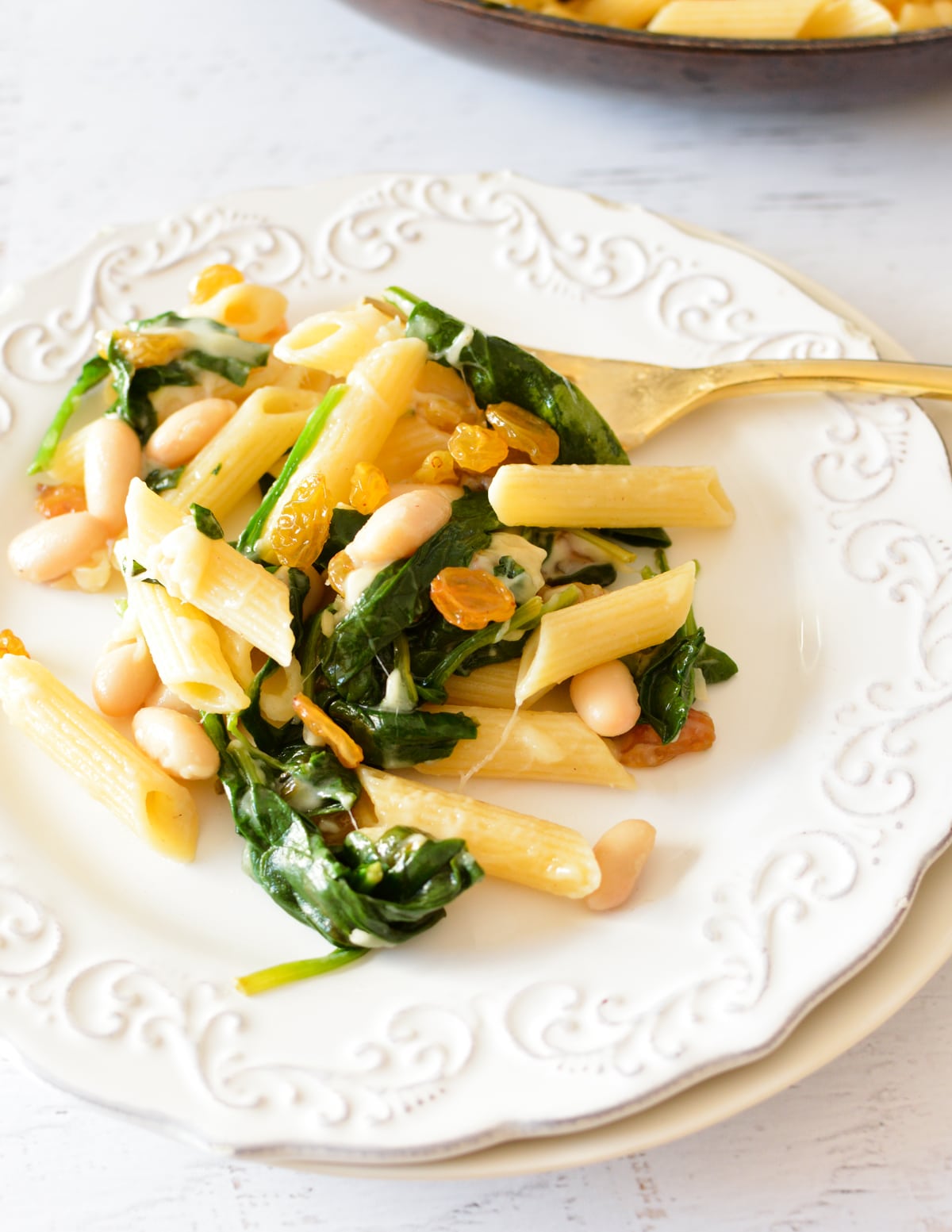 Storing Tips
Store leftover pasta with spinach in an airtight container in the refrigerator for up to 4 days.
Reheat in the microwave in 20-second increments until hot throughout.
FAQs
Quick Dinner Recipes