Here's an updated list of 75+ food quotes for the foodies in your life! These cooking quotes are funny, inspiring, and perfect for Pinterest or Instagram.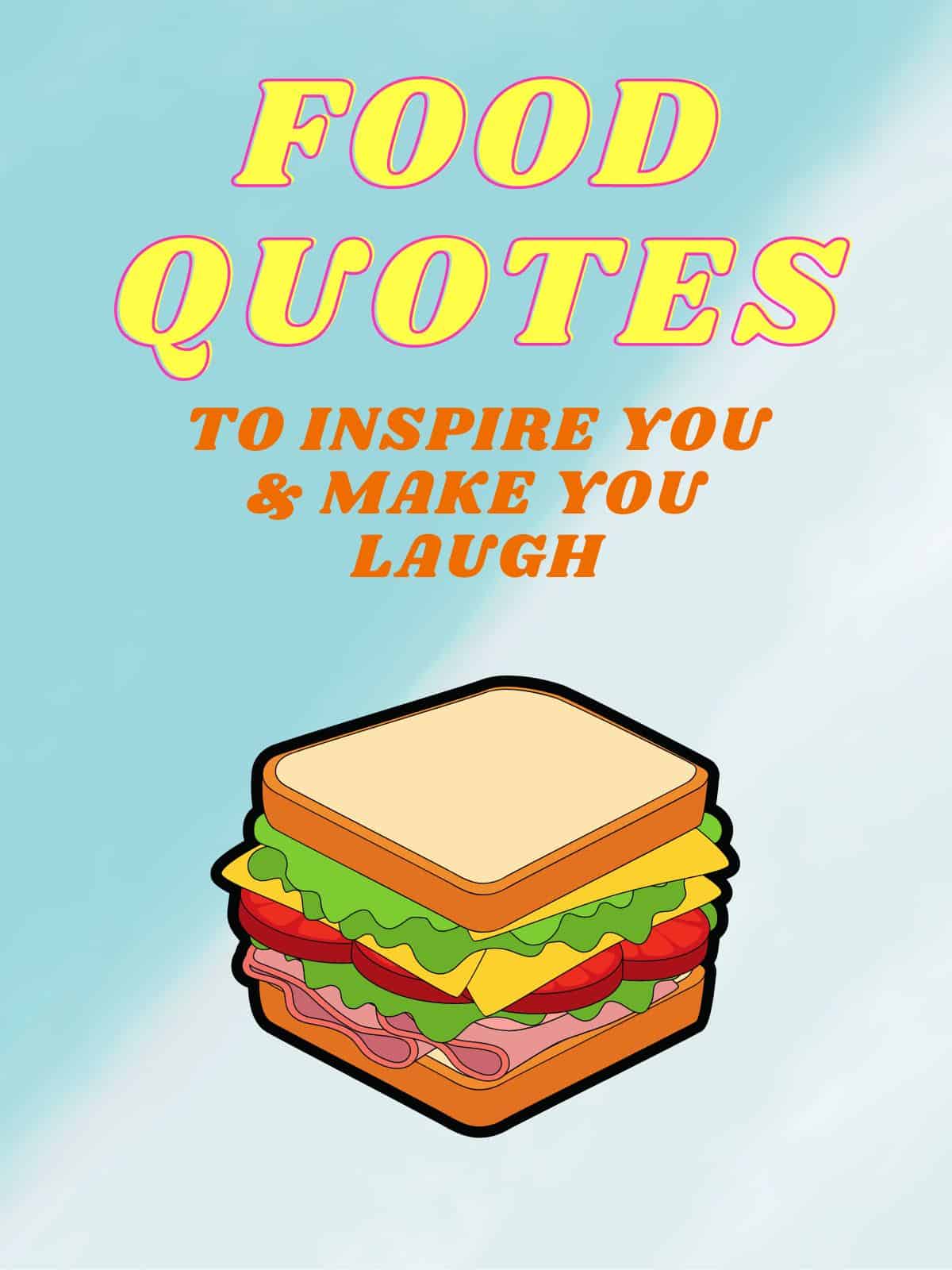 You can find a food quote for everyone in this list. There's quotes from chefs, writers, celebrities, and of course, Ron Swanson.
I've grouped the food quotes into four groups: funny, inspiring, food captions, and celebrity quotes. Some of them belong in multiple groups so I did my best to divide them correctly.
Some of these cooking quotes made me chuckle out loud.
Funny Food Quotes
Thank you, horseradish, for being neither a radish nor a horse. What you are is a liar food. - Jimmy Fallon
Vegetables are a must on a diet. I suggest carrot cake, zucchini bread, and pumpkin pie. – Jim Davis
Skinny people are easier to kidnap. Stay safe, eat cake.
Exercise? I thought you said extra fries.
I think my soulmate might be carbs.
I can't turn water into wine, but I can turn pizza into breakfast.
You can't make everyone happy. You're not pizza.
I grill, therefore I am. - Alton Brown
When we put vegetables up for the winter, we use jars, but we call it canning. I find that jarring. And uncanny. - Greg Tamblyn
Raisin cookies that look like chocolate chip cookies are the reason I have trust issues.
Who was the first person to look at a cow and say, "I think I'll squeeze those dangly things here and drink whatever comes out?"
I don't eat lobsters, shrimp, or crawfish because I don't eat anything that looks like I should step on it.
- George Carlin
The only clubs I'm interested in are sandwiches.
One day. I'm gonna make the onions cry.
Ways to my heart: Buy me food, Make me food, Be food.
The trouble with eating Italian food is that five or six days later, you're hungry again. – George Miller
I'm just a girl, standing in front of a donut, asking it to be a salad.
Fit(ish): Works out, but defenitely likes donuts.
Inspiring Food Quotes
The only real stumbling block is fear of failure. In cooking you've got to have a what-the-hell attitude. – Julia Child
People who love to eat are always the best people. -Julia Child
A party without a cake is just a meeting. – Julia Child
You can't live a full life on an empty stomach.
No one is born a great cook, one learns by doing. – Julia Child
Food is symbolic of love when words are inadequate. – Alan D. Wolfelt
One of the very nicest things about life is the way we must regularly stop whatever it is we are doing and devote our attention to eating. - Luciano Pavarotti
After a good dinner, one can forgive anybody, even one's own relatives. - Oscar Wilde
Seize the moment. Remember all those women on the 'Titanic' who waved off the dessert cart. – Erma Bombeck
Food is our common ground, a universal experience" – James Beard.
Cooking is the art of adjustment. – Jacques Pepin
The secret of good cooking is, first, having a love of it… If you're convinced that cooking is drudgery, you're never going to be good at it, and you might as well warm up something frozen.
- James Beard
The only thing that will make a souffle fall is if it knows you're afraid of it."
- James Beard
In the end, all journeys are spiritual. So go off the main road. Be givers of hospitality and gracious takers of it too. Accept the serendipitous moments of life because, when all is said and done, you may find out that they were not serendipitous at all. And know that faith is as real as bread broken among friends. What you believe will take you far on your journey. If you search carefully, you will find good food all along the way. - Alton Brown
Sometimes the greatest meals on vacations are the ones you find when Plan A falls through. – Anthony Bourdain
Comfort food is the food that makes us feel good – satisfied, calm, cared for, and carefree. It's food that fills us up emotionally and physically. … Finding comfort in food is a basic human experience. – Ellie Krieger
Cooking is like love. It should be entered into with abandon or not at all.
– Harriet Van Horne
Cooking with kids is not just about ingredients, recipes, and cooking. It's about harnessing imagination, empowerment, and creativity. - Guy Fieri
Cooking is an act of love, a gift, a way of sharing with others the little secrets that are simmering on the burners – Sophia Loren
Cooking is like painting or writing a song. Just as there are only so many notes or colors, there are only so many flavors—it's how you combine them that sets you apart. – Wolfgang Puck
Good food is always a trouble and its preparation should be regarded as a labour of love." – Elizabeth David
Do not allow watching food to replace making food. – Alton Brown
When you have more than you need, build a longer table, not a higher fence.
Short Food Quotes, Food Captions
Life is uncertain. Eat dessert first. – Ernestine ulmer
You're the avocado to my toast.
I like big cups and I cannot lie.
You guac my world.
Life happens. Coffee helps.
I followed my heart and it led me to the fridge.
Life is short. Lick the bowl.
I make ice cream disappear. What's your superpower?
That first sip feeling. - Starbucks
Spread the love. Spread the butter.
Leftovers are for quitters.
Pilates? I thought you said pie and lattes.
How do I like my eggs? Um... in a cake.
Even tacos fall apart sometimes.
Feeling downie? Eat a brownie.
My head says gym, but my heart says tacos.
I eat cake because it's somebody's birthday somewhere.
Give up carbs? Over my bread body.
I want buns of steel, but I also want buns of cinnamon.
Forget a walk-in closet, I want a walk-in fridge.
Movie/Celebrity Food Quotes
Every pizza is a personal pizza, if you try hard and believe in yourself. – Bill Murray
There has never been a sadness that can't be cured by breakfast food. - Ron Swanson
There's only one thing I hate more than lying: skim milk. Which is water that's lying about being milk. - Ron Swanson
Dear frozen yogurt, you are the celery of desserts. Be ice cream, or be nothing. - Ron Swanson
We elves try to stick to the four main food groups: candy, candy canes, candy corns and syrup. – Buddy (Will Ferrell)
That's right. Because I'm a Tribbiani. This is what we do. I mean, we may not be great thinkers or world leaders. We don't read a lot or run very fast but damn it, we can eat! - Joey from Friends
Let me explain to you how the human body works. I have to warm my stomach first. Eating chips is like stretching. - Joey from Friends
You hung up on the pizza place? I don't hang up on your friends! - Joey Tribbiani from Friends