This roasted tenderstem broccoli with lemon and sliced almonds is a flavorful but healthy side dish that comes together in less than 20 minutes. This recipe is so crispy and delicious it will make it into your weekly rotation!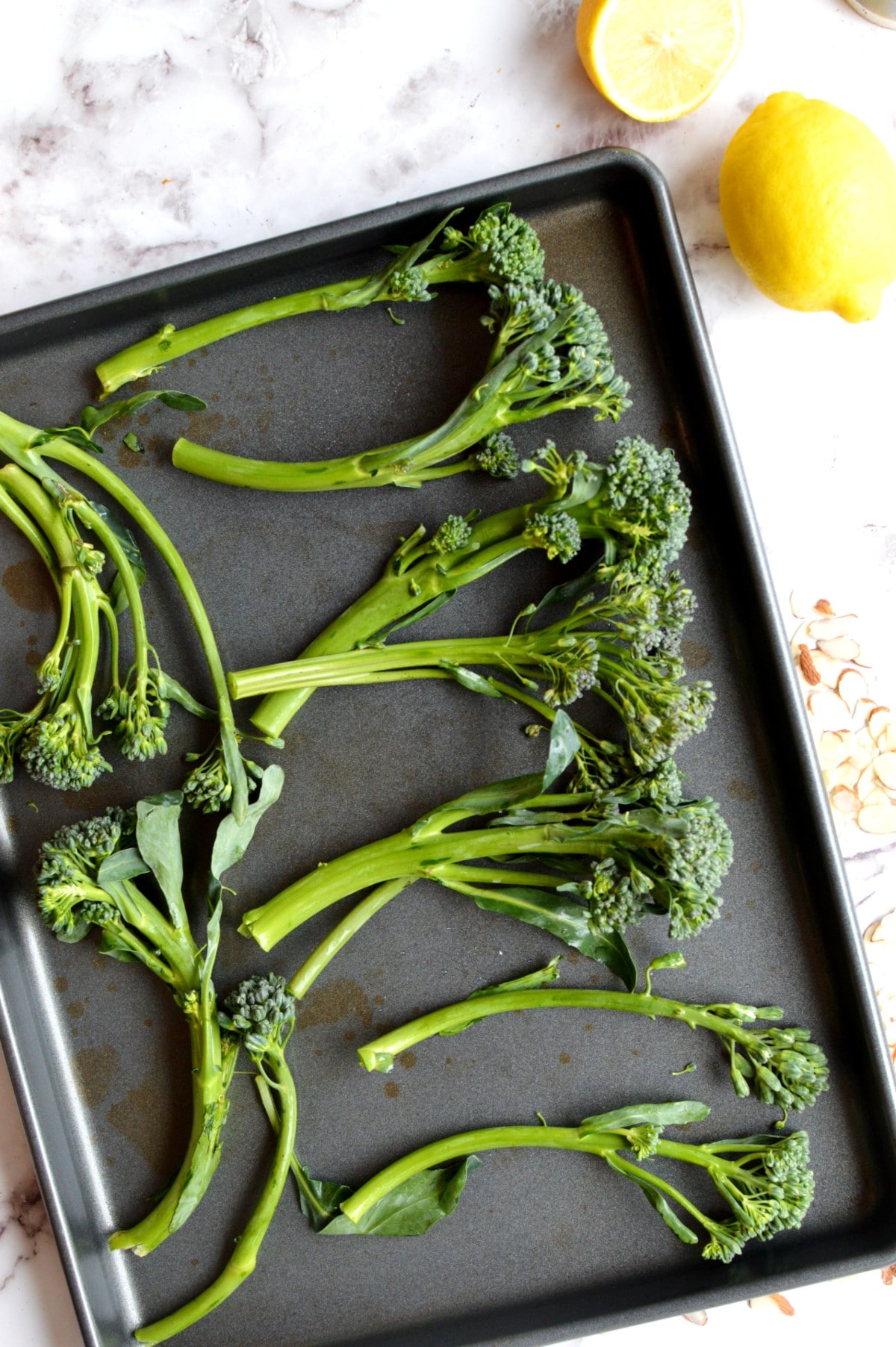 What is tenderstem broccoli?
Tenderstem broccoli is a hybrid between regular broccoli and Chinese Kale. It has longer thinner stems with smaller and leafier florets. It has a mild sweet flavor and cooks up rather quickly. It's a nutrient rich vegetable that's high in Vitamins A and C as well as folic acid. In the grocery store you will find it under the name broccolini or baby broccoli.
Disclosure: This post contains affiliate links. In other words, if you click a link and purchase something I will receive a commission at no cost to you. I only recommend products I use and enjoy myself.
What makes this recipe so delish
I'm always looking to create delicious veggie-centric dishes. It needn't be a chore to eat your veggies. The easy delicious dish packs in a lot of flavor with little effort.
It's crispy! Roasting the broccolini at a high temperature causes the florets to get delightfully crispy.
It's lemony! A squeeze of lemon juice immediately as it comes out of the oven causes the juice to mostly evaporate but leaves a bright acidic lemon-y flavor.
It's nutty! The addition of almonds during the cooking process gives a toasted nutty addition to the roasted tenderstem broccoli.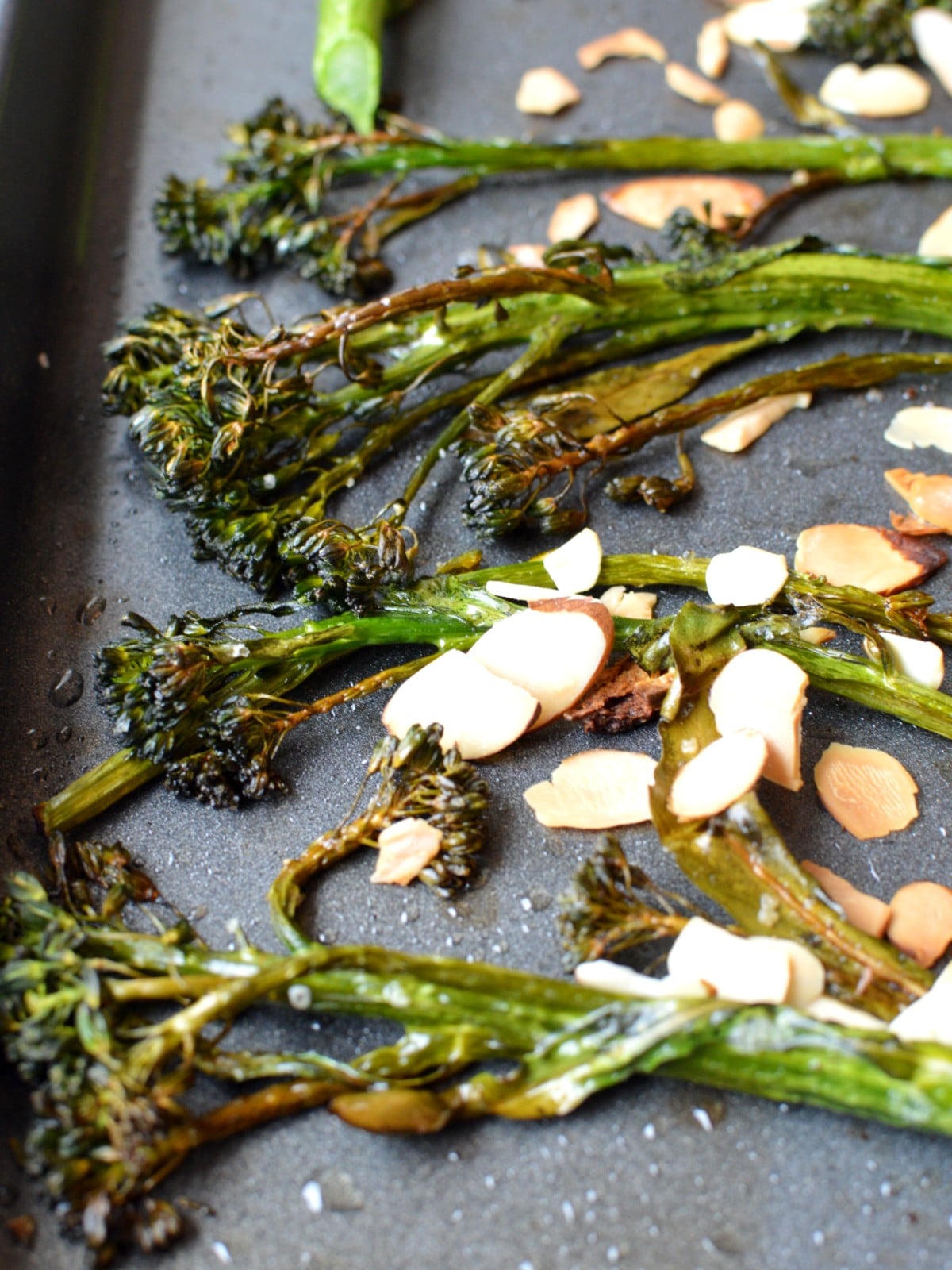 Ingredients:
Broccolini - They are sold in small bunches. One bunch is perfect for two people. You can adjust the recipe accordingly but I wouldn't put more than one bunch on a sheet pan. If you crowd the pan you won't get the lovely crispy florets.
Olive oil - For roasting
Kosher Salt - Kosher salt has a pure salty flavor and it's easier to season correctly since the granules are larger.
Lemon - Always fresh never bottled!
Sliced almonds - The perfect addition to broccolini.
Other Side Dishes You Might Like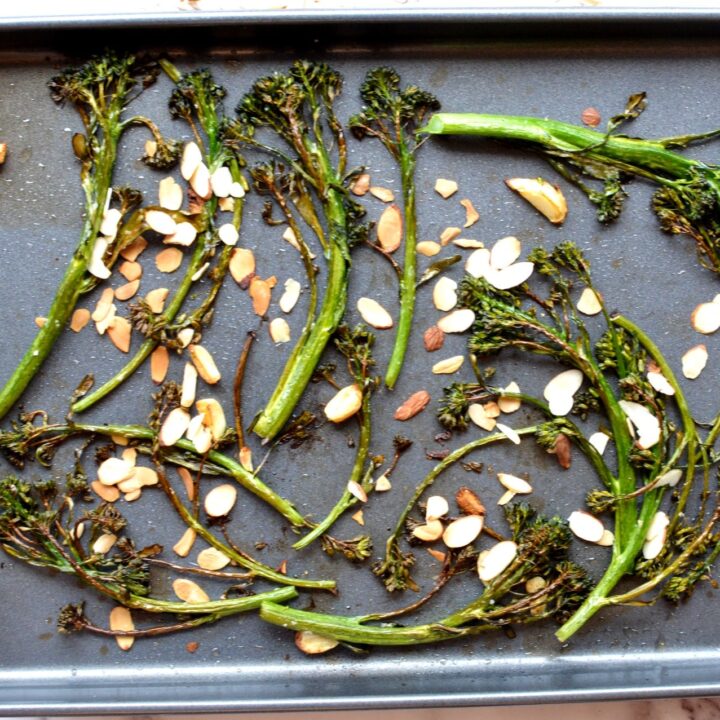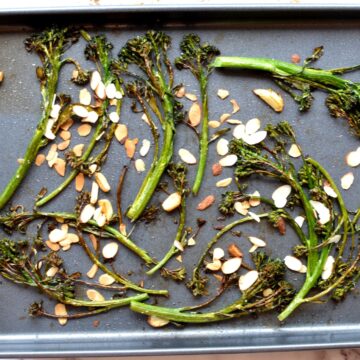 Crispy tenderstem broccoli with lemon and almonds
This roasted tenderstem broccoli with lemon and sliced almonds is a flavorful but healthy side dish that comes together in less than 20 minutes.
Ingredients
1

Bunch broccolini

1

tbsp

Olive oil

¼

t.

Kosher salt

½

Lemon

1 ½

tbsp

Sliced almonds
Instructions
Preheat oven to 425 degrees Fahrenheit.

Snip a ¼ inch off the broccolini stems and then carefully spread them apart on a sheet pan. If the stems are very thick, half them lengthwise. Drizzle 1 tbsp of olive oil and sprinkle ¼ t. kosher salt over the broccolini.

Carefully massage the oil into the broccolini stems and florets - tossing them around gently.

Place them evenly spread apart on the sheet pan and roast for 12 minutes. Carefully remove the pan and sprinkle sliced almonds on top.

Roast 5 more minutes until almonds are brown and nutty. Remove from the oven and squeeze fresh lemon juice on the broccolini. Serve immediately.
Notes
1 bunch of broccolini serves two people. You can buy more than one bunch and adjust the recipe accordingly. Only use one bunch per sheet pan so the florets get nice and crispy.