These caramelized mushrooms are incredibly simple and packed full of flavor. They taste amazing on their own or alongside grilled chicken or steak.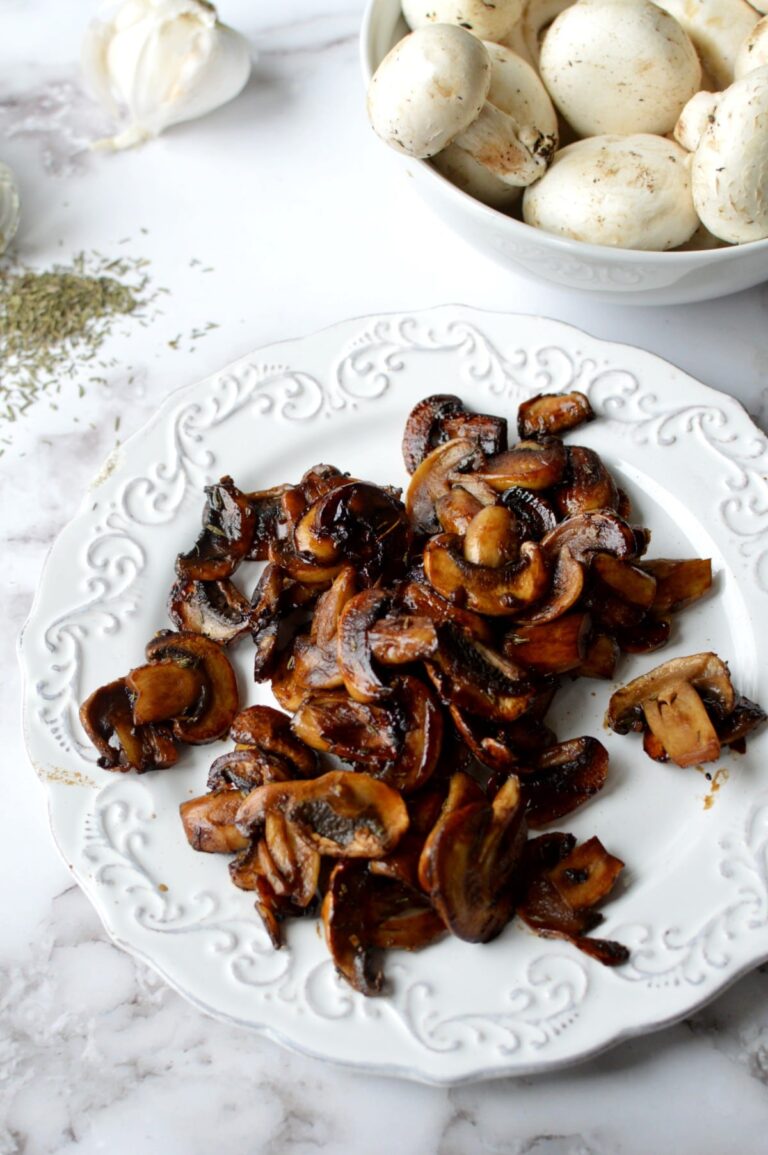 I grew up hating mushrooms. They were in the same camp as brussel sprouts, jello molds, and mayonnaise which as it turns out are all incredibly delicious.
After missing out on mushrooms for all those years I felt like I should make up for lost time. I've been on somewhat of a mushroom binge (I can think of worse!). These balsamic caramelized mushrooms are so simple, packed with flavor, and done in less than 15 minutes.
Plus they're made with ingredients I almost always have on hand.
Disclosure: This post contains affiliate links. In other words, if you click a link and purchase something I will receive a commission at no cost to you. I only recommend products I use and enjoy myself.
What you need:
This caramelized mushroom recipe requires only five simple ingredients!
White button mushrooms - White mushrooms have a mild flavor that deepens as they cook.
Olive oil - Oil is essential for a good caramelization.
Balsamic vinegar - Balsamic vinegar adds a natural sweetness as well as acidity to the mushrooms for a nice depth of flavor.
Chicken stock - The liquid will evaporate once it hits the hot skillet, but it adds great flavor. Vegetable broth can be used too.
Garlic - Garlic has a pungent bite that mellows as it cooks.
Brown sugar - Just a small amount for sweet mushrooms!
Sea salt - Don't forget to season. If you don't salt your food, it will taste bland.
How to Caramelize Mushrooms
This sweet mushrooms recipe is a breeze to make!
Heat the pan: Heat the oil in a large stainless steel skillet on medium-high heat. Make sure the pan is hot before adding the mushrooms or they will steam instead of caramelize.
Sauté mushrooms: Add the sliced mushrooms and spread them around evenly in the pan. Don't touch them for three minutes. If you stir too often, they won't caramelize.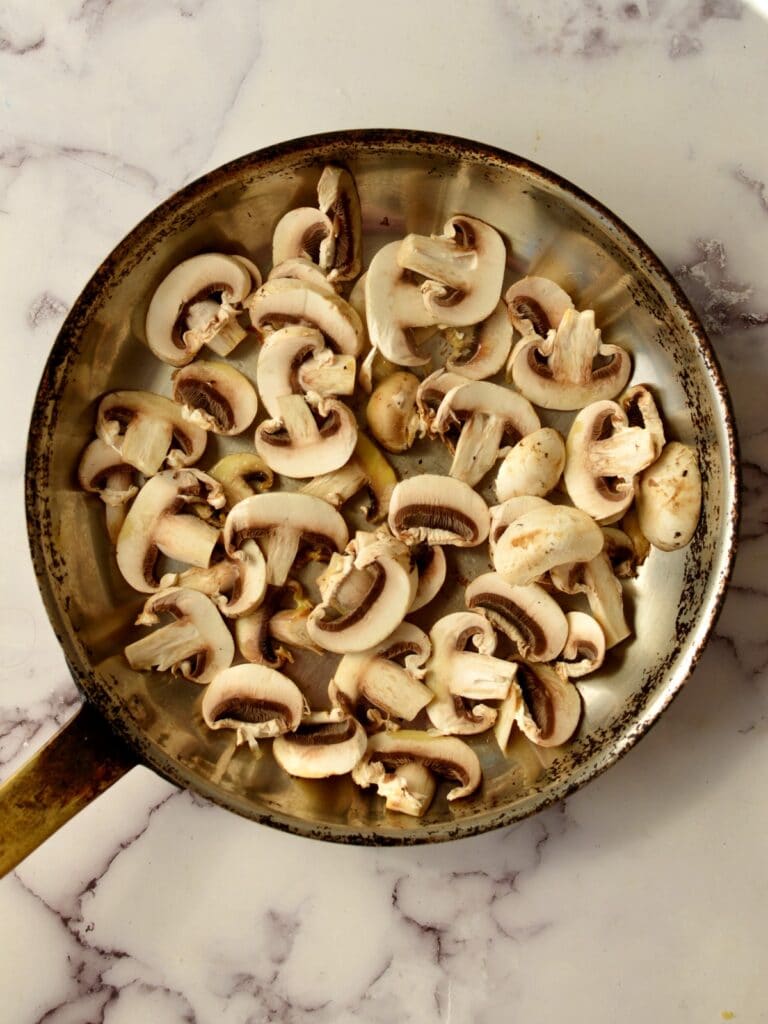 Stir the mushrooms: Season and then stir the mushrooms one time. Let them sit again for 4 more minutes to caramelize more.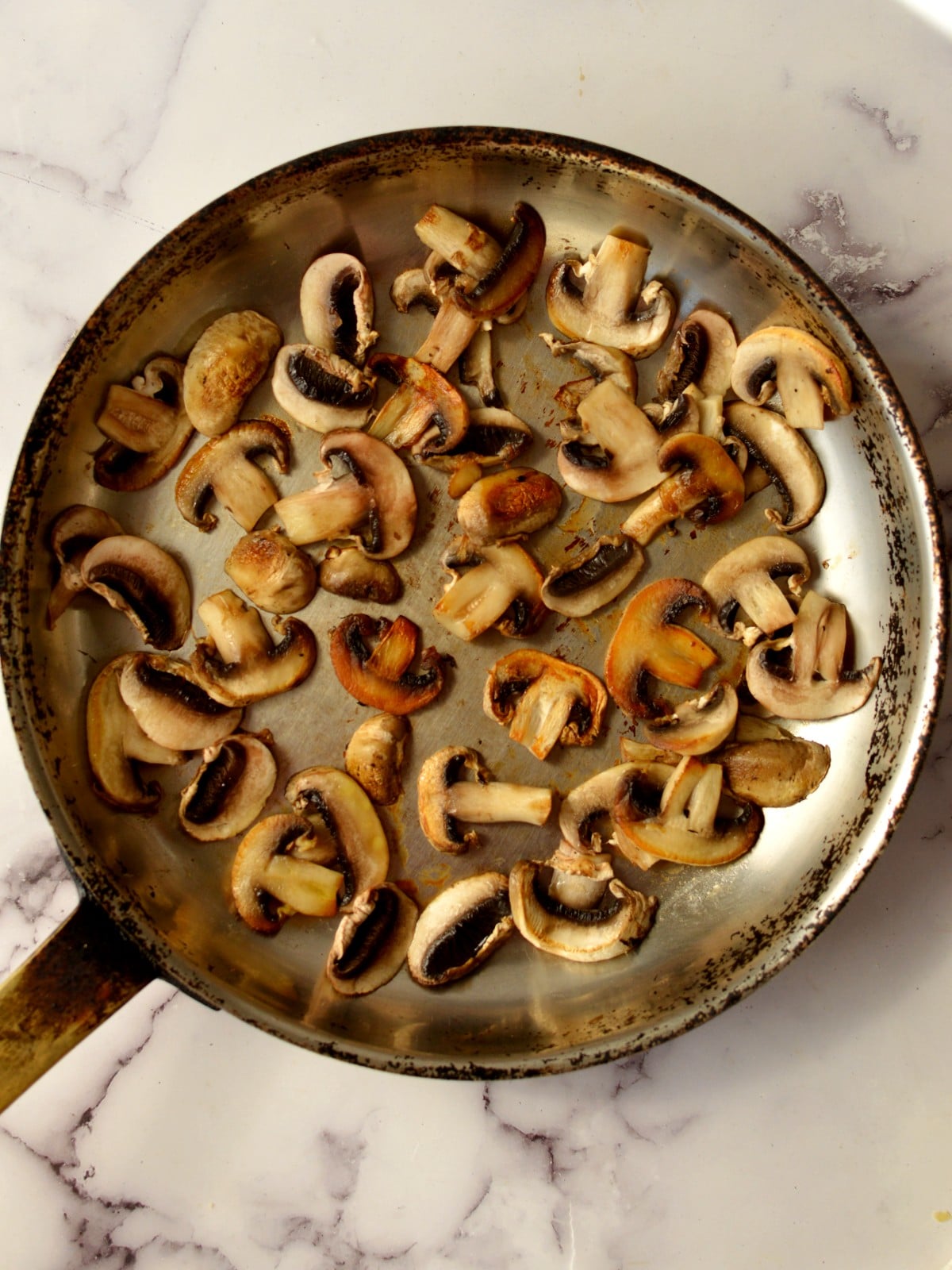 Add remaining ingredients: Stir again and then add the balsamic vinegar, chicken stock, minced garlic, brown sugar, and dried thyme.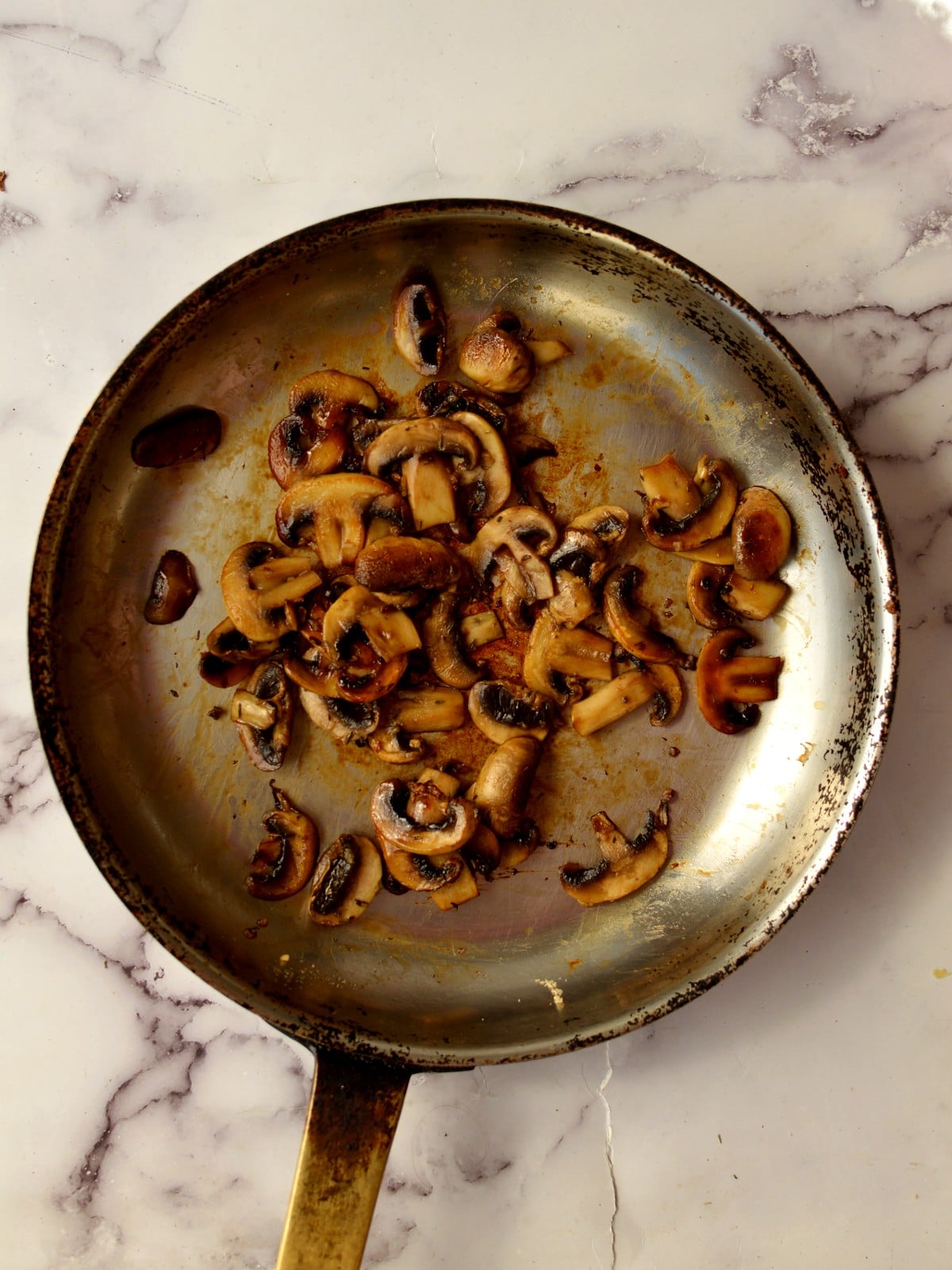 Stir & enjoy: Stir again and let them cook for another minute or two. Carefully transfer to a plate and enjoy!
Tips for caramelizing mushrooms
Don't wash the mushrooms. Just wipe them off with a paper towel and cut any dirty ends off. If you wash them it's much harder to get that golden brown caramelization. Don't believe me? Bon Appetit magazine wrote an entire article on why you shouldn't wash mushrooms.
Don't stir them the whole time. Let them sit for a few minutes before stirring. This will allow them to caramelize in the hot skillet.
Don't slice mushrooms too thin. A quarter inch thick is perfect. Mushrooms shrink while they cook and if you slice them too thin they will just shrivel and not caramelize well.
Let the skillet get sizzling hot! Don't plop the mushrooms into cold oil. Just saying it makes me cringe a little. Turn on some music and let the skillet heat up then add the mushrooms. If you add them too early, they will steam instead of caramelize.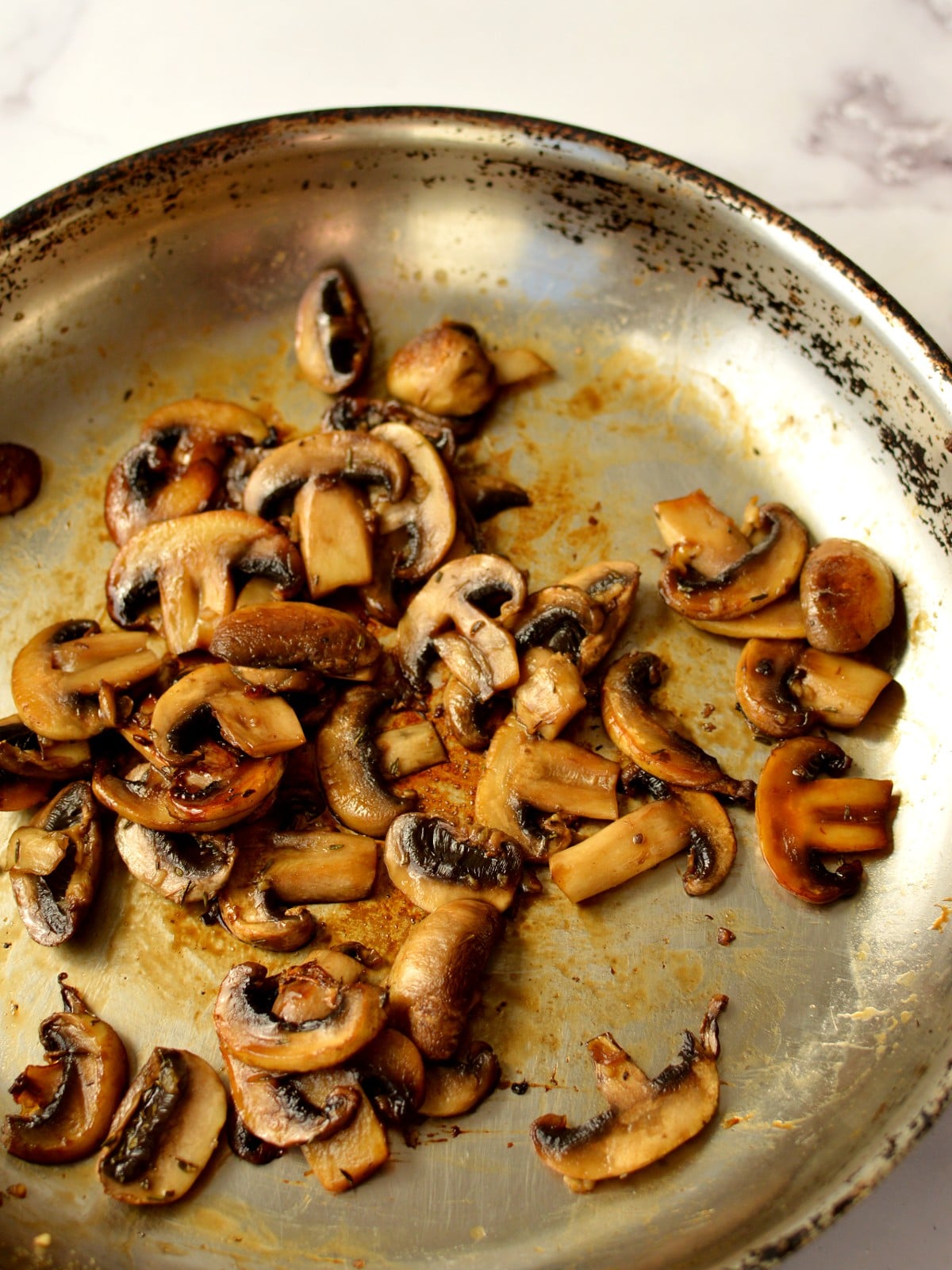 FAQs
Can you caramelize canned mushrooms?
While it's possible, I wouldn't recommend it. Fresh mushrooms will have a much better texture and flavor! Canned mushrooms have too much liquid, which will cause them to steam.
Can you burn mushrooms?
Mushrooms are very forgiving! They can withstand high-heat without burning quickly. In fact, a hot pan is essential for good caramelization. If it's not hot enough, the mushrooms will just steam in the moisture they release.
Other Side Dishes You Might Like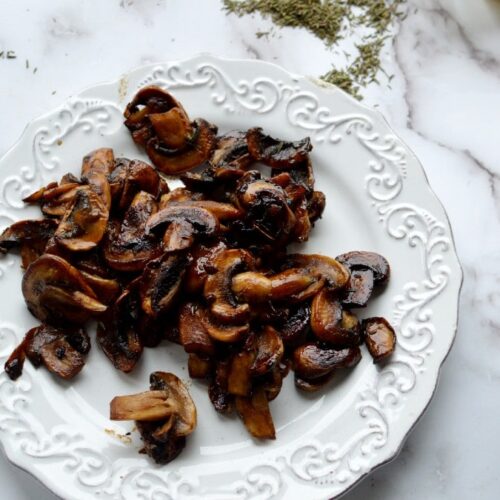 Balsamic Caramelized Mushrooms
These caramelized mushrooms are incredibly simple and packed full of flavor. They taste amazing on their own or alongside grilled chicken or steak.
Equipment
Large stainless steel skillet
Ingredients
8

oz.

Whole white mushrooms

1

tbsp

Olive oil

1

tbsp

Balsamic vinegar

2

tbsp

Chicken stock

Or vegetable stock for vegetarian diets

1

Large garlic clove, minced

1

t.

Brown sugar

¼

t.

Dried thyme

Kosher salt
Instructions
Heat the oil in the stainless steel pan on medium high heat. Meanwhile wipe off and then slice the mushrooms. Set aside.

Once the pan is hot add the sliced mushrooms to the pan and carefully spread them out evenly. Leave them untouched for 3 minutes and then stir well. Season the mushrooms with kosher salt.

Again leave the mushrooms untouched for another 3 to 4 minutes so they can caramelize in the pan.

Stir the mushrooms then add the balsamic vinegar, chicken stock, minced garlic, dried thyme, and brown sugar.

Stir for another minute or so and remove from the heat. Enjoy immediately.