These gluten free banana chocolate chip muffins are everything you want in a muffin! They're moist yet light with big muffin tops. They're addictively delicious! They're also naturally dairy-free so long as you use dairy-free chocolate chips.
To say I'm a "muffin person" is an understatement. I lack any self-control around a good muffin. I can't think of anything more tempting or delicious than banana bread and a muffin in one. Not only are gluten free banana muffins super easy to make but you get to use up all your overripe and spotty bananas.
And in our house we buy A TON of bananas. Everyone in my family will eat at least one banana a day which means we fly through them. Occasionally a few will ripen before we can demolish them and it's then I make these delicious gluten free banana chocolate chip muffins!
Ingredients for Gluten Free Banana Muffins
Here's what you need:
Sugar & brown sugar - I like to use both in banana muffins because brown sugar gives baked treats a slightly deeper flavor.
Vegetable oil - Vegetable oil keeps cakes, muffins, and quick breads super moist and tender. This is why I love to use it for a lot of my muffin recipes. It's also naturally dairy-free!
Mashed banana - I like to use a measuring cup instead of listing how many bananas you'll need. I do this because bananas vary greatly in size. Some are humungo and some are itty bitty. I'd say ¾ cup is about 2 medium sized bananas but be sure to measure it to be sure.
Gluten free all purpose flour - I used Bob's Red Mill 1:1 All Purpose Gluten Free Flour and it's what I use for almost all of my recipes. If you have a favorite brand just be sure to use one that is considered all-purpose and includes xanthan gum. Usually they will contain the words all-purpose, measure for measure, 1 to 1, or cup for cup.
Baking powder & baking soda - Both of these help the muffins to rise and get those big beautiful muffin tops. The baking soda reacts with the brown sugar to cause extra lift.
Chocolate chips - I used Ghirardelli semi-sweet chocolate chips but you can use your favorite brand. Just be sure they don't contain any gluten ingredients. Ghirardelli semi-sweet chips don't contain gluten but they aren't certified so cross-contamination is a possibility. I personally haven't had a problem with them but if you want to be one hundred percent sure be sure to buy a certified gluten-free brand. If you're dairy-free be sure to buy dairy-free chocolate chips.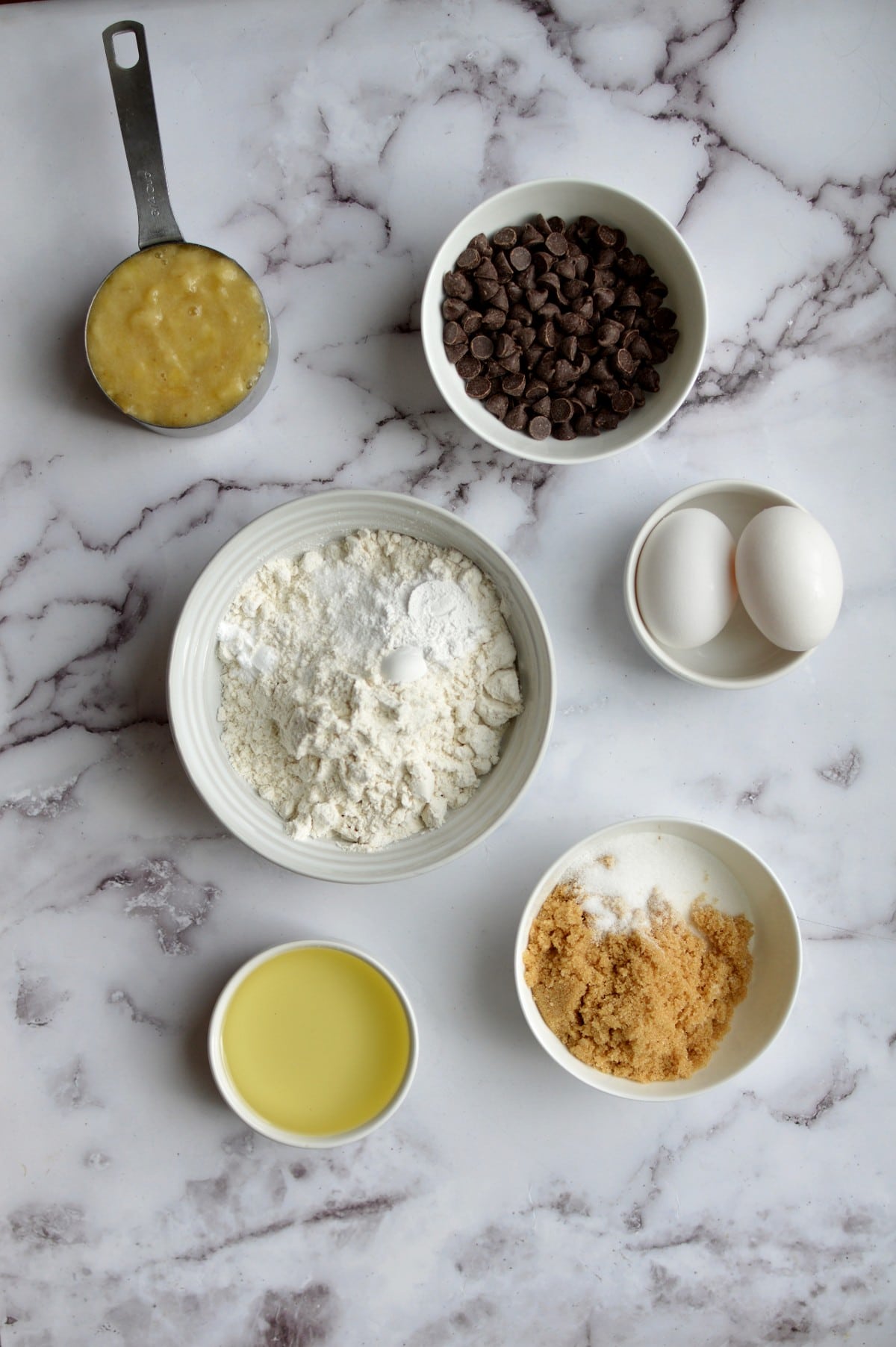 How to Make Them
You don't even need a stand mixer for this recipe, just a bowl and a spatula! Here's how to make them:
Preheat Oven & Grease Pan
Preheat your oven to 350 degrees Fahrenheit. Grease your muffin tin with nonstick cooking spray and set aside.
Mix Sugars, Oil, & Mashed Banana
In a large mixing bowl combine both sugars, the oil, and the mashed banana. Stir together with a spatula.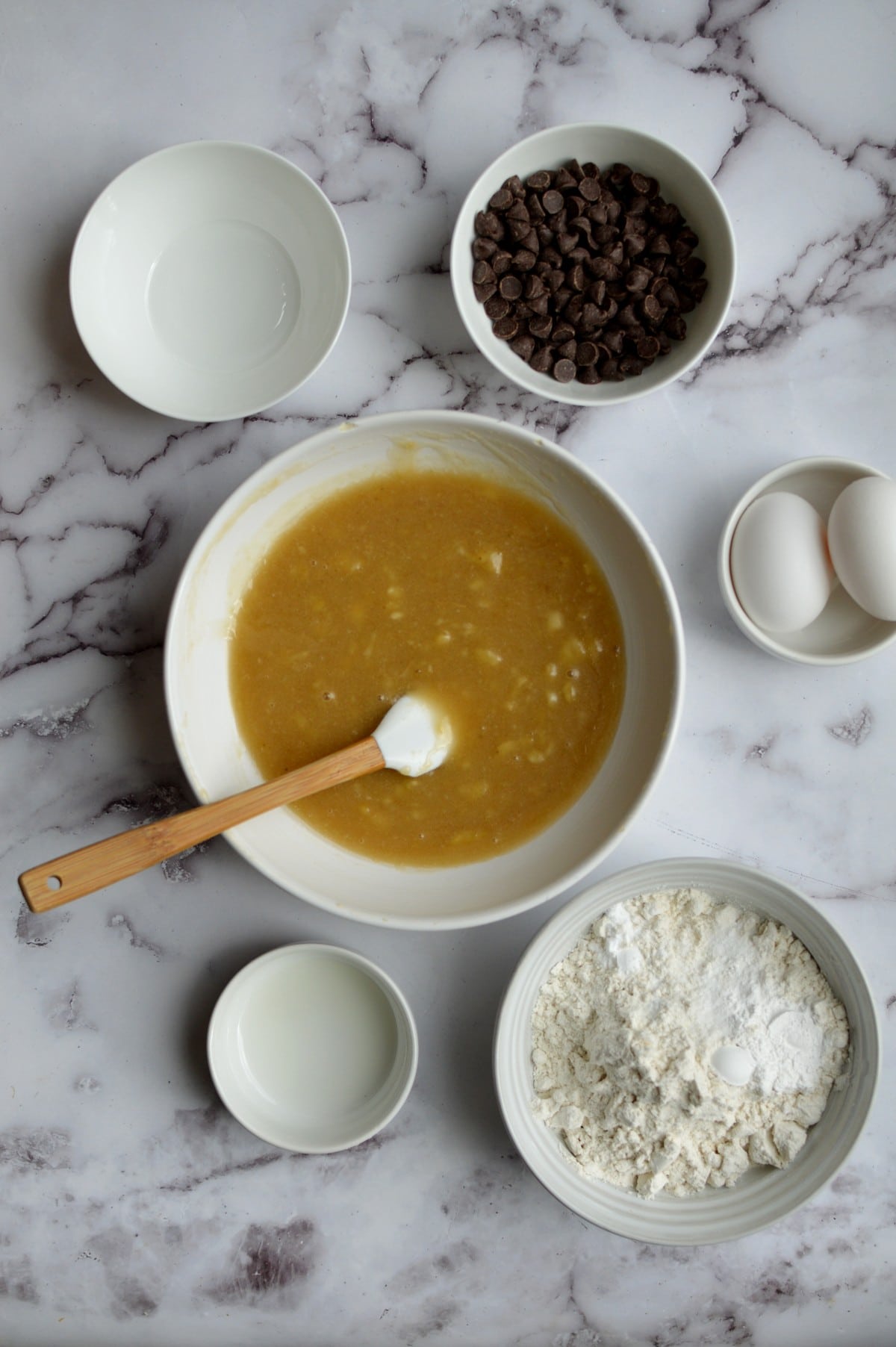 Stir in Eggs
Add both eggs and then break the yolks. Stir until the eggs are completely incorporated.
Mix in the Dry Ingredients
Add the gluten-free flour, baking powder, baking soda, and kosher salt to the bowl. Mix well until a smooth batter forms.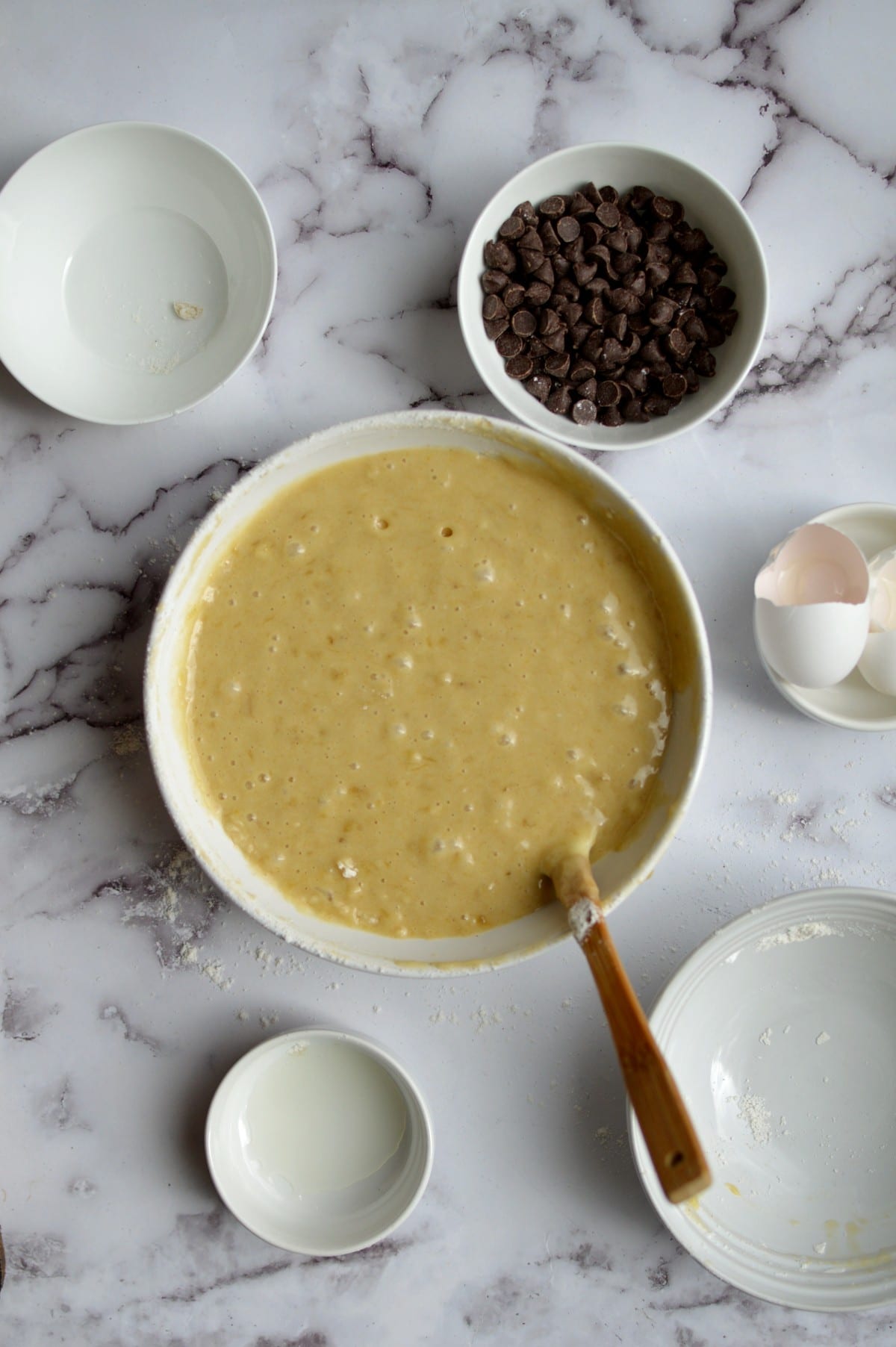 Add Chocolate Chips & Bake
Stir in the chocolate chips and scoop the batter into the muffin tin. Be sure to fill them up all the way to the top. You should get around 10 muffins.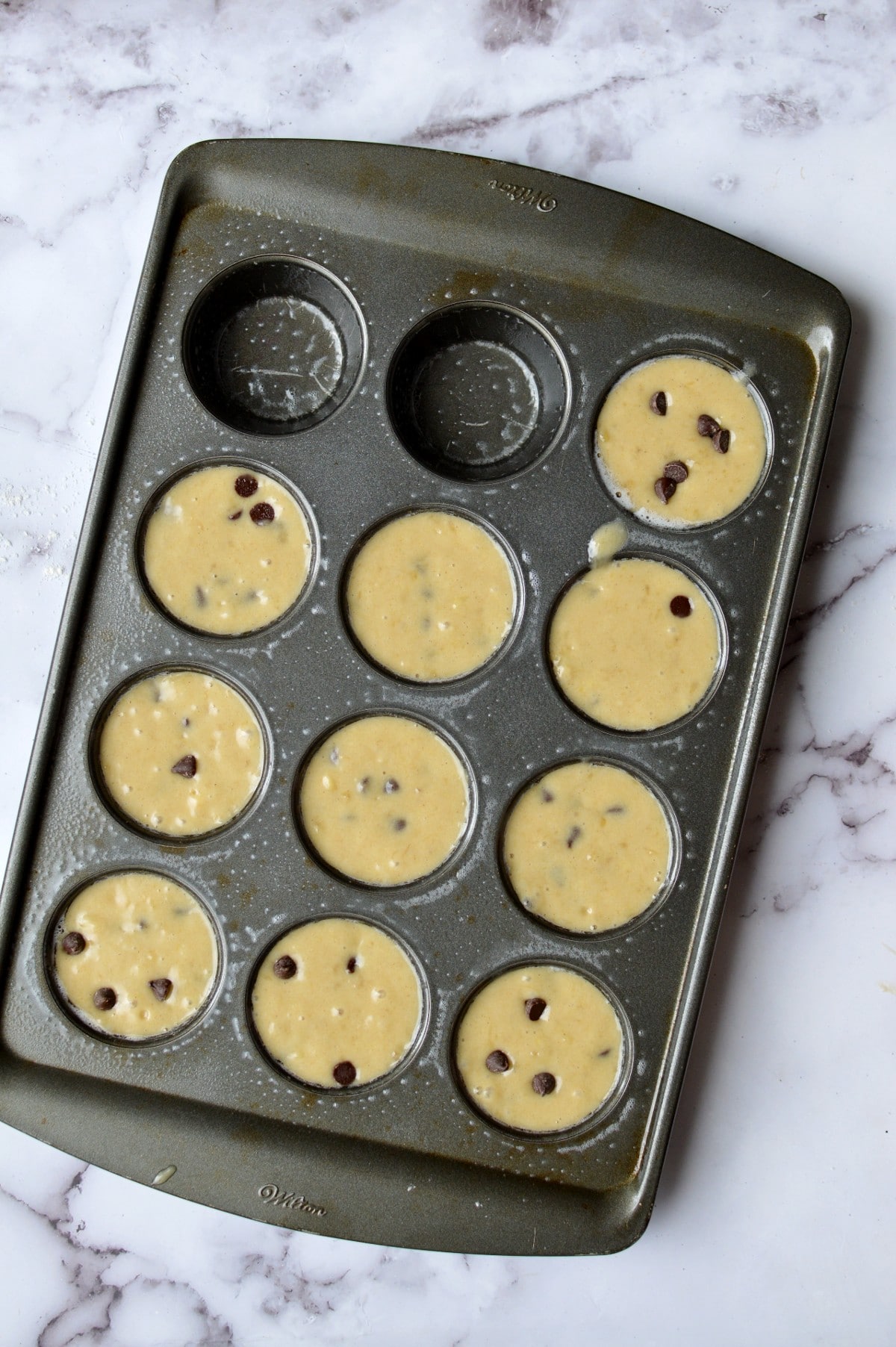 Recipe Tips & Substitutions
Gluten free banana nut muffins - Omit the chocolate chips and add chopped walnuts instead.
Gluten free banana chocolate chip bread - Use a greased 9 by 5 baking dish instead of a muffin tin. Scoop the batter into the pan and top with more chocolate chips. Bake for 45 to 50 minutes until golden brown and done all the way through.
Not gluten free? I've not tested this recipe with regular flour but it should work just fine. Sub in regular flour for the gluten free flour for regular chocolate chip banana muffins. If you do, let us know in the comments how it comes out.
Wait for the muffins to cool before removing them from the pan! If you try to remove them straight out of the oven you risk breaking the tops off.
If you want beautiful tops with chocolate chips studded all over then carefully drop some chocolate chips on top of each muffin halfway through baking.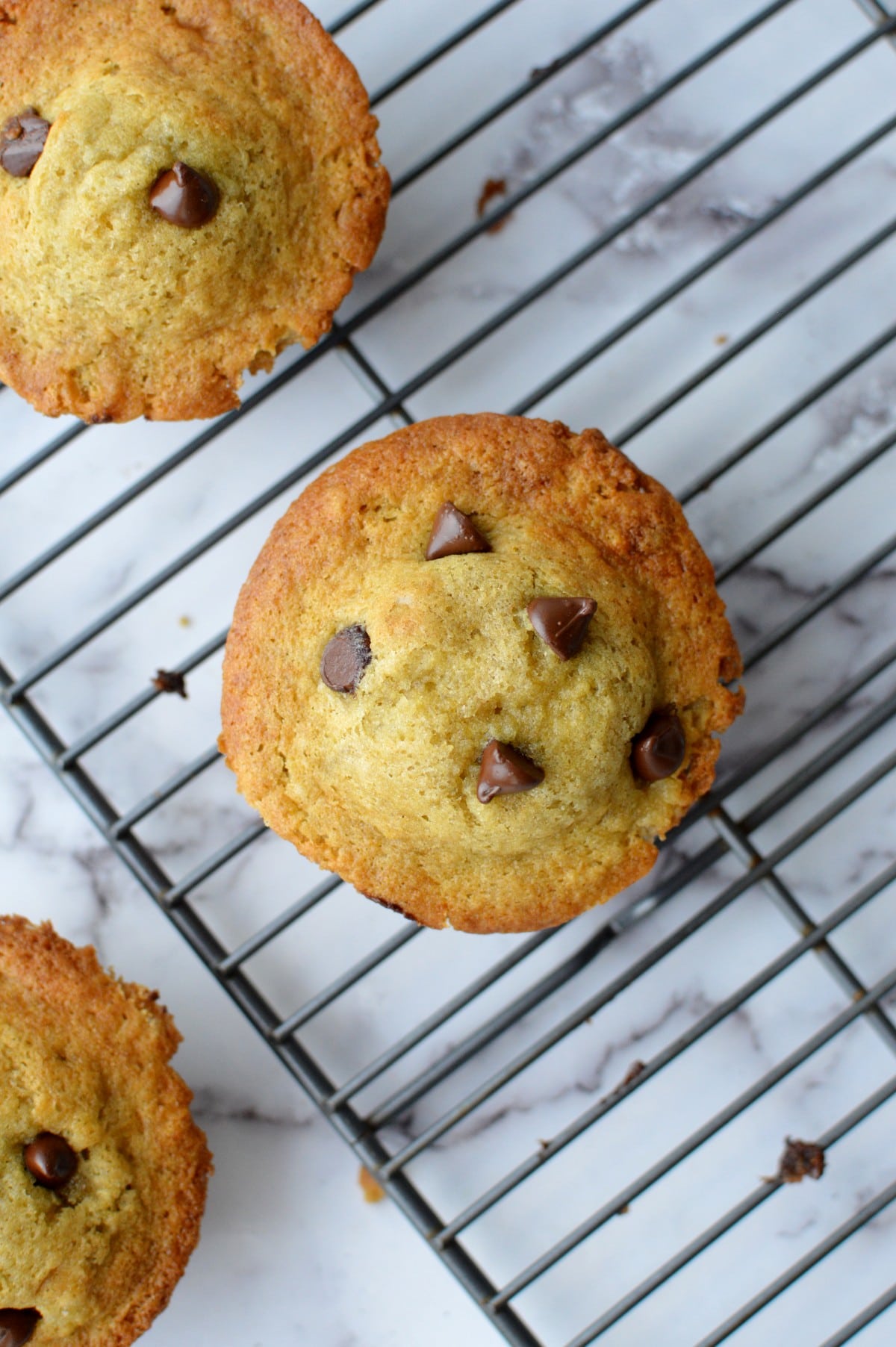 A Word on Gluten Free Flour
Not all gluten free all-purpose flour blends are the same nor do they taste the same. They are a blend of flours, starches, and often xanthan gum. Some taste delicious and some taste like grassy chalk. This can make it hard to know which ones are worth the expensive price tags. I always recommend Bob's Red Mill 1:1 All Purpose Flour because I love the taste and texture. It's also readily available at Walmart, Target, Sam's Club, and Amazon! Even Food Network agrees with me on this one.
Other Gluten Free Recipes You Might Love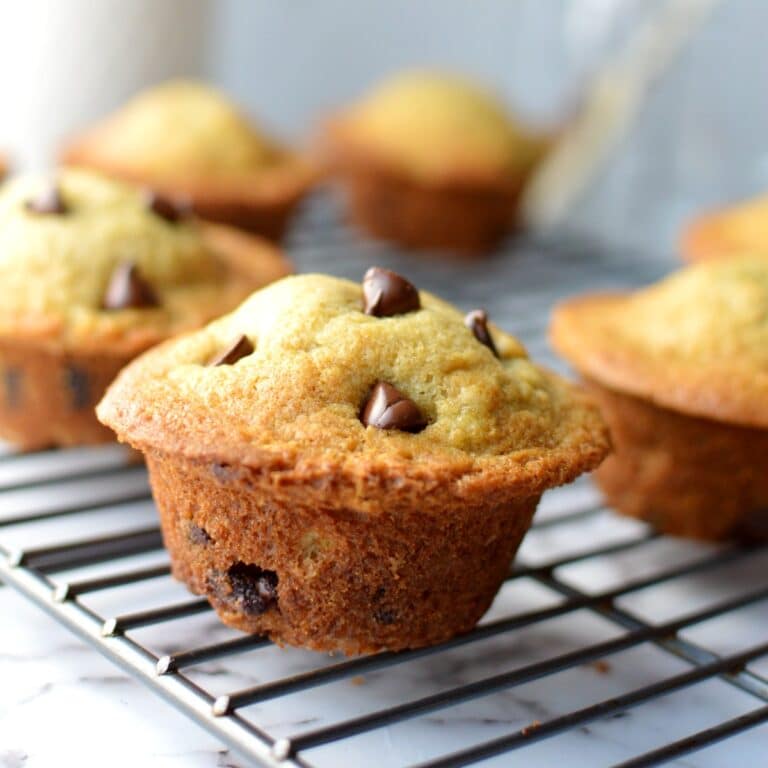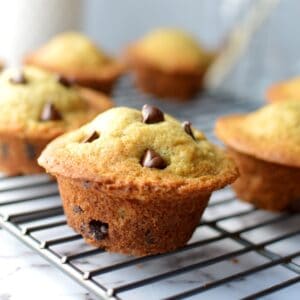 Gluten Free Banana Chocolate Chip Muffins
These gluten free banana chocolate chip muffins are everything you want in a muffin! They're moist yet light with big muffin tops. They're addictively delicious!
Equipment
Large Bowl

Spatula

Measuring cups

Measuring spoons
Ingredients  
⅓

cup

sugar

⅓

cup

brown sugar

½

cup

vegetable oil

¾

cup

mashed banana

2

eggs, large

1 ½

teaspoon

baking powder

½

teaspoon

baking soda

½

teaspoon

kosher salt

¾

cup

semisweet chocolate chips

plus extra for tops
Instructions 
Preheat oven to 350 degrees Fahrenheit.