These gluten free blueberry muffins taste as good as they look. Juicy blueberries in a moist muffin with a sugar crumble on top make these muffins simply irresistible!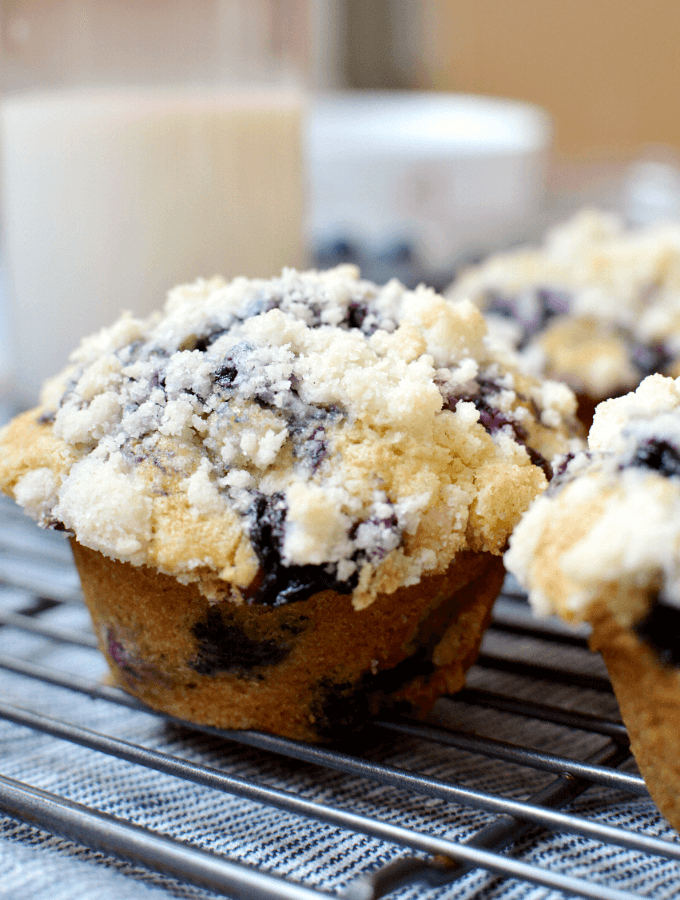 Disclosure: This post contains affiliate links. In other words, if you click a link and purchase something I will receive a commission at no cost to you. I only recommend products I use and enjoy myself.
Fresh or frozen blueberries?
For the best results use fresh. And I don't say this lightly. I actually prefer frozen in a lot of blueberry desserts because fresh, juicy blueberries are so glorious in their own right. All I want to do is eat them straight.
Frozen blueberries release more liquid when baked than fresh blueberries do. I have done both in multiple recipes (including mine) and the result is never the same.
When I use fresh blueberries my muffins rise with beautiful muffin tops and are fluffy on the inside. When I use frozen blueberries the muffins do not rise as well and the inside isn't as fluffy. Do they taste good? Yes. Are they as amazing as muffins with fresh blueberries? Nope.
For this reason I always spring for fresh blueberries when I make muffins. If you only have frozen, don't sweat it - they will still taste delicious but when possible buy fresh. Keep in mind though you will need to bake them a little longer with frozen.

What is the best gluten free flour for muffins?
This is more of an opinion than anything else but I love Bob's Red Mill 1:1 All Purpose Flour in the blue bag. (They also have one in a red bag) I love the texture and taste of this flour and I use it for almost all of my baked goods. It doesn't taste awful, gritty or chalky like some flours on the market.
More importantly I will say that all gluten free flours are a little different and will produce a different end result. I always encourage readers to use the brand of flour a recipe calls for.
I find that when I use a different brand of flour in my recipes I end up with a different result. For example I need less of King Arthur's Gluten Free Measure for Measure flour to achieve the a similar result. This means the recipes don't always translate well when subbing.
I guess what I'm saying is sub in different flours at your own risk. They may come out just as good but they may not and chances are it wasn't because of the recipe.
One flour I find tastes good but works completely different than other gluten free flours is Cup 4 Cup. I sub these into pancakes sometimes and they end up super thick and not cooking all the way through. I've learned with cup4cup I have to add a bit more liquid to get the pancakes to cook correctly.
The Method for these gluten free blueberry muffins:
These easy blueberry muffins have three easy components: the muffin batter, the crumble and the jam. A small teaspoon of the jam gets swirled into the top of the muffin for a beautiful purple swirl and more blueberry flavor! The crumble goes on top of the gluten free blueberry muffins and into the oven they go.
I like to make the jam and crumble first so I'm all set to scoop and bake when I'm done with the batter.
To make the jam - Cook the blueberries, lime and water down until they are thick and jammy then set aside. Just keep an eye on them, stirring occasionally so they don't burn.
To make the crumble - Work the butter into the sugar and flour until completely combined and crumbly. Set aside.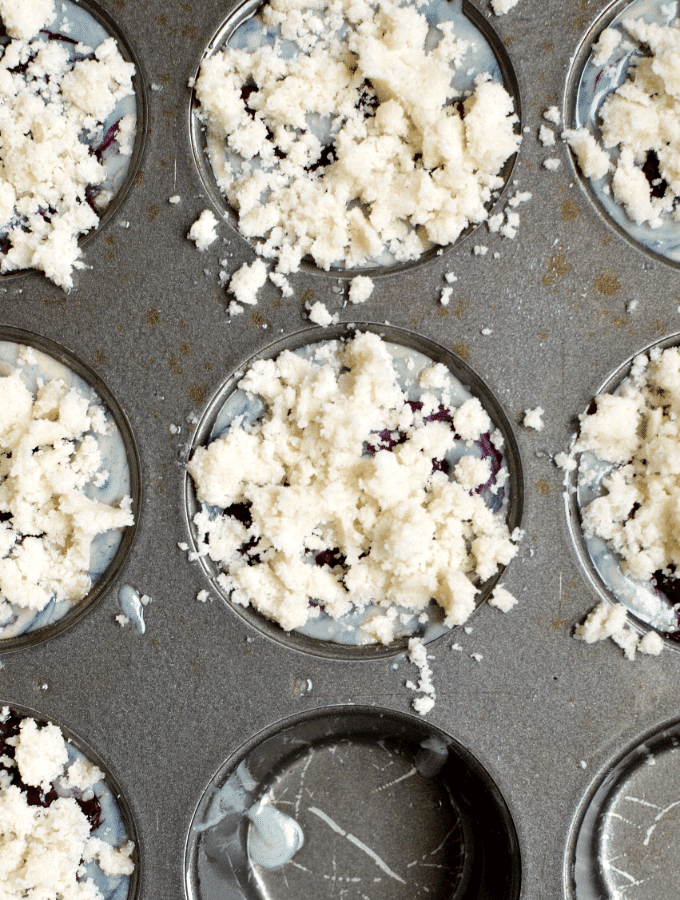 To make the muffin batter:
Beat sugar and canola oil until combined and then add the egg. Beat again until combined.
Add the gluten free all purpose flour, baking powder, baking soda, salt and mix until a thick batter forms.
Slowly while mixing on low speed add in the whole milk. Don't do it all at once or it will splash. Scrape the bowl and mix until a smooth muffin batter forms.
Fold in the blueberries.
Scoop batter into a greased muffin tin, filling each muffin all the way to the top.
Lastly, swirl a little bit of jam into each muffin with a toothpick and then sprinkle on some crumble.
Bake the muffins at 350 degrees for 26 to 28 minutes.
Tips for these gluten free muffins:
Fill the muffin batter to the top of the pan. This will give you those beautiful muffin tops.
Let the muffins cool before attempting to remove them. As it turns out muffins with big, gorgeous muffin tops are harder to get out of the pan. If you want the muffin to come out in tact let it cool first. Waiting is easier said than done but pulling off the tops is a major buzzkill. (You can wait. I believe in you.)
To check if the muffins are done touch the top and if it caves a little or feels too soft keep baking. I also do the toothpick test as well.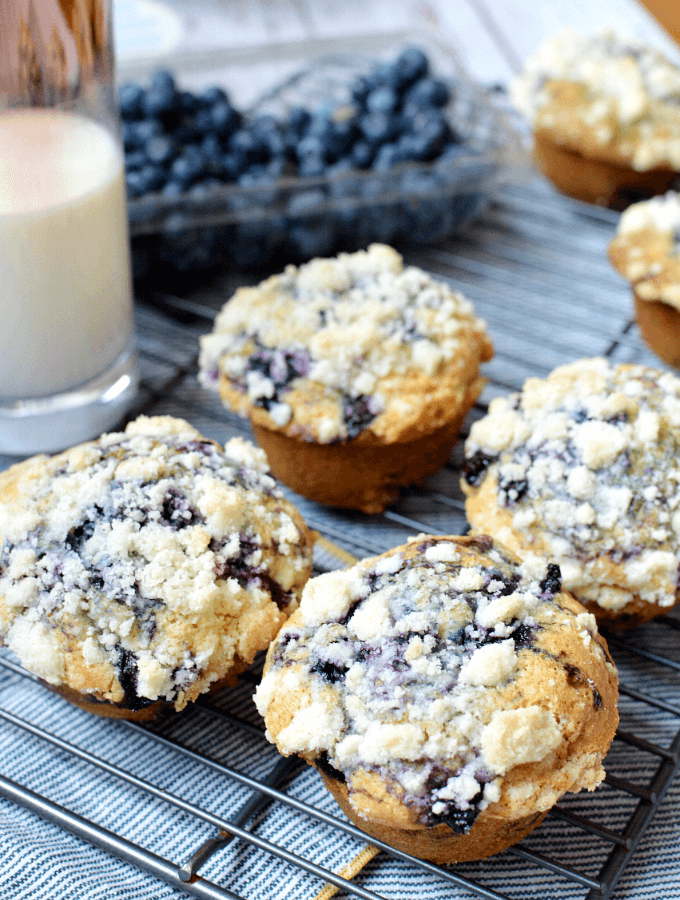 You should end up with moist, delicious and beautiful blueberry muffins like the ones above!
Storing and Cooling:
Because blueberry muffins have more moisture in them than gluten free chocolate chip muffins I only like to keep them on the counter for two days (including the day I baked them) before freezing.
Remember to let the muffins cool completely before storing them in a container. If they are even the least bit warm they will still release heat which can cause condensation and then mold or soggy tops. I like to let them cool completely and then I put them in a glass domed cake stand so I can admire them when I walk by.
To freeze just place the muffins on a half sheet pan or flat plate (if your sheet pan won't fit in the freezer). Put the plate in the freezer for an hour until the muffins are completely frozen then place the frozen muffins into a plastic freezer bag.
They will keep well in the freezer for up to 3 months. After that you run the risk of freezer burn or ice crystals forming.
I freeze a lot of my desserts but my blueberry muffins barely make it to the freezer! My little people love these muffins which speaks loudly to my heart because my three year old won't spare my feelings if he doesn't like something.
Other delicious gluten free recipes
If you love muffins, cakes, and pies as much as I do, check out this local artist who transforms your favorite recipe into an adorable watercolor illustration!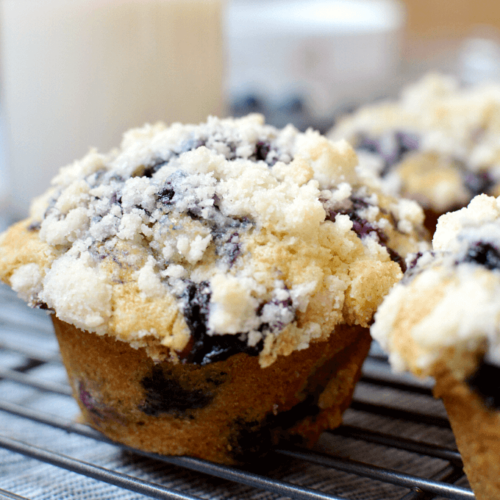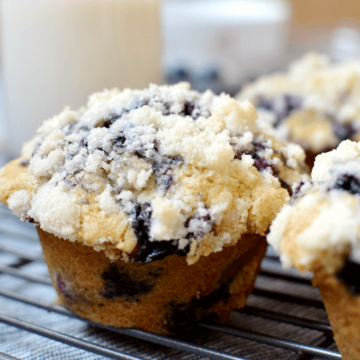 Gluten Free Blueberry Muffins
Moist and delicious gluten free blueberry muffins with gorgeous muffin tops for the perfect snack or treat.
Equipment
Stand Mixer with Paddle Attachment

Muffin Pan

Spatula

Portion Scoop
Ingredients
For the jam:
½

Cup

Blueberries, Fresh or Frozen

1

t.

Lime Juice, Fresh

1

tbsp

Water
For the crumble:
2

tbsp

Unsalted Butter, Cut into pieces

¼

Cup

Sugar
Instructions
For the Jam:
In a small sauce pan on medium heat cook the blueberries, lime juice and water until thick and jammy. Stir occasionally so the mixture doesn't burn then set aside.
For the crumble:
Using your hands in a small bowl work the butter into the flour and sugar really well until completely mixed together and crumbly. Set Aside.
For the muffins:
Preheat the oven to 350 degrees Fahrenheit and grease a muffin tin with nonstick cooking spray or line with muffin liners.

In a stand mixer beat together oil and sugar until just combined then add the egg and beat again.

Add the gluten free flour, baking powder, baking soda, and salt to the mixture and beat on medium speed until a smooth but thick batter forms.

Gradually and slowly on low speed add the milk until incorporated. Scrape the sides of the bowl and beat until batter is smooth.

Fold in the blueberries with a spatula and scoop the batter into six muffin tin cavities all the way to the top. Add a small amount (less than a teaspoon) of jam to each top and swirl in with a toothpick. Top each muffin with some crumble mixture.

Bake muffins for 30 minutes or until the tops don't cave when gently pressed and a toothpick comes out clean.