Moist and fluffy gluten free strawberry muffins make the best breakfast and/or treat. These muffins have perfect tops with strawberry swirls and bits of strawberry in each bite.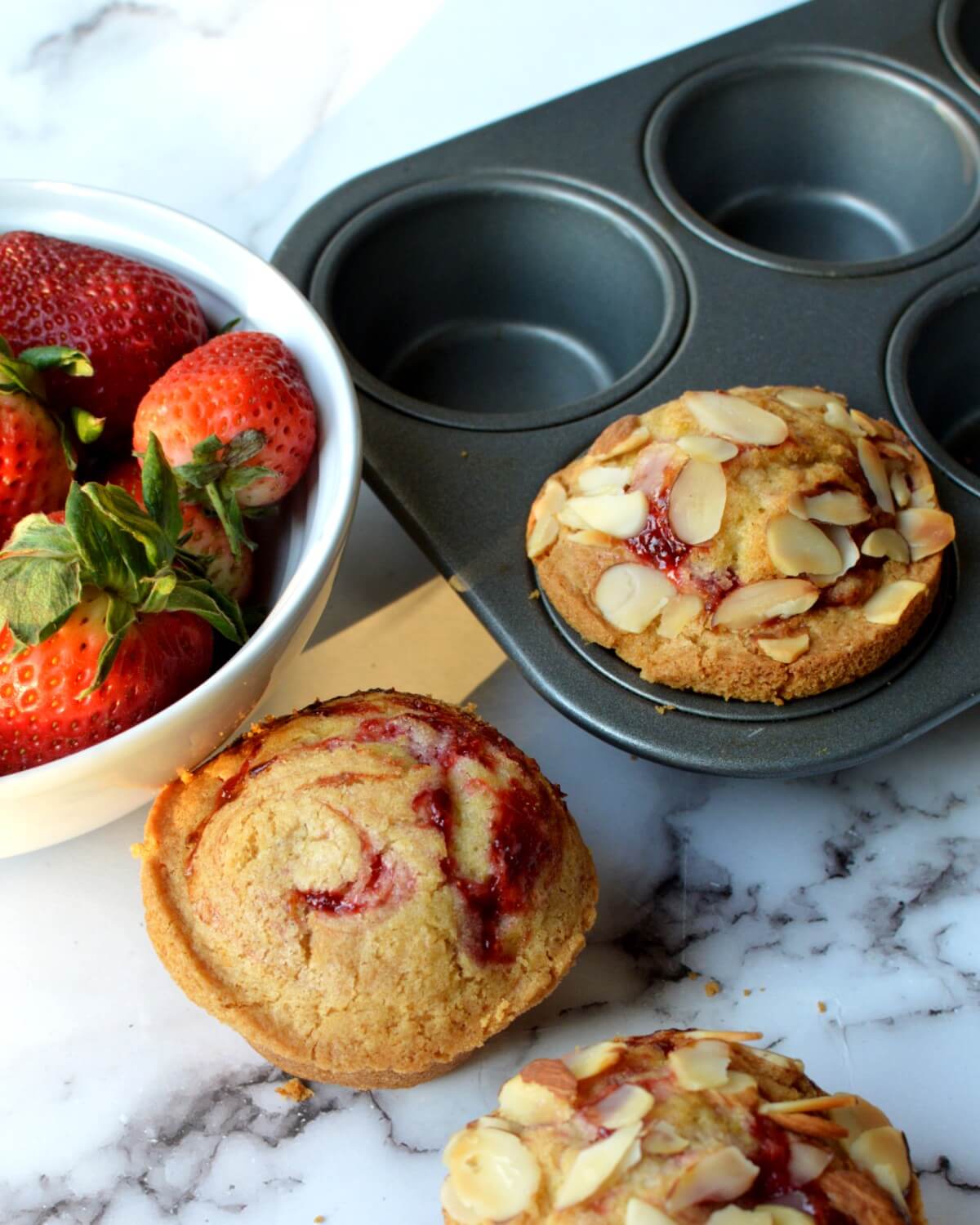 We're moving into strawberry season! This means two things for strawberry lovers like myself:
I don't have to sell my left arm to buy a quart of fresh strawberries.
I can go a little nutty and put them in everything from baked goods to butter and cinnamon rolls!
If you love strawberries almost as much as you love muffins then these gluten free muffins are for you!
Disclosure: This post contains affiliate links. In other words, if you click a link and purchase something I will receive a commission at no cost to you. I only recommend products I use and enjoy myself.
Ingredients
Vegetable oil - Vegetable oil is great for muffins. It helps them stay moist.
Sugar
Egg
Gluten free flour - I use Bob's Red Mill 1:1 All Purpose Flour for these muffins. I can't say how another gluten free flour blend will come out because I haven't tried them with another one. All gluten free flour blends are slightly different and react differently in recipes.
Baking powder
Baking soda
Kosher salt
Whole Milk
Strawberries
Lemon - Lemon and strawberries are a lovely pair. This recipe calls for zest and juice. Always use fresh lemon juice. Bottled lemon juice doesn't compare in brightness or flavor.
How to make these muffins
First I make a quick and simple strawberry jam to swirl into the tops. Not only does it make them look beautiful but it means I get strawberry flavor with every bite of muffin.
While the strawberry mixture reduces you can make the muffin batter. You don't even need a mixer for this recipe - just a bowl and a spatula.
Stir together the oil and sugar then mix in the egg. Add all the dry ingredients and stir until a thick batter forms then gently mix in the whole milk.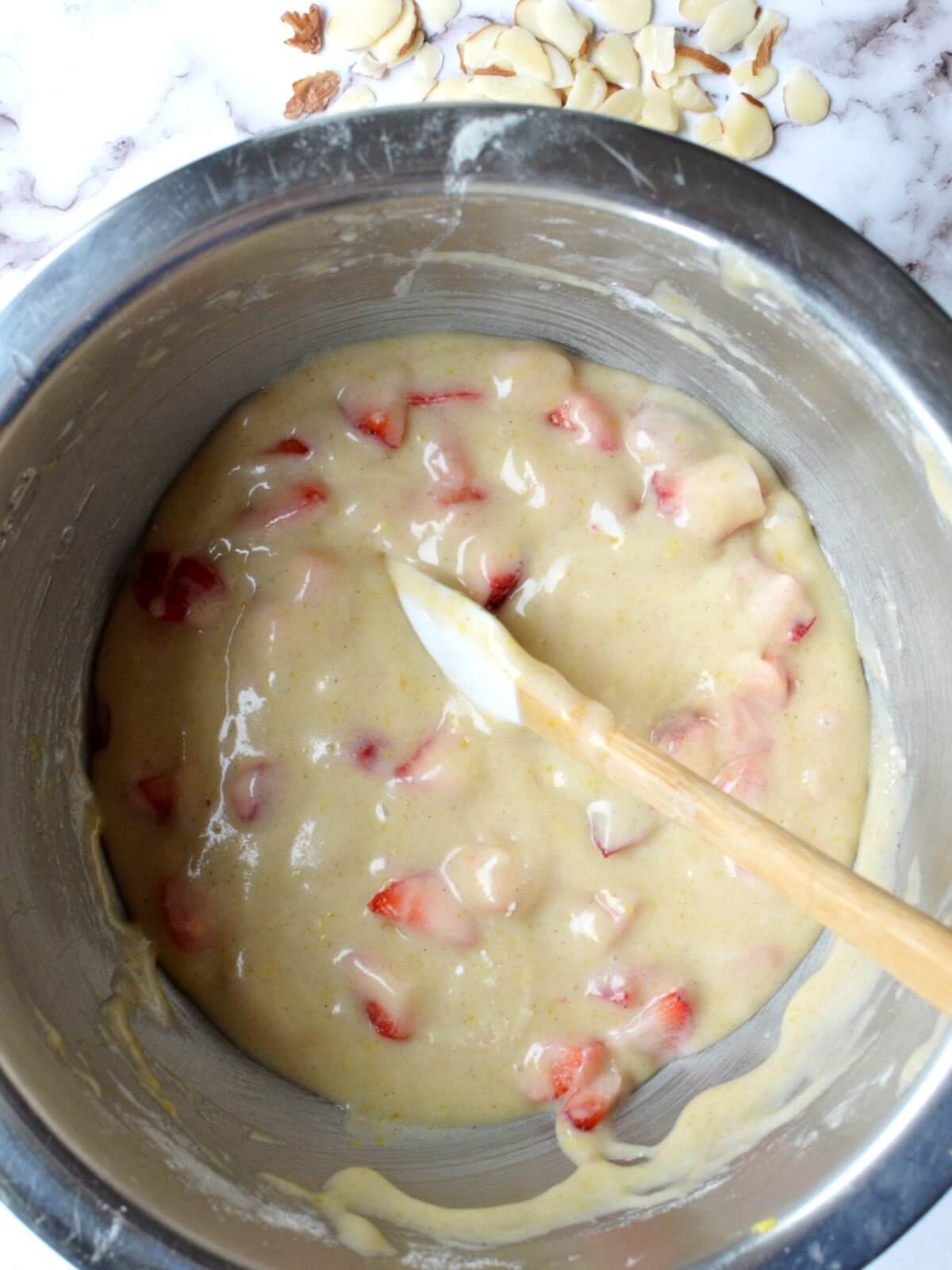 The batter will be smooth and shiny. Stir in some diced strawberries and scoop into a muffin pan then swirl a teaspoon of jam on top of each muffin. I like to add sliced almonds on top but this is totally optional.
Bake for 30 minutes and then let them cool before taking them out of the pan.
Tips & Substitutions
Strawberries release a lot of water when they cook. For this reason I baked the muffins a bit longer than normal. They need a solid 30 minutes to bake.
Do not try to remove the muffins from the tin immediately when they come out of the oven. They will be too hot to stay together and you will either lose your top or they will fall apart. I know they look delicious but trust me - resist the urge!
Let the muffins cool completely before storing. Once the muffins are completely cooled I like to wrap them individually in saran wrap. Since the strawberries in the muffins contain a lot of moisture this keeps them from getting soft or mushy.
Fill the muffin batter to the top! This recipe makes exactly 6 muffins. Scrape the bowl really well and you should be able to fill each cavity to almost the very top. This will give you big beautiful muffin tops.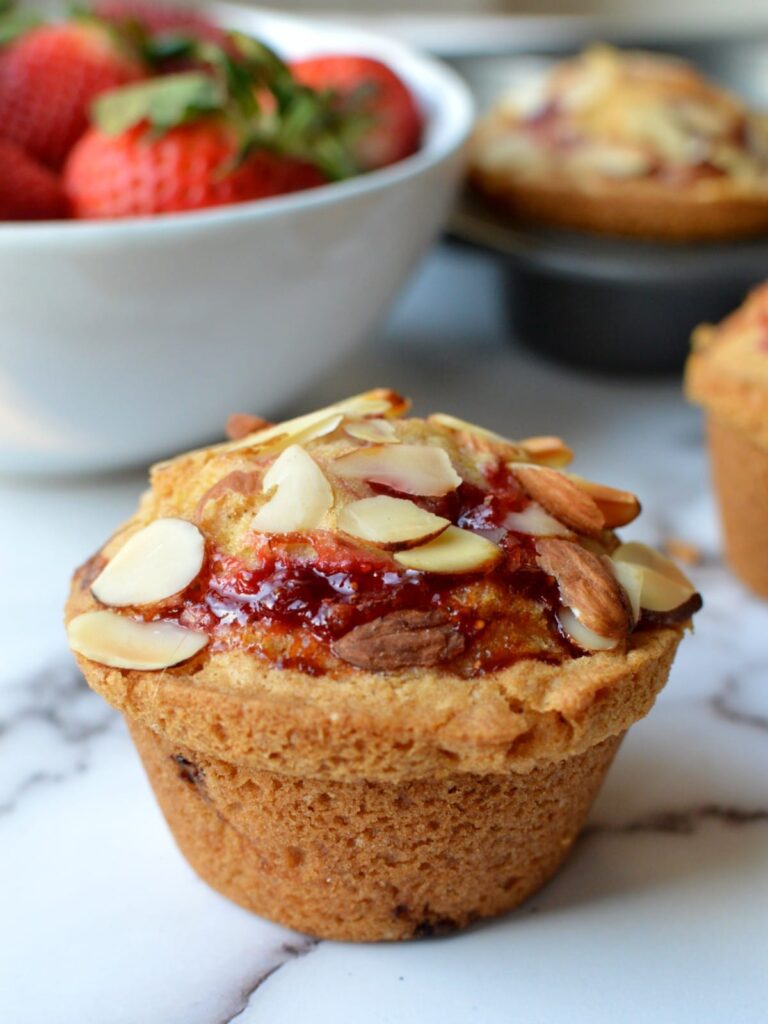 Other Gluten Free Muffin Recipes You Might Like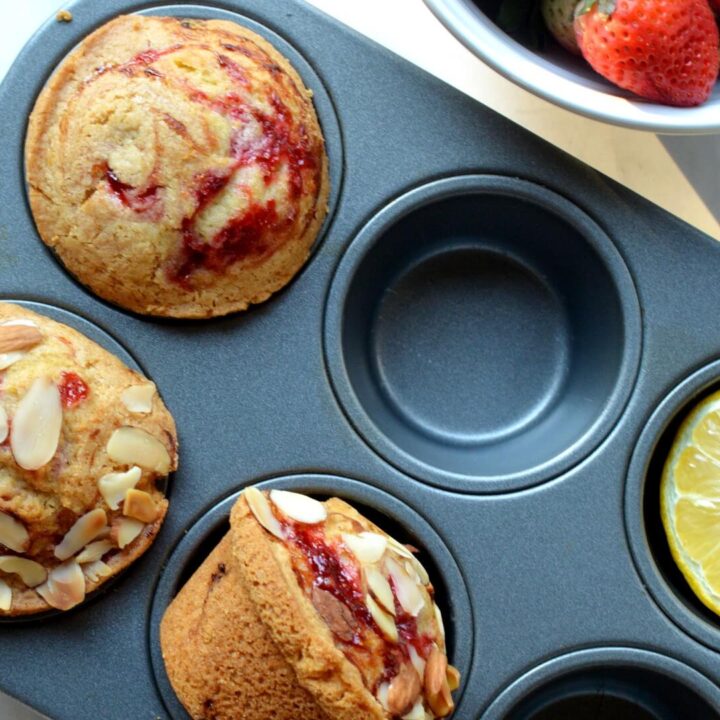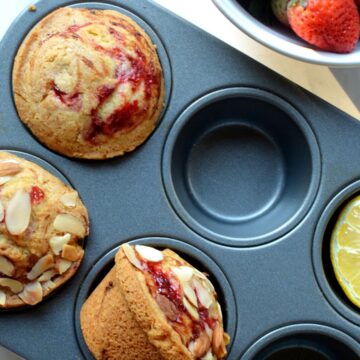 Gluten Free Strawberry Muffins
Moist and fluffy gluten free strawberry muffins make the best breakfast and/or treat. These muffins have perfect tops with strawberry swirls and bits of strawberry in each bite.
Ingredients
For the jammy swirl:
½

cup

Diced strawberries

1

tbsp

Lemon juice (Fresh)

1

tbsp

Sugar
Instructions
For the jammy swirl:
Add the diced strawberries, lemon juice, and sugar in a small sauce pan on medium high heat. Watch and stir occasionally until strawberries break down and the mixture reduces and thickens.
For the muffins:
While the mixture reduces start the muffin batter. Preheat oven to 350 degrees and spray 6 cavities in a muffin tin with nonstick cooking spray.

In a large bowl stir together vegetable oil and sugar then add the egg. Stir together well then add the gluten free flour, baking powder, baking soda, and kosher salt.

Stir until a thick batter forms and then add the whole milk. Stir well until a smooth batter forms and then stir in the diced strawberries and lemon zest.

Scoop batter into a muffin tin. Top each muffin with a teaspoon of the jammy strawberry mixture and swirl with a toothpick. Top with sliced almonds and bake for 30 minutes.

Let muffins cool in pan for at least 10 minutes before removing.