If chocolate makes you swoon, these gluten free chocolate cookies are for you! Why am I always looking for an excuse to bake something chocolatey? I'd put chocolate on my steak if it was socially acceptable.
Disclosure: This post may contain affiliate links. In other words, if you click a link and purchase something I will receive a commission at no cost to you. I only recommend products I use and enjoy myself.
These gluten free chocolate cookies are even more delicious than they look.
I need an intervention. Somebody stop me. If I make anymore gluten free chocolate cookies I may just turn into one. Silver lining: I'll always look amazing. 
I've eaten six of these double chocolate beauties since yesterday. Lately I've been trying to keep homemade goodies in my cake stand at all times. It's great for unexpected guests, aesthetically pleasing, and just plain dangerous cozy.
These cookies are shockingly good and super chocolatey. Move over Nestle, baking just got real.
Keeping treats out of the house has never been my M.O. In fact I keep quite a few in my freezer just in case the mood strikes. Right now I have blueberry pie, cinnamon crumb muffins, brownies, toffee, and gluten free double chocolate chip cookies in there. And I just cleaned it out.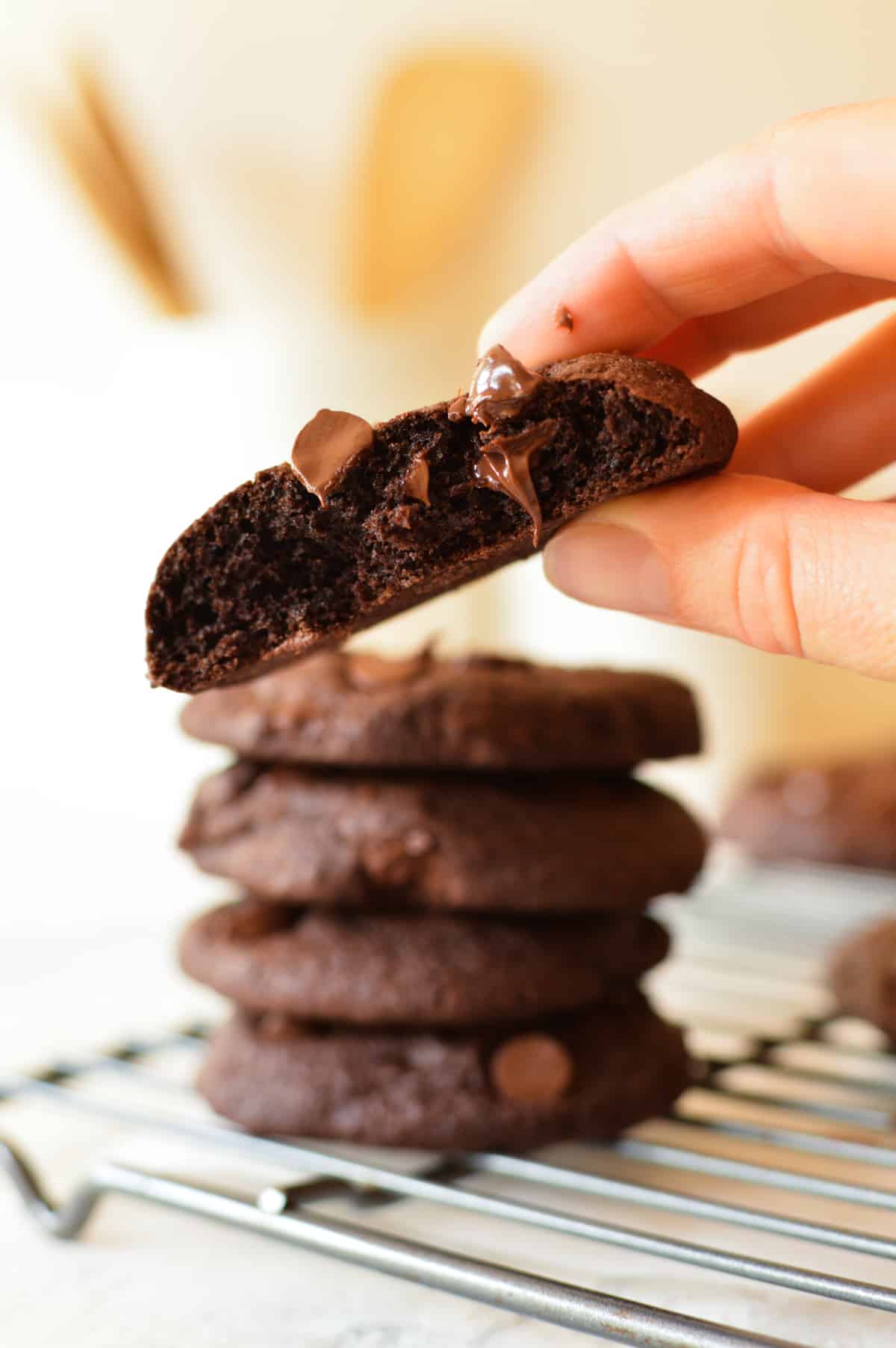 What can I say? I'm my father's daughter. There's two things the man loves: coffee and sweets. Most of my favorite childhood past times involve some form of sugar - namely ice cream. My four year old seemed to inherit the gene as well.
They say to give your children options in order to give them some semblance of control and independence. My girl is sharp. She constantly forms her questions to give me options. Instead of saying "May I have a cookie?", she says "Which one do you want me to have - a cookie or ice cream?" completely sidestepping a yes or no question altogether. It doesn't sound so sneaky until I'm doing three things at once, and later on I realize "cookie" came out of my mouth instead of "Hey, wait a minute".
And although I try to keep her sugar intake sensible (a four year old strung out on sugar is fun for no one) I hope one day she looks back at us eating our homemade goodies with fondness.
I always liked the quote by Ernestine Ulmer "Life is uncertain, eat dessert first". Isn't that the truth.
How do I make these dark chocolate cookies, and what makes them SO good?
Use Bob's Red Mill 1:1 All Purpose Gluten Free Flour. It is the best. No need for flourless chocolate cookies anymore! You can actually make delicious gluten free baked goods with flour and serve them to your gluten eating friends. Woohoo!
If you love cookies that are neat and tidy, use a portion scoop. I have two - a small one and a large one. I could write them a love song. They are AWESOME. Besides all my cookie recipes, I use them for meatballs, chicken salad, and falafels. Everything comes out exactly the same.
Be sure to microwave your chocolate in short intervals, like 15 seconds. Burnt chocolate = no bueno.
Use dark cocoa powder. You will get a much richer and chocolatey cookie. I use Hershey's dark. You should find it right next to hershey's regular cocoa.
Can you freeze your gluten free cookies?
Yes, yes and yes! Chocolate cookies are a great one to freeze. I freeze A LOT of baked goods.
Simply put them in a gallon ziploc bag and pop in the freezer. If you are worried about breakage simply freeze them on a sheet pan first. This way when you put them in the bag they're already rock hard.
Freezing baked goods is perfect for so many things. Want to bring homemade cookies but don't have the time right beforehand? Make them three weeks early and freeze them! When you thaw them out simply put them straight into the fridge for a couple hours first. Then pull them out to come to room temperature. This will prevent condensation.
Not sure what to do with all your leftover Christmas cookies? Freeze them! Come valentine's Day you might just be craving a Swedish snowball.
Cookie Variations:
If you're looking for double chocolate chunk cookies, swap out chocolate chunks for the chips no problem.
I have a friend who adds walnuts to all her baked goods and frankly I see why. They're delicious and pair well with chocolate. Add as you see fit!
In love with double chocolate chip cookies from Subway? Swap out white chocolate chips for the chocolate chips.
If you are on the hunt for the best gluten free chocolate chip cookies then check these out!
Gluten Free Chocolate Cookies
Instructions
Preheat oven to 350 degrees Fahrenheit.

Microwave dark chocolate chips with milk in a microwave safe bowl until just melted. Stir well and let come to room temperature.

Cream butter and sugar in a mixer on medium speed until light, fluffy and paler in color.

Add melted dark chocolate and beat for 1 more minute.

Beat in egg until completely combined. Scrape bowl if necessary.

Add flour, cocoa powder, and baking soda and beat on low until just combined. Fold in semisweet chocolate chips.

Scoop approx. 2 inch balls onto cookie sheet. These spread nicely so make sure each cookie has its own space.

Bake for 12 to 13 minutes. For smaller cookies bake 10 minutes.
Notes
I use a portion cookie scoop for this recipe. They all come out one size and its easier to use with a moister dough.