Who can resist sprinkles? These gluten free funfetti cookies are covered in sprinkles for a bright and cheery cookie that tastes delish!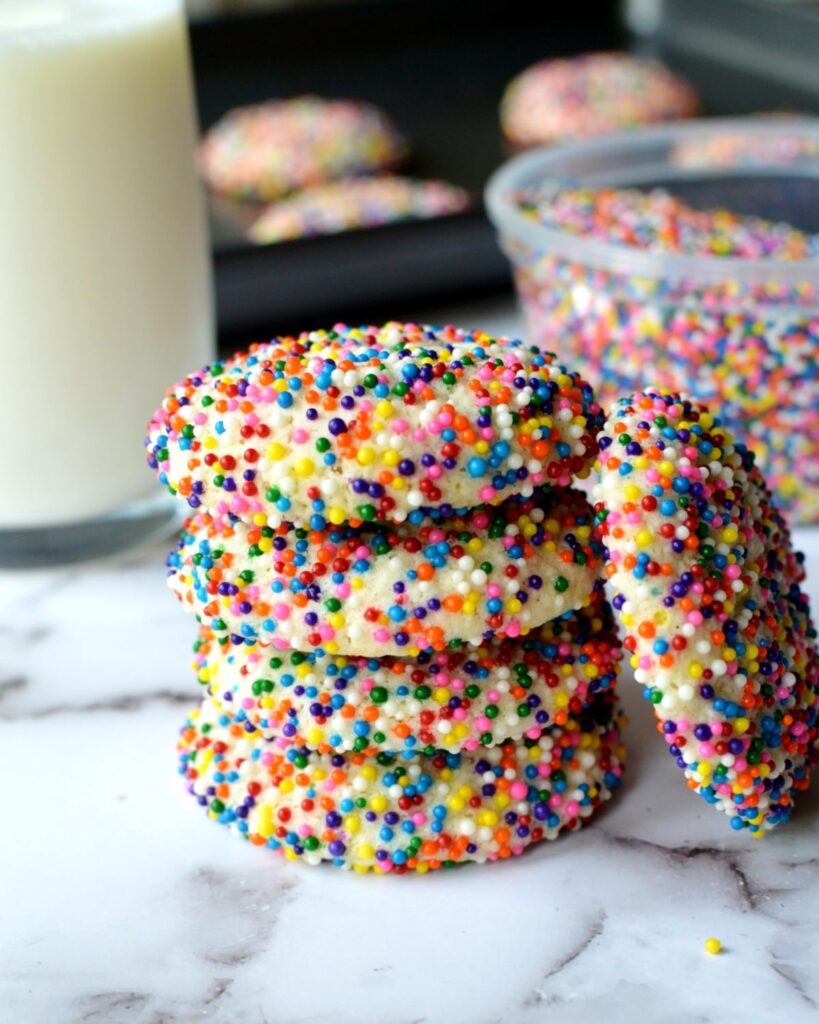 I have an obsession with sprinkles (and so do my kiddos!) probably because they go amazing with my other obsession - whipped cream. I love that you can find any color and theme but mostly their bright colors just make me happy.
Before I was diagnosed with celiac disease I used to pick up a free sprinkle cookie at Publix with my toddler. Now that it's been so long since I've had a sprinkle cookie I thought it was finally time I make some.
Disclosure: This post contains affiliate links. In other words, if you click a link and purchase something I will receive a commission at no cost to you. I only recommend products I use and enjoy myself.
Let's talk sprinkles
Traditional Funfetti treats have rainbow sprinkles on the inside. You can do this instead if you prefer but they look so cheery when they're on the outside.
I don't recommend both because it ends up being too many sprinkles (there is such a thing) and doesn't taste as good. You can however put them on the inside and sprinkle a few on top.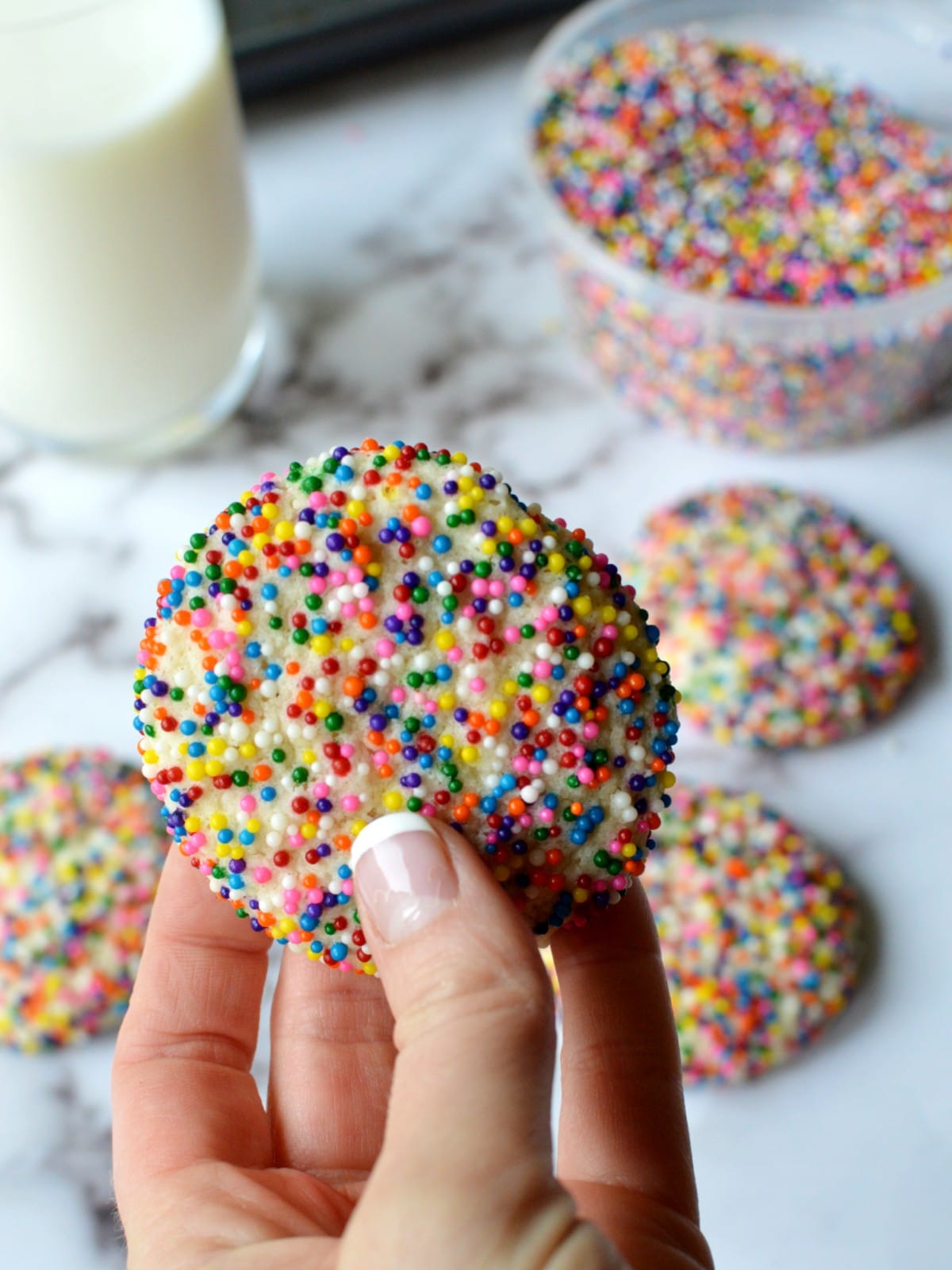 Remember two things when purchasing sprinkles:
Not all sprinkles are gluten-free
Most of them don't contain gluten but are made on shared equipment so it really depends on how sensitive to gluten you are. Always check the label to be sure. If you have celiac or trace amounts make you sick stick to only gluten-free sprinkles.
The sprinkle brand that's easiest to find and labeled gluten free is Betty Crocker but you can find a whole bunch of gluten free options on Amazon. Just search gluten free sprinkles.
Not all sprinkles taste delicious
After buying what can only be described as a boatload of sprinkles over the years I've come to realize not all of them taste good. So that being said make sure to try your sprinkles or purchase ones you know and love before dunking cookie dough in them.
Since the whole cookie is covered in sprinkles it stands to reason that gluten free funfetti cookies won't taste delicious if their covered in distasteful sprinkles.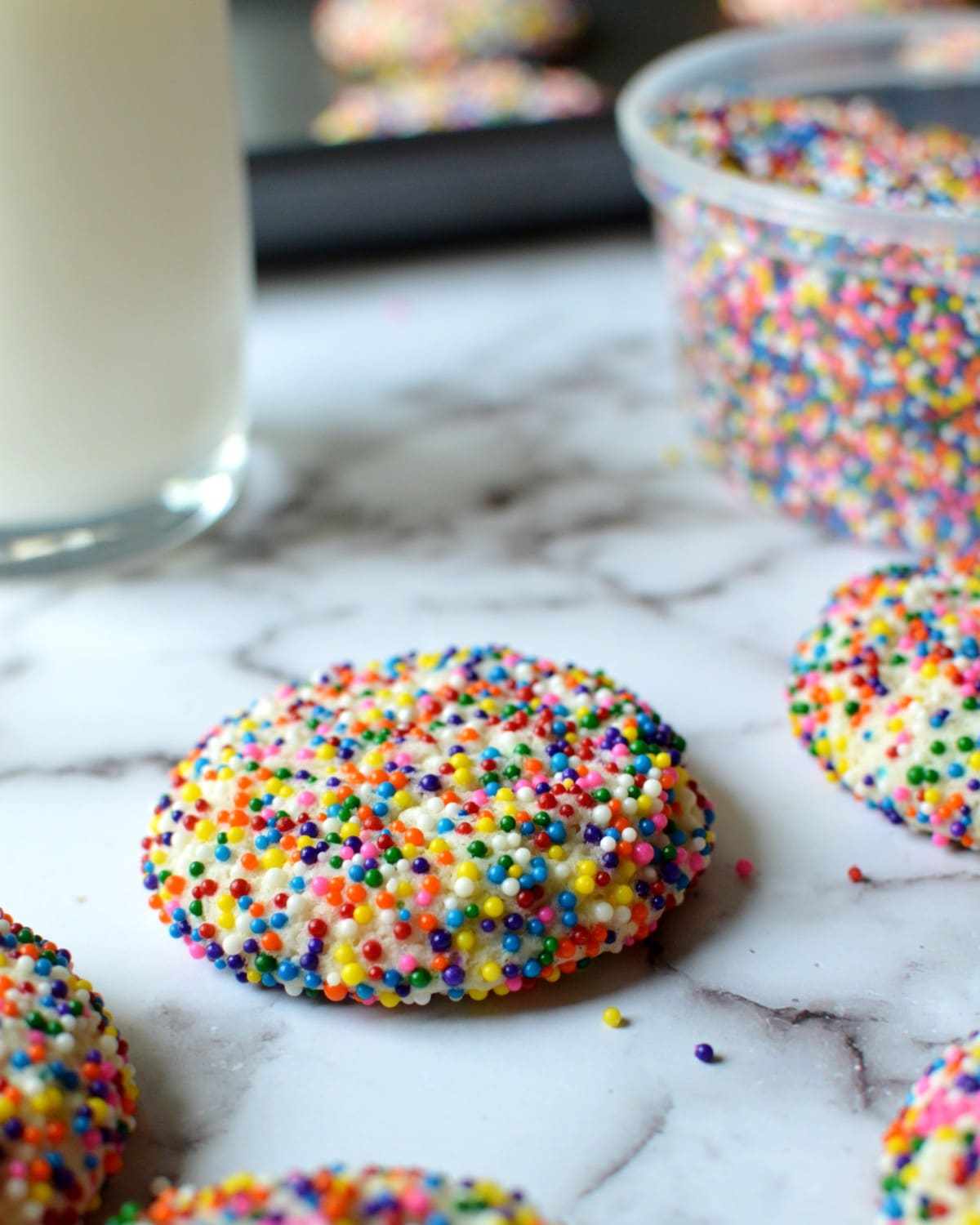 How to cover the cookie in sprinkles
It's easy peasy. I use a small portion scoop and a container or bowl of sprinkles. The dough is a little sticky so just scoop the dough straight into the sprinkle bowl then roll it around to coat it.
Place the coated cookie on the sheet pan and do the next one.
How to make the cookie dough
Cream the butter and sugars together until light and fluffy.
Scrape the bowl with a spatula and add the egg. Mix until combined.
Add the dry ingredients to the mixer and mix until a cookie dough forms.
Coat the cookies in sprinkles and then bake!
Other Gluten Free Cookies You Might Like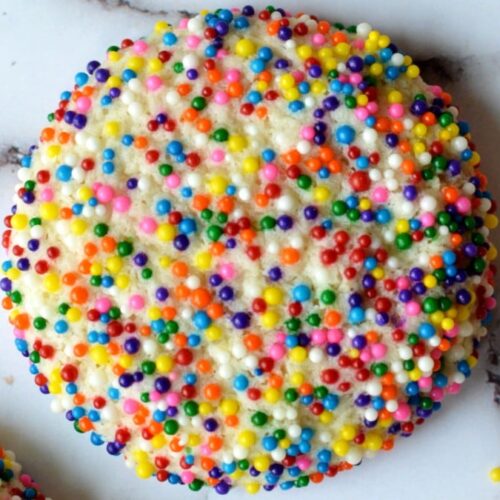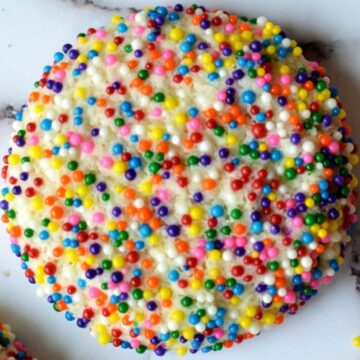 Gluten Free Funfetti Sprinkle Cookies
Who can resist sprinkles? These gluten free funfetti cookies are covered in sprinkles for a bright and cheery cookie that tastes delish!
Equipment
Stand mixer or hand mixer
Ingredients
½

cup

unsalted butter, room temperature

½

cup

sugar

2

tbsp

brown sugar

1

large egg

½

t

vanilla extract

1 ¼

cup

Bob's Red Mill 1:1 Gluten Free All Purpose Flour

spooned and leveled*

1

t.

baking powder

¼

t.

Kosher salt

Gluten free nonpareils or other favorite colorful sprinkles*
Instructions
Preheat oven to 350 degrees Fahrenheit. Line a sheet pan with a nonstick baking mat or parchment paper.

Cream together butter, sugar, brown sugar and vanilla on medium speed for two minutes until light and fluffy.

Scrape the bowl then add the egg and mix until combined. In a medium bowl combine the flour, baking powder, and salt then stir it together,

Add the flour mixture to the butter mixture and mix until a cookie dough forms. Scrape the bowl halfway through to make sure everything is combined.

Using a small portion scoop drop a cookie dough ball into a bowl of rainbow sprinkles and roll around until coated. Place the cookie dough ball onto the sheet pan and repeat with the rest of the cookie dough.

Bake 6 cookies on a sheet pan at a time for 10 minutes. You should get 16 cookies.
Notes
*See above on purchasing sprinkles
* To spoon and level the flour means to spoon the flour into the measuring cup, then level it off with the flat edge of a butter knife. This way you don't get too much flour.