This gluten free gingerbread cake can be made one of two ways: chocolate chip gingerbread muffins or studded with raisins and topped with an orange glaze. Both are quite magical but if I'm on a team it's always team chocolate.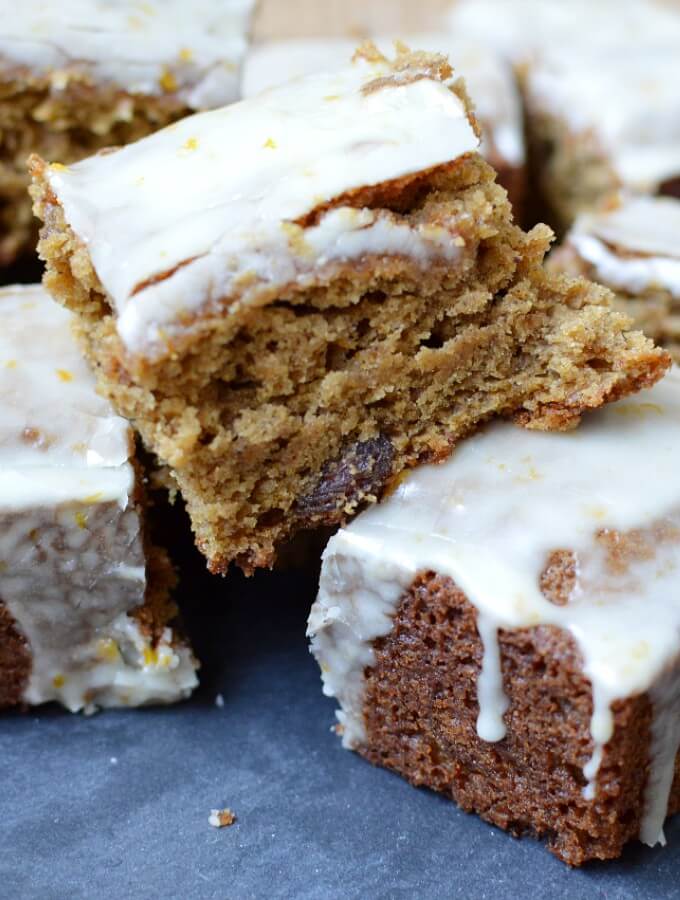 Disclosure: This post may contain affiliate links. In other words, if you click a link and purchase something I will receive a commission at no cost to you. I only recommend products I use and enjoy myself.
Confession: I initially made this gluten free gingerbread cake into gingerbread chocolate chip muffins. All the chocolate lovers rejoice. Chocolate has a gravitational pull on my taste buds. I know I can't be the only one.
After all my taste testers nixed the chocolate (boooo) I omitted it, added raisins and mixed up a simple but delicious orange glaze which I guess makes this gluten free gingerbread recipe a two in one. And by taste testers I mean my neighbor, my husband and my wee people. Infants and toddlers are surprisingly perfect for the job. They don't try to spare any fragile feelings one may have about a recipe. They simply spit it out (hopefully not on the couch).
I can respect the candor.
I will say my 5 year old agrees with me on the chocolate! She already ate all my muffins!
What makes this cake so dang good?
Every now and again, I will joke about something being so delicious I'd bury it in the ground and still eat it a week later. Can you see where I'm going with this? This gluten free gingerbread cake really is that divine.
What gives gingerbread its signature flavor?
Molasses
Cinnamon
Allspice
Ground Ginger
Nutmeg
Cloves
If a recipe doesn't call for these ingredients (or at the very least molasses, ginger and cinnamon) I wouldn't trust it myself. Mashed banana, and butter give this easy gluten free ginger cake its moisture, and the above ingredients give it it's personality (if you will).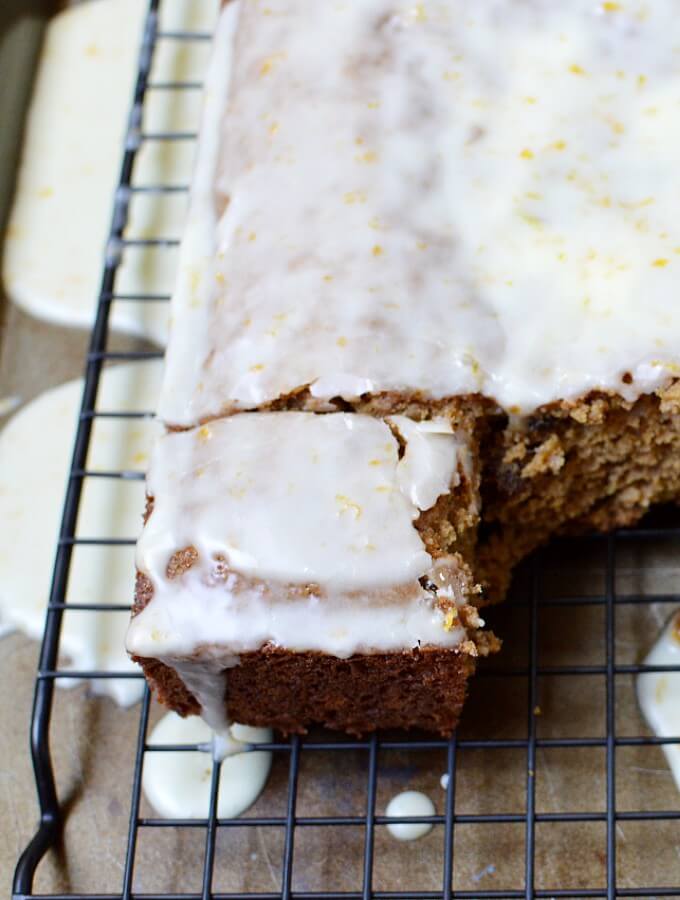 Why can't I find more gluten free gingerbread goodies in the store?
I feel ya.
As far as I know they don't sell gluten free gingerbread mix at the actual grocery store, although I have seen a gluten free gingerbread cookie. Enjoy Life brand sells a gingerbread spice cookie and Tate's gluten free cookies I know have a ginger flavor that can be found at fresh market, whole foods and Amazon. I love their thin and crispy cookies with coffee. Your best bet will be the internet.
King Arthur sells a gluten free gingerbread mix online, but I can't vouch for it. I have not tried it yet, but I also only use their gluten free flour as a backup. I exclusively use Bob's Red Mill 1:1 All Purpose Gluten Free Flour in the blue bag. It is sold at Walmart, Sam's Club and right here on Amazon. I prefer to buy it on Amazon because you can buy four bags at a time for less than 4.50 per bag and Publix doesn't carry it. Walmart has been out of it on multiple occasions as well.
I have used King Arthur's gluten free flour in a pinch and while not bad per say, the texture and flavor simply can't match Bob's Red Mill. I also notice that my gluten eating cronies notice the difference as well. The next best thing to Bob's Red Mill is a flourless cake in my opinion.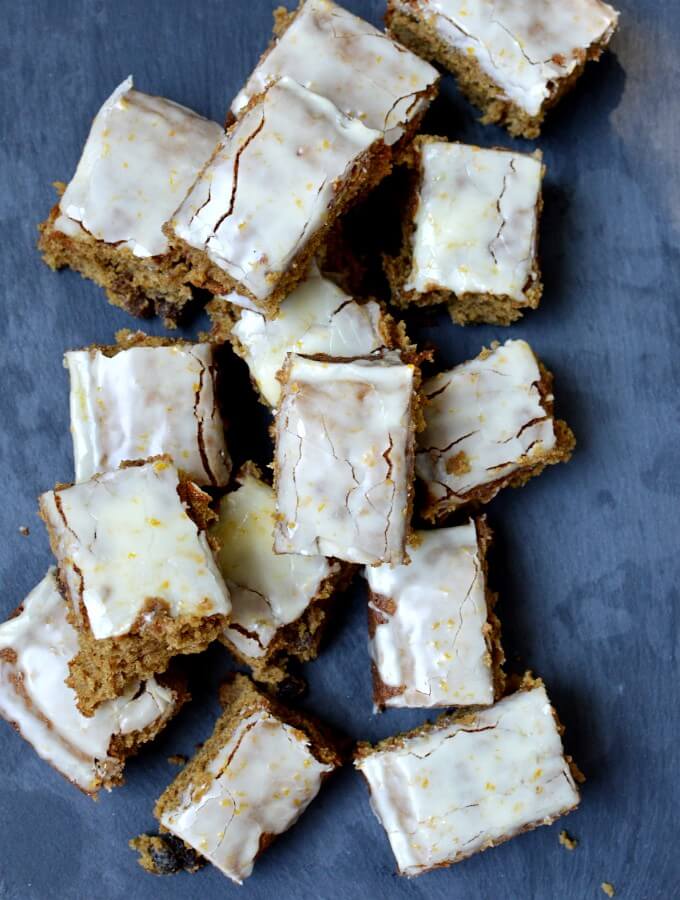 Let's make some drool worthy gluten free sticky ginger cake, shall we?
With the exception of melting the butter, and mashing the banana this is a one bowl recipe. I used a small food processor to puree the banana because I didn't want it to be chunky. You can use a fork as well, just try your best to really mash the patootie out of it.
Place all your dry ingredients in a large bowl and whisk until everything is well combined. Then simply add all the wet ingredients and mix until thoroughly combined. Add raisins if you wish, and then bake at 350 degrees. If you are making a gingerbread loaf it will take longer than muffins.
My muffins only took 17 minutes, and my cake (baked in a square 8 by 8 in pan) took 25 minutes.
The trickiest part really is flipping the cake out of the pan (which is actually not very tricky at all). As long as you sprayed the pan with Pam the cake will not get stuck.
Simply wait for it to cool then place a sheet pan upside down on top of it. Holding both the sheet pan and the cake pan together, flip them so the cake pan is on top. Remove the cake pan. You should now have an upside down cake on a sheet pan. Now take a cookie cooling rack and place on top of the cake. Hold the sheet pan and the cooling rack and flip the cake onto the cooling rack. You will then place your cooling rack on your sheet pan and pour the glaze over top.
If all this flipping nonsense makes you crazy, muffins are for you!
In the spirit of delicious, gluten free cakes check out these Gluten Free Pumpkin Cupcakes with Cinnamon Maple Frosting. (Also delicious, also no flipping 🙂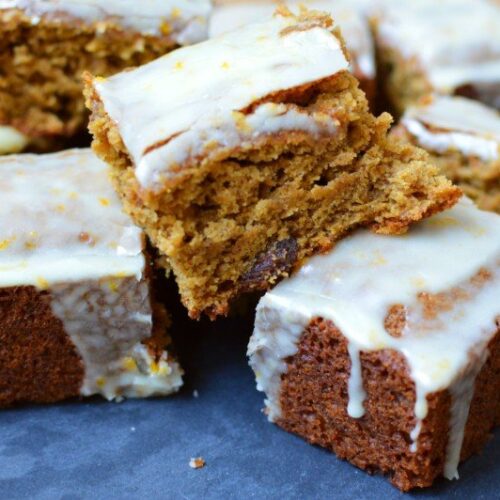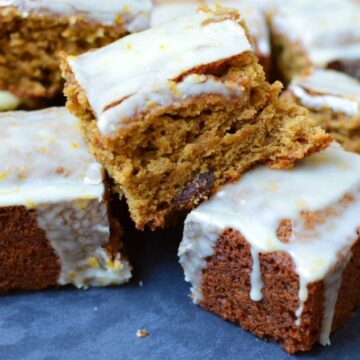 Gluten Free Gingerbread Cake with an Orange Glaze
This gluten free gingerbread cake can be made one of two ways: chocolate chip gingerbread muffins or studded with raisins and topped with an orange glaze. Both are quite magical but if I'm on a team it's always team chocolate.
Ingredients
½

C.

sugar

¼

C.

brown sugar

2

t.

baking powder

½

t.

baking soda

½

t.

cinnamon

½

t.

allspice

½

t.

ground ginger

¼

t.

nutmeg

¼

t.

cloves

½

C.

pureed banana*

½

C.

butter

melted

2

eggs

2

T.

molasses

½

C.

raisins for cake

or ¾ C. chocolate chips for muffins
For the glaze:
1

C.

powdered sugar

2

T.

orange juice

zest ½ orange
Instructions
Preheat oven to 350 degrees Fahrenheit. Spray an 8 by 8 in square pan for cake or a muffin tin for chocolate chip muffins with nonstick spray. In a food processor, puree a medium to large banana until smooth. In a small bowl, melt 1 stick of butter.

Measure all dry ingredients into a large mixing bowl, and mix with a whisk until all ingredients are thoroughly mixed together.

Add pureed banana, melted butter, eggs, molasses and mix well with a spatula until the mixture is homogeneous and smooth.

Stir in raisins or chocolate chips, whichever you have chosen.

Bake at 350 degrees until the cake bounces back when touched and is a golden brown. This should be around 17 minutes for muffins and 25 minutes for the cake. Every oven varies slightly so feel free to check with a toothpick.

Once the cake is done, wait until completely cooled before removing from the pan.*

Place the cake on a cooling rack over a sheet pan, and drizzle the glaze over top.

Let glaze set and then enjoy.
For the glaze:
Combine powdered sugar, orange juice and zest in a medium bowl and stir until a glaze forms.
Notes
*½ C. banana is about 1 medium banana pureed in a food processor 
*To flip cake onto a sheet pan, place the sheet pan upside down over top the cake pan. Holding both the sheet pan and the cake pan, carefully flip the cake onto the pan. 
To flip onto a cooling rack, place the cooling rack over top the cake, and again holding both the sheet pan and the cooling rack carefully flip the cake onto the cooling rack. 
Nutrition