This gluten free sour cream pound cake is beyond delicious! It's moist and dense with a buttery crumb and quite frankly it's dangerously good.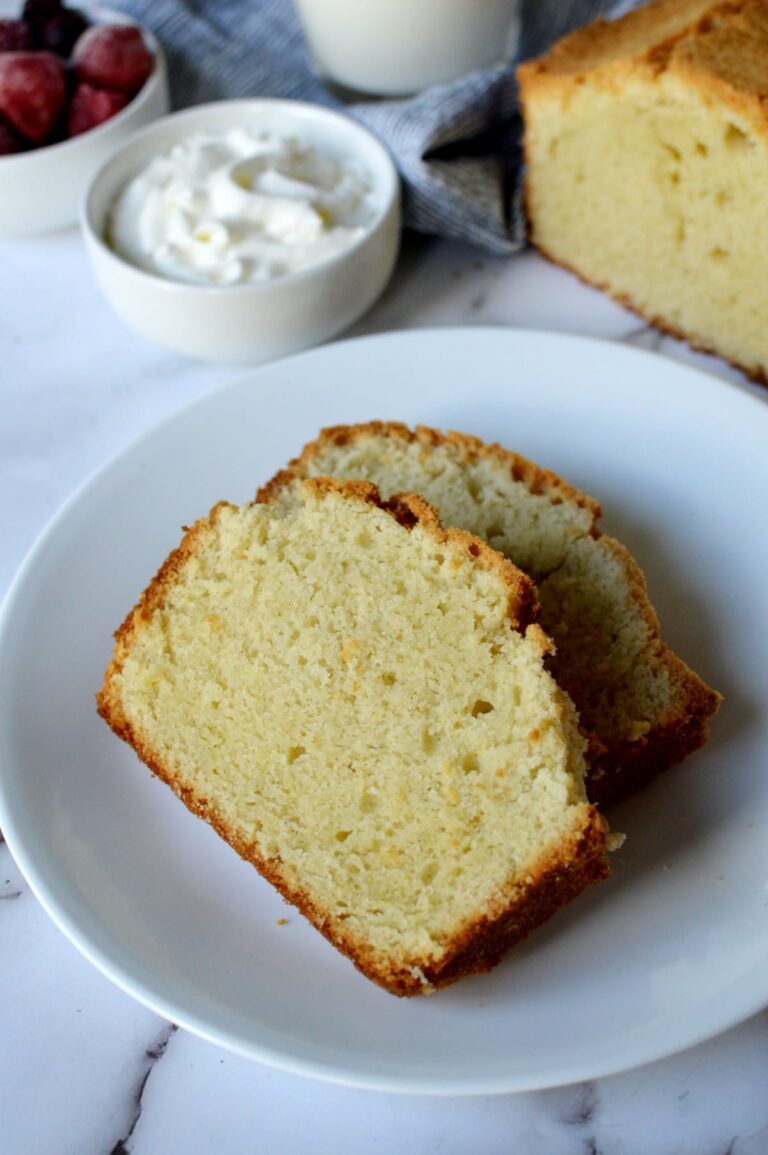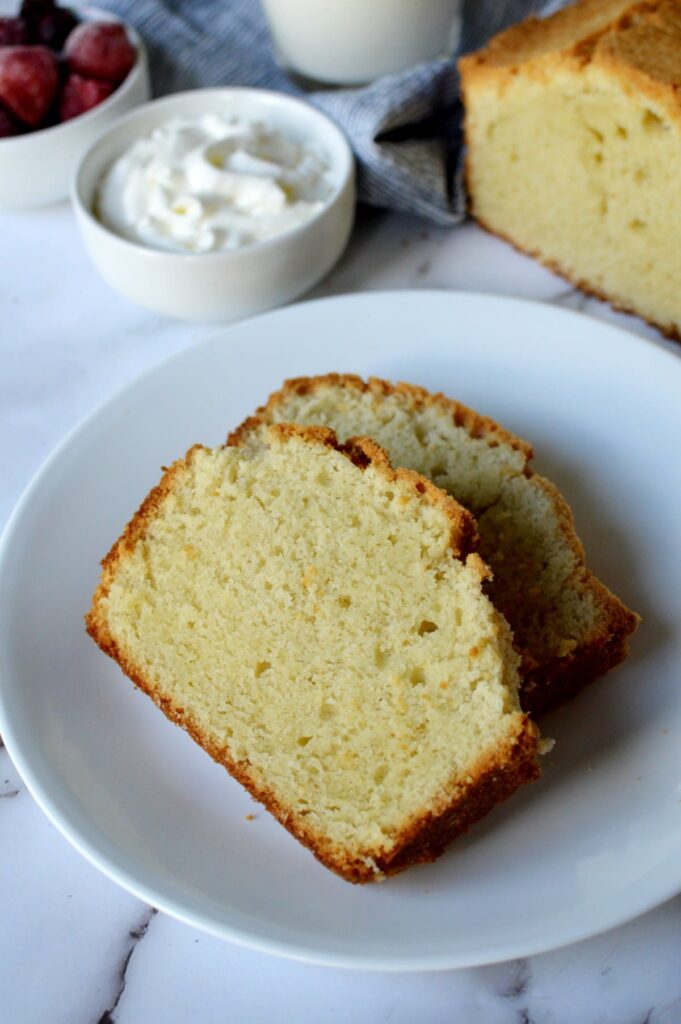 Pound cake is a tall order around here. My husband is southern and loves a good pound cake. He's always been somewhat of a pound cake connoisseur without trying to be. Any time we find a new bakery it's what he orders and nine times out of ten it doesn't measure up to his moist and buttery standards.
Combine that and my three year old son's particular and high dessert standards (I created a monster!) and I knew I had to get this one right.
Pound cake goes way way back and I don't mean when the television was invented - more like the steam engine. It dates back to the 1700's and is named after it's ingredients.
Traditionally it was made with a pound of butter, a pound of sugar, a pound of eggs, and a pound of flour. It's certainly not a diet food! But not many seem to care and I think it's because it's so dang delish!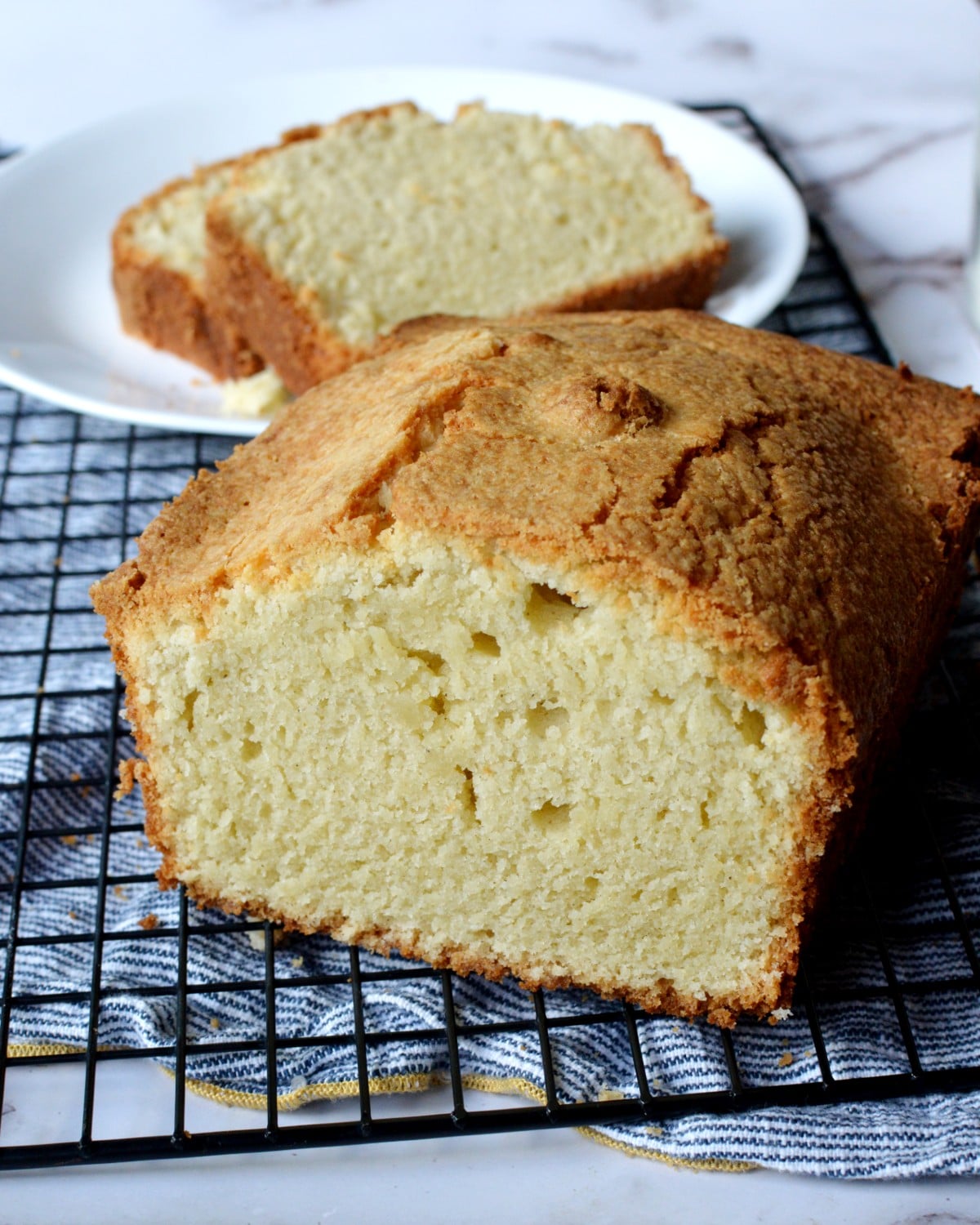 Disclosure: This post contains affiliate links. In other words, if you click a link and purchase something I will receive a commission at no cost to you. I only recommend products I use and enjoy myself.
Ingredients:
Unsalted butter
Sugar
Eggs
Bob's Red Mill 1:1 All Purpose Gluten Free Flour - This is my favorite gluten free flour for it's taste and texture. I like to buy it on Amazon or add it to my Walmart pickup order. I always recommend this one not only because I love it but because all gluten free flour blends are different and therefore the end result is different too which means I don't know how this recipe will come out with another gluten free flour.
Baking powder
Kosher salt - If you use table salt it will be too salty. Make sure to use kosher salt.
Vanilla extract - Just a small amount adds wonderful flavor.
Sour cream - Sour cream makes the cake moist and the perfect texture.
Recipe Tips & Substitutions
Spray the pan well with nonstick spray. Nothing's worse than a beautiful pound cake that's stuck in the pan!
Similar to the first tip but different - wait for it to cool a while before trying to get it out! It's so hard because the house smells amazing and I'm already topping off my iced coffee to go with it but ... wait! I feel you but you can do it.
I used vanilla extract because it's classic and delicious but you can flavor it with any zest or extract. You can add almond extract, lemon zest, coconut extract, or orange zest. You can also top it with a lemon glaze for a gluten free lemon sour cream pound cake. Simply whisk together fresh squeezed lemon juice and powdered sugar then pour over top. You just don't want a thick and gloppy glaze.
Pound cake tastes best room temperature. It sets and becomes dense and moist while somehow tasting light too. It feels much cakier straight out of the oven while it's still warm. If you want that classic pound cake texture wait for it to set!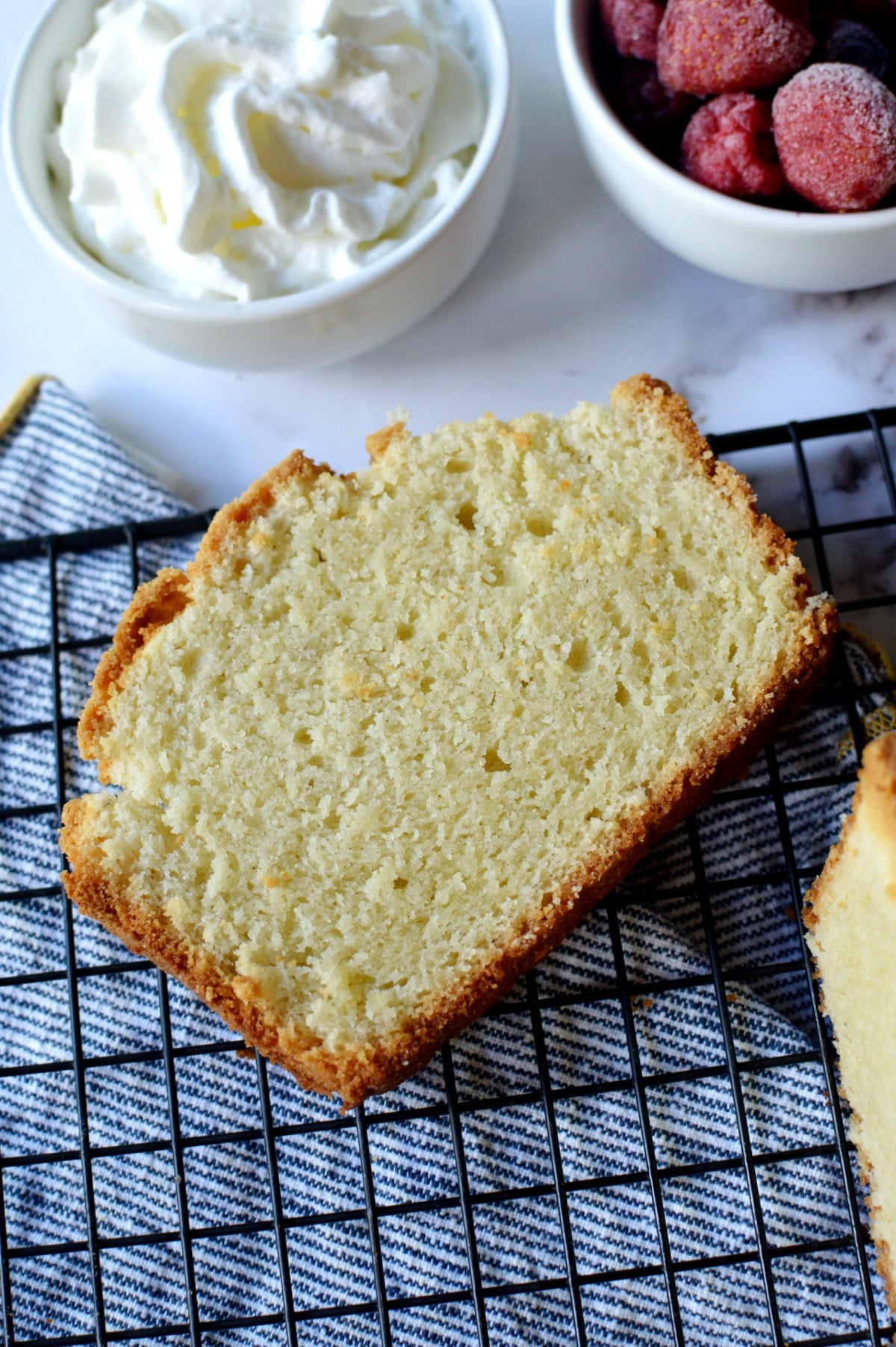 Can you freeze gluten free pound cake?
Yes! I like to slice it first then place the slices on a half sheet pan. Once the slices are frozen I put them in a zip top freezer bag then I write the date it was made on it with a sharpie. For best taste and texture use within 3 months. This way you can pull out one slice anytime you want and not have to worry about waste. Just microwave a slice in 15 second intervals until it's room temperature.
What tastes good on pound cake?
Pound cake tastes amazing on it's own but if you can't resist a delightful topping try fresh chopped strawberries, whipped cream, sliced peaches, vanilla ice cream, toasted coconut, lemon curd, Nutella, a simple powdered sugar glaze, or caramel sauce.
Other Gluten Free Desserts You Might Like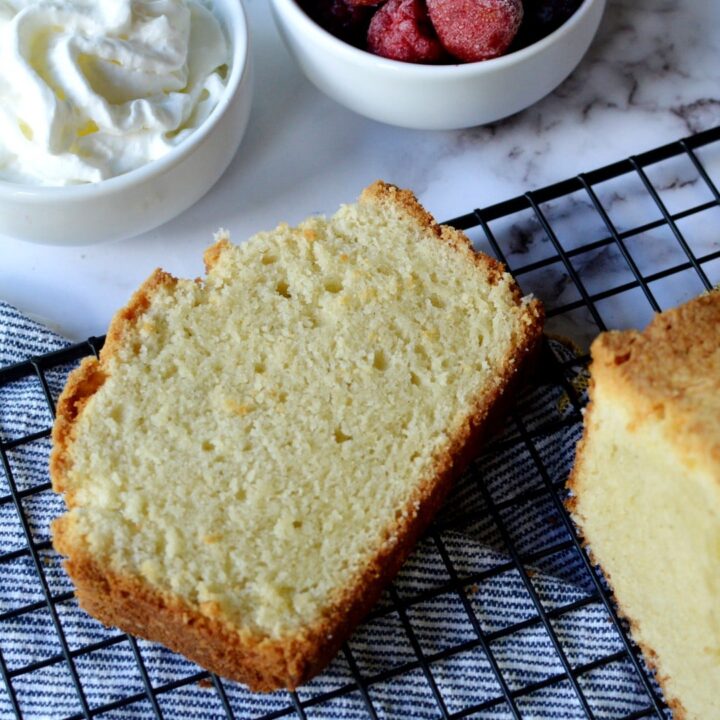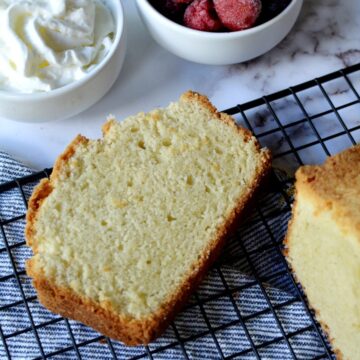 Gluten Free Sour Cream Pound Cake
This gluten free sour cream pound cake is beyond delicious! It's moist and dense with a buttery crumb and quite frankly it's dangerously good.
Equipment
Stand mixer

9 x 5 baking pan
Ingredients
Nonstick cooking spray

1

cup

unsalted butter, room temperature

(2 sticks)

1 ¼

cup

sugar

3

large eggs

1

t.

baking powder

¼

t.

kosher salt

1

t.

vanilla extract

⅓

cup

sour cream
Instructions
Preheat oven to 350 degrees Fahrenheit. Spray a 9 x 5 baking pan with nonstick cooking spray,

In the bowl of a stand mixer cream butter and sugar until light and fluffy about 4 minutes on medium speed. In a medium bowl combine the flour, baking powder, and kosher salt then whisk together. Set aside.

Add the eggs one at a time to the butter mixture beating until incorporated. Scrape the bowl with a spatula in between each one.

Add half of the flour mixture and beat until incorporated then repeat with the other half. Scrape the sides of the bowl with a spatula to make sure everything is mixed together.

Add the vanilla and sour cream then beat until incorporated. Scrape the batter into the greased baking dish and bake until golden brown and a toothpick comes out clean around 75 minutes.