Overnight oats without yogurt are creamy and delicious too! These overnight oats are perfectly sweet and satisfying, a delicious on-the-go breakfast.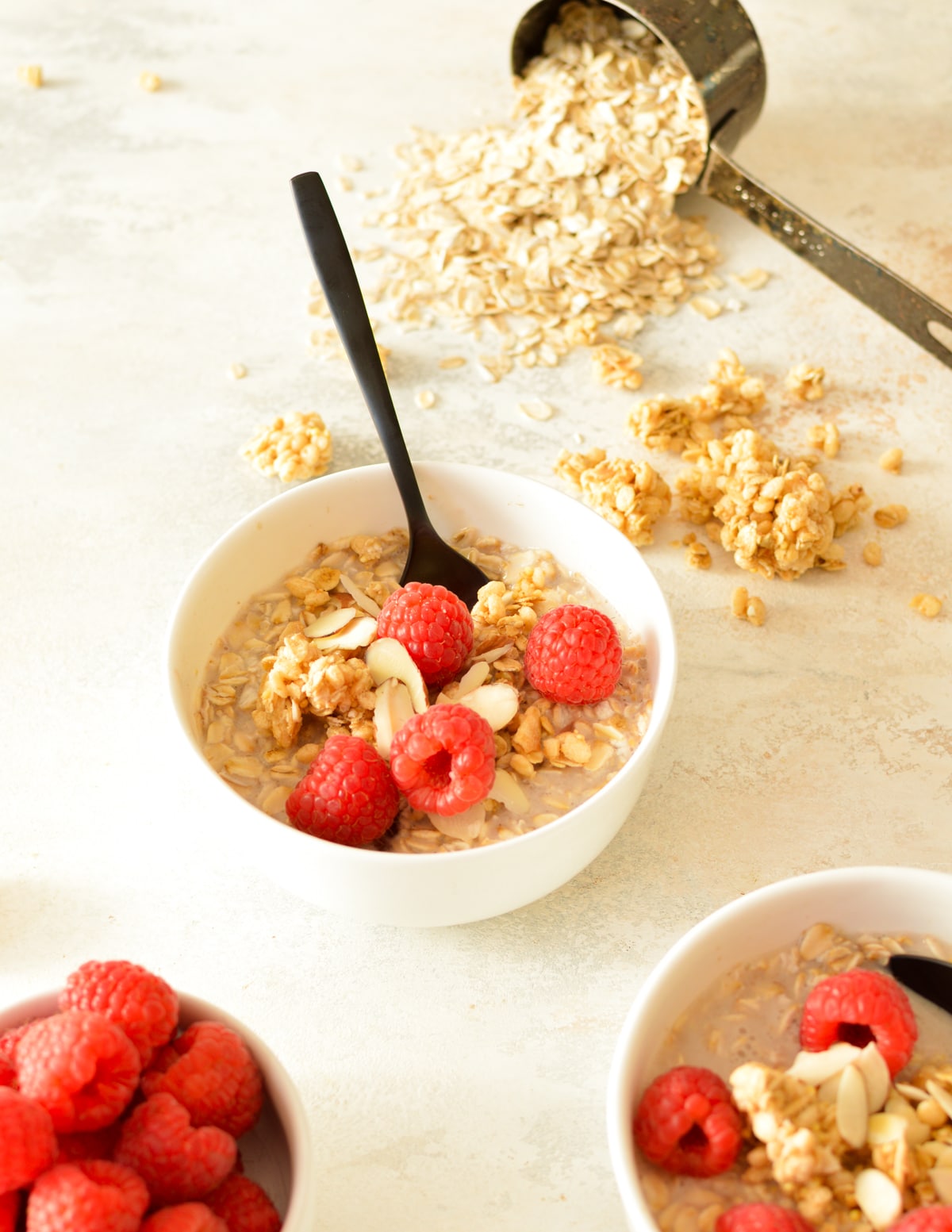 I am a die-hard fan of overnight oats! Their sheer simplicity is enough to win me over, much less the creamy texture and multiple flavor options.
If you're out of yogurt (or just can't have it) this overnight oats recipe without yogurt is divine! It's only four simple ingredients and it's a breeze to customize. I like to top it with crunchy granola, tart raspberries, and nutty sliced almonds.
Why you will love it
Creamy overnight oats recipe no yogurt
Easy to customize with your favorite toppings
Only 5 minutes of prep time, if that!
This recipe is gluten-free, dairy-free, & vegan.
A mess-free make-ahead breakfast (Count me in!)
What are overnight oats?
Overnight oats are a mixture of rolled oats and a liquid that's refrigerated overnight. The oats absorb the liquid and thicken into a creamy cold oatmeal.
Unlike regular oatmeal, overnight oats are not cooked or warm. Because of this, overnight oats take about 2 minutes to prep! You can customize them with your favorite sweetener, mix-ins, or toppings.
You can use instant oatmeal packets too! They taste delicious, just slightly less chewy.
Ingredients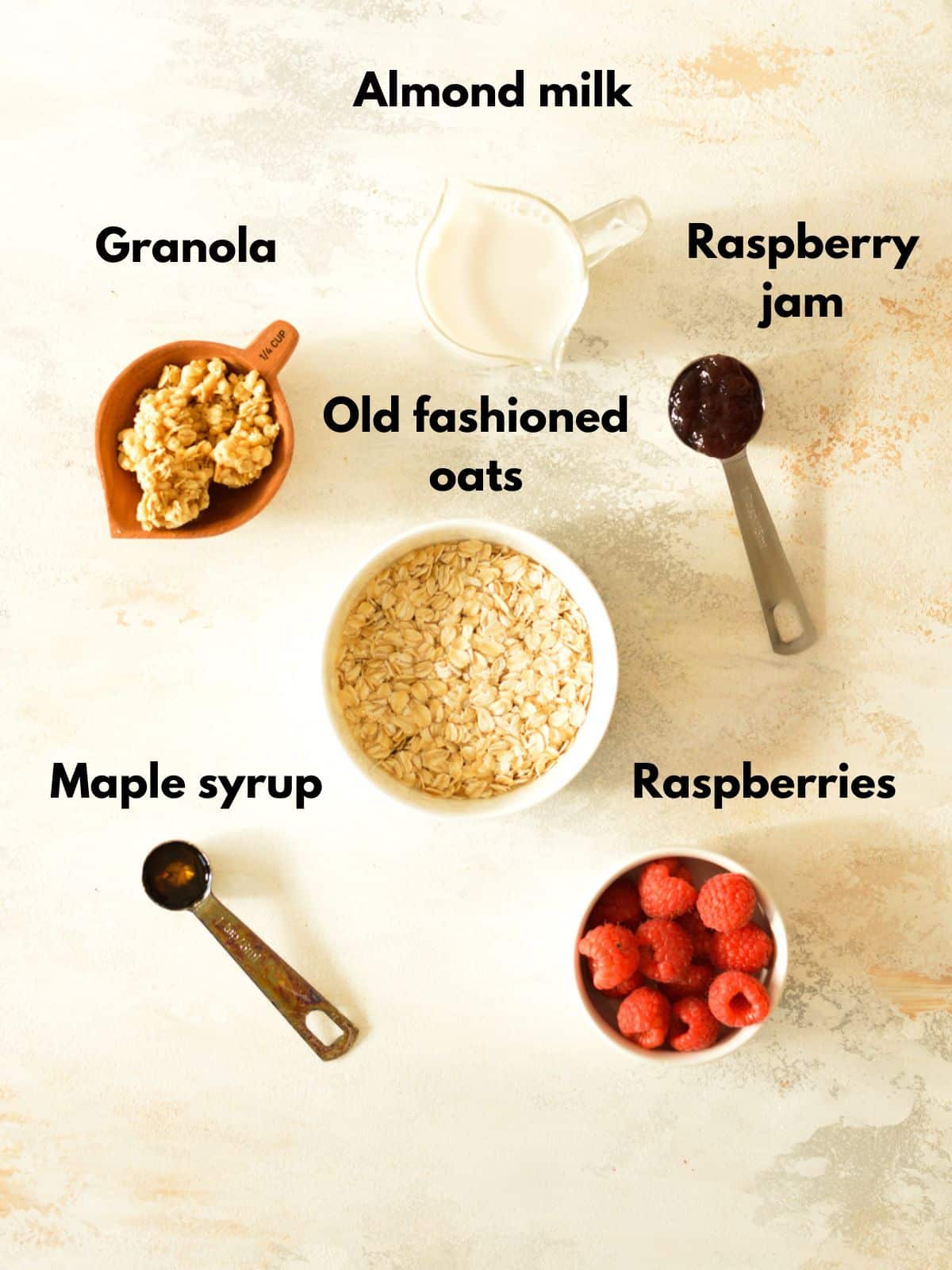 Old fashioned oats: Be sure to use old fashioned oats for this recipe. Steel cut oats are hard and chewy and quick cooking oats won't have enough texture. If you're gluten intolerant, be sure to purchase oats with a gluten-free label on them. Oats are grown and processed in the same facilities as gluten-containing grains, so cross contamination is likely.
Unsweetened almond milk: I love almond milk for smoothies, oatmeal, and lattes. It has a mild flavor and it's low in calories. You can use any milk you like, regular or plant-based. I recommend using unsweetened though, so you can control the amount of sugar.
Jam: I used seedless raspberry jam, but you can swap it with whatever jam you have on hand. I like to buy all-fruit jams with no added sugar but that's just a personal preference.
Maple syrup: For a touch of extra sweetness! Light agave, honey, brown sugar, or regular sugar all work great.
Toppings: Crunchy granola, nutty almonds, and tart raspberries go so well together! Toppings are optional but highly recommended.
How to make overnight oats
In a small bowl or glass, combine the old fashioned oats, almond milk, jam, and maple syrup.
Use a spoon to stir the mixture until it's all well combined.
Cover the bowl with saran wrap and place it in the fridge. Refrigerate for at least 4 hours, but preferably overnight. I usually make it right before I go to bed.
Add toppings and enjoy!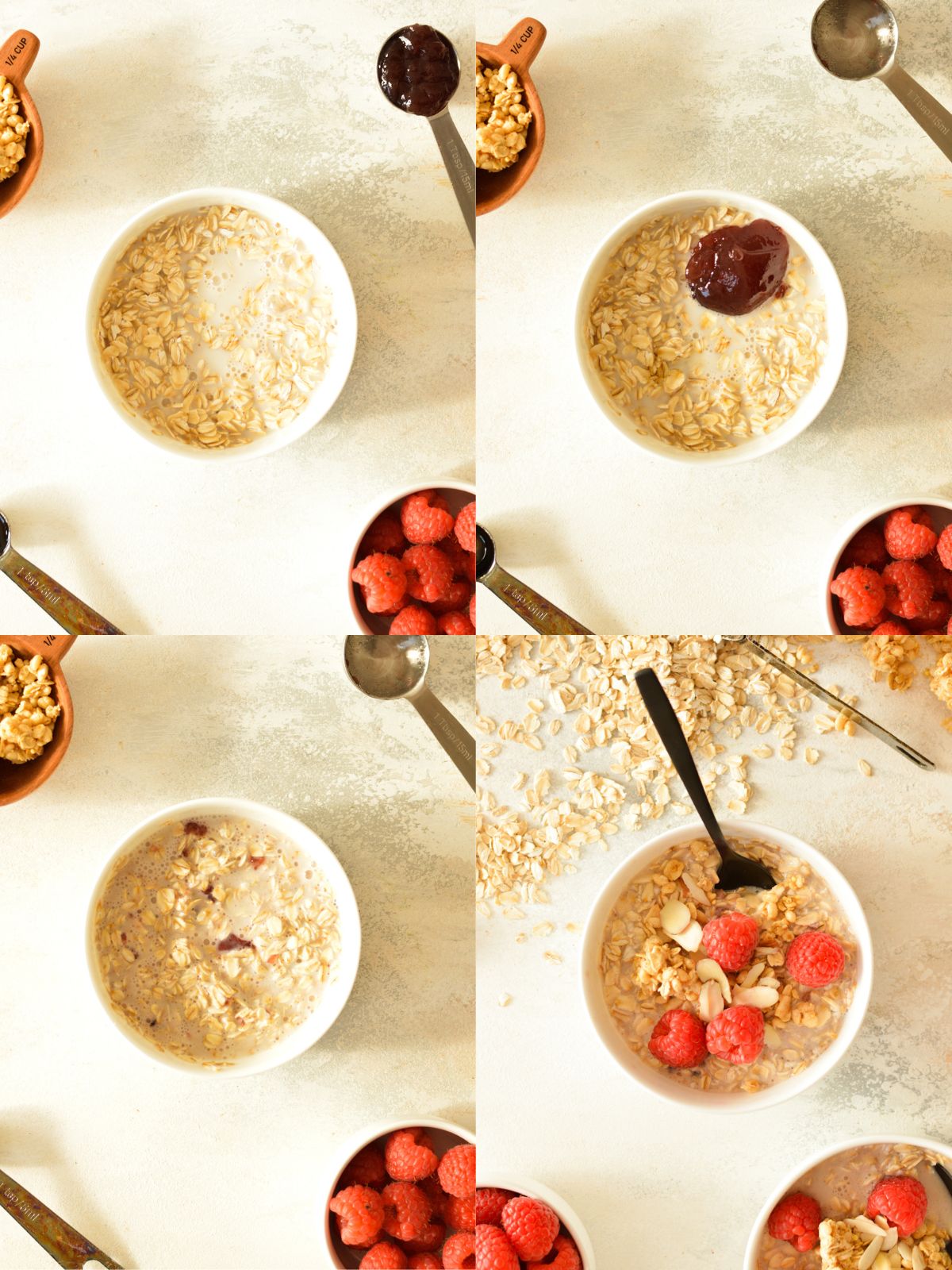 Flavor variations & ideas
Overnight oats are a cinch to customize! The only thing you need to consider is the liquid to oats ratio. Typically the ratio of oats to liquid is 1:1.
If you add an ingredient that absorbs moisture, you will need to add a bit more liquid to compensate. A good example are chia seeds or protein powder.
Protein: Add chia seeds, peanut butter, almond butter, or protein powder! If you add a tablespoon of chia seeds or protein powder, increase the almond milk to ⅔ cup.
Sweetener: Maple syrup, honey, agave, brown sugar, sugar, stevia, or coconut sugar are great options! Less is more. You can always add more sweetener, but you can't take it out.
Mix-ins & Toppings: This is where it really gets tasty! Granola, nuts, shredded coconut, berries, bananas, fruit, nut butter, jam, nutella, pumpkin puree, cocoa powder, protein powder, chocolate chips, pepitas, dried fruit, banana chips, or chopped apples are all great options. If it sounds good, go for it!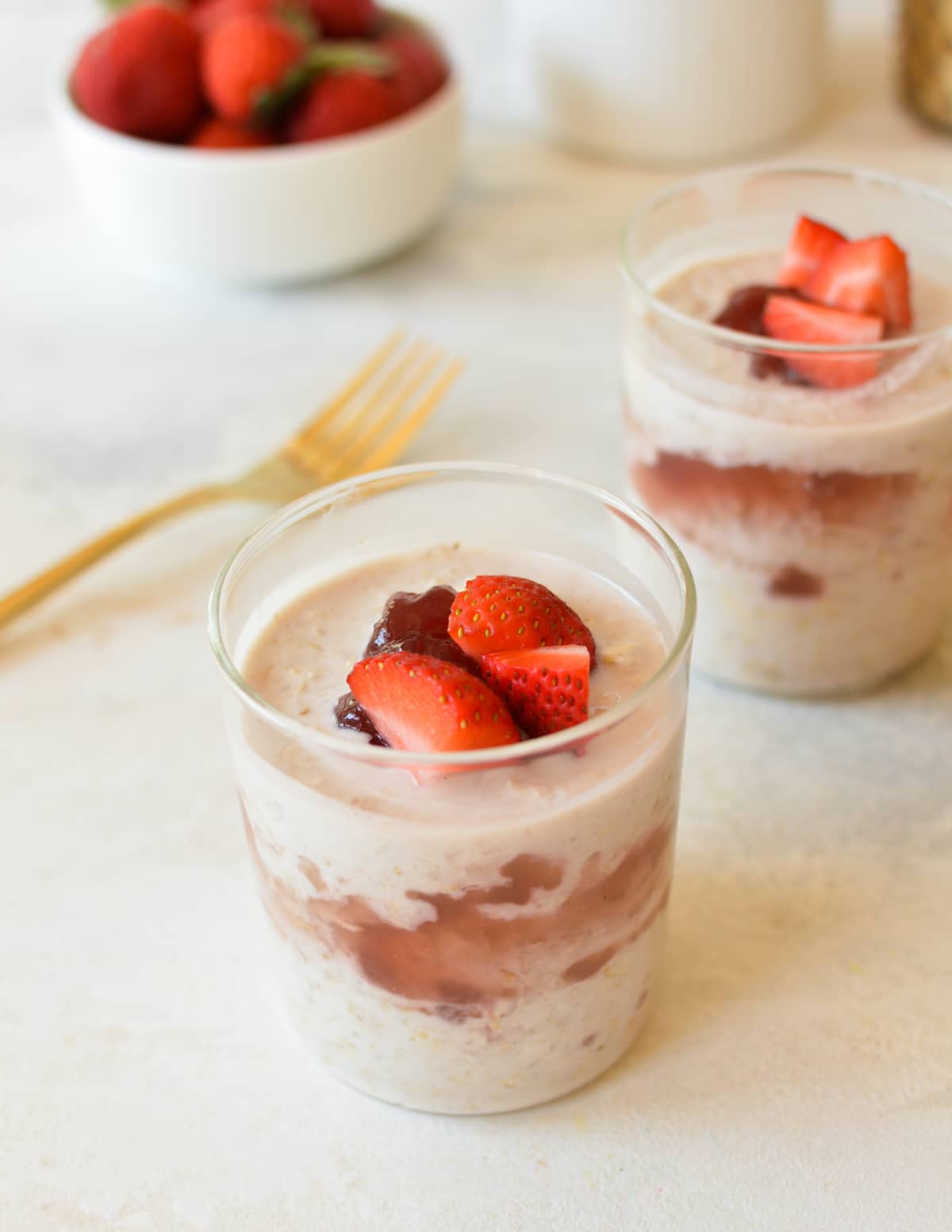 Recipe Tips
For a grab-and-go breakfast, prepare the oats in a disposable cup or airtight container with a lid. Bring it with you to work on a busy morning.
Overnight oats keep in the fridge for up to 3 days, and taste delish as soon as 4 hours. So don't stress too much over the timing.
These no yogurt overnight oats are thick and creamy! If you like thinner oats, increase the milk to ⅔ cup.
Storage Tips
Technically, overnight oats are good for up to 5 days in the refrigerator! I think they taste best within the first three days, but that's a personal preference.
Since they only take two minutes to meal prep, I'd rather make mine the night before. But if you'd rather, you could meal prep several at the beginning of the week. Wait and add the toppings right before you dig in.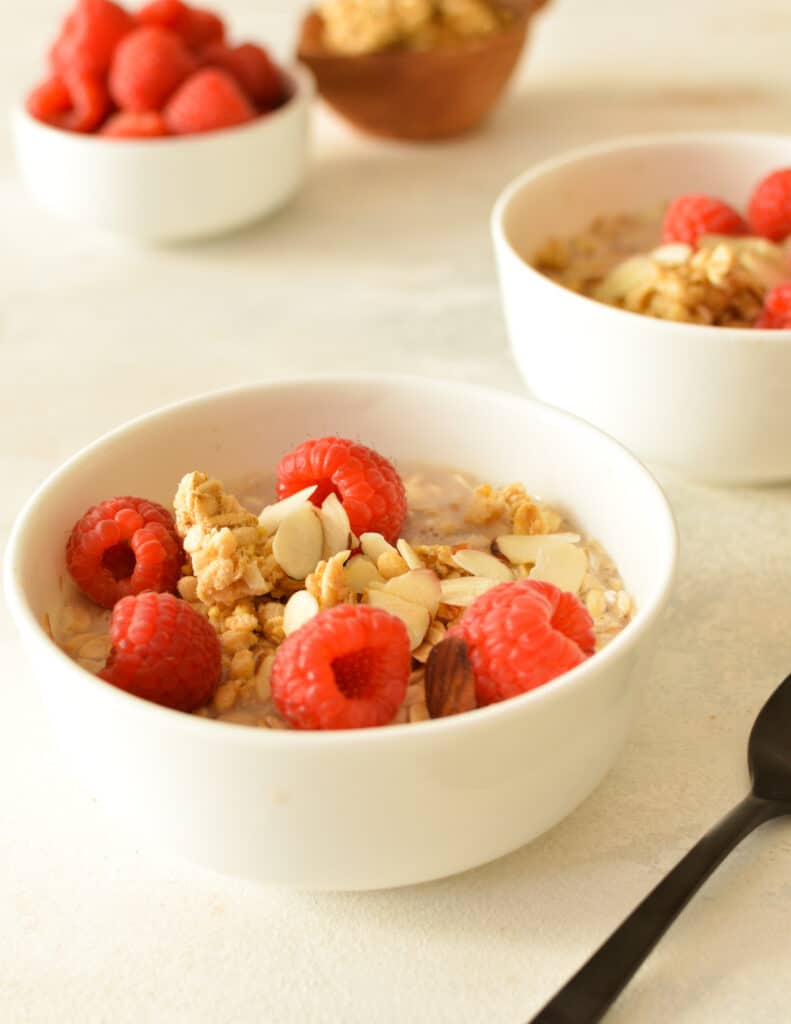 FAQs
What is the best liquid for overnight oats?
Milk adds more flavor than water with a creamier texture in the end. Any type of milk works great though. Use dairy milk or your favorite plant-based milk.
Are overnight oats healthy?
Overnight oats are a satisfying and nutritious breakfast choice! Oats are a whole grain food that's loaded with vitamins, minerals, and antioxidants. Research suggests they can help lower cholesterol and high blood pressure. It's best to stick with healthy toppings and mix-ins for the greatest benefits.
Can you thicken overnight oats without yogurt?
Yes, yogurt isn't actually necessary in overnight oats! They are thick and creamy without it. If you want even thicker oats, you can add chia seeds. Chia seeds absorb liquid quickly and the flavor of it. Only add chia seeds if you like the texture and taste of them.
Crave-Worthy Overnight Oats Recipes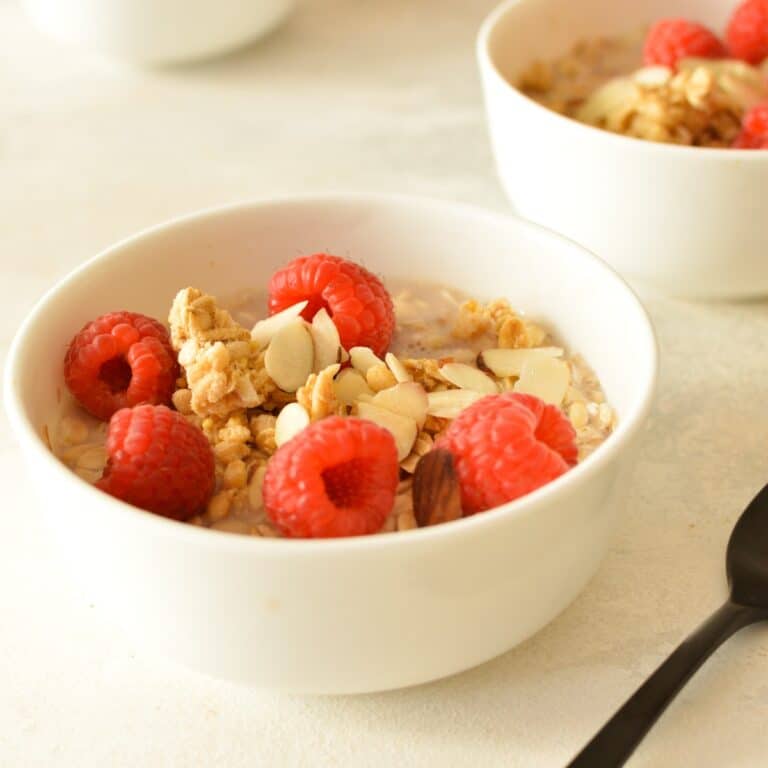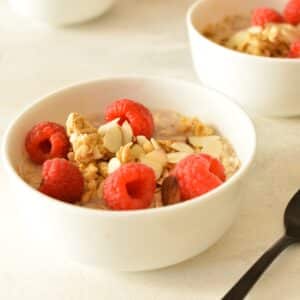 Overnight Oats without Yogurt
Overnight oats without yogurt can be creamy and delicious too! These overnight oats are perfectly sweet and satisfying, a perfect on-the-go breakfast.
Equipment
Measuring cups & spoons

Small bowl or glass
Ingredients
½

cup

old fashioned oats

½

cup

unsweetened almond milk

or milk of choice

1

tablespoon

seedless raspberry jam

or jam of choice

1

teaspoon

maple syrup
Toppings (optional):
granola

raspberries

sliced almonds
Instructions
In a small bowl, combine the oats, almond milk, jam, and maple syrup. Gently stir until everything is well mixed together.

Cover the bowl with saran wrap and place it in the refrigerator for at least 4 hours but preferably overnight.

Top with fresh raspberries, sliced almonds, and granola. Enjoy!
Nutrition
Calories:
245
kcal
Carbohydrates:
46
g
Protein:
6
g
Fat:
4
g
Saturated Fat:
0.5
g
Polyunsaturated Fat:
2
g
Monounsaturated Fat:
2
g
Sodium:
172
mg
Potassium:
178
mg
Fiber:
5
g
Sugar:
14
g
Vitamin C:
2
mg
Calcium:
183
mg
Iron:
2
mg