This simple creamy avocado dip is the perfect base for sweet cherry tomatoes, salty feta, fresh basil and a squeeze of fresh lime.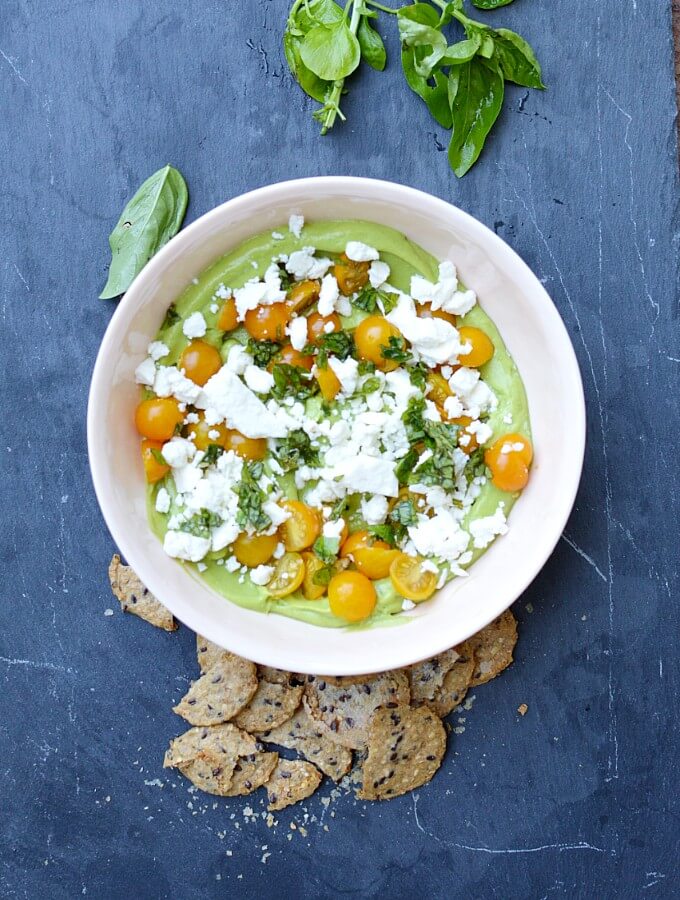 Disclosure: This post may contain affiliate links. In other words, if you click a link and purchase something I will receive a commission at no cost to you. I only recommend products I use and enjoy myself.
I am obsessed with avocados (said everyone!). I am just sad I didn't see the light until after high school. Yep, I lived eighteen years without avocados - and now I can hardly go a day without one.
Avocados are a pantry staple for us. I always have limes, and cilantro on hand in case I want to whip up a simple no fuss guacamole. We broil them on bread with heirloom tomatoes from our garden. I throw them on my homemade black bean burgers or into quinoa salads.
The awesome thing about avocados is they are full of healthy unsaturated fats which not only make them filling but super creamy when mashed or pureed. I didn't even add sour cream or mayo to this avocado dip recipe - just 2 teaspoons of olive oil.
I will say simple recipes are amazing BUT simple recipes will only be as good as your ingredients. My avocados are perfectly ripe. My cherry tomatoes are fresh from our garden and bursting with sweet tomato flavor. I don't say these things to sound posh but to stress the importance of your ingredients especially when they're the star of the show.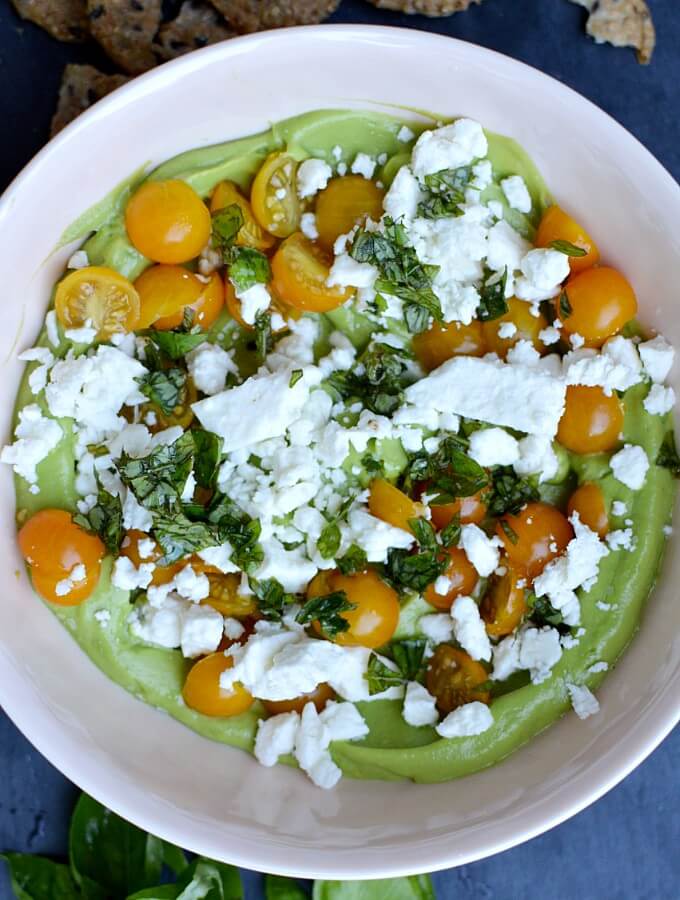 How to tell if you're avocados are perfectly ripe:
The skin color - ripe avocados will typically have a dark green skin. Underripe avocados typically have a bright green color skin.
The firmness - when you press on a ripe avocado it will give to gentle pressure with some resistance. If it feels so soft it's mushy it is most likely overripe.
The flesh color - the flesh is a brighter yellow when underripe. The color sort of mellows and looks slioghtly darker once ripened.
The texture - a perfectly ripe avocado will feel soft when scooped but not mushy or brown.
It's hard to say exactly when an avocado will hit that sweet spot but I try to plan it out as best as I can. If I'm making my recipe three days from when I buy them I hunt for avocados slightly underripe. Likewise if you want to make avocado dip yesterday (can't blame ya!) don't buy bright green, firm avocados because it won't be a creamy avocado dip anymore.
I've opened underripe avocados a bajillion times, because my desire for delicious avocado overcomes my common sense. Fortunately, I'm not the only one and you can find delicious ways to eat them underripe too!
Let's talk avocado dip toppings:
I used these Igleheart Yellow Cherry tomatoes I purchased for the hubs for Christmas. They are about half the size of regular cherry tomatoes so I only halved mine. For store-bought cherry tomatoes I would quarter them so you get good topping to dip ratio with each bite.
Also cherry and grape tomatoes are not identical. Cherry tomatoes are sweeter with thinner skins. I have nothing against grape tomatoes of course but for this recipe the sweetness of the cherry tomatoes pair so well with the saltiness of the feta.
I adore basil and the way it pairs with feta and cherry tomatoes, but if you don't feel free to sub it out for mint or cilantro.
Serve this dip with chips or crackers. I always have Tostitos on hand but this time I used Mary's Original Crackers because they are great for dips plus they're vegan and gluten free. This recipe is also keto.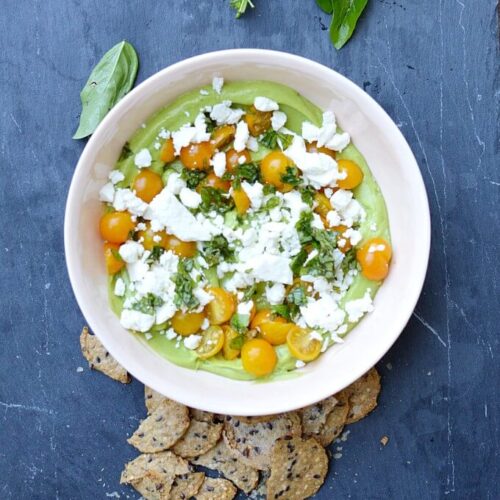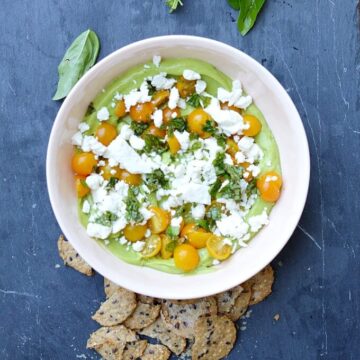 Avocado Dip with Cherry Tomatoes and Feta
Smooth and creamy avocado dip topped with sweet tomatoes, salty feta, basil and lime
Ingredients
2

ripe avocados

½

lime

¼

t.

kosher salt

2

t.

extra virgin olive oil

¼

cup

feta cheese

9

basil leaves, finely chopped

½

cup

cherry tomatoes, quartered

pinch

kosher salt

squeeze of

lime
Instructions
Pit and remove avocado flesh from 2 avocados.

Blend avocados, juice of ½ lime, ¼ t. kosher salt, and 2 t. extra virgin olive oil together with an immersion blender until completely smooth and creamy.

Scoop avocado dip into a shallow and wide bowl and top with feta, cherry tomatoes and basil.

Add a small squeeze of lime and a pinch of salt then serve with chips or crackers.