If you're head over heels for matcha, you're going to love these amazing matcha dessert recipes. This list includes everything from matcha popsicles to matcha cheesecake and, of course, a matcha Frappuccino!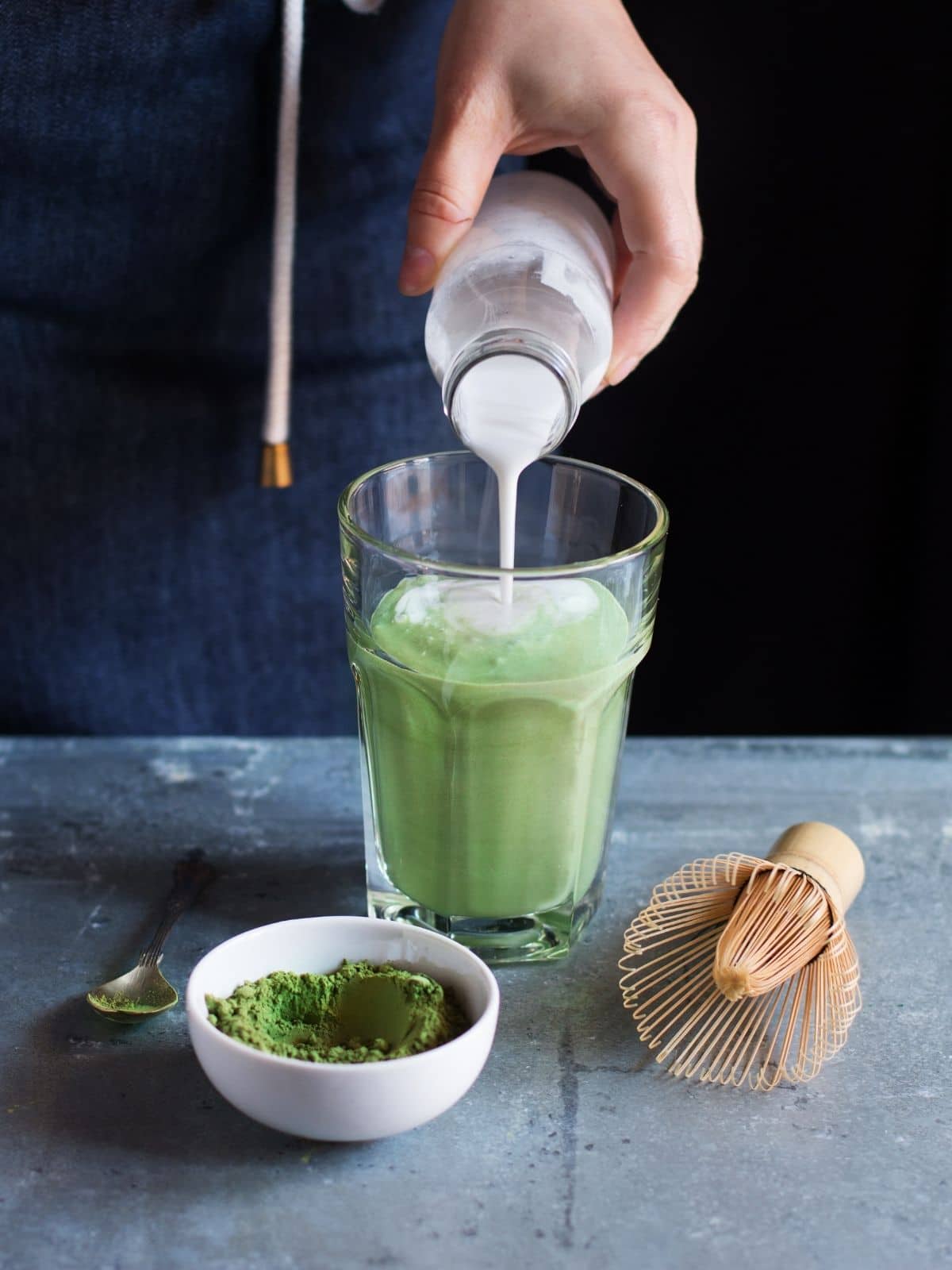 What is Matcha powder?
Matcha powder is a fine powder made from dried, young green tea leaves. Since you're ingesting the leaves instead of discarding them (like green tea bags), you're ingesting all the good-for-you nutrients! Matcha is jam-packed with disease-fighting antioxidants and compounds.
It also happens to taste amazing in desserts! If you haven't baked with matcha yet, you're in for a real treat.
Are these recipes gluten-free?
All these recipes are either gluten-free or easily made so. Many of them are healthy, vegan, and dairy-free as well! There's really something for everyone in this delicious list of matcha dessert recipes.
To make the recipes gluten-free, be sure to use certified gluten-free oats, gluten-free rice cereal, and gluten-free oreos (for the mini cheesecakes).
Matcha Desserts
1. Whipped Matcha
Dalgona coffee gets a healthier less-caffeinated makeover! This whipped Matcha is creamy and delicious. Top a glass of cold milk with it and you may just find your new favorite drink.
2. Vegan Pistachio Matcha Tart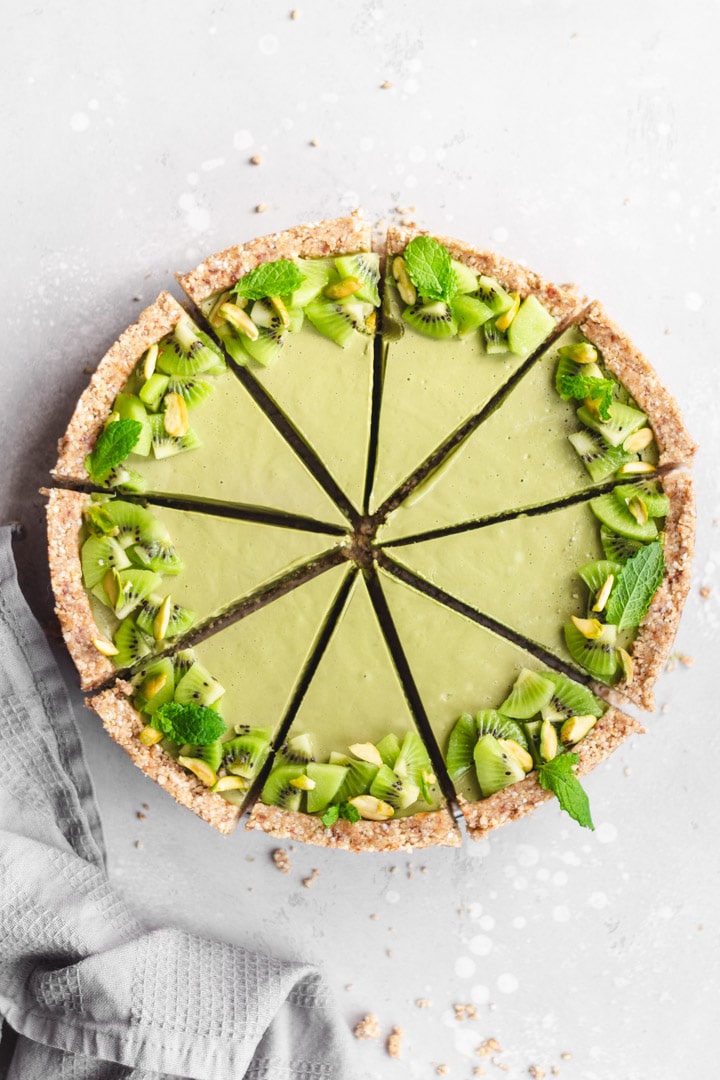 This no-bake matcha tart is light, creamy, and vegan too! This healthy tart has a cashew crust with a pistachio matcha filling and fresh kiwi. This plant-based dessert is perfect for matcha lovers everywhere.
3. Matcha Energy Balls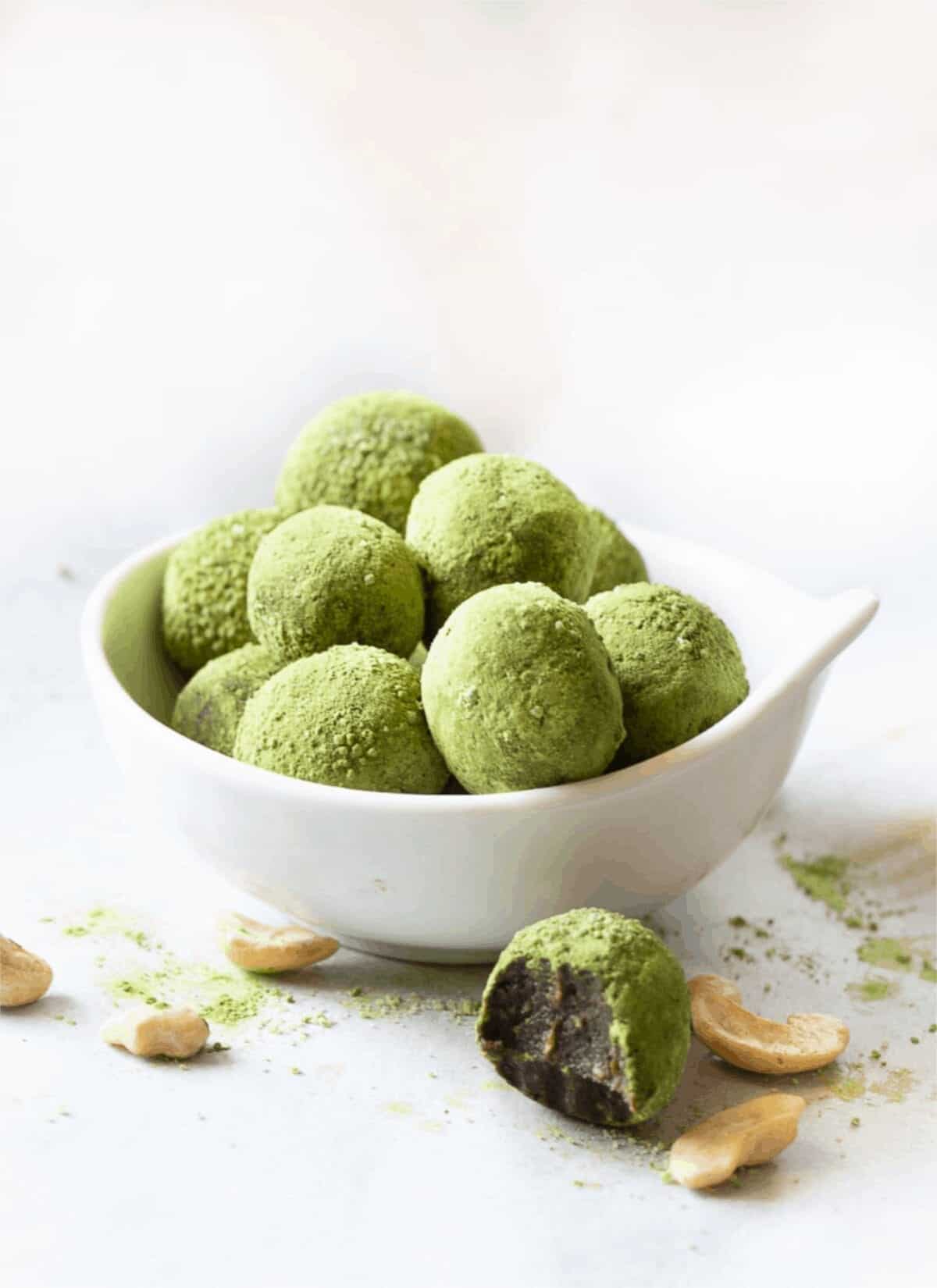 If you're looking for a feel-good, healthy treat, these matcha energy balls are delicious. Dates, matcha, cashews, and protein powder are ground together and rolled into balls for a high protein treat!
4. Matcha Milkshake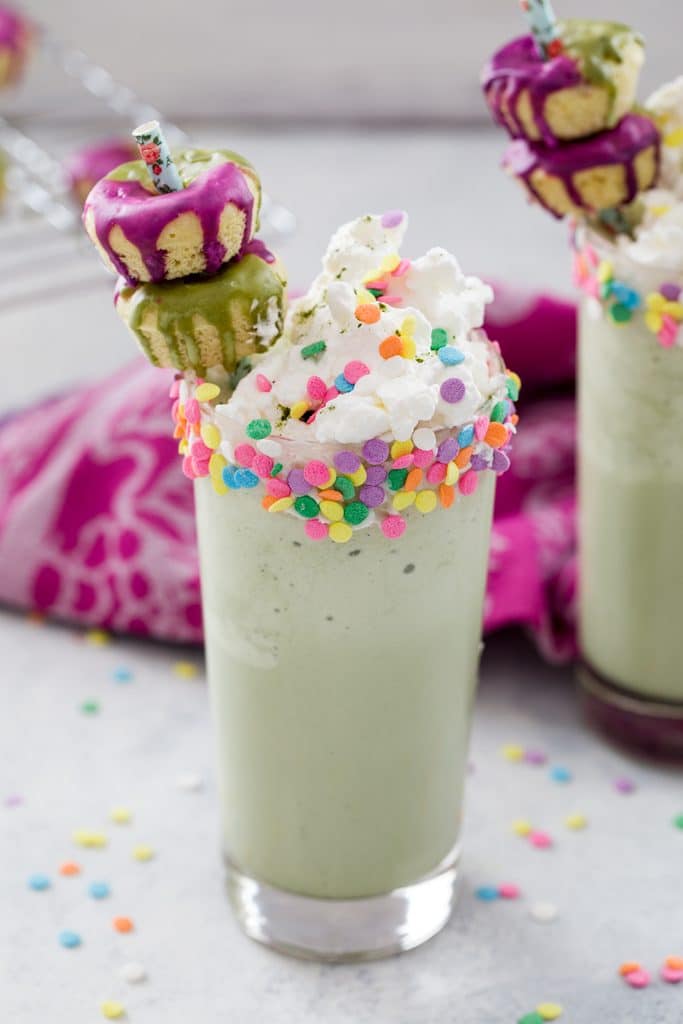 This three ingredient matcha milkshake is a dreamy and easy treat. In less than 10 minutes, you can whip it up. All you need to do is blend together ice cream, coconut milk, and matcha powder. To make this vegan, just substitute in your favorite vegan ice cream brand.
5. Matcha Popsicles with Cherry Rose Compote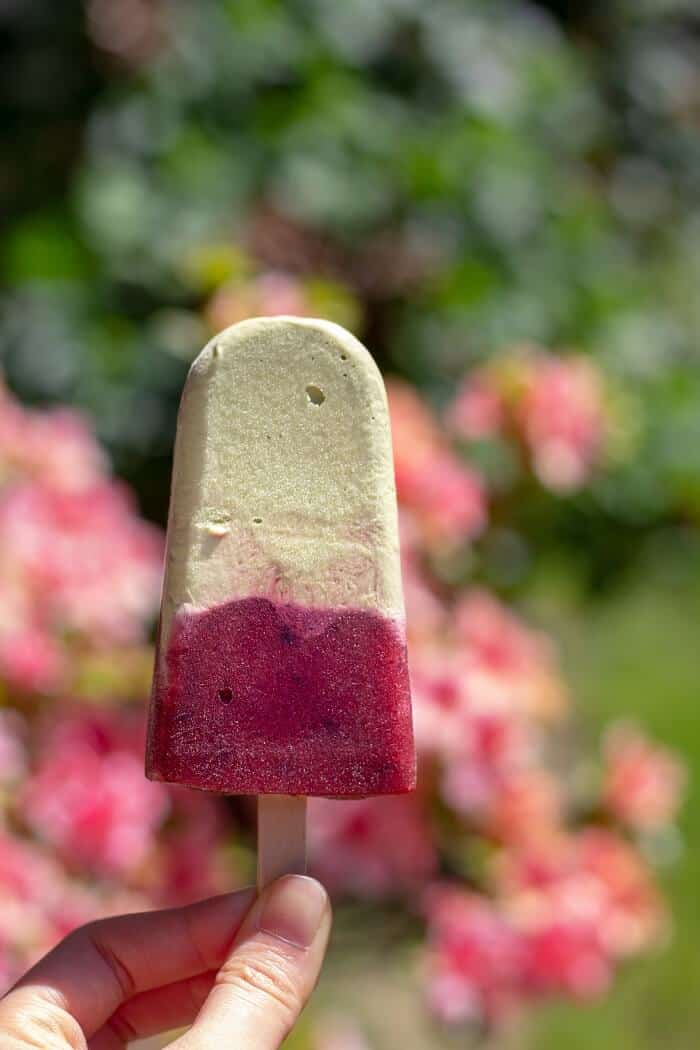 Similar to a matcha creamsicle, these matcha popsicles have a creamy matcha layer and a tangy cherry rose layer. These delicious popsicles scream summer and are irresistible on a hot day!
6. Matcha Pancakes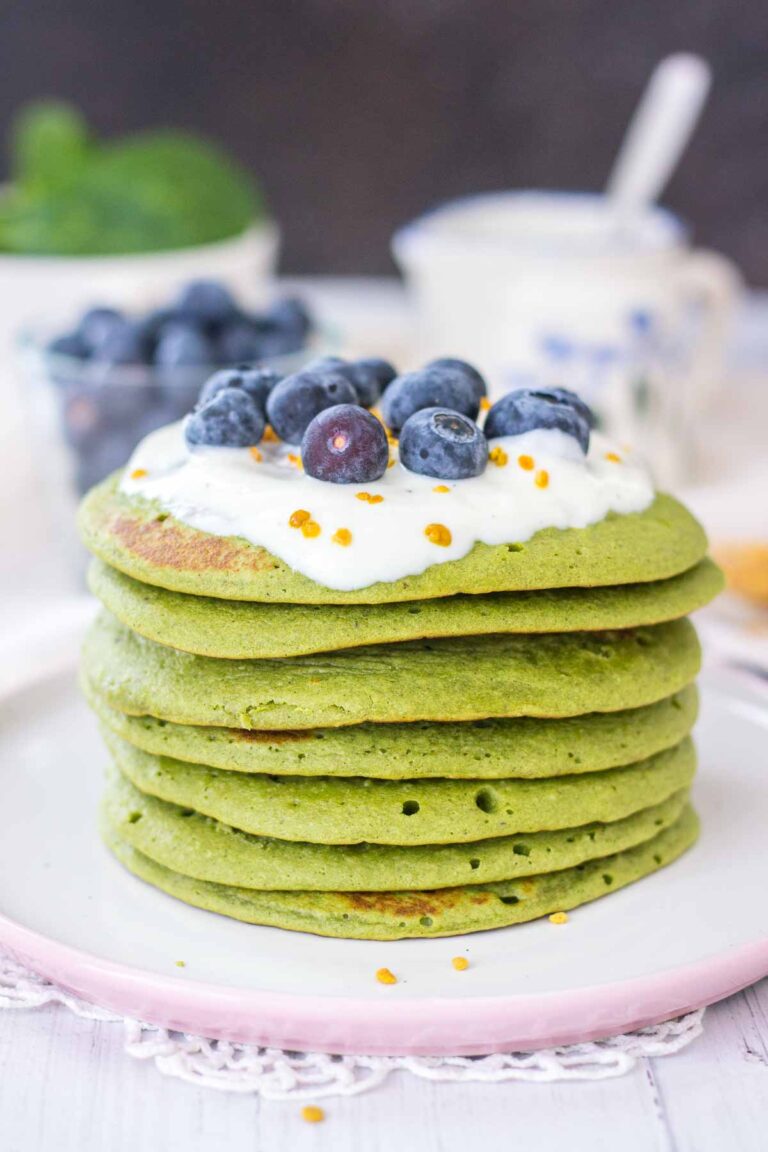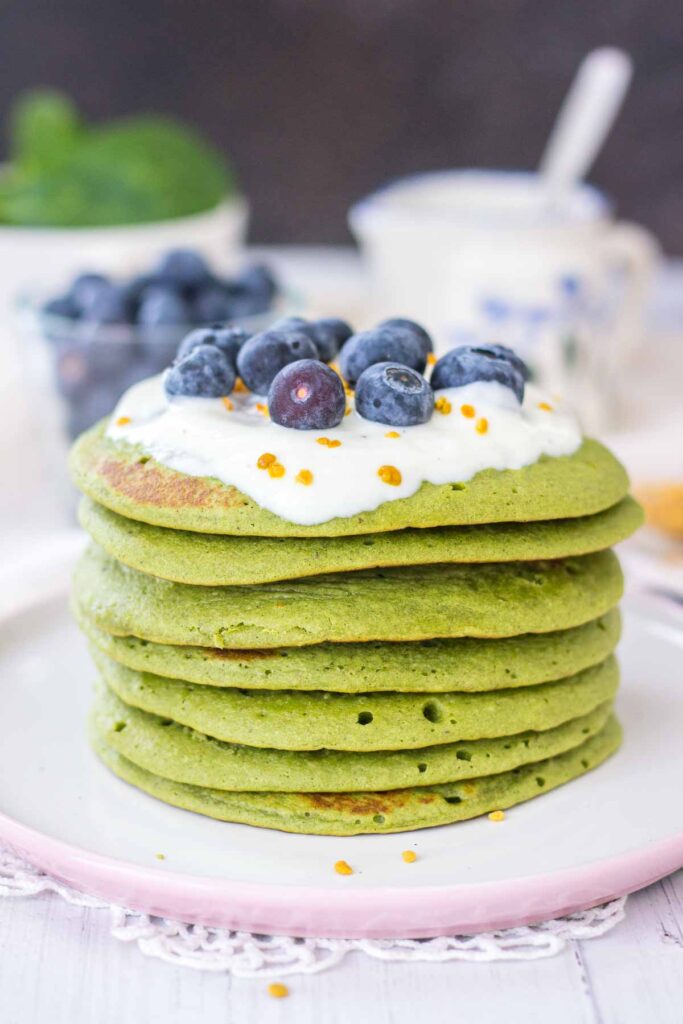 Technically, pancakes are breakfast. But, let's be honest, anything doused in maple syrup doubles as a dessert! These matcha pancakes are fluffy and sweet but without any refined sugar. They're also made with heart-healthy oats in place of flour. All of the deliciousness without any of the guilt!
7. Matcha Chocolate Chip Cookies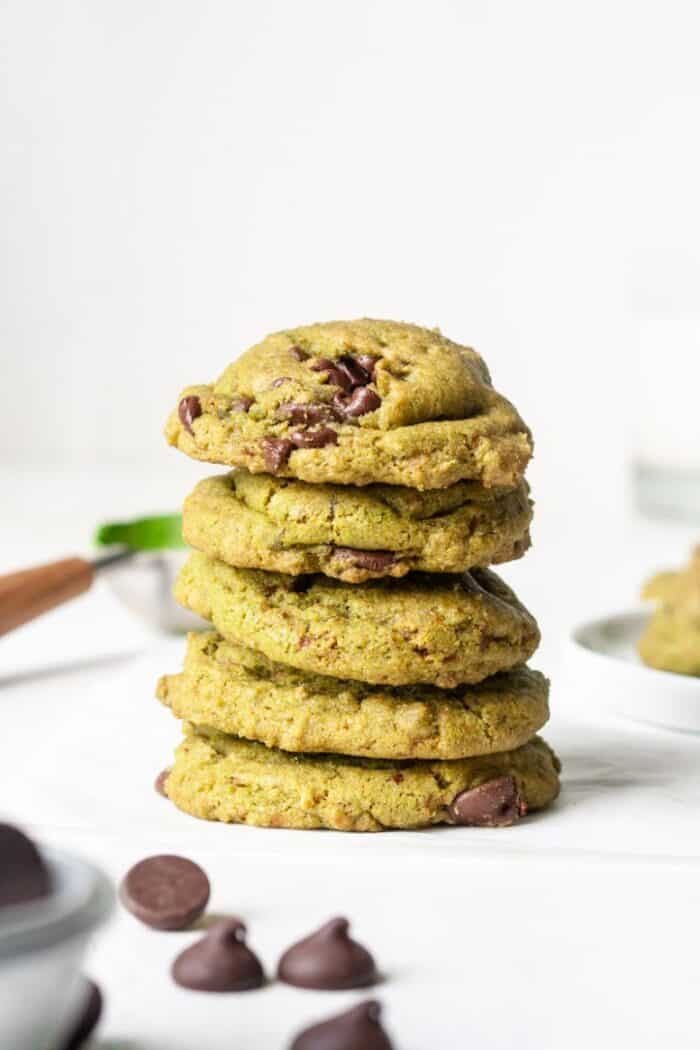 These amazing matcha chocolate chip cookies are chewy and delicious! They're also a breeze to make and they're gluten-free too! Packed with chocolate chips and a subtle matcha flavor, you won't be able to stop at one!
8. Keto Matcha Cookies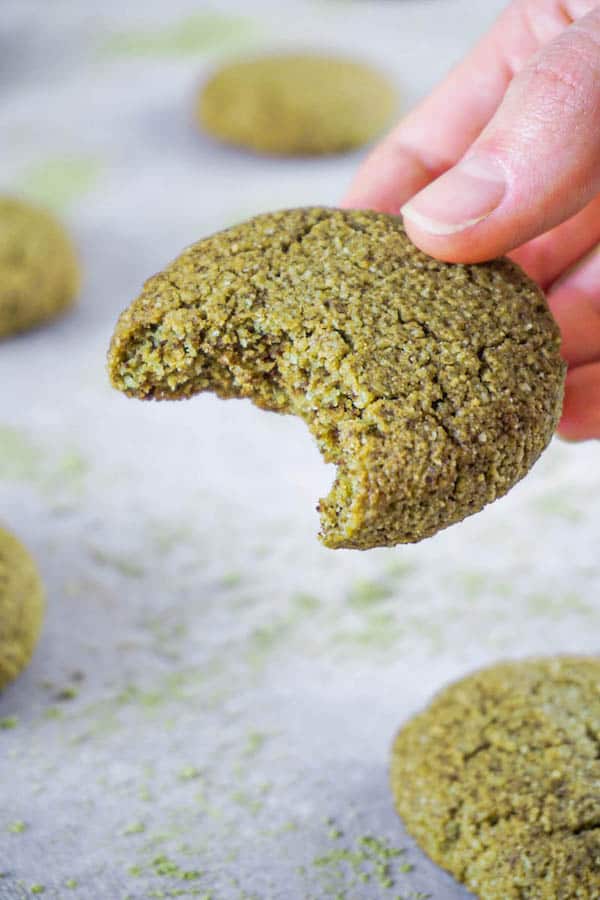 If you're looking for a low-carb and keto treat, these keto matcha cookies are lightly sweet with a melt-in-your-mouth texture. They're perfect with a cup of coffee or tea.
9. Matcha White Chocolate Bark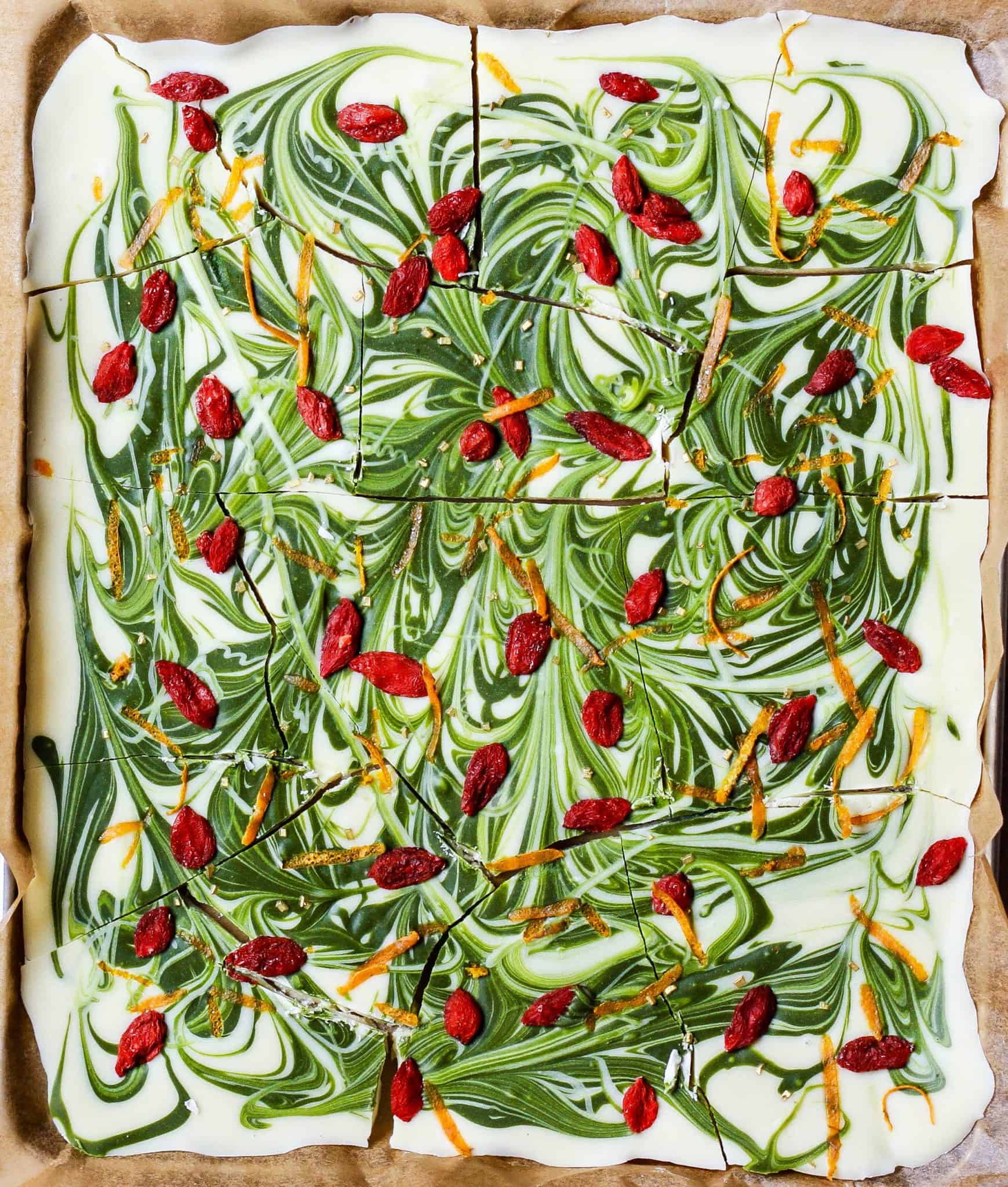 This matcha white chocolate bark is as beautiful as it is delicious! It looks fancy but it's actually easy to make. You only need four ingredients and the strength to not eat it all at one time. This recipe is great anytime of year, but perfect for the Holidays!
10. Keto Matcha Green Tea Frappe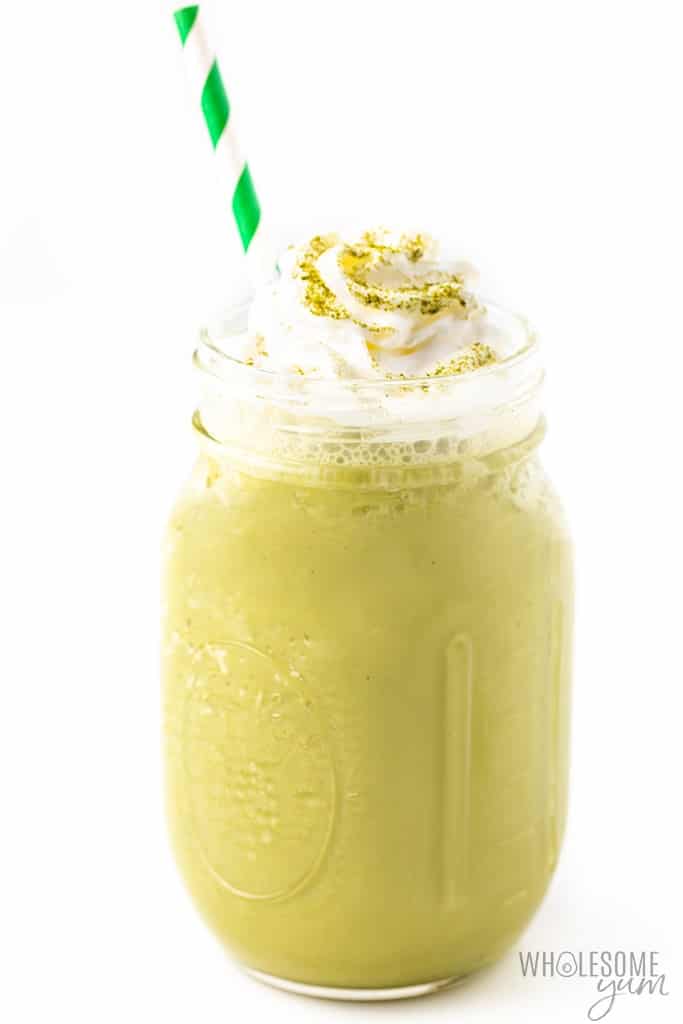 You only need 5 ingredients and 5 minutes to whip up this crave-worthy matcha green tea frappe! It tastes just like it came from your favorite coffee shop and it's keto too.
11. Vegan Matcha Cheesecake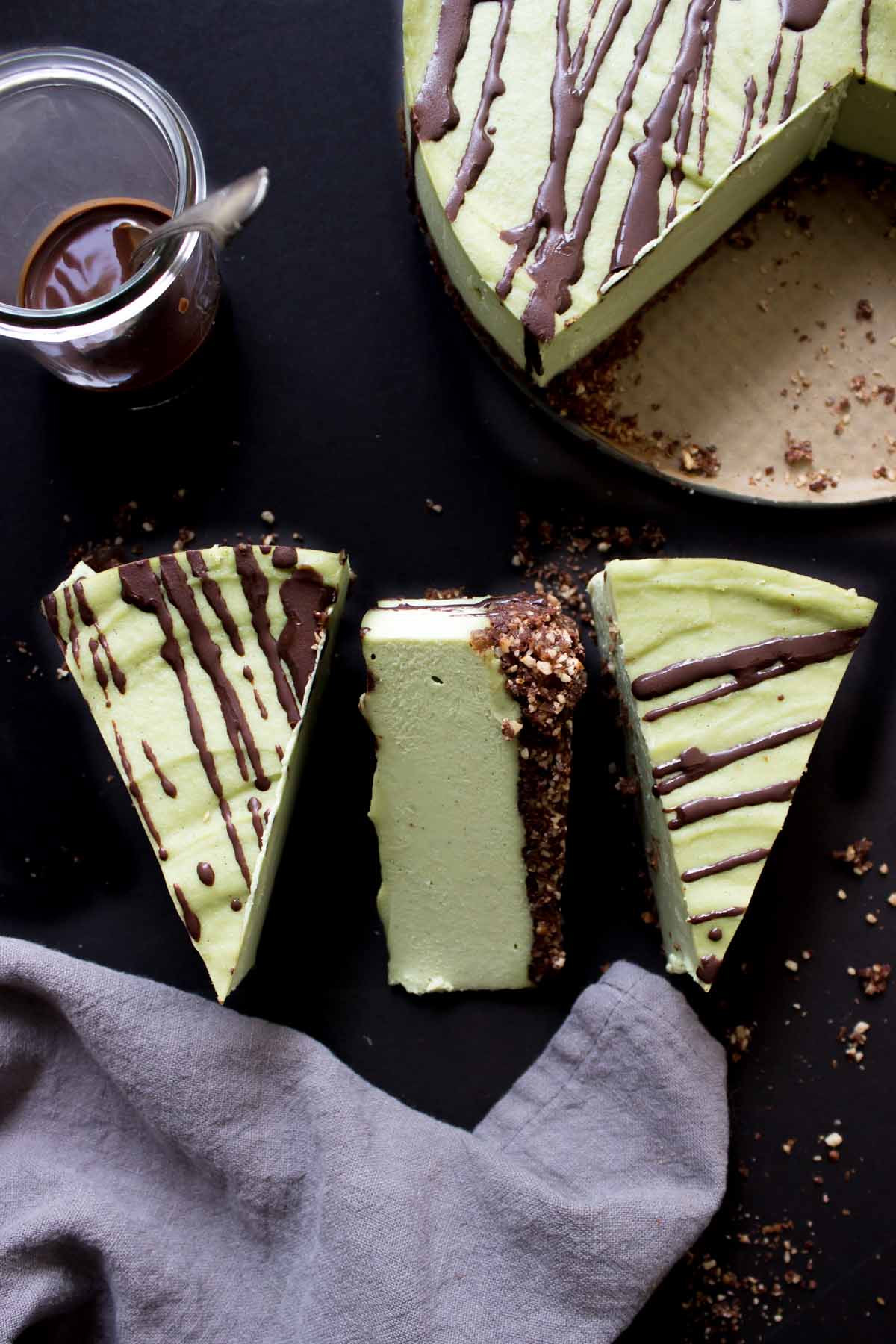 You would never know this creamy cheesecake is actually vegan! This raw cheesecake has an almond and date crust with a silky matcha filling that's drizzled with dark chocolate.
12. No-Bake Matcha Cheesecake with Oreo Crust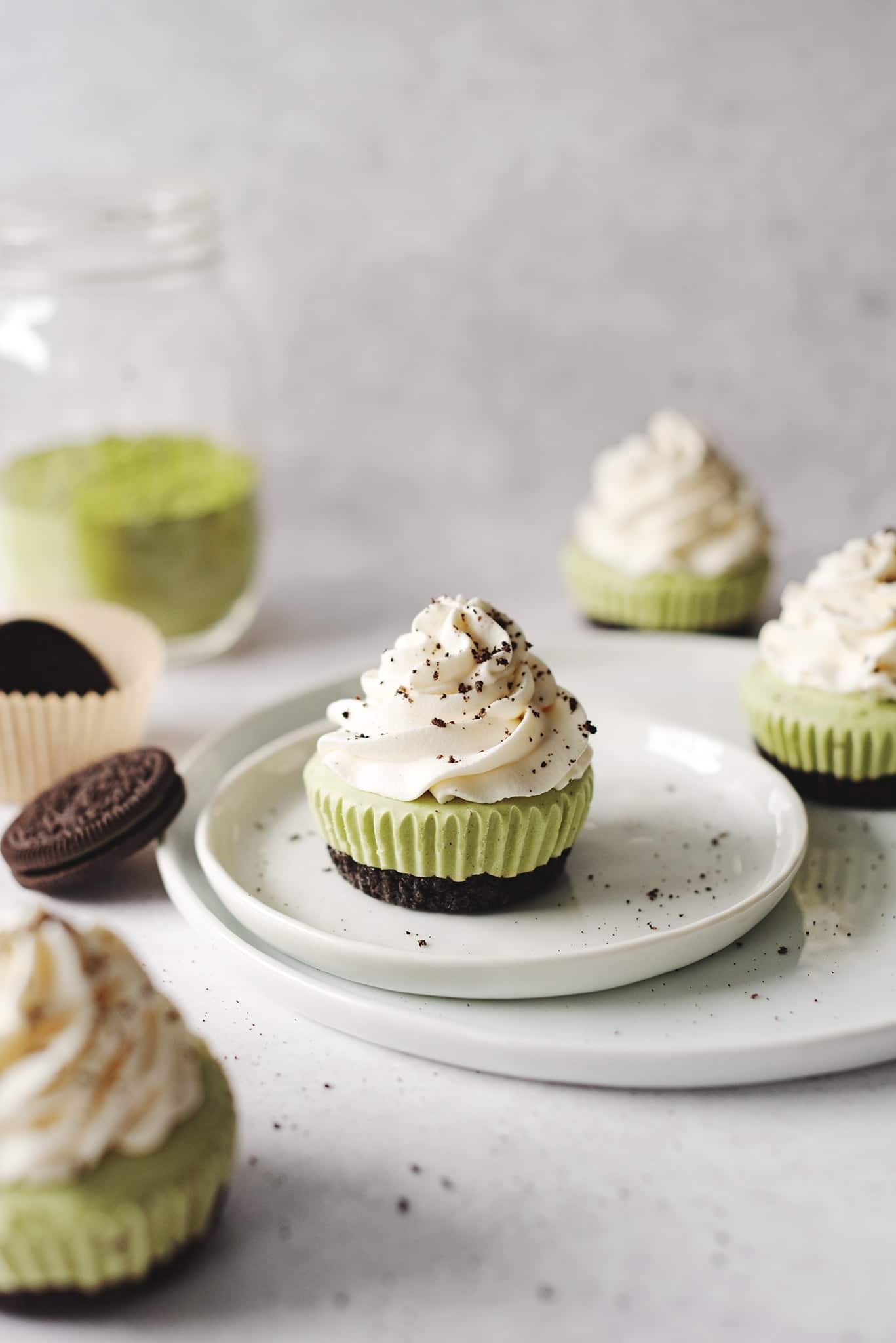 Matcha and oreos make a surprisingly great team! These mini matcha cheesecakes are an easy and delicious no-bake treat. They're also easy to make gluten-free. Just substitute gluten-free oreos in place of regular oreos.
13. Almond Flour Matcha Cookie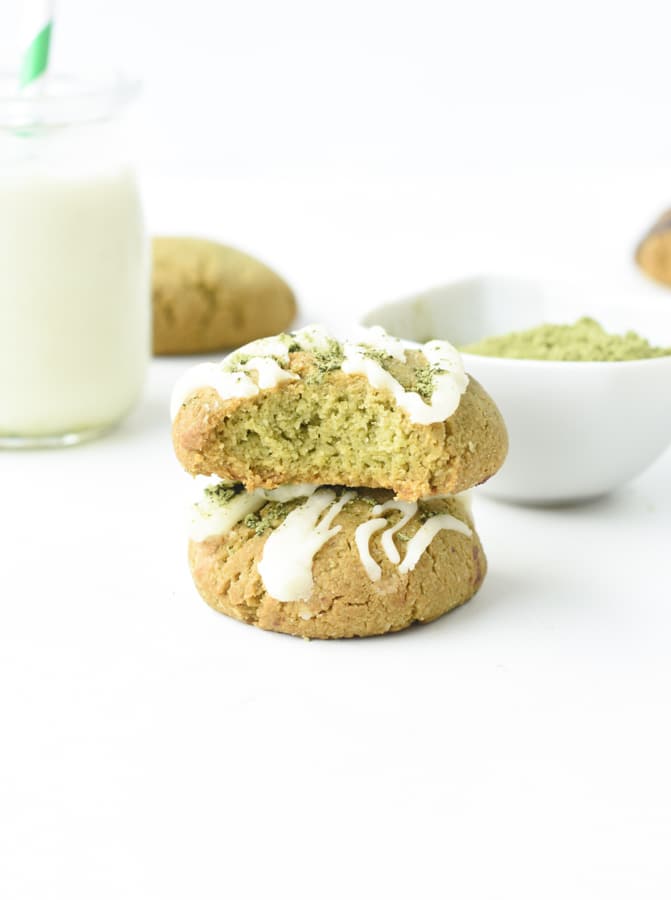 These almond flour matcha cookies taste like a delicious sugar cookie with matcha added to it. They're also paleo, gluten-free, vegan, and sweetened with maple syrup. You can feel good about eating these healthy cookies!
14. Pistachio Matcha Ice Cream Recipe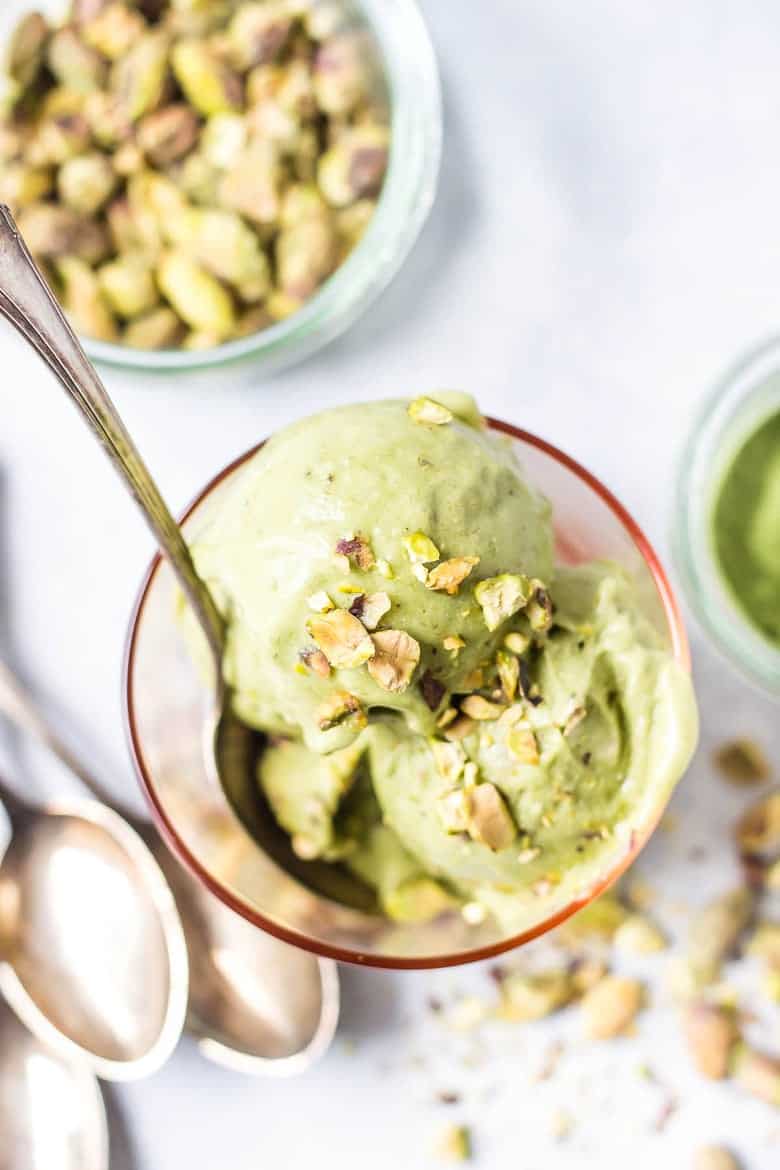 You only need four ingredients for this healthy but delicious pistachio matcha ice cream! You can feel good about eating this sweet treat. It's sweetened with frozen bananas and perfect for a hot summer day.
15. Matcha Rice Crispy Treats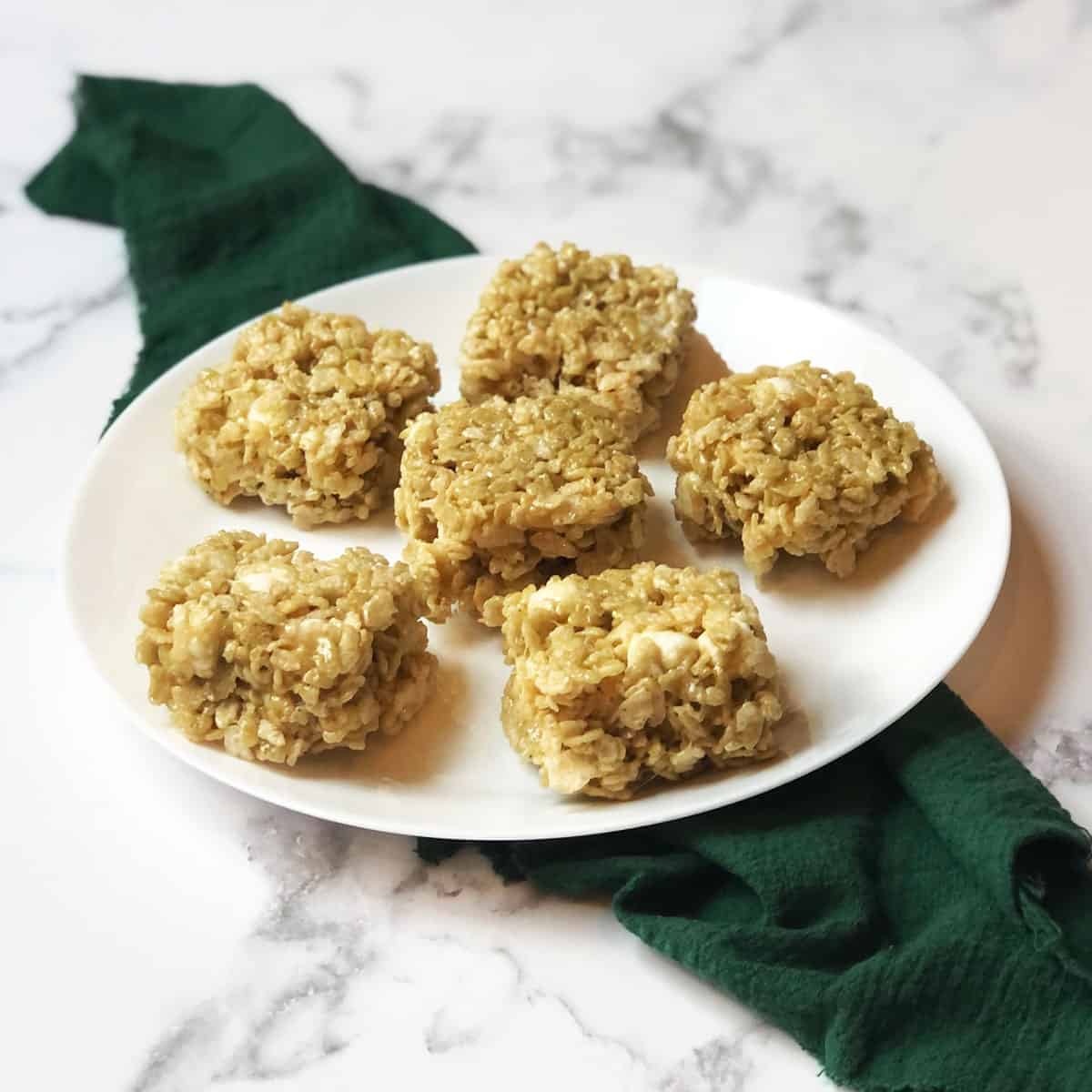 Rice crispy treats get a delicious upgrade with lots of matcha flavor! They're also super easy to make. Just be sure to use gluten-free rice cereal if you have celiac or gluten intolerance.
If you try one of these delicious matcha recipes, let us know in the comments!
More Delicious Dessert Recipes