These gluten free pumpkin cupcakes are moist and light like a good cupcake should be. They're perfectly sweet and oh so good topped with cinnamon maple frosting!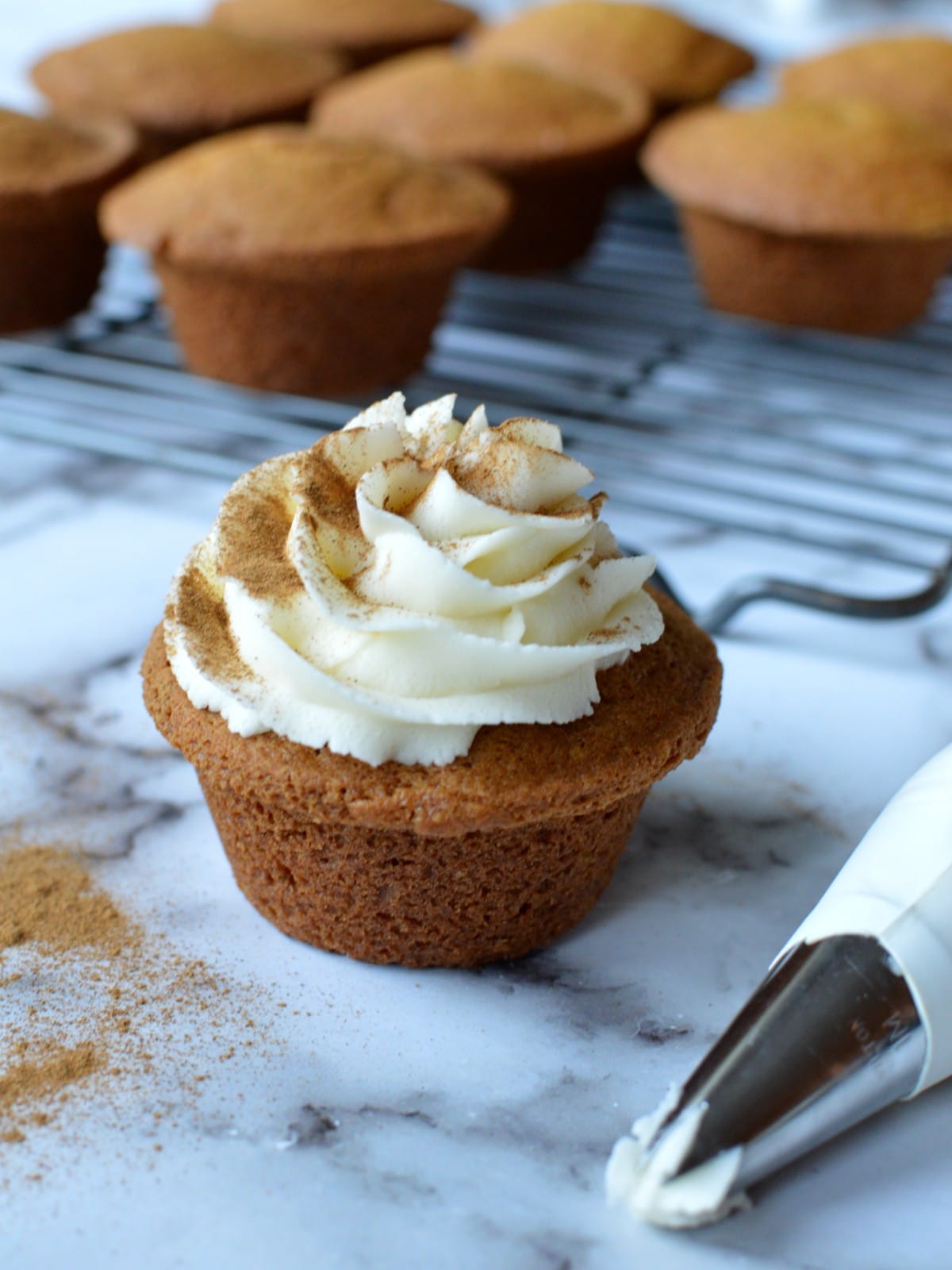 I am currently eating one of these gluten free pumpkin cupcakes as I type. It doesn't really bother me that pumpkin flavored everything hit the shelves come August. 
It's not that I dislike summer. I actually relish the hot summer sun as it beats down on the earth. There's just something delightful about Autumn that summer can't match. It puts a spring in my step. 
I confess I baked a pumpkin pie in July, froze it in slices and pulled one out every night for a week. I have a cinnamon candle burning as I write, and an autumn wreath on the front door. Don't judge me - it's (almost) September.
I did wait until now to perfect these gluten free pumpkin cupcakes. (Nailing that self control thing) These cupcakes are for gluten avoiders everywhere who die inside when Starbucks unveils their pumpkin scones and muffins every year. (Which by the way is in August!)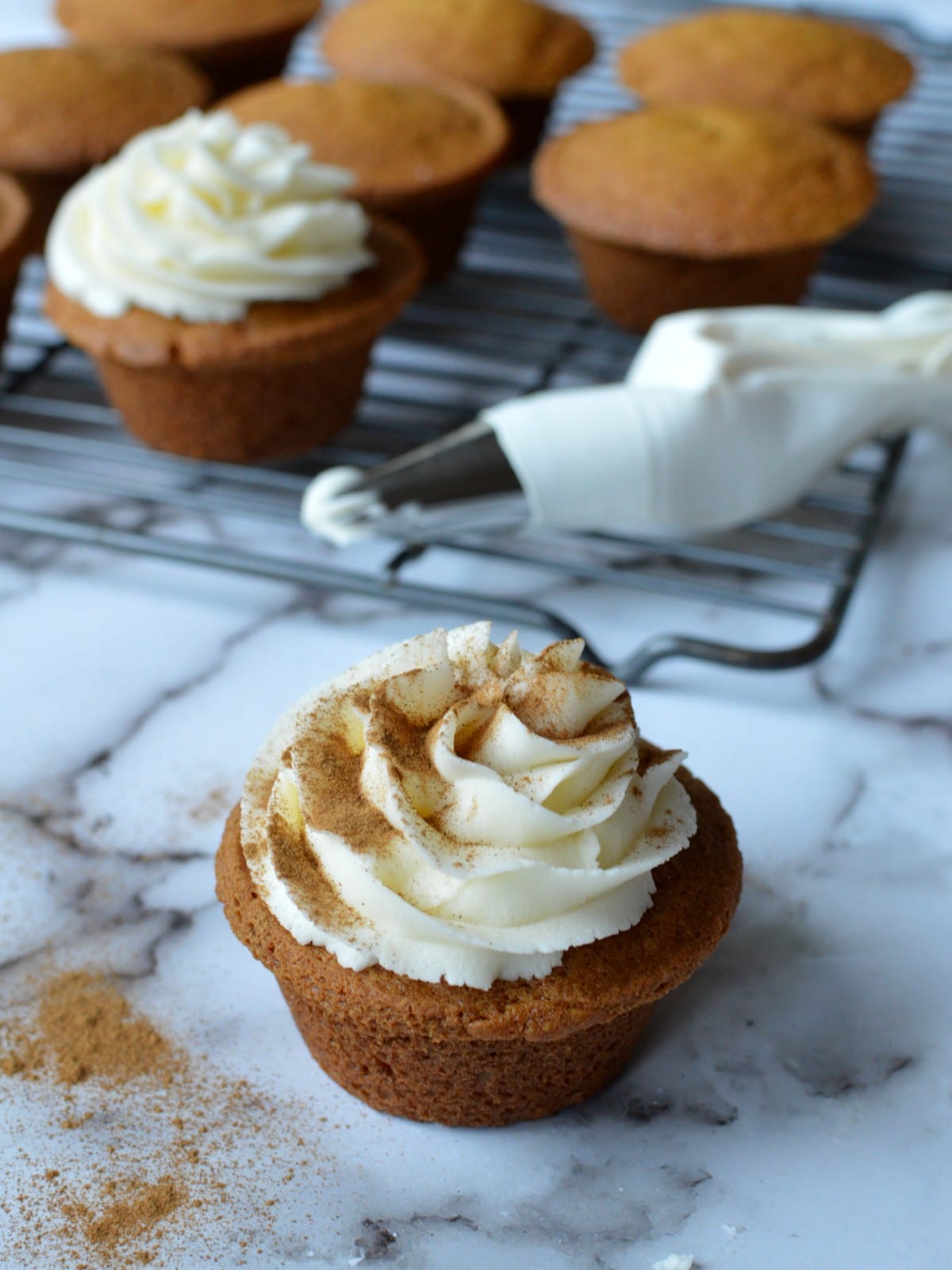 Recipe Tips & Substitutions
This recipe lends itself well to muffins if frosting ain't your thing. (Or if you are looking for a less sugar laden option.) I baked them with chocolate chips because I'd eat an old shoe if it were covered in chocolate. 
Alternatively if you LOVE cream cheese frosting simply frost these cupcakes with this cream cheese frosting recipe.
Wait for the pumpkin cupcakes to cool completely before frosting them otherwise the frosting will melt.
How to Make These Cupcakes
This recipe is really quite simple. You just beat both sugars with your wet ingredients for a couple minutes, add each egg until incorporated and then add your dry ingredients and beat until combined.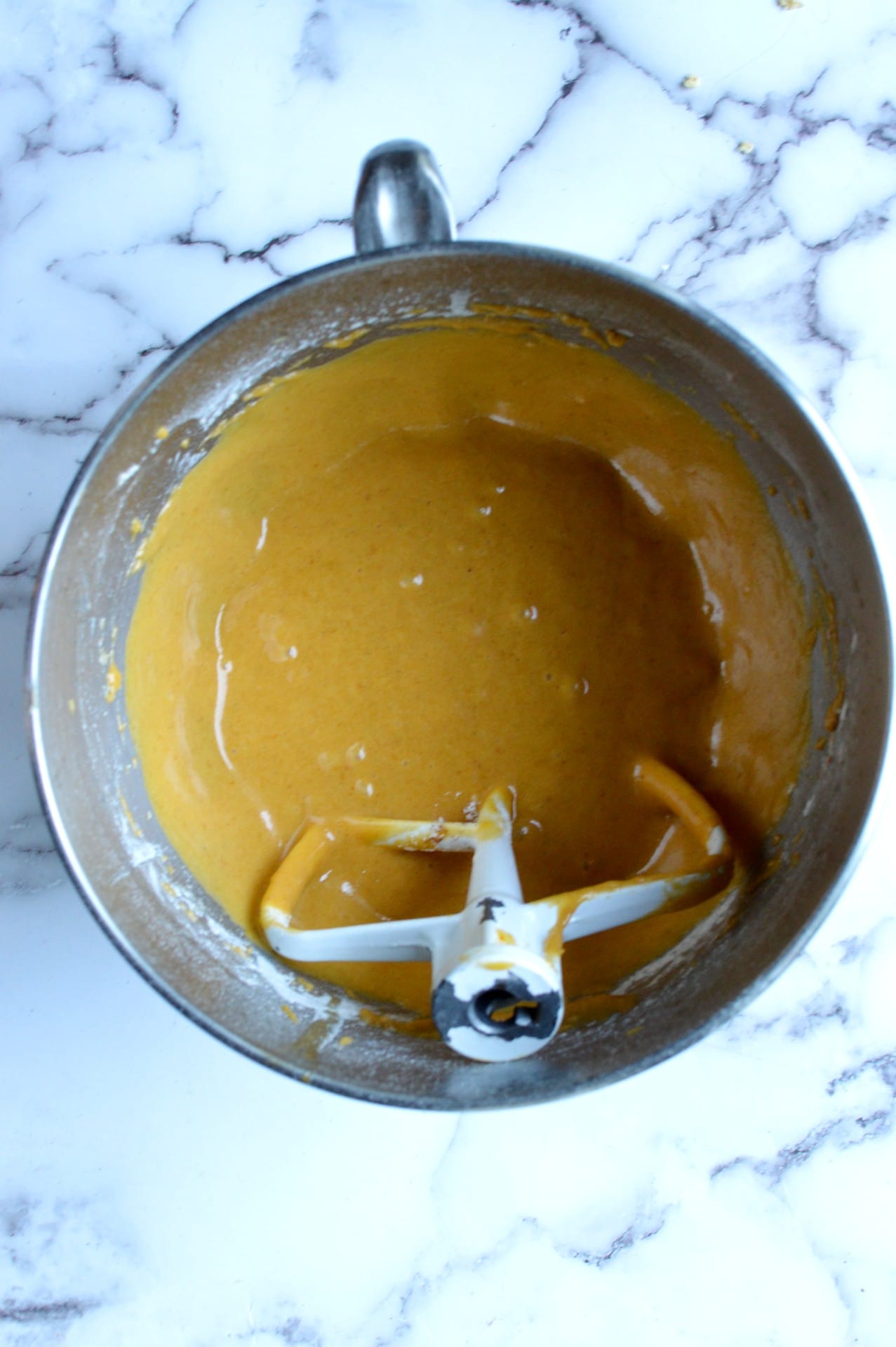 Super easy recipes are SUPER awesome. 
Gluten Free Flour for Cupcakes
If your intestines hates gluten (like mine) or you know someone like that, there is a wealth of information at celiac.org or gluten.org. 
Unfortunately Gluten Free means flour is no longer one ingredient. Navigating gluten free all purpose flours can be daunting at best. Some taste like old socks, and choosing the right one can mean the difference between mmhmm-ing whilst eating or spitting said goody into the trash. Fortunately, you are not limited to flourless goodies. Some really do taste amazing. 
I use Bob's Red Mill 1:1 All Purpose Gluten Free Flour. This is currently my favorite. It produces the most gluten like texture to me, and doesn't have an aftertaste. I've also had the best feedback from my gluten eating friends. It can be found at Sam's, Walmart and Amazon
. I know Bob's Red Mill has recently come out with a paleo baking flour as well. I have yet to try it but am excited to and will update this post when I do. 
I would not recommend substituting almond flour when a recipe calls for gluten free all purpose flour. The conversion rate won't be 1:1, and it will no doubt come out more dense than desired. It also lacks a binding agent (xantham gum). You can however substitute ¼ of the flour with almond flour with good success, otherwise I would look for almond flour recipes specifically. 
For all my dairy free pumpkin loving friends
The gluten free pumpkin cupcake recipe is already dairy free, and to make the frosting dairy free simply use vegan butter instead of regular butter. Shortening is also an option. Even though I don't avoid dairy, I have a special appreciation for those who do. My sweet nephew could not eat dairy (think eye swelling, epi pen style). 
There's not many a thing more heartbreaking then having to tell a 3 year old he can't have a donut like everyone else. Cue crying, sad face emoji here. 
FAQs
Can I freeze these cupcakes?
Yes you can freeze them already frosted or unfrosted. Simply wait for them to cool completely and then place on a sheet pan and freeze. Once the cupcakes are frozen place them in a gallon zip top bag and date it with a permanent marker. The cupcakes are best within 3 months of freezing.
Other Gluten Free Cake Recipes You Might Love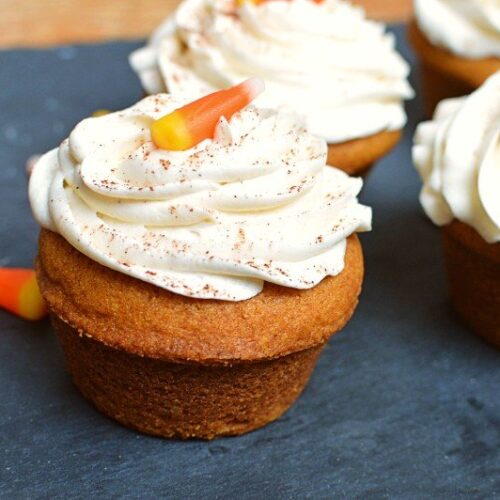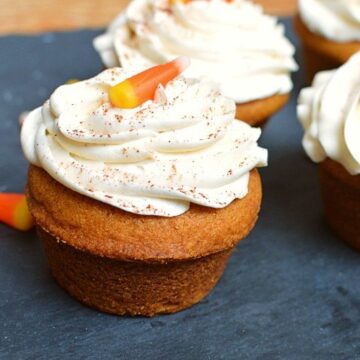 Gluten Free Pumpkin Cupcakes with Cinnamon Maple Frosting
Ingredients
For the cupcakes:
½

cup

sugar

¼

cup

+ 2 T. brown sugar

1 ½

t.

baking powder

½

t.

baking soda

¼

t.

kosher salt

½

t.

pumpkin pie spice

½

cup

canola oil

½

cup

canned pumpkin

2

eggs
For the frosting:
½

cup

butter, room temp.

or 1 stick

2

cup

powdered sugar

2

T.

maple syrup

1

T.

whole milk

¼

t.

cinnamon
Instructions
Preheat oven to 350 degrees. In the bowl of a stand mixer add both sugars, canola oil, and pumpkin then beat for 3 minutes on medium speed.

In a medium bowl, combine gluten free flour, baking powder, baking soda, salt, and pumpkin pie spice. Mix gently with a spoon.

Add eggs, one at a time to pumpkin mixture and beat on medium speed until thoroughly combined. Scrape the bowl with a spatula.

Add dry ingredients to pumpkin mixture and beat on medium speed until thoroughly combined.

Spray or line a muffin pan, and scoop batter ¾ of the way full in each one. You should get 9 total.

Bake cupcakes for 21 minutes or until the tops have risen and they bounce back when touched. You can also test with a toothpick.

For the frosting, beat 1 stick butter, ¾ cup powdered sugar and 1 T. maple syrup on medium high for 3 minutes. Add ¾ cup powdered sugar, 1 T. milk, and ¼ t. cinnamon and beat 3 more minutes.

Finally add the last ½ cup powdered sugar and 1 T. maple syrup and beat 3 more minutes.

Pipe or spread frosting onto completely cooled cupcakes, sprinkle with cinnamon and add a candy corn to the top of each one.
Nutrition