Come summer, I am all about refreshing popsicle recipes, and these blackberry popsicles are perfect for a hot summer day.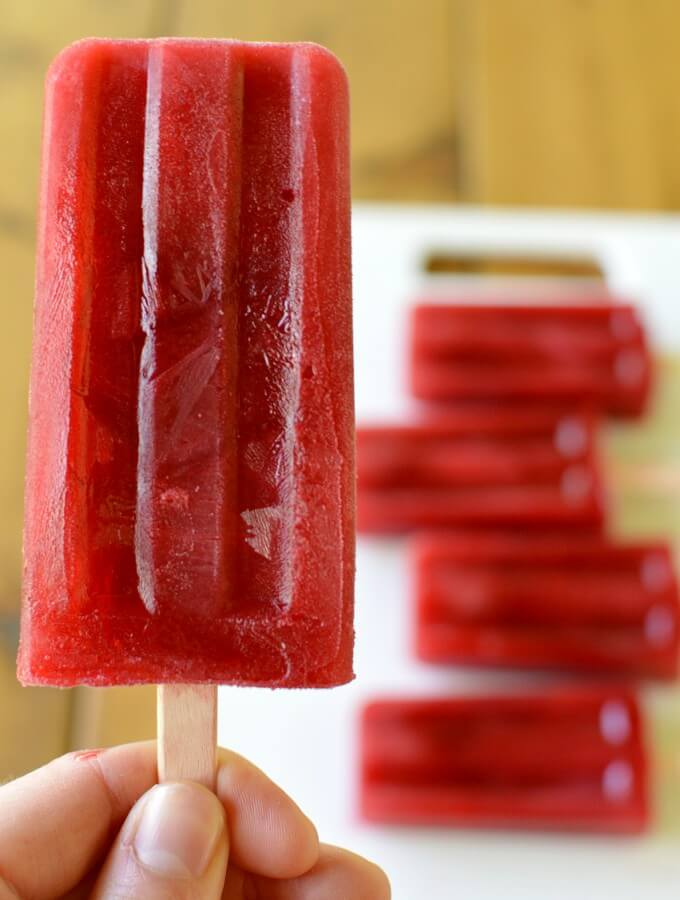 Disclosure: This post may contain affiliate links. In other words, if you click a link and purchase something I will receive a commission at no cost to you. I only recommend products I use and enjoy myself.
Summer is here, and so are popsicles.
There's just something about an ice cold refreshing popsicle on a sinisterly hot day.
And now with the popularity of gourmet popsicles we've all realized that pops don't have to be boring. You can spice 'em up or add salt or crushed up cookies. If you can think up a combination I would wager you could put into a popsicle mold. For example you could add sweet tea to peach popsicles or mint and lemonade to blueberry popsicles.
For this recipe I added ginger root. I love the spicy addition especially with blackberries and lime. If you don't like spicy ginger in anything just follow the recipe but don't add the ginger root. Also a bonus - blackberries contain fiber, vitamin C and lots of good antioxidants! You can read more about their health benefits here.
What you need for this blackberry popsicles recipe
Blackberries
Sugar
Lime
Water
Ginger root
I like to make this when blackberries get really cheap but you could also use frozen. Sometime during the summer Publix will discount them to 99 cents and I like to load up then.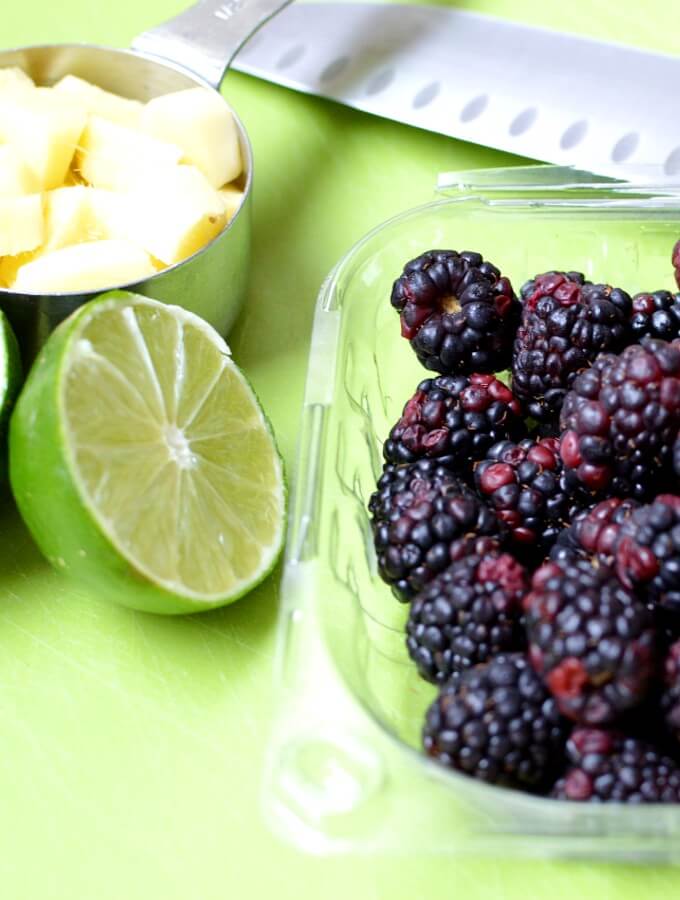 How to make blackberry lime popsicles:
I wanted these blackberry pops to be like a traditional pop and not full of chunky blackberries so I did two things:
I strained it so there wouldn't be any seeds or large chunks.
I cooked the blackberries down first so the sugar would dissolve nicely and then the blackberries would break down.
Here is how you make them:
Dissolve the sugar in the water then add the blackberries and lime.
While the mixture is cooking chop and place the ginger in a large bowl. Pour the hot blackberry mixture over the ginger. You are steeping the ginger in the liquid to extract it's flavor without having any of the actual ginger in the pop. The longer you steep the ginger the more ginger flavor you will have.
In this recipe I steep the ginger for an hour and 15 minutes. I will say both my 1 year old and 4 year old liked these pops. It's not a kick you in the pants ginger flavor (although I do like that) but a nice subtle one.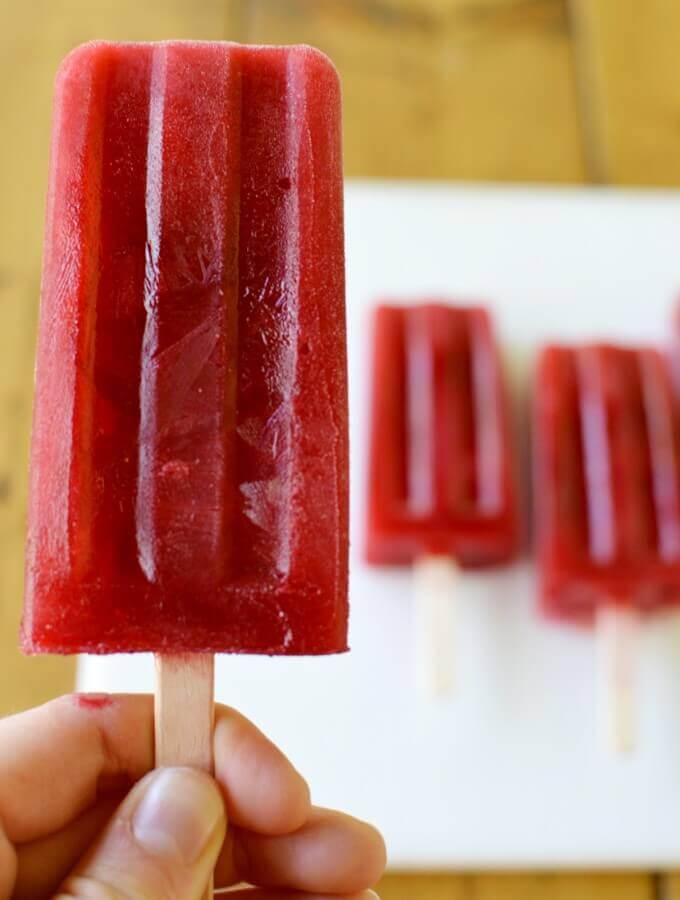 How to remove the pops
There's no need to run the mold under hot water to get them out. Just leave on the counter for four minutes and then jiggle the popsicle stick.
Place your fingers on the area surrounding the popsicle to hold the mold down and with the other hand pull the popsicle out. It's super simple and they come out perfect.
Well there you have it - easy homemade popsicles!
I will probably add fruit to some of my other recipes, but this one I wanted to come out more like a traditional (incredibly refreshing) popsicle - no fruit chunks or seeds. Hope you enjoy it as much as I did. Oh and keep in mind they get messy! I let the kids eat them outside or in the bath tub.
If you are looking for something just as refreshing but no freezing or waiting required buzz up this pineapple spinach smoothie. Pineapple and mango just scream summer to me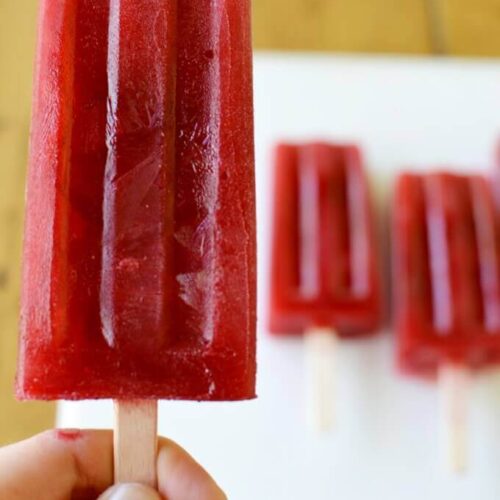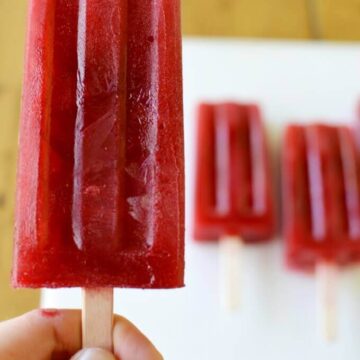 Blackberry Popsicles
Ingredients
12

oz.

blackberries

½

cup

sugar

juice of 1 lime

3

cups

water

¾

cup

peeled and chopped ginger root
Instructions
Add water and sugar to a medium saucepan on medium heat. Stir until sugar is dissolved.

Place ginger root in a large heat resistant bowl. (I used glass)

Add blackberries and lime juice to water and bring to a boil. Boil for 12 minutes.

Pour blackberry mixture over ginger root and let sit for 1 hour 15 minutes. Strain mixture with a fine mesh seive and pour into popsicle mold.

Follow popsicle mold instructions until pops are frozen.