Homemade lemonade couldn't be easier. This agave lemonade comes together in a snap for a refreshing summertime drink!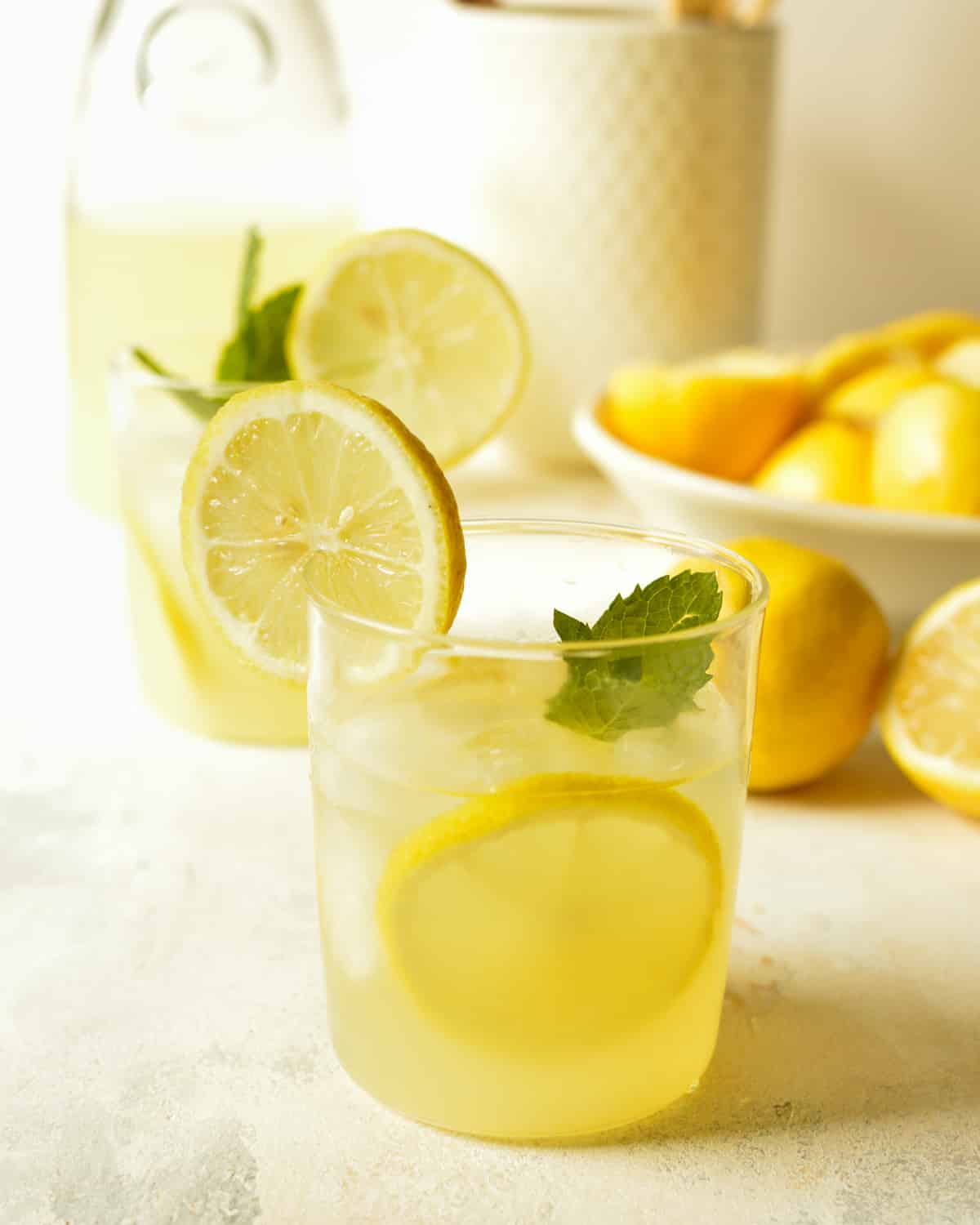 Homemade lemonade spruces up any brunch or party. Its bright, refreshing, and sweet, especially on a blistering hot summer day.
My favorite way to make it is with agave syrup and not just because Panera does it that way. Light agave has a mild flavor and blends right into the lemon juice. There's no need to cook homemade simple syrup for this one.
This agave lemonade recipe is a no-fuss drink that's bright, cheery, crisp, and refreshing - just as it should be!
Disclosure: This post contains affiliate links. In other words, if you click a link and purchase something I will receive a commission at no cost to you. I only recommend products I use and enjoy myself.
Ingredients
With just three ingredients, lemonade with agave is even easier than regular lemonade.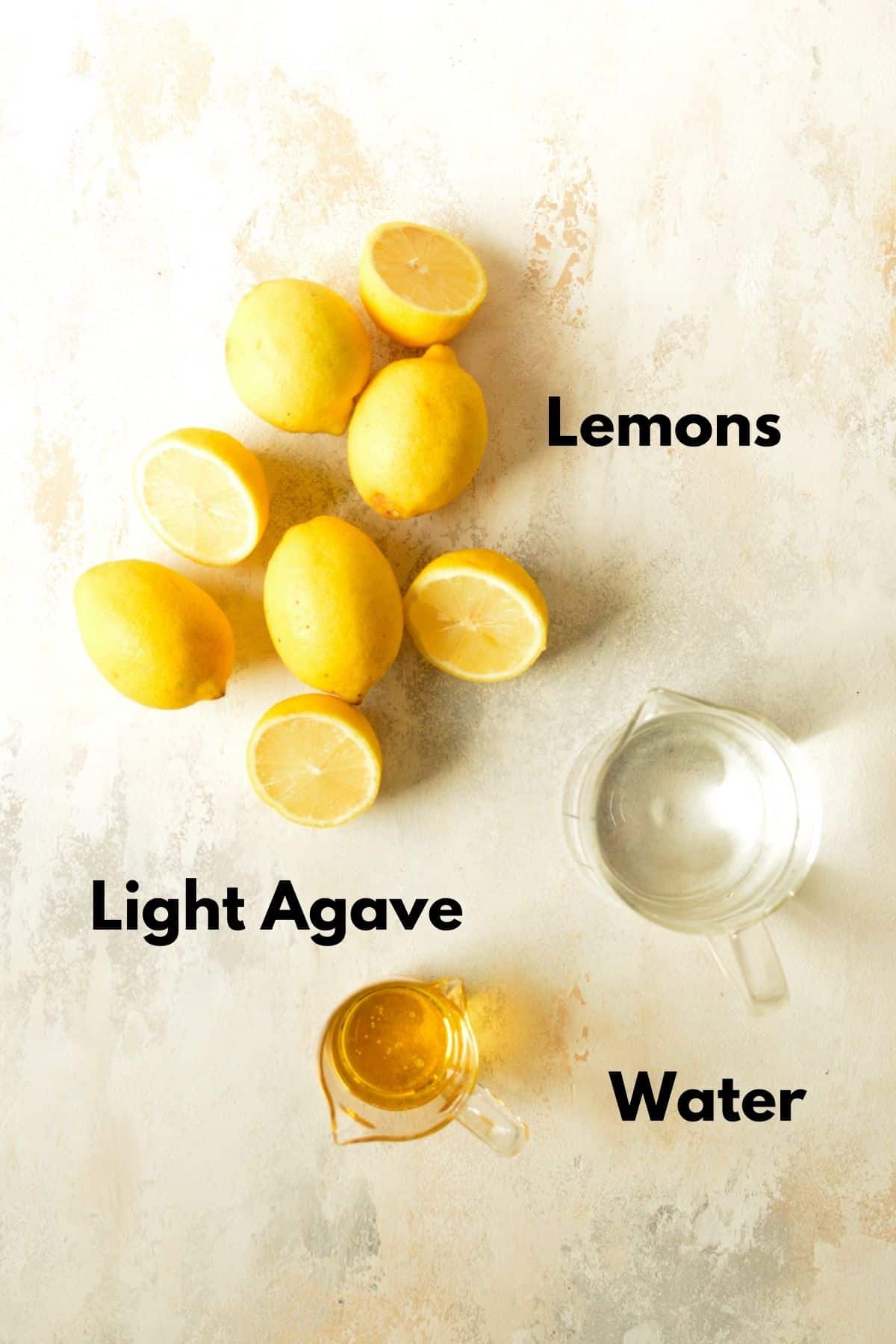 Lemons - Always use fresh lemon juice for lemonade! It's quick and affordable, but most importantly it's far superior to bottled lemon juice. Use a citrus reamer to get the most juice out of each lemon. You can also microwave the lemon for 15 seconds and roll it on the counter to loosen up the juice.
Water - Lemon juice is extremely tart. The great thing about lemonade is that you dilute the lemon juice with water so you don't need nearly as much as say fresh squeeze orange juice.
Agave nectar - Typically lemonade is sweetened with simple syrup. If you just threw in some sugar, it wouldn't fully dissolve. The sugar would sink to the bottom and taste grainy. Since agave is already in liquid form, all you have to do is stir!
How to Make Agave Lemonade
Juice the Lemons
Juicing lemons is surprisingly easy. I typically use a handheld citrus juicer or a handheld wooden reamer. Squeeze the juice into a bowl and then strain it into a measuring cup. This removes the seeds and pulp.
Combine Ingredients
In a large pitcher, combine the lemon juice, cold water, and agave syrup. Stir well, then top with lots of ice!
Taste & Enjoy
Taste the lemonade and adjust ingredients as necessary. If it you don't like any pucker, stir in more agave. Remember, you can always add more but you can't take it out! If it's too lemony, add a smidge more water.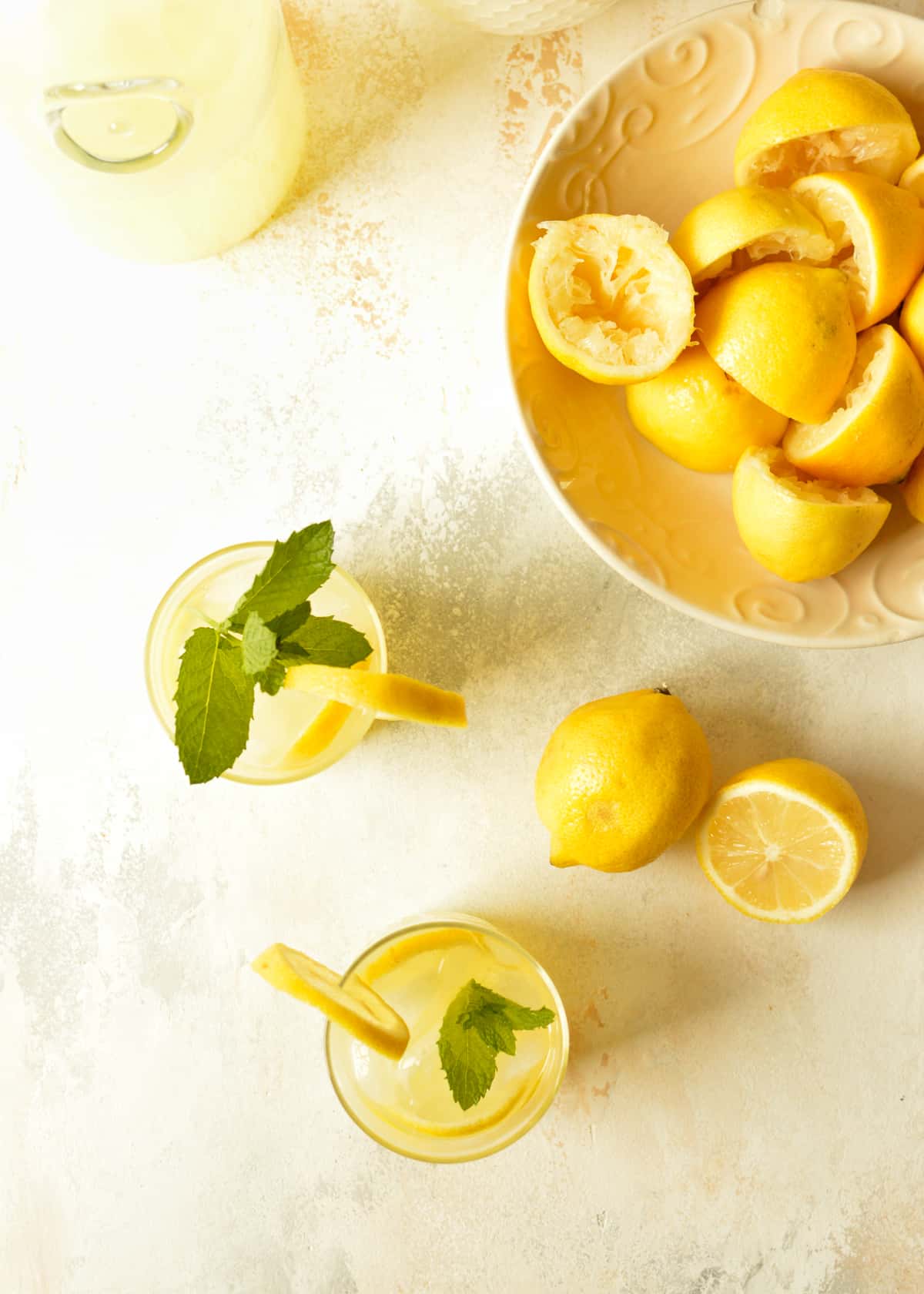 Why This Lemonade Recipe is Amazing
In traditional lemonade, you typically dissolve sugar in water by cooking it to make a simple syrup. Since agave is already a smooth, syrupy consistency you can skip this step altogether. It comes together in a snap!
Fresh squeezed lemonade is light years better than the store bought kind or even Panera Bread lemonade. It has a fresh, intense bright and lemony flavor.
Light agave has a mild flavor that doesn't overpower the lemons.
Lemonade Variations:
Herbs - Add fresh herbs like basil or mint!
Tea - Make an Arnold Palmer and top with fresh iced tea. Flavored ice tea is great too! Try raspberry, peach, or hibiscus.
Fresh fruit - Add or blend with fresh raspberries, blueberries, strawberries, or peaches.
Soda water - Top a glass of lemonade with soda water for bubbles and fizz!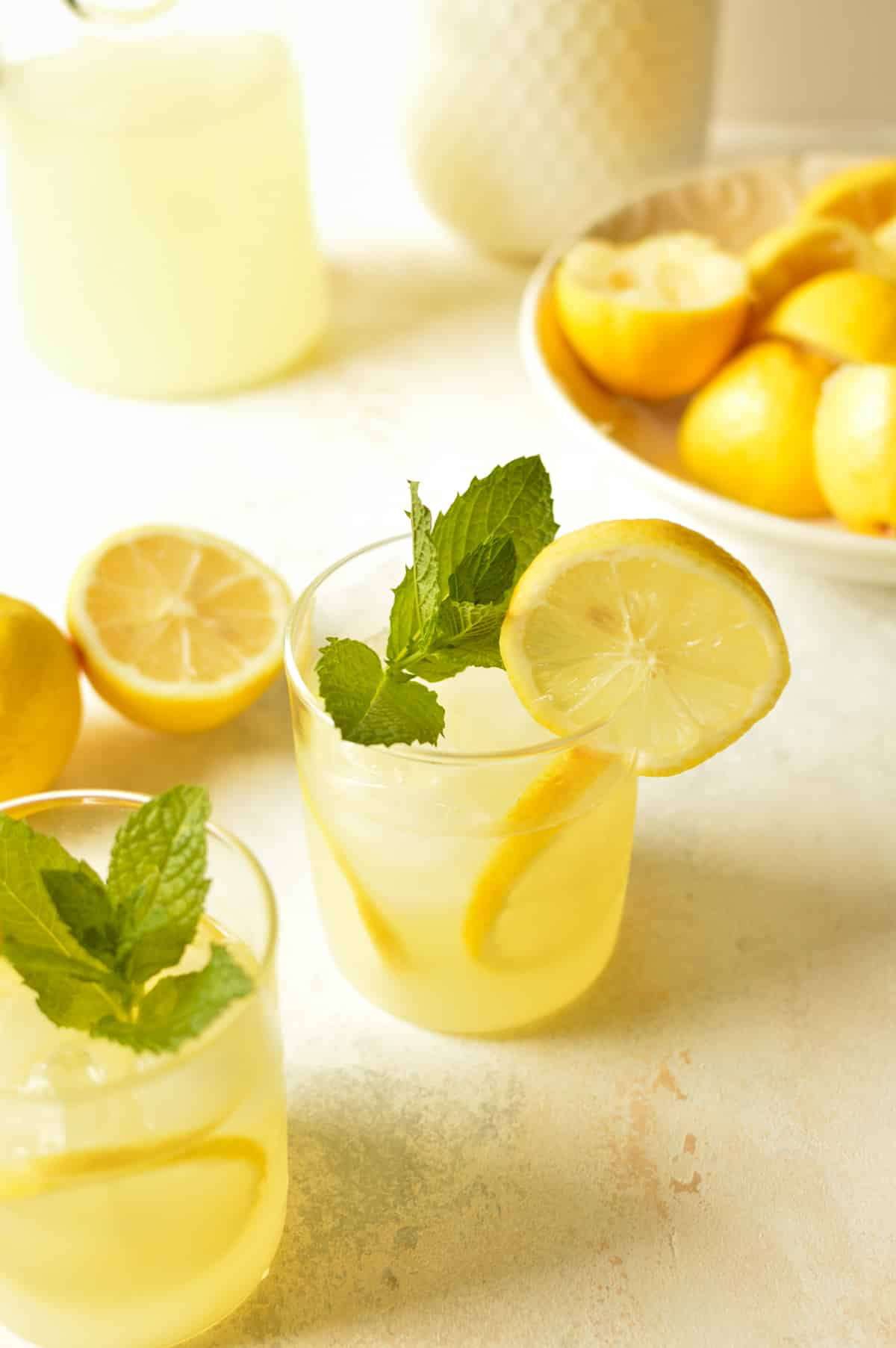 Recipe Notes & Tips
When shopping for lemons press into them gently and see if they have some give. I try to buy lemons that are slightly soft when intending to juice them.
You can serve lemonade in mason jars, fun cocktail glasses, or glass bottles for a fun little twist.
I like lemonade slightly tart with an intense lemon flavor, but the best part about lemonade is you can make it exactly how you like it! I recommend starting with the recipe below and then adding more agave if you like it sweeter and slightly more water if you want a less intense lemon flavor.
Gently cut the lemons into halves and squeeze the juice into a measuring cup. I don't worry about the seeds until the end and then I strain it.
FAQs
What does agave lemonade taste like?
If you use light agave, it tastes just like regular lemonade! Light agave has a very mild flavor, even more so than honey.
Is agave syrup better than sugar?
While agave syrup is a natural sweetener, it's still sugar! Enjoy this agave lemonade recipe in moderation, just like you would regular lemonade.
Other Summer Recipes You Might Like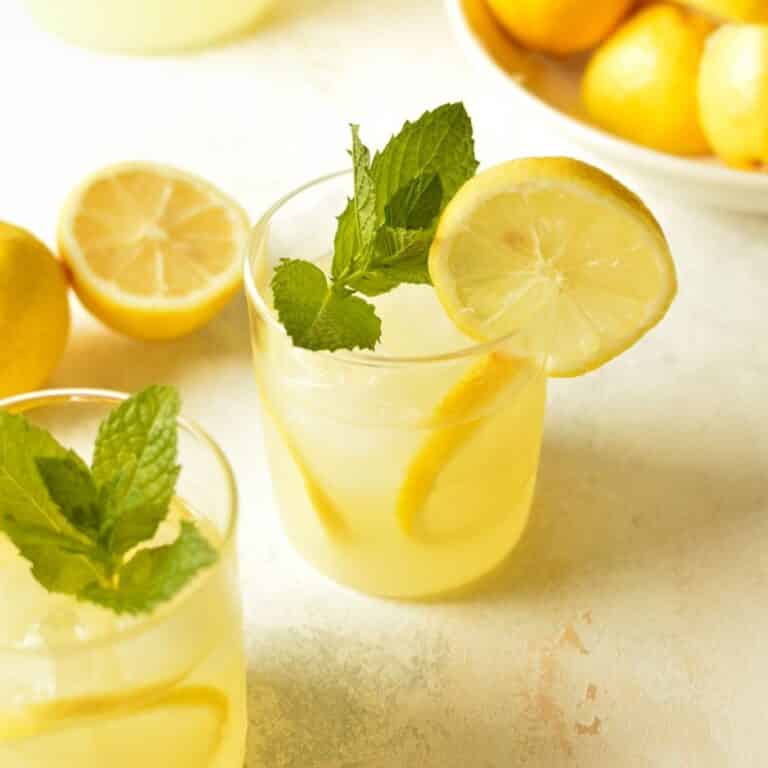 Agave Lemonade
Homemade lemonade couldn't be easier. This agave lemonade comes together in a snap for a refreshing summertime drink!
Equipment
Handheld juicer or citrus reamer (optional)
Instructions
Press down on the lemons firmly as you roll them on the counter. Cut the lemons in half and squeeze into a measuring cup. Strain to remove the seeds and/or pulp.

In a medium sized pitcher add the lemon juice, water, and agave. Stir well then top with lots of ice.

Enjoy immediately or refrigerate for later. Just be sure to add the ice when you are ready to use so it doesn't melt in the lemonade.

For a sweeter lemonade gradually add more agave tasting as you go. For a more diluted lemonade gradually add more water tasting as you go.
Notes
* Be sure to use light agave nectar. Amber agave has a very intense flavor!
Nutrition
Calories:
134
kcal
Carbohydrates:
35
g
Protein:
1
g
Fat:
1
g
Saturated Fat:
1
g
Polyunsaturated Fat:
1
g
Monounsaturated Fat:
1
g
Sodium:
13
mg
Potassium:
99
mg
Fiber:
2
g
Sugar:
27
g
Vitamin A:
16
IU
Vitamin C:
44
mg
Calcium:
25
mg
Iron:
1
mg