These gluten free vanilla cupcakes are light and fluffy like any good cupcake should be but without the gluten! You will love these moist and delicious cupcakes.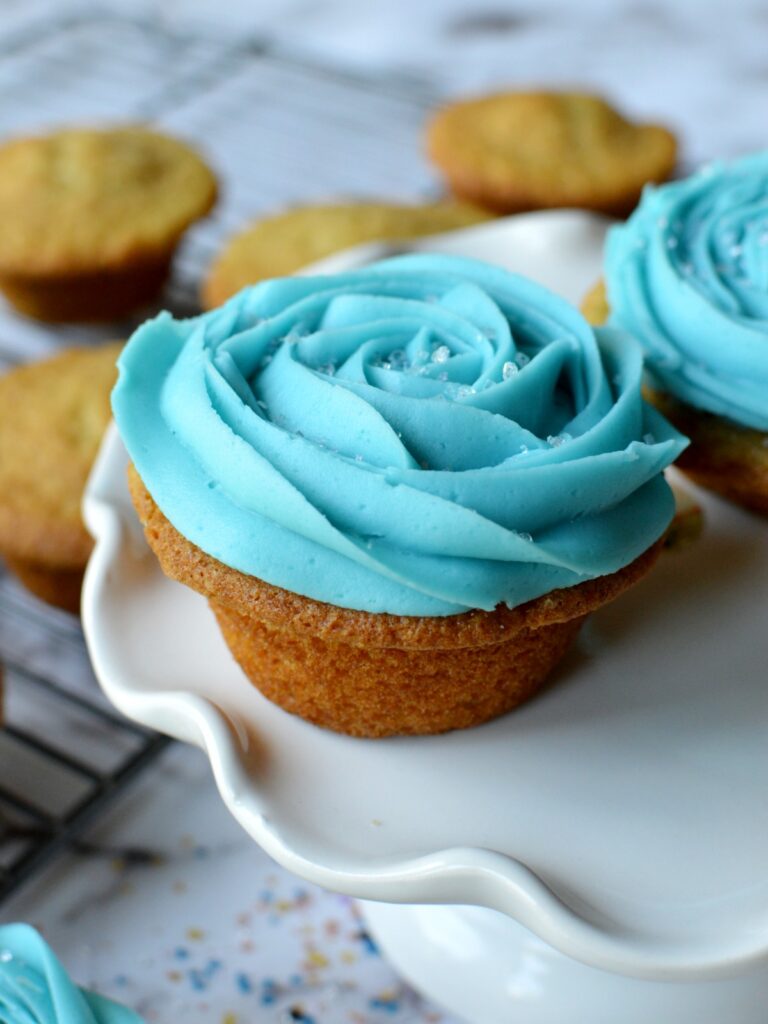 The only thing I love more than vanilla cupcakes are gluten free chocolate cupcakes! But since my little guy doesn't care for chocolate the way I do I whipped up some delicious light and fluffy vanilla cupcakes instead.
Disclosure: This post contains affiliate links. In other words, if you click a link and purchase something I will receive a commission at no cost to you. I only recommend products I use and enjoy myself.
Why You'll Love These Cupcakes
The texture is perfect. They really are light and fluffy which can be a difficult feat to achieve in gluten free baking.
They're simple to make - no fancy techniques or weird ingredients.
It's much more budget friendly (and usually more delicious) to make gluten free vanilla cupcakes yourself.
Ingredients
Vegetable oil - Don't get me wrong because I love butter but using vegetable oil in these cupcakes keeps them super moist yet still fluffy.
Sugar
Vanilla
Eggs
Gluten free flour - I use Bob's Red Mill 1:1 All Purpose Flour for most of my gluten free desserts. It has a taste and texture far above other gluten free flours I've tried. This is the flour I put in the recipe below because all gluten free all purpose flours are blends and produce a different result.
Baking powder - Leavening helps the cupcakes rise.
Baking soda - A small amount of baking soda will react with the sour buttermilk for even more rise.
Kosher salt - Do not substitute 1:1 for table salt. If you do not have kosher salt then cut the amount in half.
Milk & vinegar - Milk & vinegar keeps the cake moist while also giving it rise and therefore making it fluffy.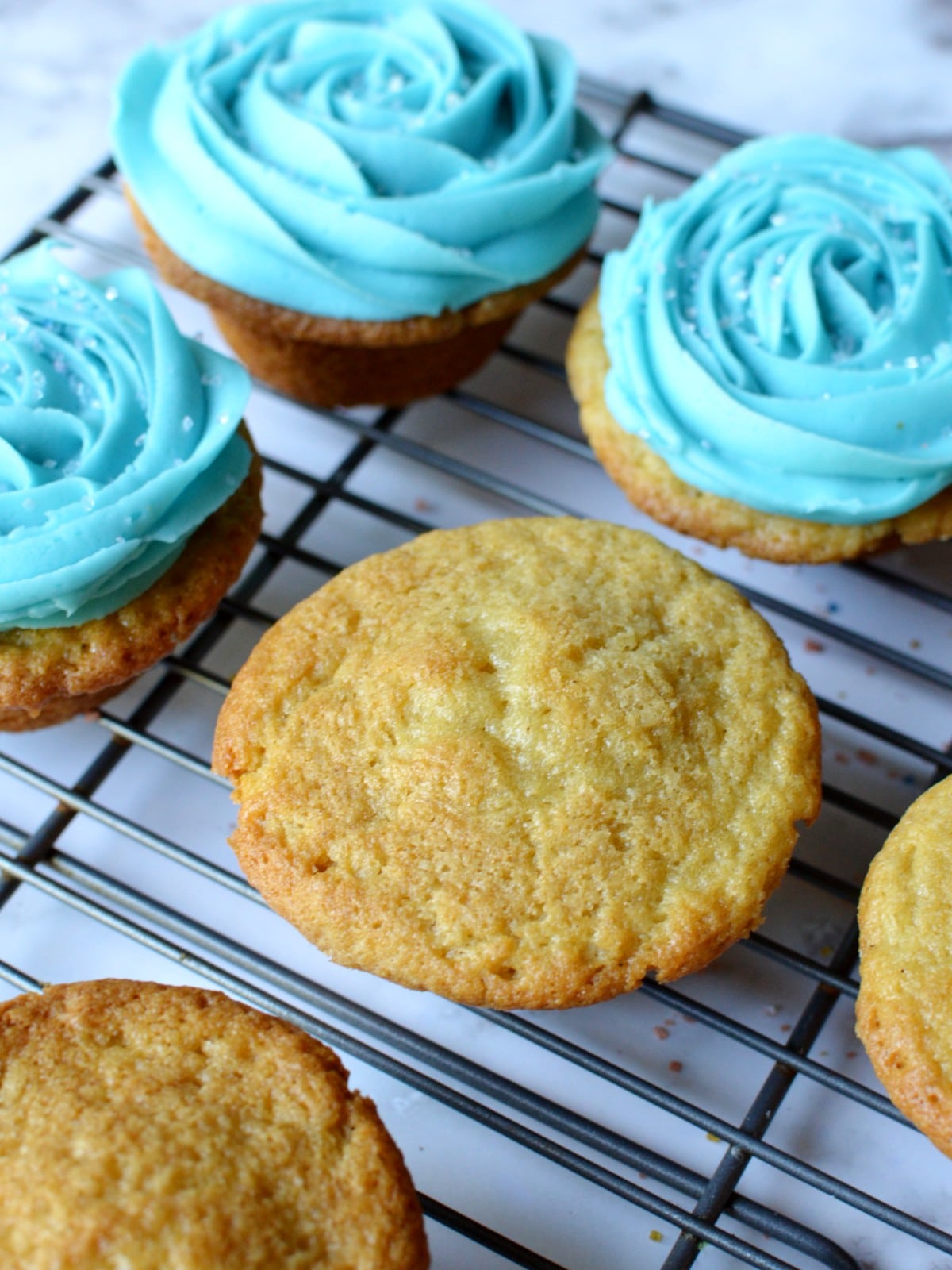 How to Make Them
Before I continue I will say when it comes to baked goods (especially gluten free ones) it's important to follow the recipe. If you make several substitutions the first time and the recipe doesn't come out it may not actually be the recipe but the substitutions you made to it that caused it to fail. I love to experiment in the kitchen but you might be surprised how much a minor change can affect the outcome of a cupcake.
Here is the method:
Preheat the oven. Spray a muffin tin with nonstick cooking spray and set aside. Combine milk and vinegar then set aside.
In a medium bowl combine the dry ingredients and stir together.
Beat together the vegetable oil, both sugars, and the vanilla then add each egg one at a time until mixed in well.
Add the dry ingredients and beat until incorporated scraping the sides of the bowl with a spatula as necessary.
Lastly add the milk mixture and mix in. Scrape the sides of the bowl and mix one more time.
Scoop the batter into the muffin tins only ⅔ of the way full and bake for 16 to 18 minutes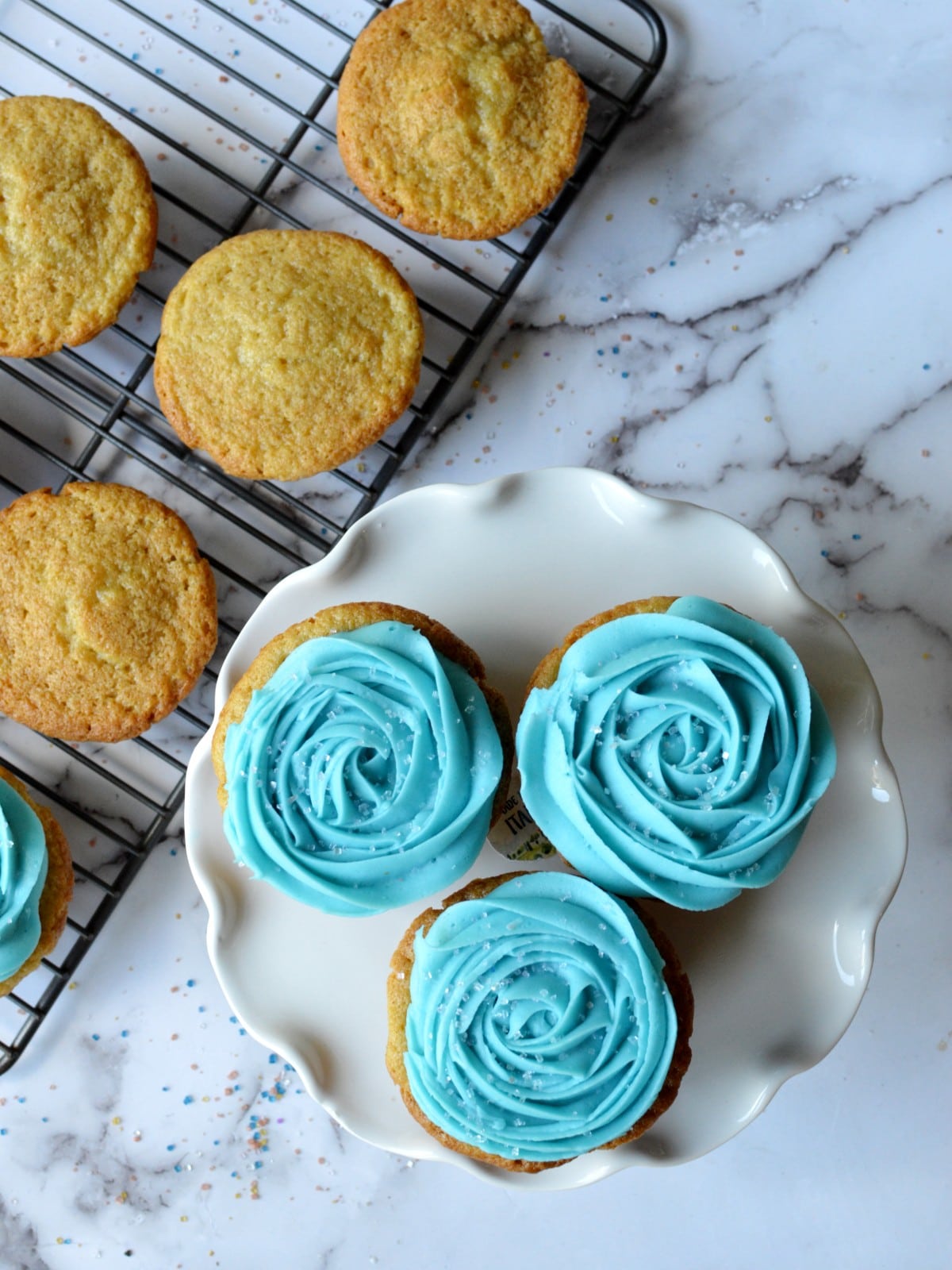 Gluten Free Cupcake Making Tips
Only fill the cupcakes ⅔ of the way full. I like to use less flour in my cake recipes because they tend to be fluffier and less dry. But this also means as they reach the top of the muffin cavity they spread a bit instead of just going up. Resist the urge to overfill the cupcake cavities - ⅔ of the way is just perfect.
Don't remove the cupcakes immediately from the pan. If you try to remove the cupcakes right when they come out of the oven they will tear. When cake is still hot it hasn't set up and the structure is not as sturdy. Let them sit for a bit until they are just warm and transfer to a cooling rack.
Wait until they've completely cooled to frost the cupcakes. Since one of buttercreams main ingredients is butter if you place it on a warm cupcake you will just get frosting soup.
Can you freeze gluten free cupcakes?
Yes! You can freeze them frosted or unfrosted. I like to place them on a sheet pan and freeze it until they are solid then put them into a freezer bag. This will prevent them from getting smooshed. For best results freeze them within a day of baking them and use within 3 months. To defrost let them come to room temperature or microwave just until defrosted and not warm or else the frosting will melt. I like to do this in 5 to 10 second intervals.
Other Gluten Free Cake Recipes You Will Love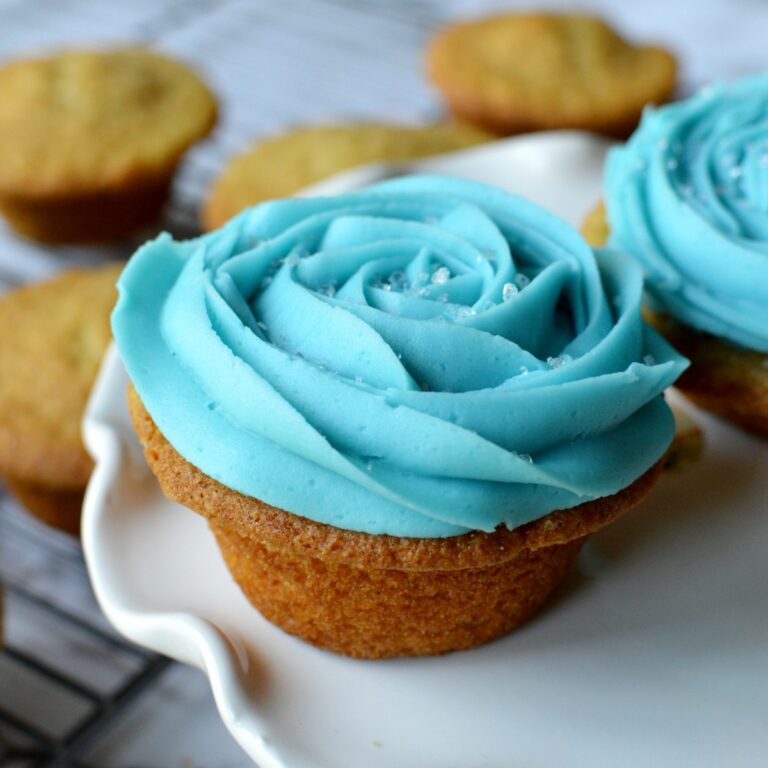 Gluten Free Vanilla Cupcakes
These gluten free vanilla cupcakes are light and fluffy like any good cupcake should be but without the gluten! You will love these moist and delicious cupcakes.
Equipment
Stand Mixer with the Paddle Attachment

Liquid Measuring cup

Dry Measuring Cups

Muffin tin

Bowl
Instructions
Preheat oven to 350 degrees Fahrenheit. Spray a muffin tin (or two) with nonstick spray and set aside. Combine the milk and vinegar. Set aside.

In a medium bowl measure the flour, baking powder, baking soda, and kosher salt then set aside.

In the bowl of a stand mixer mix together the vegetable oil, sugar, and vanilla on medium speed.

Add the eggs one at a time to the oil mixture beating well after each addition. Scrape the sides of the bowl with a spatula to make sure everything is incorporated.

Add the flour mixture to the bowl and beat until a batter forms then on low speed gradually add the milk. Scrape down the sides of the bowl with a spatula and then beat for 30 more seconds.

Fill the cupcake cavities only ⅔ of the way full. Don't overfill. Bake until a toothpick comes out clean or the tops bounce back when pressed. This should be around 16 to 18 minutes.

Let cupcakes cool and then frost with vanilla or chocolate buttercream.
Nutrition
Calories:
223
kcal
Carbohydrates:
31
g
Protein:
4
g
Fat:
10
g
Saturated Fat:
2
g
Polyunsaturated Fat:
5
g
Monounsaturated Fat:
2
g
Trans Fat:
1
g
Cholesterol:
26
mg
Sodium:
10523190
mg
Potassium:
23
mg
Fiber:
3
g
Sugar:
13
g
Vitamin A:
52
IU
Calcium:
59
mg
Iron:
1
mg