Ripe juicy strawberries are cut up and topped with an oat pecan crumble for a delicious jammy summer dessert. This gluten free strawberry crisp is perfect topped with vanilla ice cream!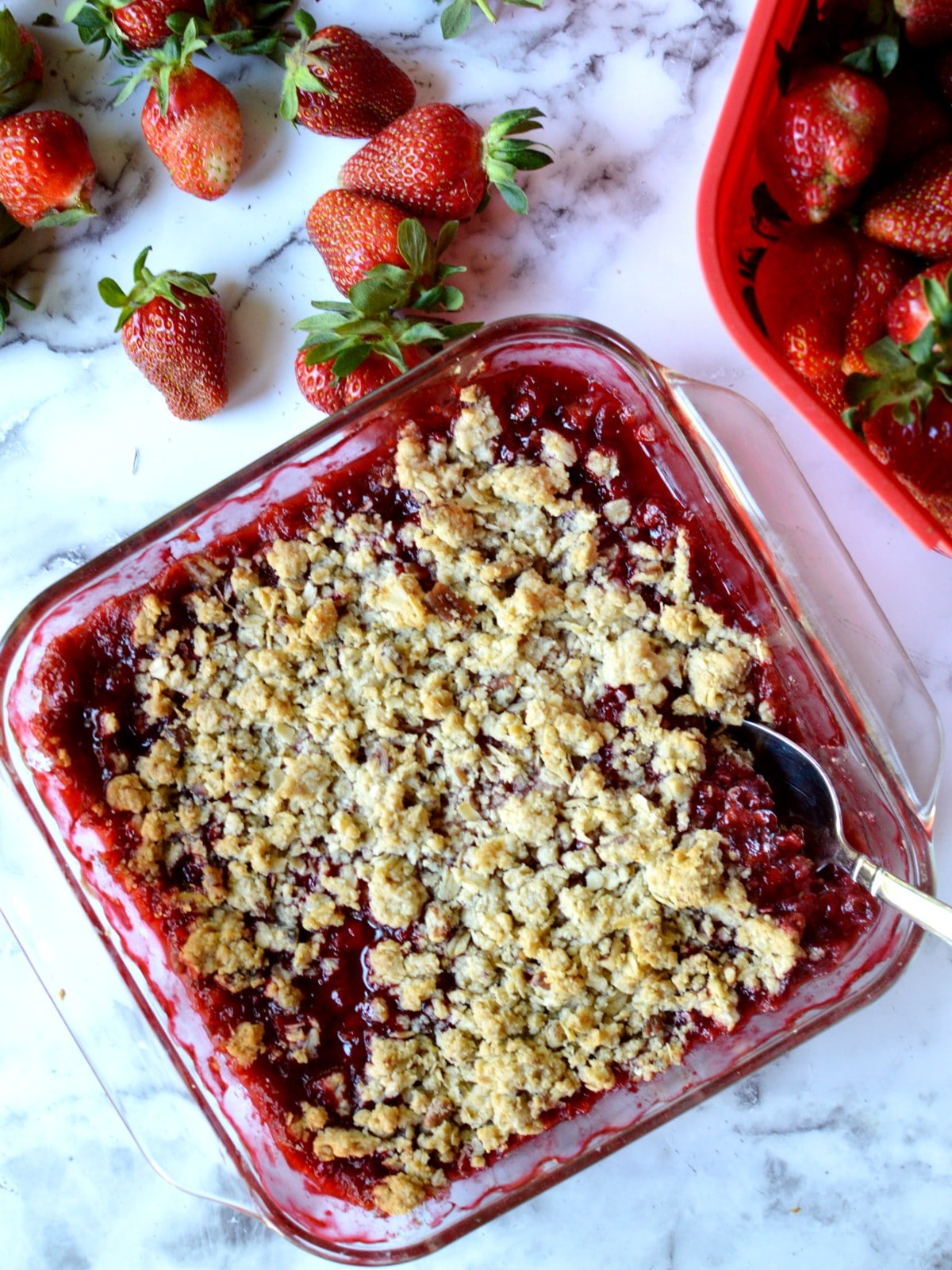 Strawberry season is finally here! There's just something about a big, ripe, deep-red strawberry that screams spring to me. We went strawberry picking and since I'm a big sucker for fresh strawberries and local farms we bought two gallons of them. I contemplated a third.
Disclosure: This post contains affiliate links. In other words, if you click a link and purchase something I will receive a commission at no cost to you. I only recommend products I use and enjoy myself.
The first thing I did when I got home was make this gluten free strawberry crisp. I love crisps and crumbles and usually I like to use frozen berries but not when it comes to strawberries. Frozen strawberries simply can't compare to the taste and texture of fresh ones in a crisp.
Ingredients
Fresh strawberries - Make sure they're nice and ripe for flavor and sweetness.
Lemon - I love to add fresh lemon juice to the strawberries because it brings out the flavor of the strawberries and gives some lemony flavor.
Cornstarch - Cornstarch helps thicken up the liquid released from the strawberries and makes them jammier as they cook.
Sugar - Ripe strawberries are already nice and sweet and so is the topping so I don't add a lot to them. I like a little bit of tartness from the lemon.
Brown sugar
Oats - Make sure to use gluten free oats!
Pecans - Pecans and strawberries go great together. I love this combo not only in desserts but in salads too!
Kosher salt - A small amount of salt just brings out the flavors even more.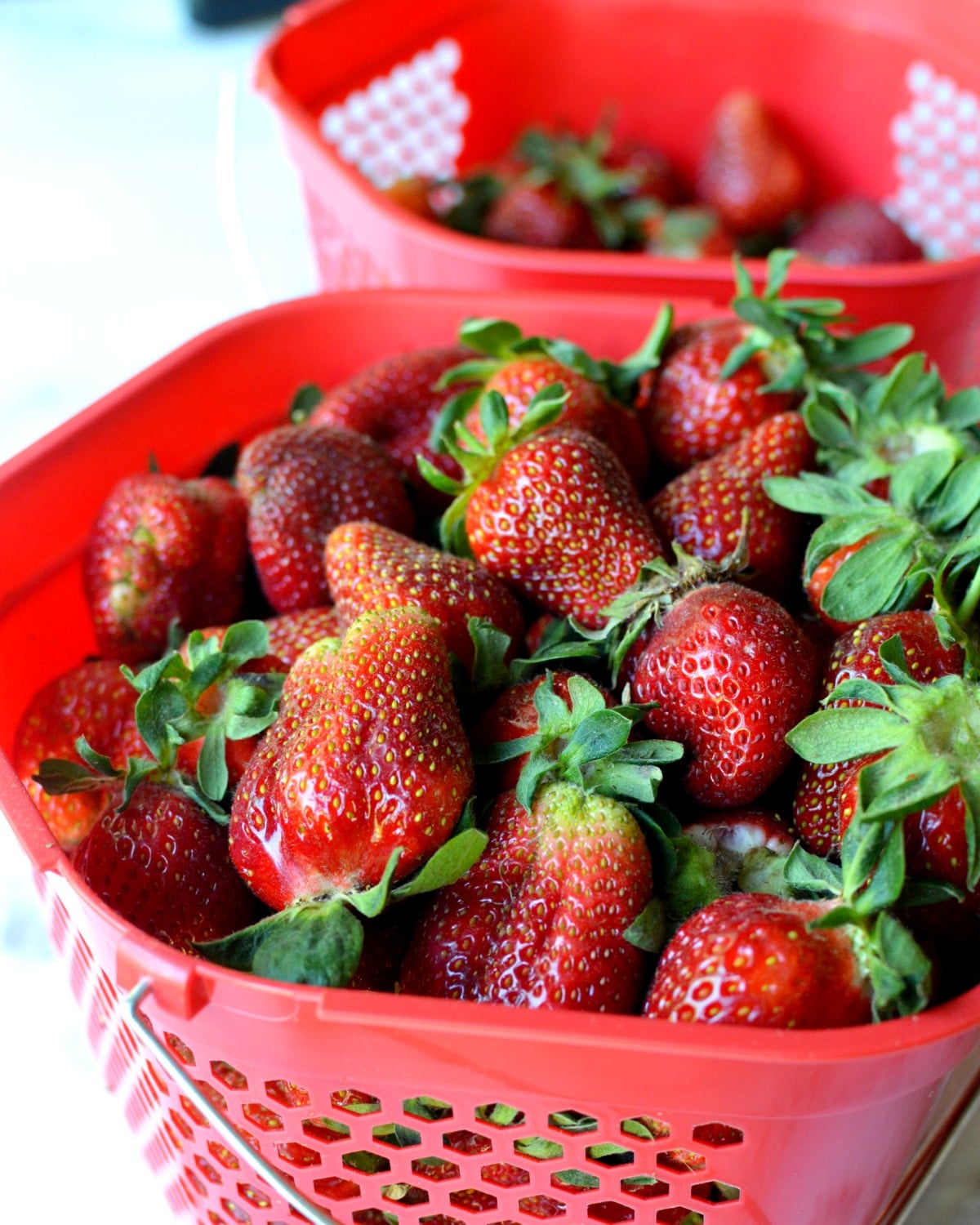 Can you make a crisp ahead of time?
I wouldn't recommend making the entire crisp ahead of time but there are a few ways to simplify the process.
You can make the just the topping ahead of time and freeze it in a zip lock bag. This way when you do decide to go strawberry picking or make a strawberry crisp all you have to do is pull the topping out of the freezer and prep the strawberries like the recipe calls for. To quote my six year old "Easy peasy lemon squeezy".
Can you freeze a strawberry crisp?
I did not freeze this strawberry crisp BUT I have done it to my blueberry and triple berry crisp with great results. I don't like to stick the entire baking dish into the freezer because it makes it difficult to thaw.
Also what happens if you want some strawberry crisp but you have enough in the pan for four people? Big fat waste.
I like to scoop individual size portions onto a lined sheet pan and freeze. Once the portions are frozen I throw them into a gallon freezer bag. When I'm ready to defrost I throw one in a small glass dish and bake at 350 degrees until reheated.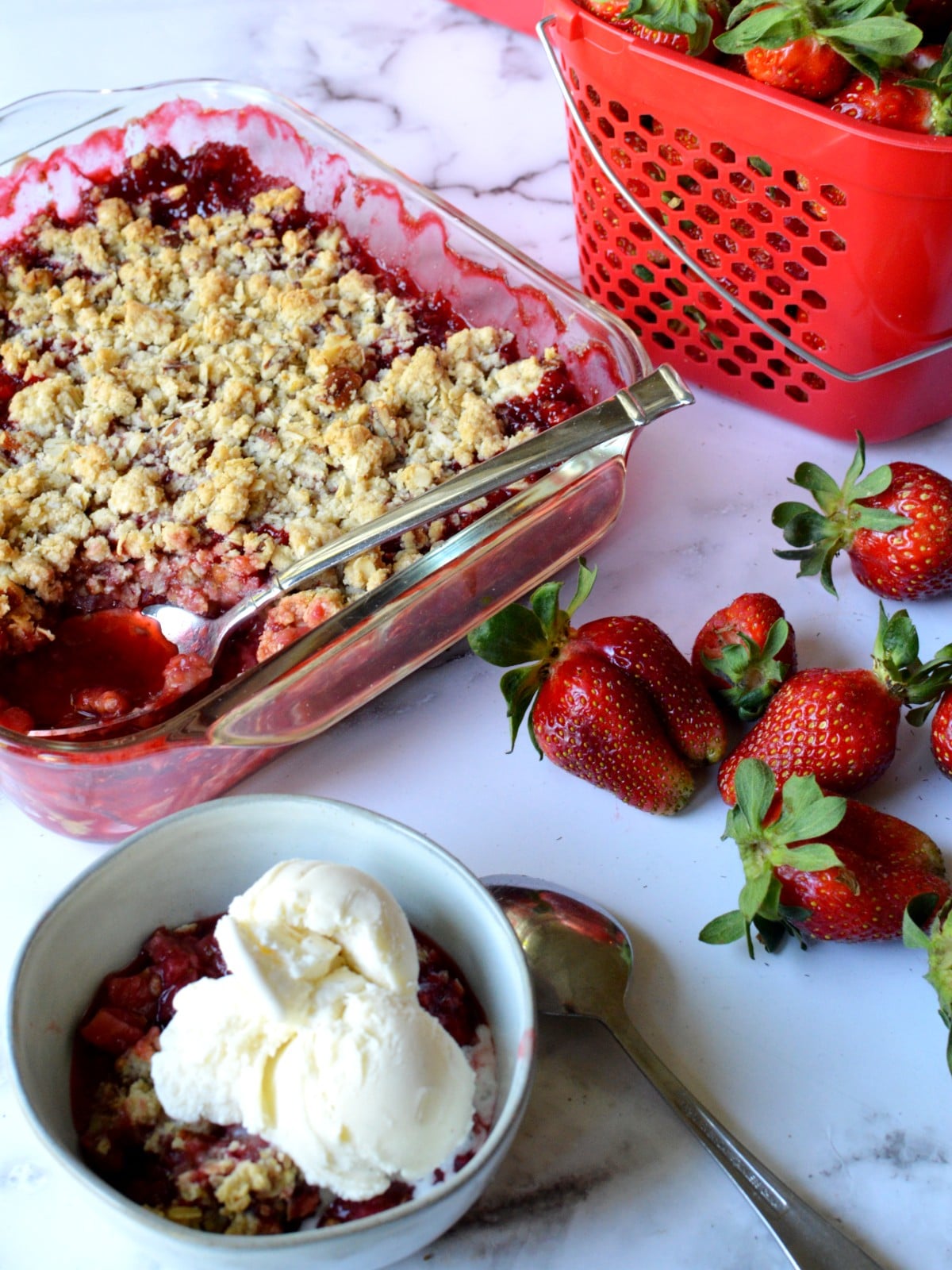 Tips & Subsitutions
This recipe makes a lot of topping. It seems to me folks fall into one of two camps. Some love it very heavy on the topping and some don't. This way you can put as much as you want on there.
If you have any leftover topping you can freeze it in a zip lock bag. I like to do this and then make individual berry crisps by putting frozen berries into a ramekin with a pinch of sugar and cornstarch. Simply add some topping and bake until hot and bubbly.
The smaller you cut up your strawberries the jammier they will be. I like to quarter them or cut them into ¾ in pieces.
Other Delicious Strawberry & Summery Recipes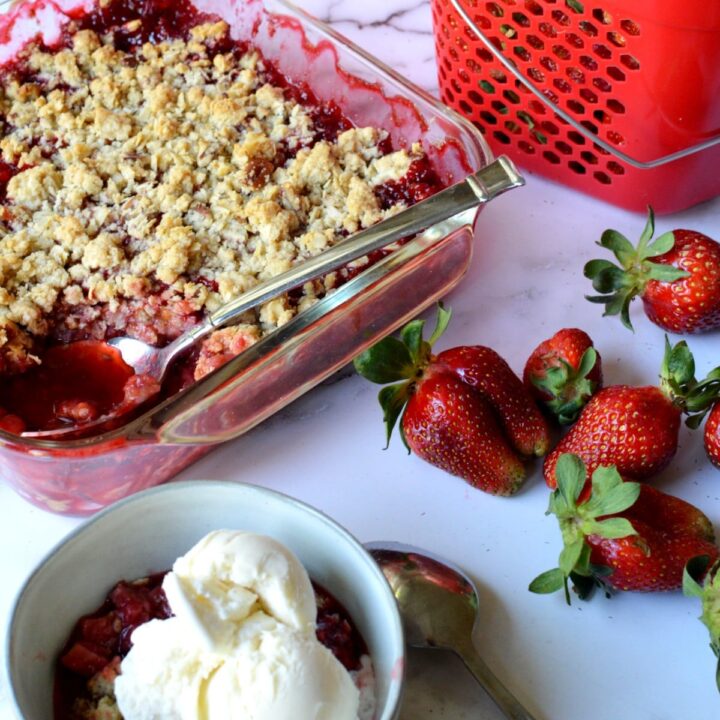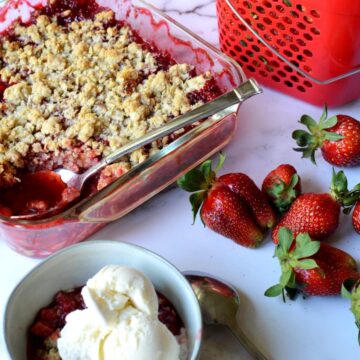 Gluten Free Strawberry Crisp
Ripe juicy strawberries are cut up and topped with an oat pecan crumble for a delicious jammy summer dessert. This gluten free strawberry crisp is perfect topped with vanilla ice cream!
Ingredients
For the topping:
1

cup

gluten free old fashioned oats

½

cup

chopped pecans

¼

cup

sugar

⅓

cup

brown sugar

¼

t.

kosher salt

zest of ½ a lemon

8

tbsp

cold butter, cut into pieces
For the strawberries:
6

cups

hulled and quartered fresh strawberries

1

tbsp

lemon juice, fresh squeezed

2

tbsp

sugar

2

t.

cornstarch
Instructions
Preheat the oven to 350 degrees Fahrenheit.

First make the topping. In a large bowl stir together all the ingredients for the topping except the butter.

Use a pastry cutter or your hands to work the butter into the dry mixture until it resembles crumbly cookie dough. Set aside.

In a separate bowl combine all the ingredients for the strawberries and stir really well with a spoon. Pour the strawberry mixture into an 8 by 8 baking dish.

Use as much topping as you like to evenly top the strawberries. If you have any leftover topping put in into a zip lock bag and freeze for later.

Bake for 50 to 55 minutes until the sides are bubbling hot and the crisp has turned a slight golden brown. Enjoy by itself or with vanilla ice cream.
Notes
If you like your topping to be softer and less "crisp" simply add ¾ cup of old fashioned oats instead of 1 cup.