Oh how I've missed Mozzarella Sticks! These gluten free mozzarella sticks have a crispy outside with a beautiful cheese pull in the center.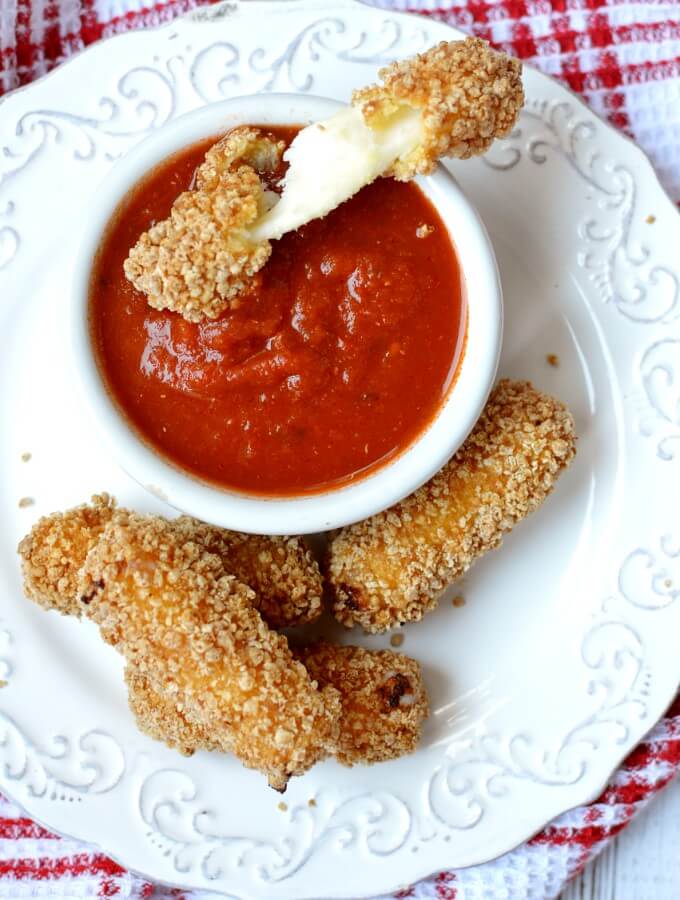 It's not that I devoured fried cheese on the regular before my celiac diagnosis but that I could NEVER have it again - until now.
And I will say there is a bit of an art to fried food. If the oil isn't hot you have a greasy mess and if it's too hot you have a burnt outside. Not to mention when it comes to fried cheese two things are essential:
A crispy golden exterior
A melty hot cheese pull center
The cheese must stay in its breadcrumb prison lest you have an empty breadcrumb shell and cheese leakage is a mega buzzkill.
Disclosure: This post contains affiliate links. In other words, if you click a link and purchase something I will receive a commission at no cost to you. I only recommend products I use and enjoy myself.
Who's invited to this cheesy party?
Canola Oil
Gluten Free Breadcrumbs
Gluten Free All Purpose Flour (I used Bob's Red Mill 1:1 All Purpose Flour)
Eggs
Milk
Kosher Salt
Onion Powder
Garlic Powder
Cheese Sticks (Of course!)
How do you make mozzarella sticks from scratch?
You "bread" the mozzarella cheese. To do this you dip the cheese sticks in flour then dip in egg and then in breadcrumbs again. I like to do the double dip and dip them twice in breadcrumbs but we'll touch more on that later.
After the cheese sticks are breaded you fry them in hot oil until golden brown on the outside and ooey gooey in the center.
What you need to make gluten free mozzarella sticks:
You will need:
Large cast iron dutch oven or a pot with tall sides
Fry or candy thermometer
Slotted spoon or a spider (not the creepy crawly kind)
Three small dishes or bowls for the flour, breadcrumbs and egg mixture
How do you make gluten free mozzarella sticks without the cheese leaking out?
A ha! Good question.
After some good ol' trial and error I found three things to prevent this common catastrophe (anything involving the loss of cheese is indeed a catastrophe).
I did the double dip (sounds like an awesome dance move but it's not). After dredging the mozzarella stick in flour I dipped it in egg and breadcrumbs twice! This really seals in the cheese.
After breading the sticks I froze them for 20 minutes. I do not recommend doing it for much longer than that. The last thing you want is a nice crispy outside and a cold cheese stick in the center. Twenty minutes is just enough time to cool down the cheese stick enough to prevent leakage but not so much it won't melt.
I didn't fry the cheese stick on either side for more than 2o seconds at a time. If you leave the cheese stick on one side too long the cheese will try to pop out of it's crispy shell. You can roll the cheese stick in the oil with your slotted spoon until the outside is a nice golden brown but don't keep it on one side longer than 20 seconds and in the oil longer than a minute. You will know if you have leakage because the oil will pop as cheese leaks out.
Can you freeze mozzarella sticks after they're fried?
Yep!
I actually prefer them this way. You get all the deliciousness with minimal clean up. And I'm all about that life.
It's really simple. Put a plate of fried and cooled mozzarella sticks into the freezer for 30 minutes. Place them into a plastic freezer bag and put them back into the freezer until ready to bake them.
Once ready to eat them bake in a 350 degree oven for 10 minutes. Just keep an eye on them to make sure theres no cheese leakage. Pull them out if any of them begin to leak.
Enjoy with warm marinara sauce!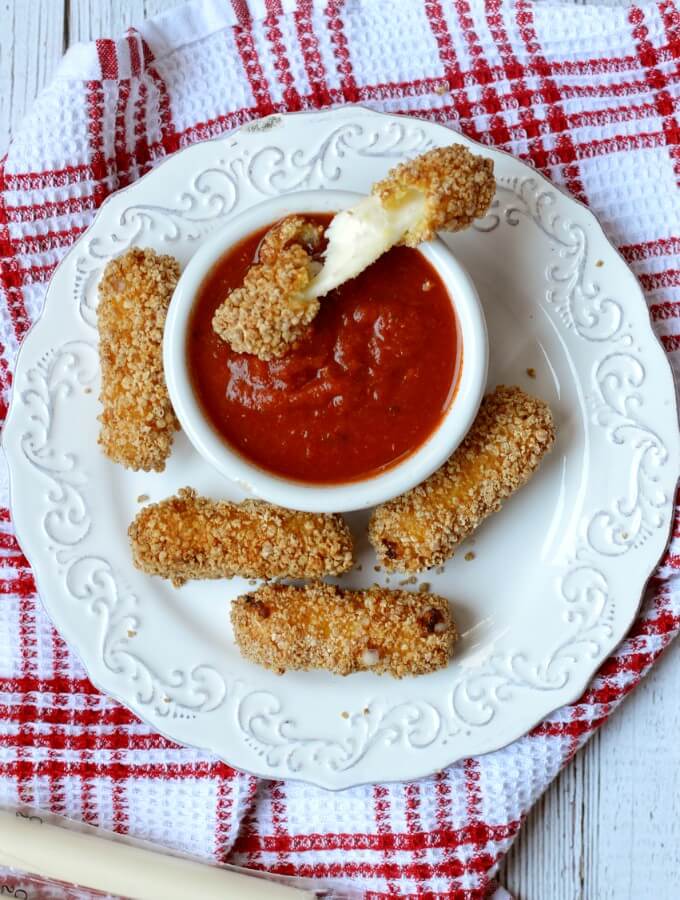 Tips for easy clean up and less mess:
I like to use three paper bowls for my breading station - one for flour, one for breadcrumbs and one for the egg mixture. This way when I'm done breading I can just toss everything into the trash.
You can put a paper towel on a paper plate for the cheese sticks once they're fried. Once all the gluten free cheese sticks are fried I like to remove the greasy paper towel and enjoy as soon as they are cool enough to pop into my mouth.
What do I do with the leftover oil?
All your cheese sticks are long gone and you have a pot full of oil - now what? You can strain and reuse frying oil. You can read more about reusing fryer oil here. I don't do this mostly because I don't fry food often enough and oil is relatively cheap.
You can dispose of the oil by pouring it into a disposable container and throwing it in the trash. Just be sure it is completely cool! Do not dispose of hot oil.
I personally like to buy cheap off-brand trash bags and use them to dispose of it. Simply put the trash bag around the pot and dump it into the bag. I tie it into a tight knot and toss it in the trash. Just make sure the bag is all the way around the pot before you dump. Oil isn't easy to clean!
If you love to find delicious and easy gluten free appetizers check out my simple guacamole with a twist. It's less than 5 ingredients and as I like to say super simple recipes are super awesome.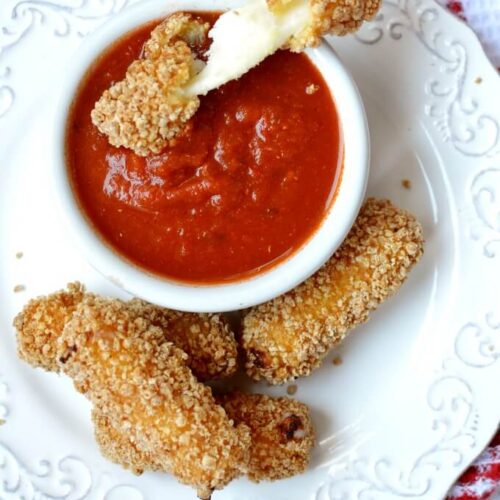 Gluten Free Mozzarella Sticks
The delicious cheesy classic turned gluten free!
Equipment
Cast Iron Dutch Oven or a Large Pot with Tall Sides

Fry or Candy Thermometer

Slotted Spoon or Spider
Ingredients  
4

Mozzarella Cheese Sticks

Cut in half crosswise

⅓

Cup

Gluten Free All Purpose Flour

I used Bob's Red Mill 1:1 All Purpose Gluten Free Flour

½

t.

Onion Powder

¼

t.

Garlic Powder

¼

t.

Kosher Salt

½

Cup

Gluten Free Breadcrumbs

½

t.

Kosher Salt

2

Large Eggs

1

tbsp

Milk

Canola or Vegetable Oil for frying

I used 2 ½ Cups or ¾ in up the side of the pot
Instructions 
Cut the cheesesticks in half crosswise and set aside. Combine gluten free flour, onion powder, garlic powder and ¼ t. kosher salt in a small bowl and stir with a spoon.

In another small bowl combine the gluten free breadcrumbs and ½ t. kosher salt then stir with a spoon.

In another bowl whisk the eggs and milk together well with a fork. In a line put the flour bowl first then the egg then the breadcrumbs.

First dredge a cheese stick in flour and gently knock off any excess. Gently drop the stick in the egg and turn until evenly covered. Pull the stick out letting any extra egg drain off then place directly into the breadcrumbs.

Cover all sides and ends with breadcrumbs. Repeat the egg and breadcrumbs one more time and put onto the plate. Repeat with all the cheese sticks.

Place the cheese sticks in the freezer for 20 minutes. Meanwhile heat the oil in a large dutch oven on medium high heat checking the temperature with a thermometer until it reaches 400 degrees Fahrenheit.

Gently place two breaded cheese sticks into the hot oil and count 20 seconds before turning them over with a slotted spoon. Count to 20 again and turn over. Once the whole stick is golden brown remove from oil onto a paper towel lined plate. Repeat with all the breaded sticks then enjoy with marinara sauce.
Notes
I like to use paper bowls for my flour, breadcrumbs and egg so I can toss them in the trash when I'm finished.
If your oil gets too hot turn down the heat until it comes down to temp.