This almond flour cornbread is fluffy, moist, and gluten free! It's a one-bowl cornbread recipe that takes about 5 minutes to whip up!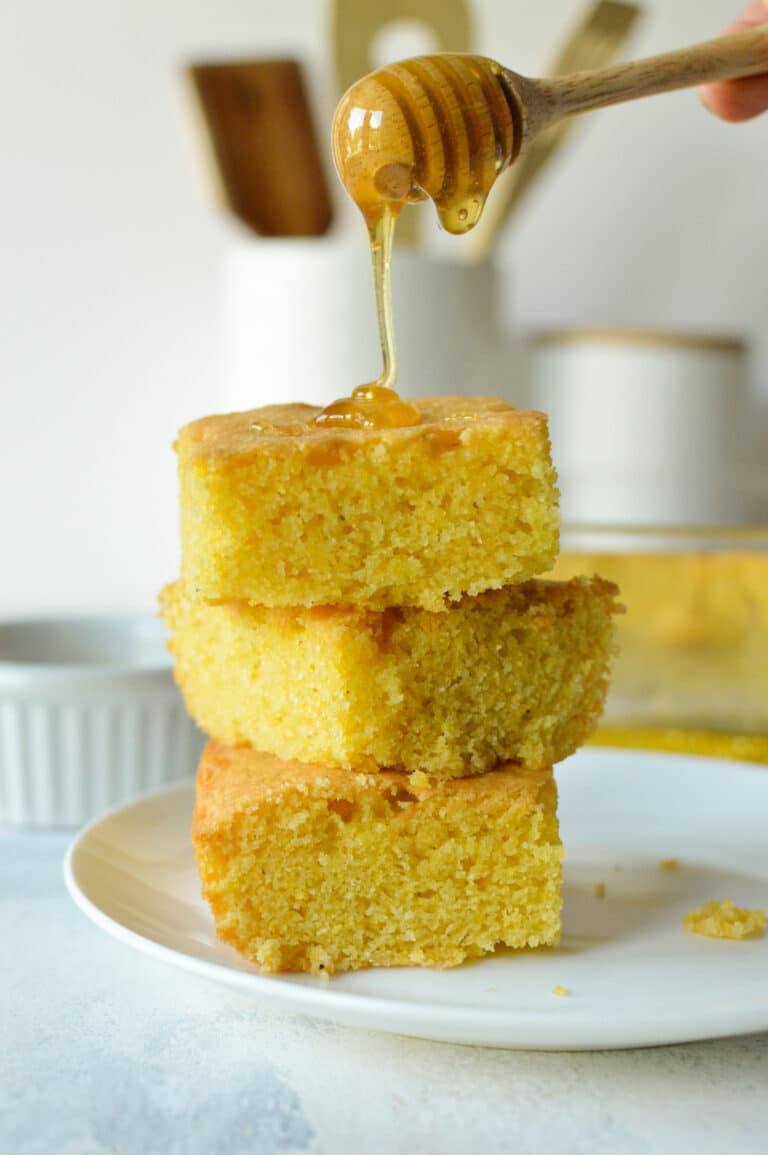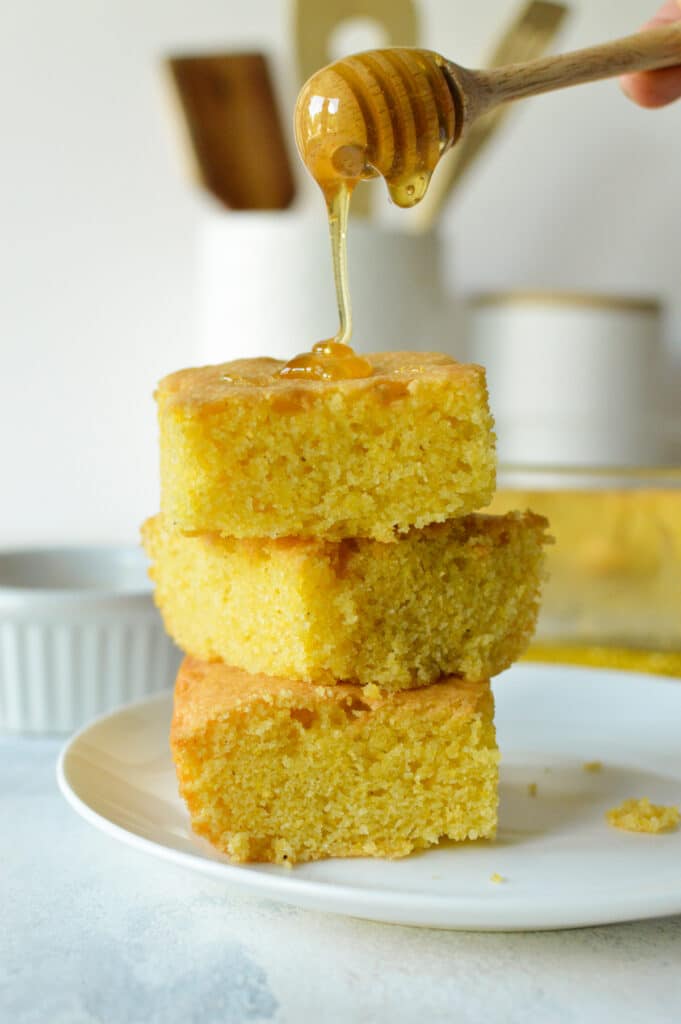 This gluten free cornbread with almond flour is dangerously good! It's ideal if you're out of gluten free all-purpose flour or prefer healthier alternatives like almond flour.
It's super simple, moist, and it's naturally dairy free! It does include cornmeal though so if you are on the search for a keto cornbread or low carb cornbread this isn't the recipe for you.
You can also make these into almond flour cornbread muffins if you'd rather.
Disclosure: This post contains affiliate links. In other words, if you click a link and purchase something I will receive a commission at no cost to you. I only recommend products I use and enjoy myself.
Ingredients and Equipment: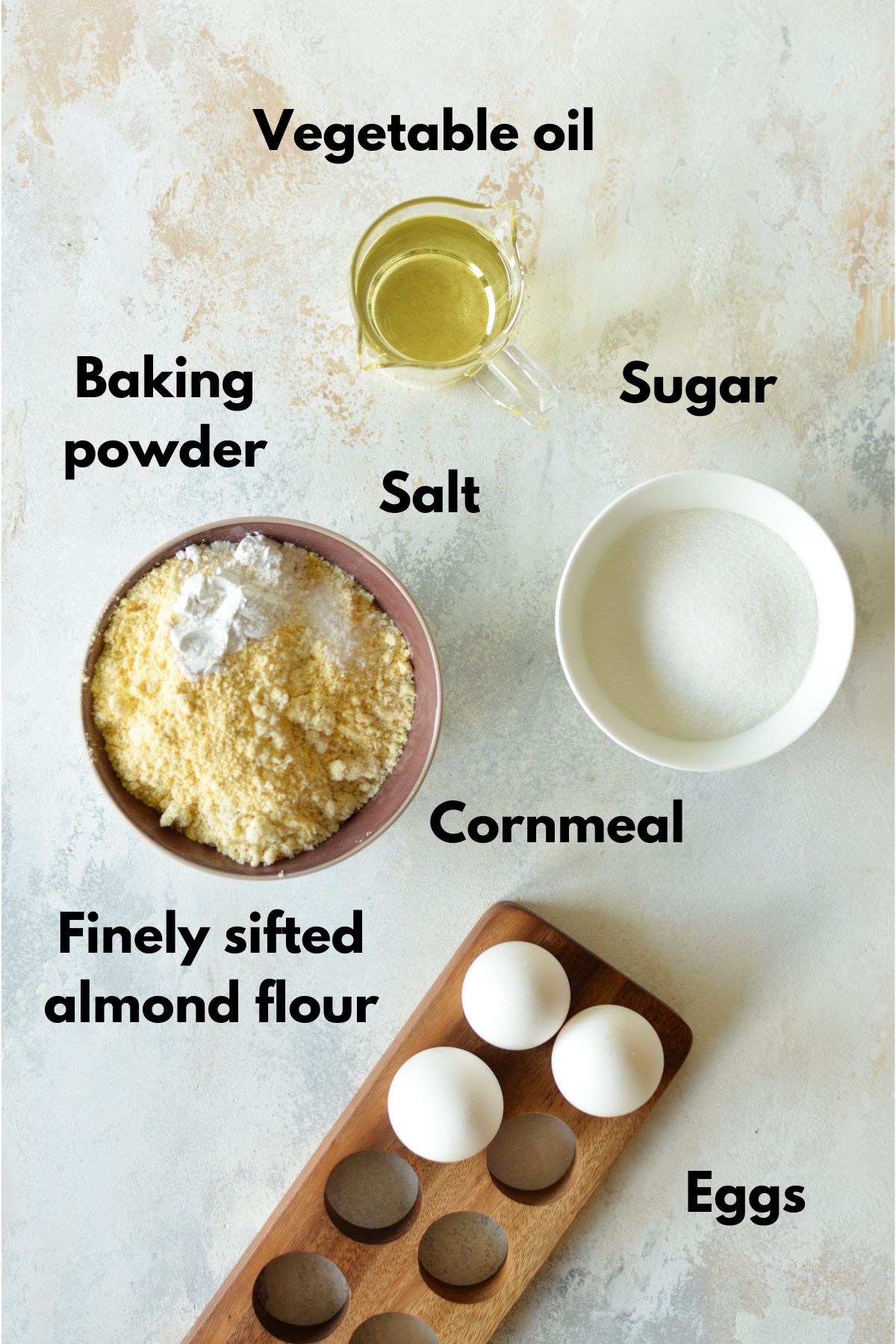 Finely sifted almond flour - I don't recommend almond meal.
Cornmeal - Make sure it's gluten free. I had to do some searching for this because most brands of cornmeal say, "May contain wheat" on the back. Bob's Red Mill's cornmeal is gluten free, but it's a medium grind that changes the texture of the cornbread. I tried it both ways and liked the gritty texture but if you are looking for a fluffy cornbread find another brand. I know Arrowhead Mills also sells gluten free cornmeal.
Sugar - This is a sweet cornbread. I've always preferred sweet to savory cornbread.
Baking Powder - For rise!
Kosher Salt - Salt enhances sweetness. If you only have table salt, reduce the amount by half.
Vegetable Oil - Keeps it moist without the addition of dairy.
Eggs - I've found additional eggs works really well in almond flour recipes. Three is not a typo even though it sounds like a lot.
Nonstick spray - Just don't buy one that contains flour or the cornbread won't be gluten free.
You will also need an 8 by 8 square baking pan, a medium mixing bowl and a spatula or whisk.
How to make almond flour cornbread:
Preheat the oven to 350 degrees and set out all your ingredients. Spray an 8 by 8 baking pan with nonstick spray.
Measure the almond flour, cornmeal, sugar, baking powder and salt into a medium mixing bowl and stir.
Measure the oil and eggs together and whisk. Add to the dry ingredients until a batter forms.
Scrape the batter into the baking pan and bake until a toothpick comes out clean. This was right around 23 minutes for me. Be careful not to overbake or else the cornbread will be dry instead of moist.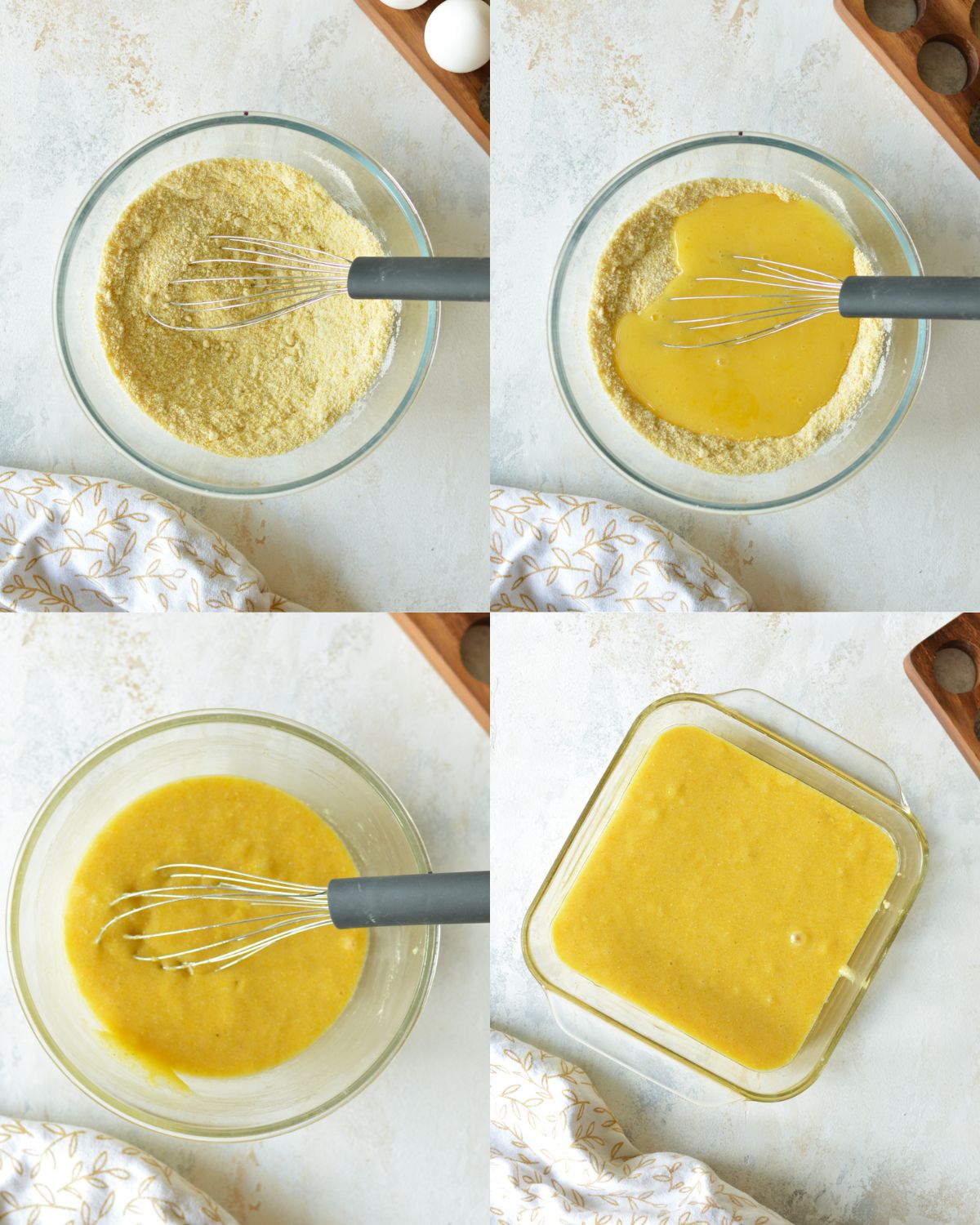 Recipe Tips
This almond flour cornbread recipe is correct as written. Three eggs make the cornbread light and fluffy.
The top will look slightly brown and not as yellow. This is due to the almond flour which browns quickly in the oven.
Don't substitute almond flour for another type of flour or even for an all purpose flour. It's not a 1:1 substitution with other types of flour.
Scoop the batter into a greased muffin tin for gluten free cornbread muffins!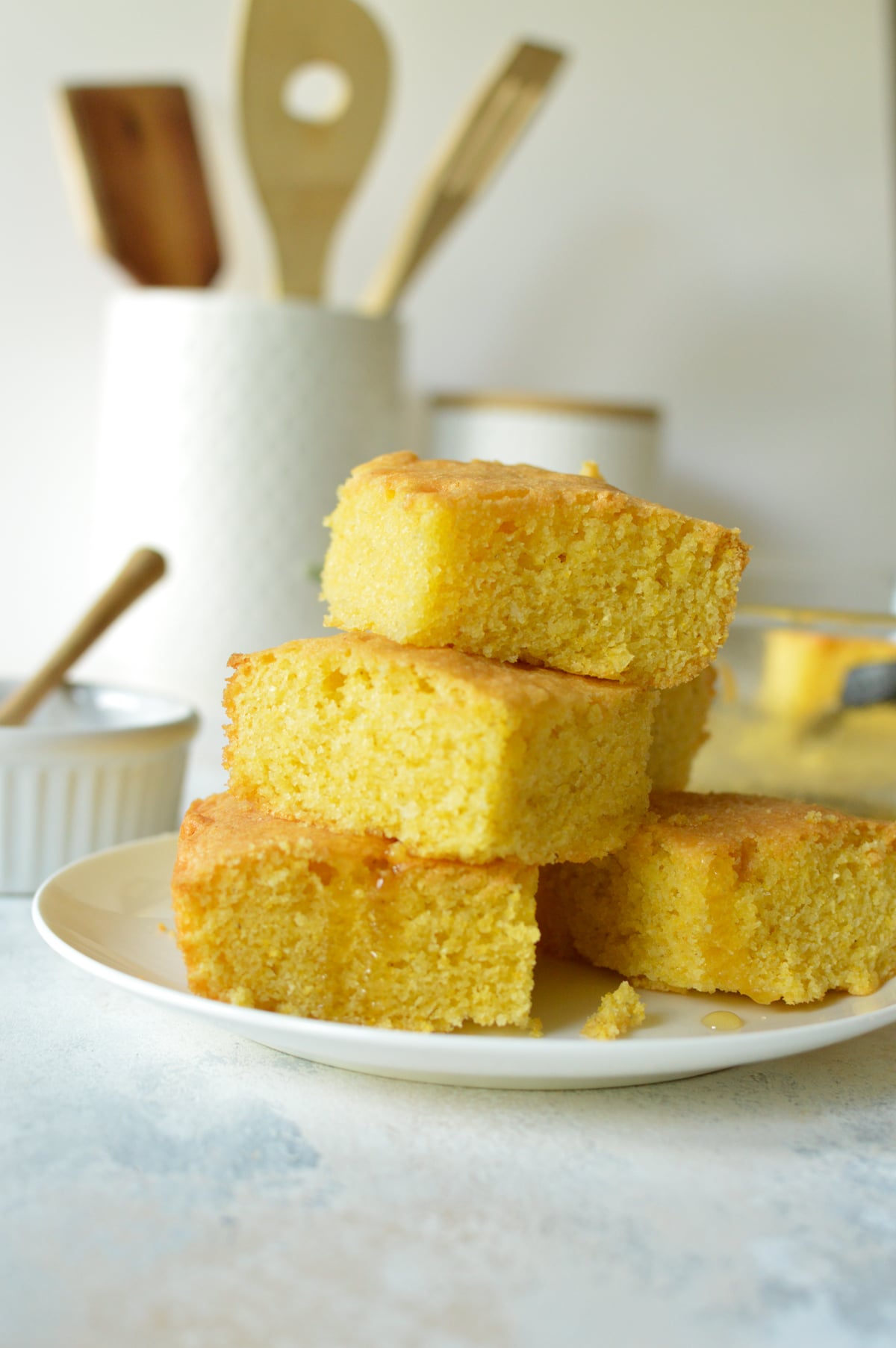 Cornbread FAQs
Isn't cornbread always gluten free?
No. Even if most cornmeal brands weren't made on shared equipment with wheat (which they are) cornbread still isn't gluten free. Most cornbread recipes call for both cornmeal and flour. It's what gives cornbread it's fluffy cake-like texture.
Can I use almond flour instead of all purpose flour for cornbread?
Yes, almond flour cornbread is light, fluffy, and moist. You won't even know it's there. It's important to find a cornbread recipe that specifically calls for almond flour (like this one). Almond flour isn't a 1:1 substitution for all purpose flour.
Other delicious gluten free recipes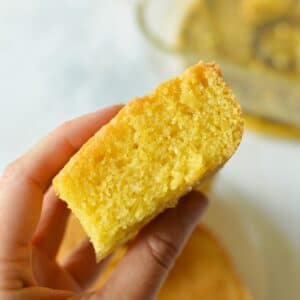 Almond Flour Cornbread
This almond flour cornbread recipe is light, fluffy and delicious. It's only six ingredients and super easy to make. It's the perfect addition to chili, soup or any weeknight dinner plus it's gluten-free and dairy-free.
Ingredients
¾

cup

Cornmeal

Make sure it's labeled gluten free

½

cup

Sugar

1 ½

t.

Baking powder

¼

t.

Kosher salt

½

cup

Vegetable oil

3

Large eggs
Instructions
Preheat oven to 350 degrees Fahrenheit. Spray an 8 by 8 baking pan with nonstick spray and set aside.

In a medium size mixing bowl add almond flour, cornmeal, sugar, baking powder, and kosher salt then stir.

Measure oil and eggs together and whisk together. Add to the cornmeal and mixture and stir until a smooth batter forms.

Scrape the batter into the greased baking pan and bake until a toothpick comes out clean - about 23 minutes.
Notes
Most cornmeal brands are made on the same equipment as wheat or gluten containing ingredients, so be sure to check the label if you have Celiac Disease or can't handle trace amounts of gluten. 
Nutrition
Calories:
275
kcal
Carbohydrates:
23
g
Protein:
5
g
Fat:
19
g
Saturated Fat:
3
g
Polyunsaturated Fat:
8
g
Monounsaturated Fat:
4
g
Trans Fat:
1
g
Cholesterol:
55
mg
Sodium:
157
mg
Potassium:
63
mg
Fiber:
2
g
Sugar:
12
g
Vitamin A:
79
IU
Calcium:
68
mg
Iron:
1
mg