These gluten free red velvet cupcakes are moist, light, and fluffy. Top with decadent cream cheese frosting for a classic and rich treat!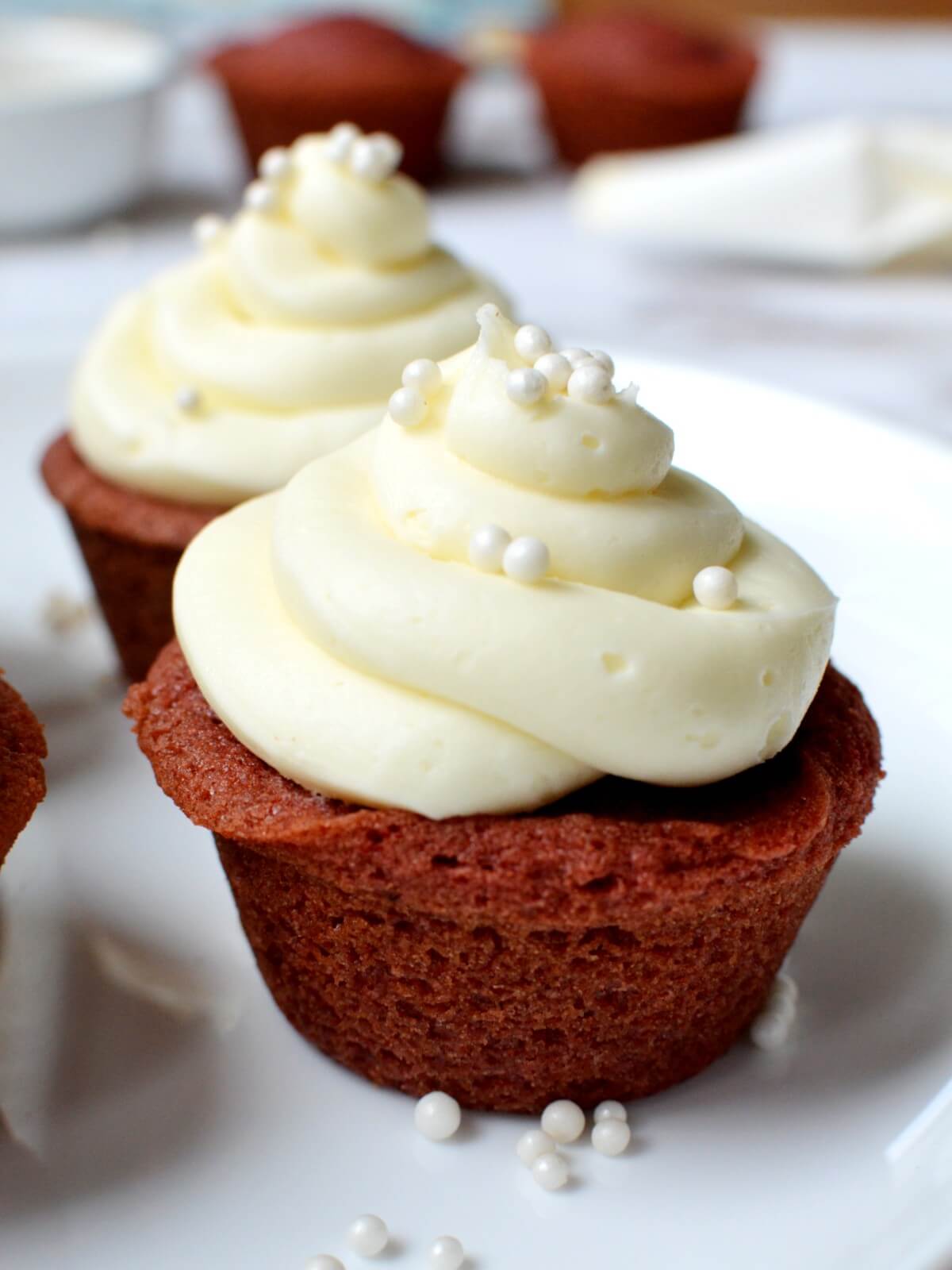 Red velvet cupcakes are slightly different than a traditional vanilla cupcake. They have a small amount of cocoa powder and bright red color added to them. They also have buttermilk which reacts with the baking soda to create a light and fluffy cake texture.
They are then topped with cream cheese frosting instead of traditional buttercream for the best combo since peanut butter and jelly.
Disclosure: This post contains affiliate links. In other words, if you click a link and purchase something I will receive a commission at no cost to you. I only recommend products I use and enjoy myself.
What makes these cupcakes so wonderful
They're light and fluffy. I can't think of anything worse than a dense cupcake. It's not that I'm opposed to dense desserts (shout out to fudgy brownies, flourless cake, and pound cake) it's that cupcakes shouldn't be one of them.
The cream cheese frosting! My cream cheese frosting recipe has just the right amount of tang, sweet, and creamy. I'm not a huge fan of cloyingly sweet frosting (or movies for that matter!).
They're super duper simple easy! You don't even need a stand mixer just a spatula and a large bowl. I love my stand mixer but it's so nice when I don't have to pull it out.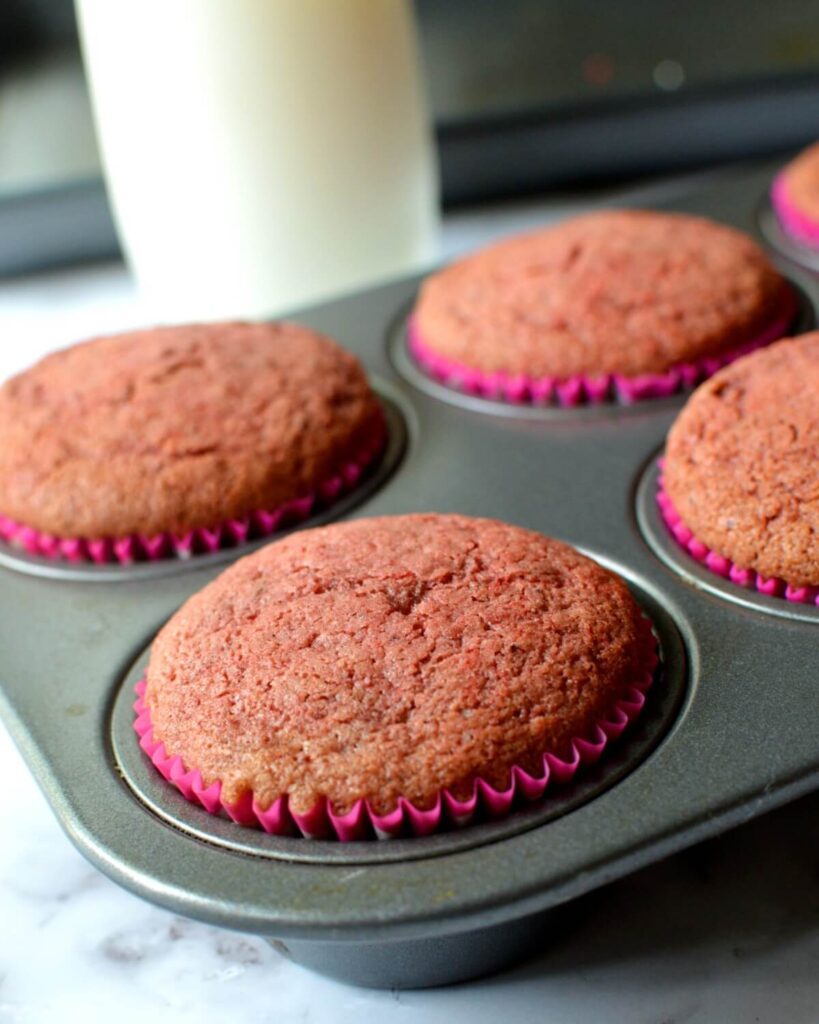 Ingredients:
Unsalted butter - To add that lovely butter flavor
Vegetable oil - To ensure the cake is moist
Sugar
Eggs
Bob's Red Mill 1:1 All Purpose Flour - I commonly recommend this flour because it is my favorite and I use it for most of my baked goods. The texture and taste are spot on with no grit or strange flavor.
Cocoa powder - For the slightest chocolatey flavor
Baking soda - To react with the buttermilk and vinegar to make a light and fluffy texture
Baking powder
Kosher salt
Buttermilk
Vinegar
If you plan to make cream cheese frosting for these gluten free red velvet cupcakes (I recommend you do!) you will also need powdered sugar, more butter, and of course cream cheese!
Tips & Recommendations
Use cupcake liners if you have them. I love them with muffins and cupcakes. The last thing you want is to lose the bottom of your beautiful cupcake and cupcake liners come right out of the pan.
Use gel food coloring. You can find any color you want (hello super red) and they won't water down the batter. I actually ran out of food coloring (boo!) which is why my cupcakes aren't super bright. You can find them at any craft store.
They're best the day they're made. Unfortunately cupcakes tend to dry out fairly quickly. This is why I recommend eating them the day you make them or freezing them for later.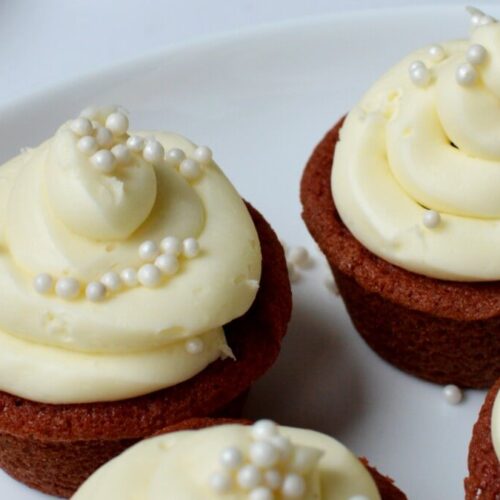 Gluten Free Red Velvet Cupcakes
These gluten free red velvet cupcakes are moist, light, and fluffy. Top with decadent cream cheese frosting for a classic and rich treat!
Ingredients
½

cup

Unsalted butter, melted but cool

¼

cup

Vegetable oil

¾

cup + 2 tbsp

Sugar

2

Eggs

1 ½

cup + 1 tbsp

Bob's Red Mill 1:1 All Purpose Flour

1

tbsp

Cocoa powder

1

t.

Baking soda

1

t.

Baking powder

¼

t.

Kosher salt

½

cup

Buttermilk

¼

cup

Greek yogurt

1

t.

Apple cider vinegar

red food coloring

cream cheese frosting
Instructions
Preheat the oven to 350 degrees Fahrenheit. Spray a muffin pan with nonstick cooking spray or line with cupcake liners. Set aside.

In a medium bowl stir together the flour, baking soda, baking powder, salt, and cocoa powder with a whisk. In a liquid measuring cup measure the buttermilk, greek yogurt, and vinegar.

In a large bowl combine the melted butter, vegetable oil, and sugar. Stir with a spatula and then add one egg. Stir until incorporated and then add the other egg and do the same.

Add half of the flour mixture to the egg mixture and stir until incorporated. Stir in all of the buttermilk mixture and then add the rest of the dry. Stir just until a smooth batter forms and stir in the red food coloring.

Distribute the batter evenly between the cupcake molds filling them ¾ of the way full.

Bake for 18 to 20 minutes until a toothpick comes out clean.

Let cupcakes cool completely before frosting.