These gluten free scones have the perfect texture and sweetness. Studded with cinnamon chips they make the perfect pair to a cup of coffee or tea.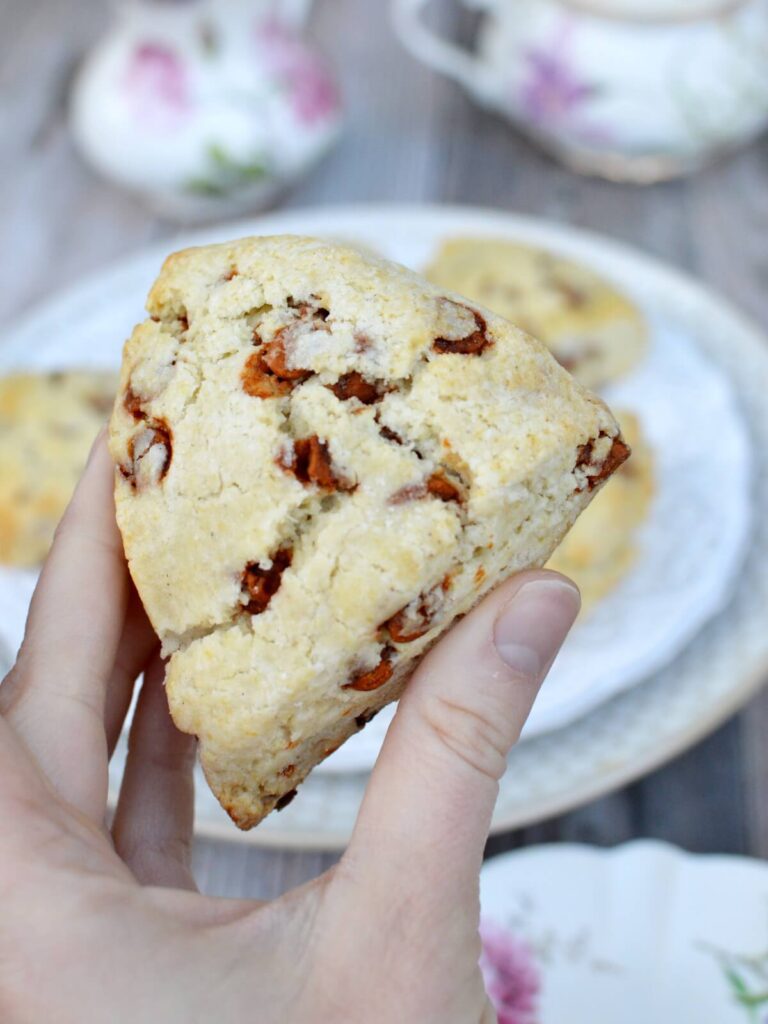 The term scone can refer to two different pastries. This is not an English scones recipe which is a little bit more like a dense biscuit served with jam and clotted cream. These gluten free scones are the sweeter American style scones found at bakeries or your local Starbucks.
Both taste amazing with coffee or tea.
Disclosure: This post contains affiliate links. In other words, if you click a link and purchase something I will receive a commission at no cost to you. I only recommend products I use and enjoy myself.
What is the secret to making scones?
In short, cold ingredients is the secret to the best scone recipe.
You may notice in recipes butter often has a specified temperature (melted, melted and cooled, cold, frozen, or room temperature). This is not random by any means. Each temperature has a specific purpose and effects the end result. Here is a simple explanation of this by Cook's Illustrated.
In scones we want to incorporate small bits of cold butter into the flour (like pie crust) which gives us a soft and flaky texture as opposed to a soft and chewy texture. The bits of butter create air pockets and release steam to give us the classic scone texture.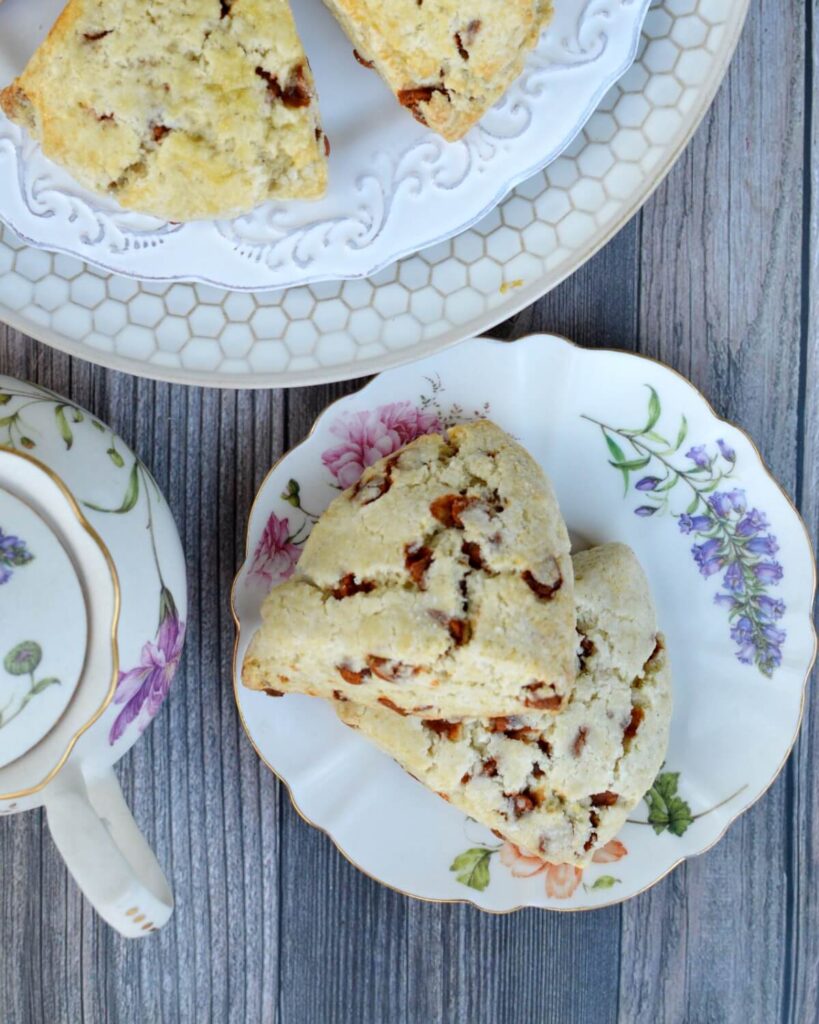 What you need:
Bob's Red Mill 1:1 Gluten Free All Purpose Flour - This is my go to gluten free flour. I prefer the taste and texture and highly recommend it. I've also found it works the best when I want to try a regular recipe and make it gluten free.
Sugar
Brown Sugar
Cold butter - Frozen butter is easier to grate and will stay cold longer as you handle it. Cold butter is essential to a tender scone.
Baking Powder - For rise!
Kosher Salt - For flavor
Egg
Whole Milk
Cinnamon Chips
How to make these gluten free scones:
Scones are actually quite simple.
Combine the dry ingredients in a bowl and whisk together well.
Whisk the egg and milk together. Place in the refrigerator until ready to use. This help keeps the dough cold when you mix it together.
Use a cheese grater to grate the butter in to the flour mixture. If the butter gets warm or starts to melt you can put the bowl and the butter into the freezer to cool it back down. Cut the butter into the flour with your fingers or a pastry cutter. I use my fingers.
Add the liquid ingredients to the bowl and mix until it all comes together. Don't overwork it.
Break the dough in half and form into 5 ½ inch disks. The disks should be rather thick. Cut each disk in half vertically and then cut each side into three triangles. You should have 12 scones.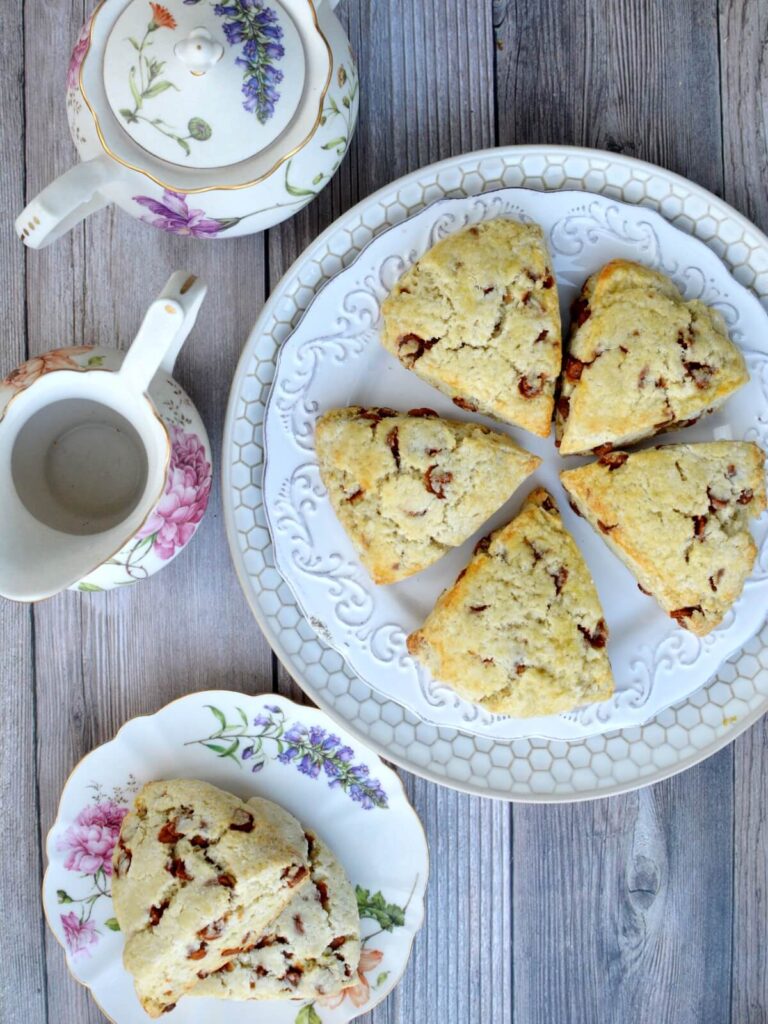 Important things to remember:
The butter must be cold. You can freeze it beforehand or you can place the bowl in the freezer if the butter starts to get warm in your hands. If you plan to make scones the next day you can place the bowl of dry ingredients in the fridge so they will be cold when it's time to make them.
Don't overwork the dough. Just mix it until it comes together into a ball and no further.
Don't overbake them. This is a good tip to remember in gluten free baking in general. Gluten free treats are more prone to drying out.
Feel free to change it up. You can sub in chocolate chips if cinnamon isn't your favorite. For gluten free blueberry scones add dried blueberries and a zest of a lemon. To glaze simply add a small amount of water to powdered sugar and drizzle it straight on.
More delicious gluten free treats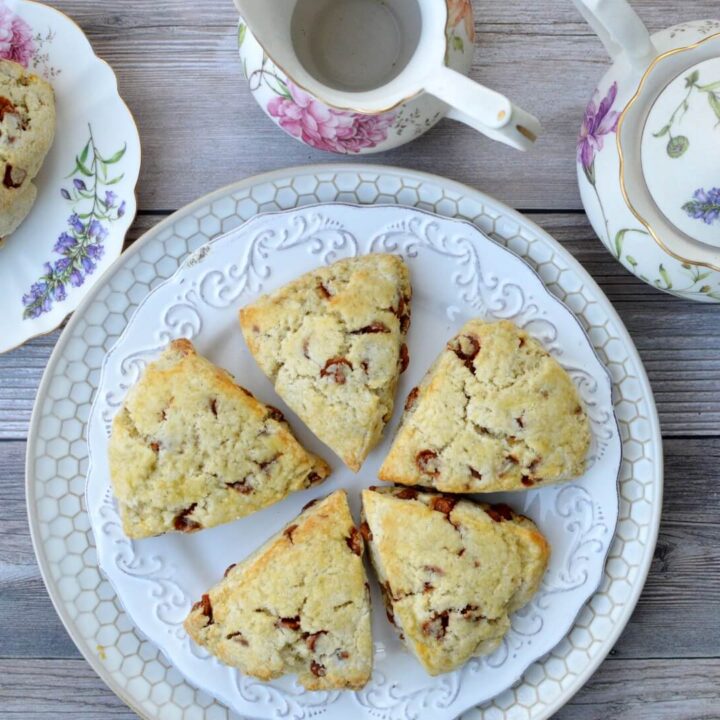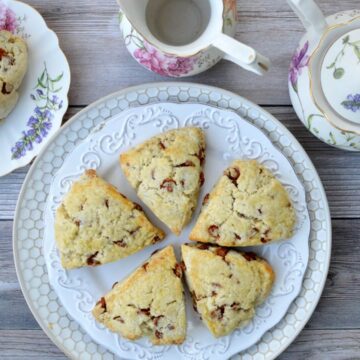 Gluten Free Cinnamon Chip Scones
These cinnamon chip scones are the perfect brunch, breakfast or treat. They're soft, and tender plus they're studded with sweet cinnamon chips.
Equipment
Baking Sheet

Silicone baking mat

Box grater or handheld grater

Large Bowl

Knife
Ingredients
¼

Cup

Sugar

2

tbsp

Brown sugar

2

t.

Baking Powder

½

t.

Kosher salt

8

tbsp

Unsalted butter, frozen

1

large

Egg

⅔

cup

Whole Milk

¾

cup

Cinnamon Chips

1

Egg for egg wash
Instructions
Preheat the oven to 350 degrees Fahrenheit. Line a baking sheet with a silicone baking mat or parchment paper.

In a large bowl whisk together the flour, sugar, brown sugar, baking powder and salt. In a liquid measuring cup whisk together the egg and milk. Refrigerate until ready to use.

Grate the frozen butter into the dry mixture and work it into the flour mixture with your fingers or a pastry cutter. Add cinnamon chips.

Add milk mixture to flour mixture and mix together until you can form it into a ball. Try not to work the mixture too much.

Dust a work surface with gluten free flour and cut the ball in half. Form each half into a 5 ½ inch wide disk. Cut each disk in half vertically and then cut each side into three triangles. You should have 12 scones.

Bake 6 scones at a time on a parchment or silpat lined sheet pan. Whisk an egg in a small bowl and brush each scone with the egg wash and sprinkle with sugar.

Bake for 18 minutes or until slightly brown on top and crackly.