This gluten free spice cake with cream cheese frosting is fantastic!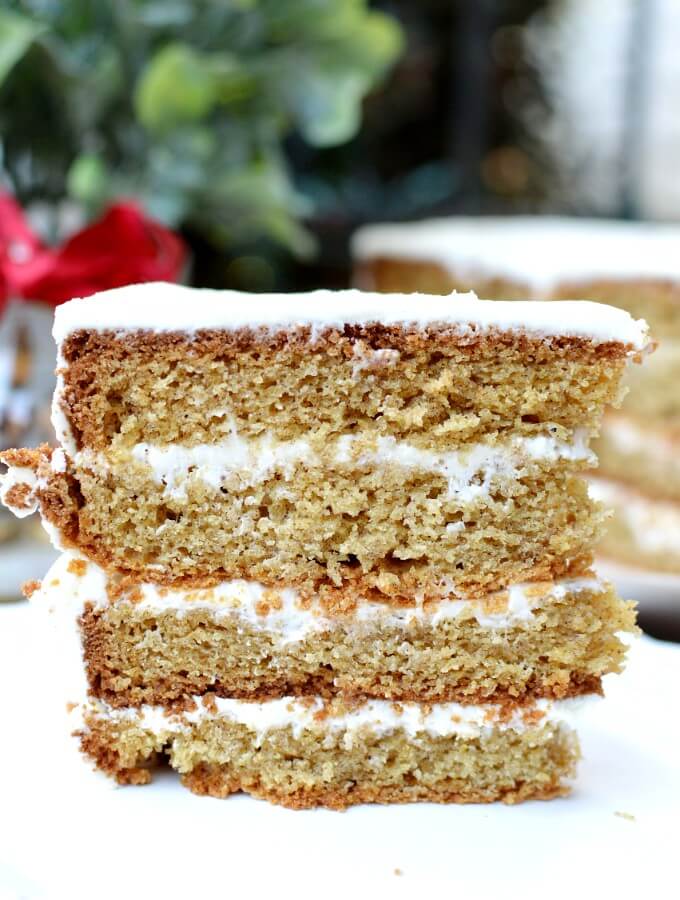 Sometimes a gluten free cake mix that tastes good can be a challenge to find. It's feels a bit like Russian roulette so it's always nice to find a trustworthy gluten free cake recipe.
This spice cake recipe is easy to make and it can be made into cupcakes or a layer cake like I did above. Spice cake is delicious anytime of year but I especially love it around Christmas time. I have it sitting next to a Christmas Woodwick as I write this and if it didn't taste so darn good I'd think it was a decoration.
Gluten free spice cake is similar to gluten free carrot cake but without the carrots. They both have brown sugar and spices and are traditionally iced with cream cheese frosting.
Disclosure: This post contains affiliate links. In other words, if you click a link and purchase something I will receive a commission at no cost to you. I only recommend products I use and enjoy myself.
Ingredients in this spice cake recipe:
Spice cake recipes always seem like a long list due to all the spices but if you look past those you will see mostly pantry staples and a straightforward recipe. This recipe includes:
Gluten Free All Purpose Flour
Baking Powder
Baking Soda
Spices
Kosher Salt
White Sugar
Brown Sugar
Vegetable oil
Greek Yogurt
Eggs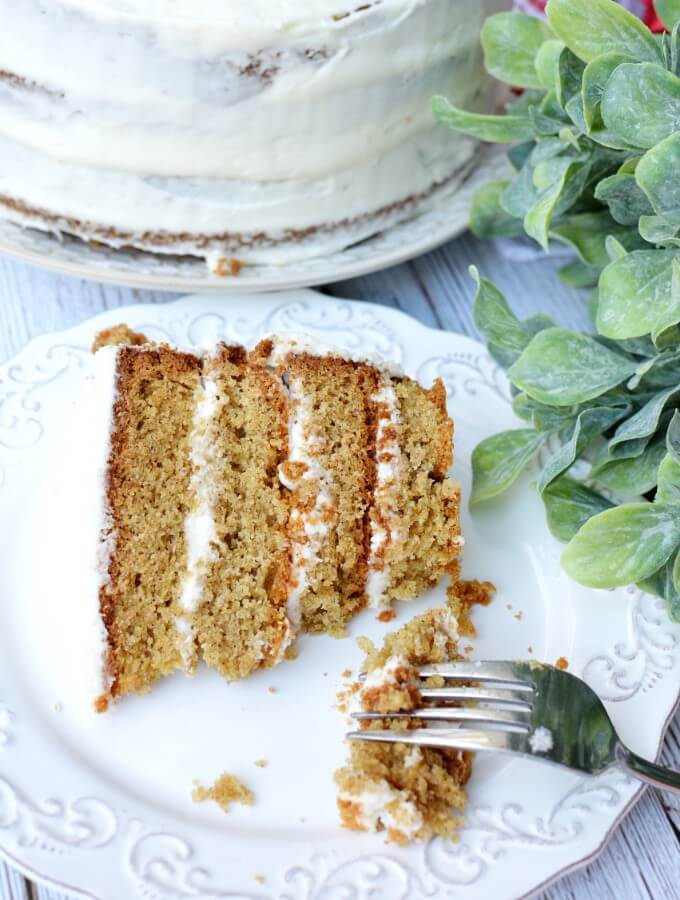 Which flour is best for gluten free cakes?
If you read my blog you know how much I love Bob's Red Mill's 1:1 All Purpose Gluten Free Flour. The xanthan gum is already in it and it has a wonderful texture. I never hear complaints from my gluten eating friends and family with this flour. The texture isn't chalky or grainy and it has a great taste.
It is the gluten free flour that I find tastes closest to the real deal. For this reason this is the flour I have used for this spice cake recipe and I can not vouch for how another all purpose gluten free flour will do in this recipe. I do use King Arthur brand sometimes when I am out of Bob's Red Mill and I will say my recipes come out different. My recipes are a little bit denser when I use King Arthur's gluten free flour.
Why is there greek yogurt in this recipe?
Right, so I will say the greek yogurt is not to make this recipe healthy.
In this recipe I have both baking powder and baking soda. I find extra leavening helps my gluten free baked goods rise a little better.
Baking soda is a base which means it needs an acid to produce carbon dioxide gas and make your baked goods rise. Baking powder is like an all inclusive hotel. It already has your acid (cream of tartar) and your base (baking soda) so you don't have to add anything acidic to your recipe.
The greek yogurt adds moisture to this recipe while acting as an acid for my baking soda to give the cake more rise.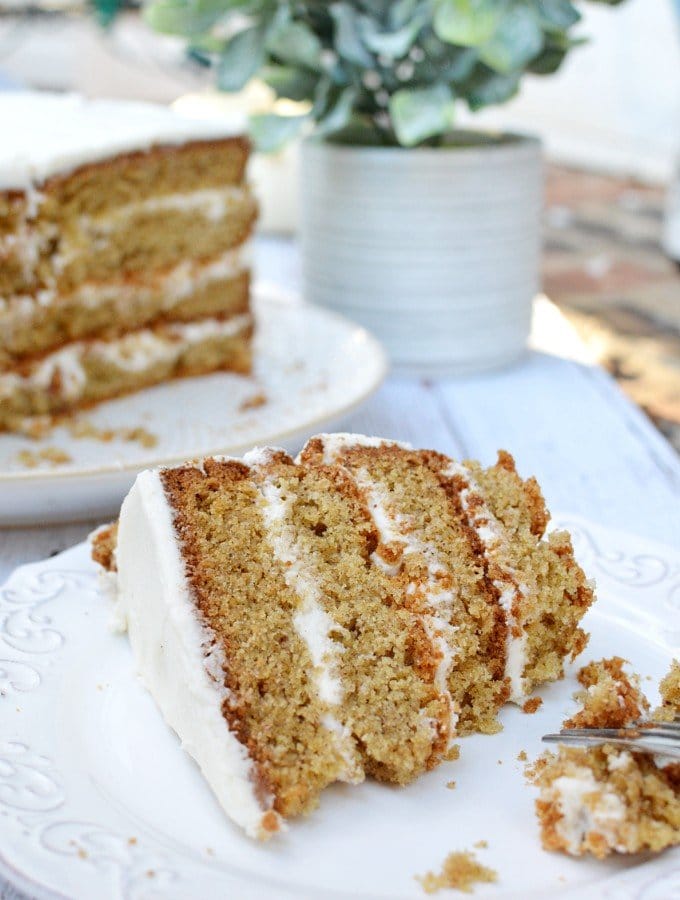 How to make gluten free spice cake:
This recipe is rather simple.
Beat both sugars and oil until combined then add eggs one at a time.
Combine all the dry ingredients in a bowl and mix with a fork or whisk.
Add half of the dry to the sugar mixture and beat until combined.
Add the greek yogurt and beat until combined.
Add the rest of the dry until completely combined.
Let the cake batter rest for 30 minutes and then bake at 350 until toothpick comes out clean.
Let cool then layer and frost.
My cake was done around the 35 minute mark but every oven temperatures can vary so check it around 30 minutes with a toothpick and then add more time if necessary.
How to freeze a layer cake or cupcakes:
I find that even the most amazing gluten free cakes dry out really quickly fortunately you can freeze them before this happens.
I love to freeze cake anyway because I always have leftovers. The fridge will dry out a cake quickly but the freezer preserves it really well. Since I don't usually want to eat say half a cake I like to cut it into slices and then freeze it. The simple way to do this is as follows:
Line a sheet pan with a silpat or parchment paper. If a whole sheet pan won't fit in your freezer just use a half sheet pan instead.
Cut your cake into slices and put them cut side down onto the sheet pan.
Put the sheet pan in the freezer until the slices are frozen.
Put the frozen slices into a gallon freezer bag. Now you have nice individual slices of cake anytime you please.
If you don't plan to eat the cake slices within the next month I would wrap each frozen slice individually with saran wrap first before putting into a gallon freezer bag.
I like to do this within 24 hours of baking the cake for optimal results. If you wait until the cake is already dried out or four days old when you freeze it it will taste like that when you pull it out of the freezer.
To defrost, pull a slice of cake out of the freezer and let come to room temperature first. You can also microwave the slice of cake but you run the risk of melting the frosting.
Other amazing gluten free cake recipes for you:
If you love carrot cake try out this gluten free carrot cake recipe. It is a muffin recipe but tastes amazing as cupcakes or in a layer cake. I always say a muffin is just a cupcake without frosting! There are healthy muffins out there but those usually are the exception.
If you live for chocolate this gluten free chocolate cake from She Likes Food is my all time favorite. I am a huge fan of dark chocolate so I've only ever made it with dark cocoa powder and it's amazing! My brother who once scoffed at anything gluten free requests it on a regular basis.
Happy Baking!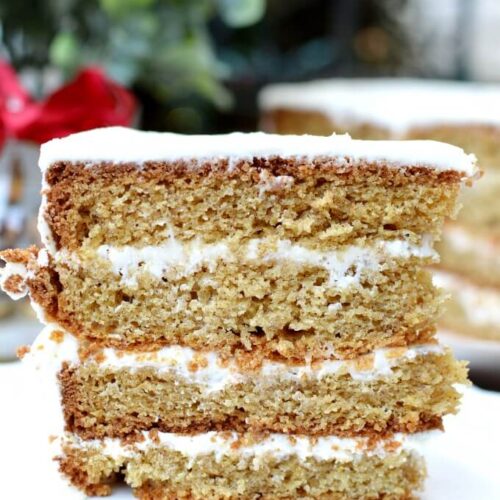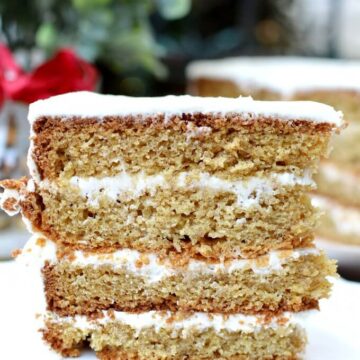 Gluten Free Spice Cake
A gluten free spice cake with cream cheese frosting that's super easy and super delicious.
Equipment
Stand Mixer with the paddle attachment or handheld mixer

Two 8 inch round cake pans or muffin pan
Ingredients
2

t.

Baking Powder

1

t.

Baking Soda

1

t.

Cinnamon

1

t.

Ginger

½

t.

Nutmeg

½

t.

Cardamom

¼

t.

Allspice

¼

t.

Cloves

¼

t.

Kosher Salt

1

cup

Sugar

½

cup

Brown Sugar

1 ¼

cup

Vegetable Oil

3

Eggs, Large

½

cup

Greek yogurt, Plain

Nonstick Cooking Spray

Make sure it does not contain flour
1

cup

Unsalted Butter (2 sticks)

Room Temperature

8

oz

Cream Cheese (1 block)

5

Cups

Powdered Sugar
Instructions
Preheat oven to 350 degrees Fahrenheit. Spray your muffin pan or round cake pans with nonstick cooking spray. In a medium bowl mix together the flour, baking powder, baking soda, spices and salt with a whisk or spoon. Set aside.

In a stand mixer with the paddle attachment beat together the sugars and oil on medium speed until well combined (about 1 minute).

Add the eggs one at a time beating after each addition until completely combined. Add half of the dry ingredients to the wet ingredients. Start with the mixer on low so the dry ingredients don't fly out of the mixer then beat on medium speed until well combined.

Add the greek yogurt to the mixer and beat for 20 seconds. Then add the rest of the dry ingredients and beat on low then back to medium until well combined. Scrape the bowl if necessary to make sure everything is well mixed together.

Let batter sit for 30 minutes and then scrape into two round 8 inch cake pans for a layer cake or a muffin tin for cupcakes.

Bake for 30 to 35 minutes until the tops are golden brown and a toothpick comes out clean. Cupcakes will not take as long to bake.

Let cakes cool completely then frost with cream cheese frosting.
Beat butter on medium speed for 30 seconds on medium speed. This will ensure the cream cheese and butter emulsify with no lumps especially if your butter is on the cold side.

Add cream cheese and beat for 1 minute and 30 more seconds. Scrape the bowl with a spatula.

Add 3 cups of the powdered sugar. Beat on low for 5 seconds so the sugar doesn't poof out of the bowl. Beat on medium high for 1 minute.

Add the last 2 cups of powdered sugar and beat on low for 5 more seconds. Beat on medium high for 1 more minute.

Use frosting to pipe onto cupcakes or frost an 8 inch layer cake.