These pineapple popsicles are a family favorite! They're sweetened with banana and have a zip of lime juice for a refreshing but healthy treat.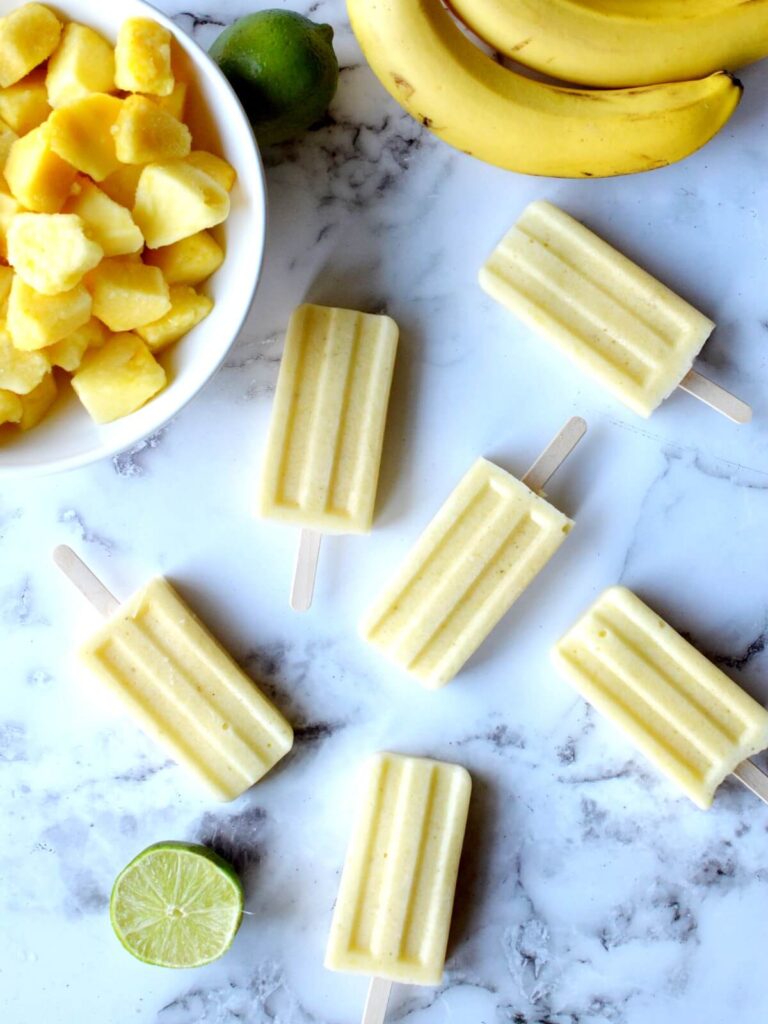 I've been throwing everything into a popsicle mold it seems. It's a bit funny considering it's the middle of February and my fingers are always frozen. What can I say except that I love popsicles. The only person I know who loves popsicles more is my dad whose basically a walking advertisement for outshine fruit bars.
I've made chocolate, pineapple mango, pineapple blueberry, and pineapple cherry popsicles this month.
I've also found that most smoothie recipes taste amazing as popsicles so don't be afraid to freeze up your favorite smoothie. These pineapple popsicles last about two days in our house. My kids love them and sometimes I will add spinach to them and they'll even ask for the "green" popsicles.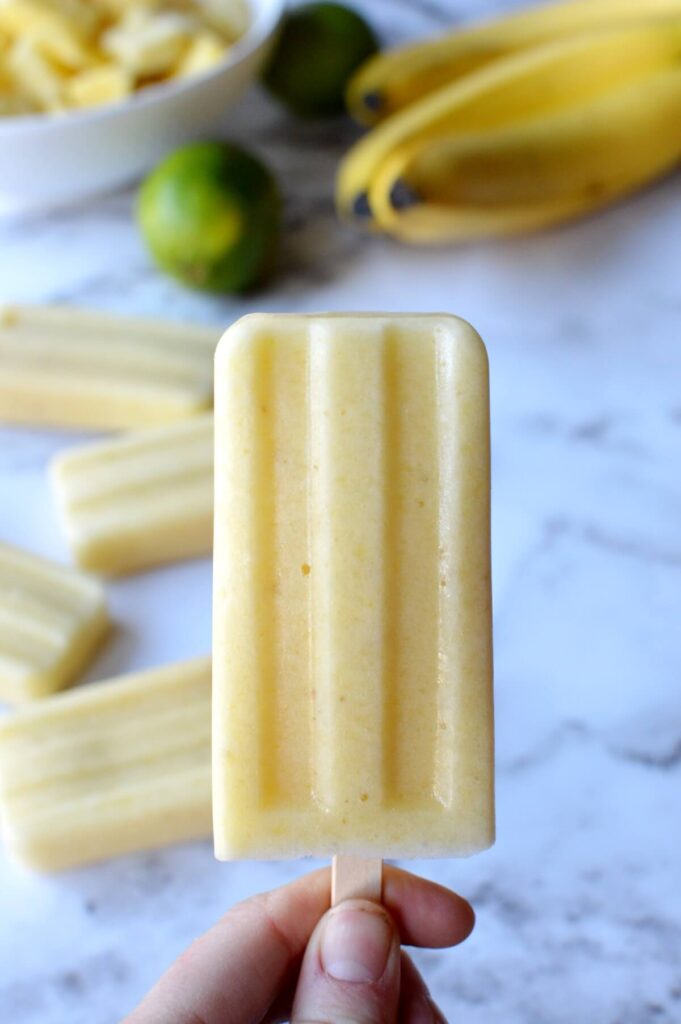 Disclosure: This post contains affiliate links. In other words, if you click a link and purchase something I will receive a commission at no cost to you. I only recommend products I use and enjoy myself.
What you need:
Frozen pineapple
A large banana
Half of a lime
Water
I'm obsessed with lime. I love the acidic punch it gives and the way it elevates sweet ingredients.
You will also need:
a blender
a popsicle mold - I use this silicone one (affiliate link) and I love it. It's super easy to clean and the popsicles come out easy. It also holds the sticks in place so I don't have to remember to put them in before the pops are frozen. It comes with popsicle sticks, popsicle bags and a funnel for pouring. I liked it so much I bought it for my sister on her birthday. Delicious popsicles are meant to be shared!
How to make these popsicles
Blend all the ingredients until smooth. Don't be afraid to blend it up for a whole minute. It will help the mixture get nice and smooth.
Pour the mixture into the popsicle molds and freeze for at least four hours. My mold has a top that holds the sticks in place but if yours doesn't wait until the popsicles are partially frozen to put the sticks in to keep them from sinking.
My popsicle mold is silicone which makes them really easy to unmold. I just hold the edges of the mold with my thumbs while pushing the bottom of the popsicle up with my fingers. If your mold isn't silicone you can try leaving them on the counter for several minutes before unmolding.
More amazing popsicle recipes: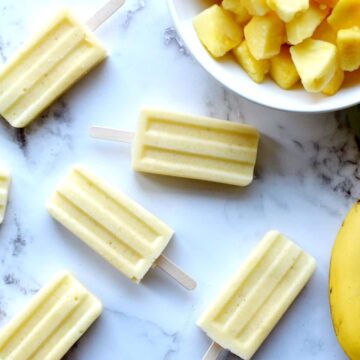 Pineapple Popsicles
These pineapple popsicles are a refreshing and healthy treat. They're only three ingredients and one hundred percent fruit!
Equipment
Popsicle Mold

Popsicle Sticks

blender
Ingredients
1

Large banana, ripe

1 ¼

cup

Frozen pineapple

½

Lime, juiced

4

oz.

Water
Instructions
Blend all ingredients in a blender for a whole minute until smooth.

Pour the mixture into a popsicle mold and freeze for at least four hours. If your popsicle mold doesn't hold the sticks in place wait until the popsicles are partially frozen and then add the sticks so they don't sink.

Unmold the popsicles and enjoy or put in popsicle bags and freeze for later.