I am in love with fruit crisps and crumbles but I especially love the tartness of blackberries against a sweet crumb topping and vanilla ice cream. This gluten free blackberry crisp is the perfect summer dessert.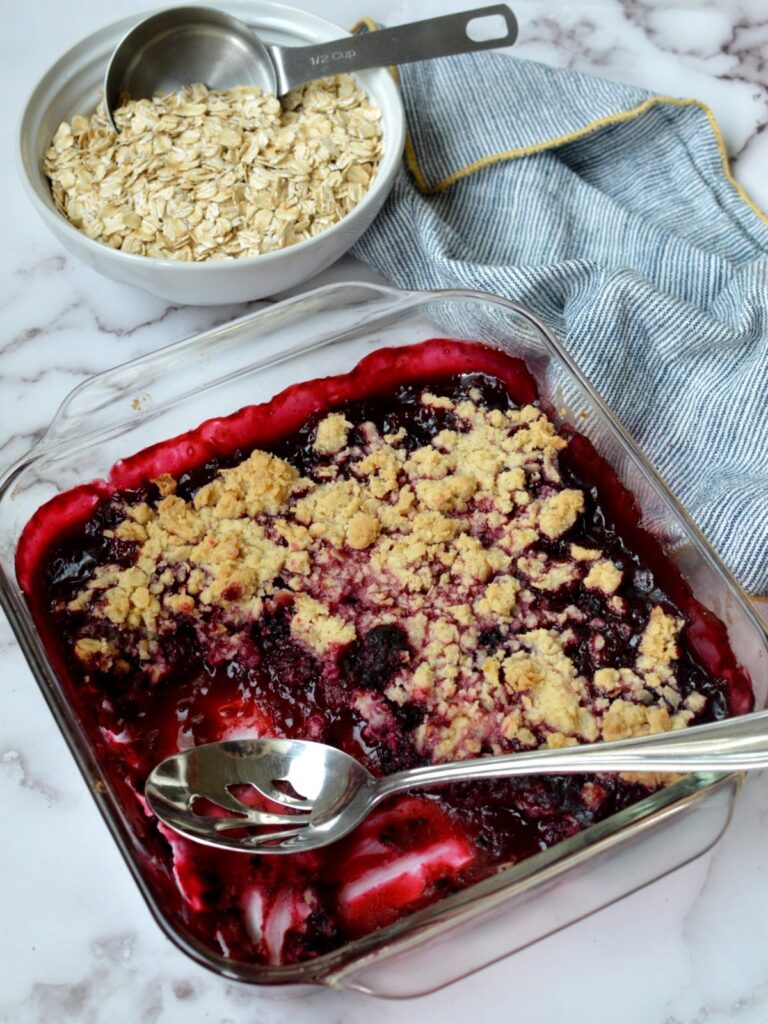 I couldn't seem to snag a picture before letting my 6 year old dig in. She's my best taste tester not only because she loves dessert but because she's nothing short of honest.
If she doesn't like something she tells me. She loved this blackberry crisp BUT I definitely have some pointers for you and suggestions depending on how you like it so read on friend.
Disclosure: This post contains affiliate links. In other words, if you click a link and purchase something I will receive a commission at no cost to you. I only recommend products I use and enjoy myself.
Fresh vs frozen blackberries
I'm sure some recipes call for only fresh or only frozen BUT I happen to know during the off season I'd have to mortgage my house to buy enough fresh blackberries for a crisp. Yesterday I found them at 5.99 for a half pint!
Which means unless you make bookoos frozen is the way to go in the off season. I will say though even in the summer I prefer frozen to fresh. Here is the two main differences I found:
Frozen blackberries produce a jammier crisp while fresh blackberries release less liquid and stay whole.
Frozen blackberries are slightly more tart.
I made two crisps - one with fresh and one with frozen then dropped them off at a family party to find a winner. And as luck would have it it was a tie. I think it just depends on what you're looking for in a crisp.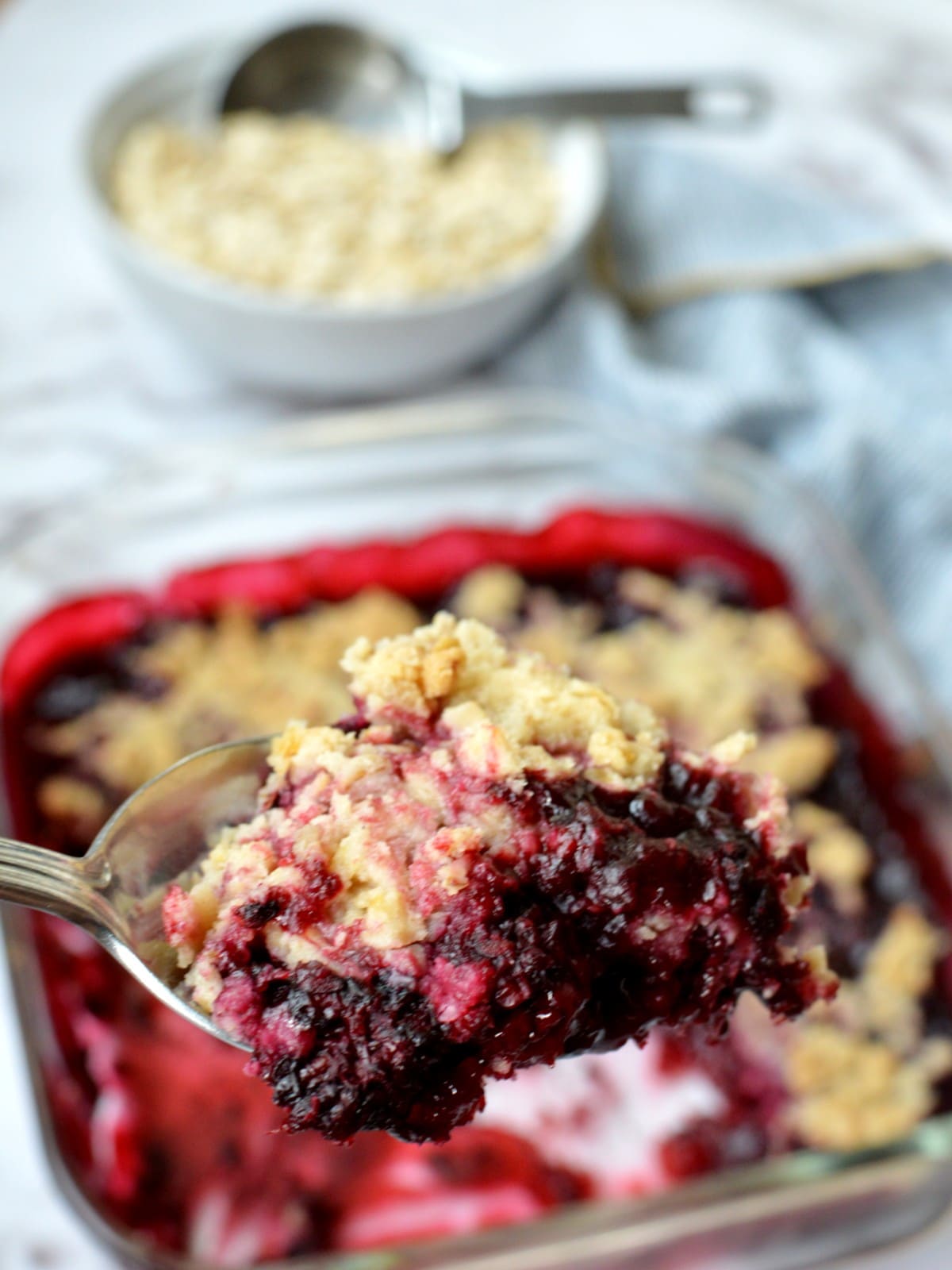 This is a close up of a gluten free blackberry crisp with frozen blackberries. You can see how jammy the blackberries look.
Where can I find frozen blackberries?
Good question because they're not always easy to find. If I can't find them I simply buy two big bags of frozen mixed berries and remove the blackberries for the crisp.
I then freeze the rest of the mixed berries for smoothies, crisps, and popsicles which I make ALL the time. If you will never use the rest of the frozen berries then stick to fresh.
Topping to blackberry ratio
This recipe makes a decent amount of topping and here's why:
It's better to have too much than not enough. You don't have to use it all.
I recommend to put as much topping as you prefer on the crisp. If you don't have any leftovers then great but if you do all the better! Here's what to do with it!
Put the leftover topping in a ziploc baggie and put it in the freezer. You now can make an individual crisp any time you want. Simply fill a ramekin with frozen berries and stir in a half teaspoon of sugar and cornstarch then add as much topping as you prefer. Bake until hot in the center and bubbly around the edges.
Ingredients
Fresh or frozen blackberries - If you're unsure be sure to read above to find out which one is best.
Cornstarch - To thicken up the blackberries a bit.
Sugar
Brown sugar
Lemon - A little bit of juice brightens up the blackberries so nicely. Just be sure to buy a lemon and not the bottled stuff. The zest also adds the perfect something to the topping.
Gluten free all purpose flour - I love Bob's Red Mill 1:1 All Purpose Flour and so this is what I buy, use, and recommend most of the time. I haven't tried this recipe with any other gluten free blend.
Old fashioned oats - Make sure you buy gluten free oats.
Kosher salt - Always kosher never table salt.
Tips & Tricks
The recipe will instruct you to put all the ingredients for the filling into a bowl and stir. Don't skip this step. If you put them all into the baking dish without stirring first the cornstarch can get stuck on the bottom of the pan. You don't want gluey tasting cornstarch in your crisp - yuck!
Other Gluten Free Crisps & Desserts You Might Like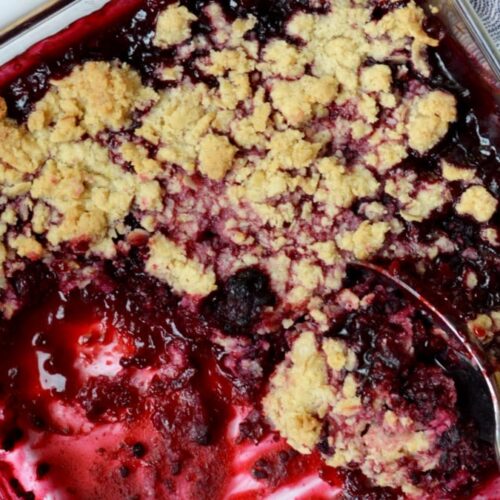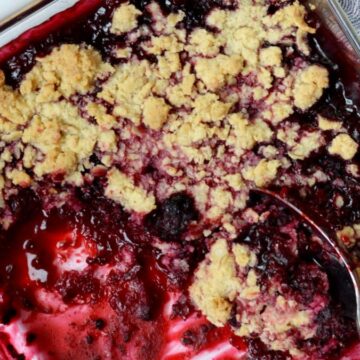 Gluten free blackberry crisp
I am in love with fruit crisps and crumbles but I especially love the tartness of blackberries against a sweet crumb topping and vanilla ice cream. This gluten free blackberry crisp is the perfect summer dessert.
Ingredients
For the filling:
6

cups

Blackberries

Fresh or frozen

1

tbsp

Cornstarch

3

tbsp

Sugar

1

tbsp

Lemon juice, fresh squeezed
For the topping:
1

cup

Gluten free old fashioned oats

¼

cup

Sugar

⅓

cup

Brown sugar

¼

t.

Kosher salt

Zest of ½ a lemon

8

tbsp

Unsalted butter, cold & small diced
Instructions
Preheat the oven to 350 degrees Fahrenheit. In a large bowl combine all the filling ingredients and stir really well with a large spoon until all the berries are well coated.

Pour filling mixture into an 8 by 8 baking dish and set aside.

In a large bowl stir together all of the topping ingredients except the butter. When all is combined add the cold cut up butter and work it into the flour mixture with your fingers. Keep working until a thick mixture forms similar to cookie dough.

Evenly spread the topping over the blackberry mixture. Add as much topping as you prefer on a crisp.

Bake at 350 degrees Fahrenheit for 60 minutes until the outsides of the crisp are bubbling and the inside is hot,
Notes
If you like your topping to be softer and less "crisp" simply add ¾ cup of old fashioned oats instead of 1 cup. 
If you like the crisp to be jammier then use frozen blackberries instead of fresh.