Follow this recipe to make perfect gluten free ladyfingers. These sweet meringue cookies are essential for a delicious gluten free tiramisu.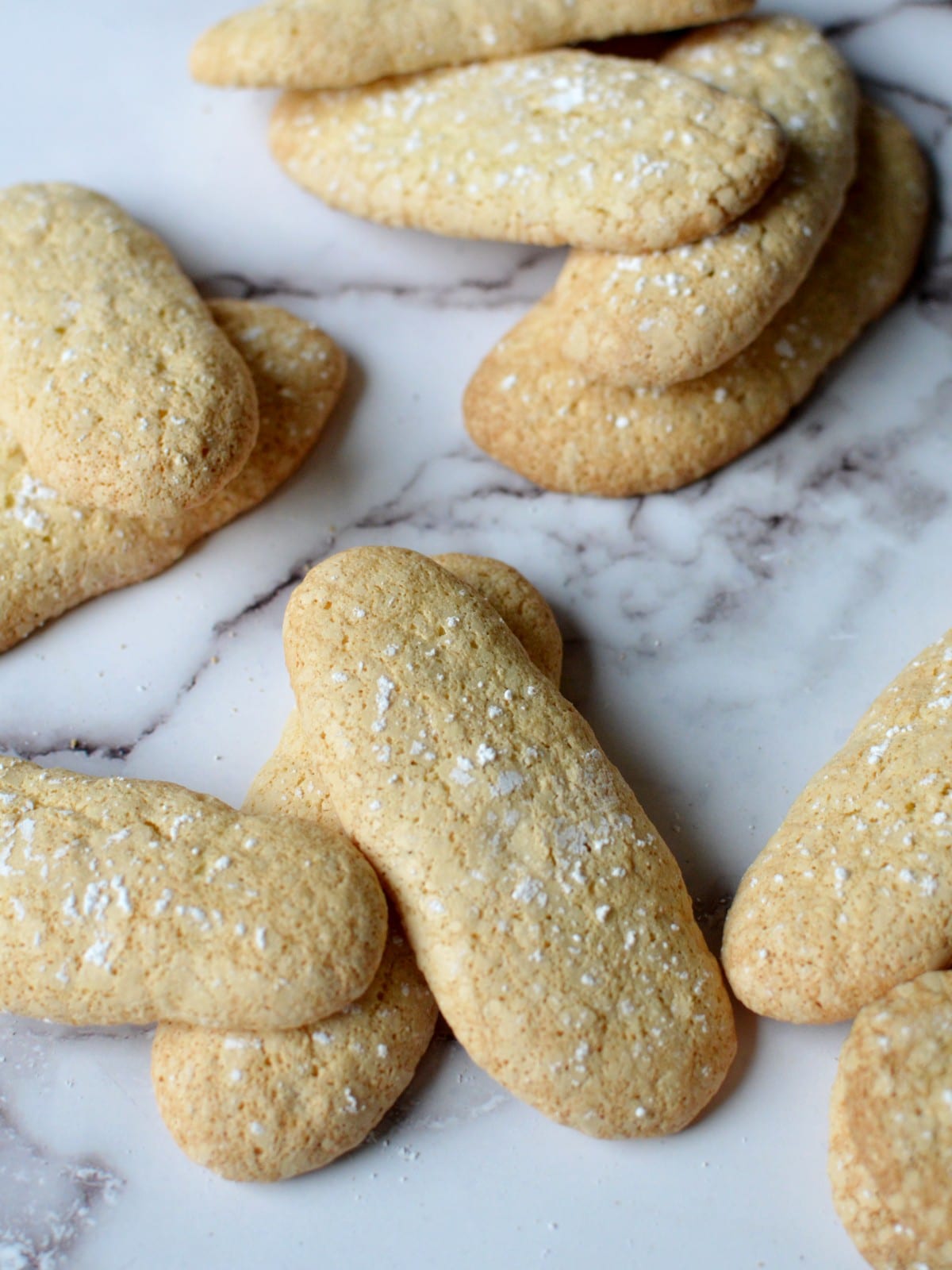 Gluten free ladyfingers can be pricey and hard to find. I searched three grocery stores and I still came up short. As it turns out ladyfingers are made with very basic ingredients that I already had on hand so I did what any crazed baker would do - I made them myself!
Follow this recipe to make delicious ladyfingers perfect for a gluten free tiramisu!
Disclosure: This post contains affiliate links. In other words, if you click a link and purchase something I will receive a commission at no cost to you. I only recommend products I use and enjoy myself.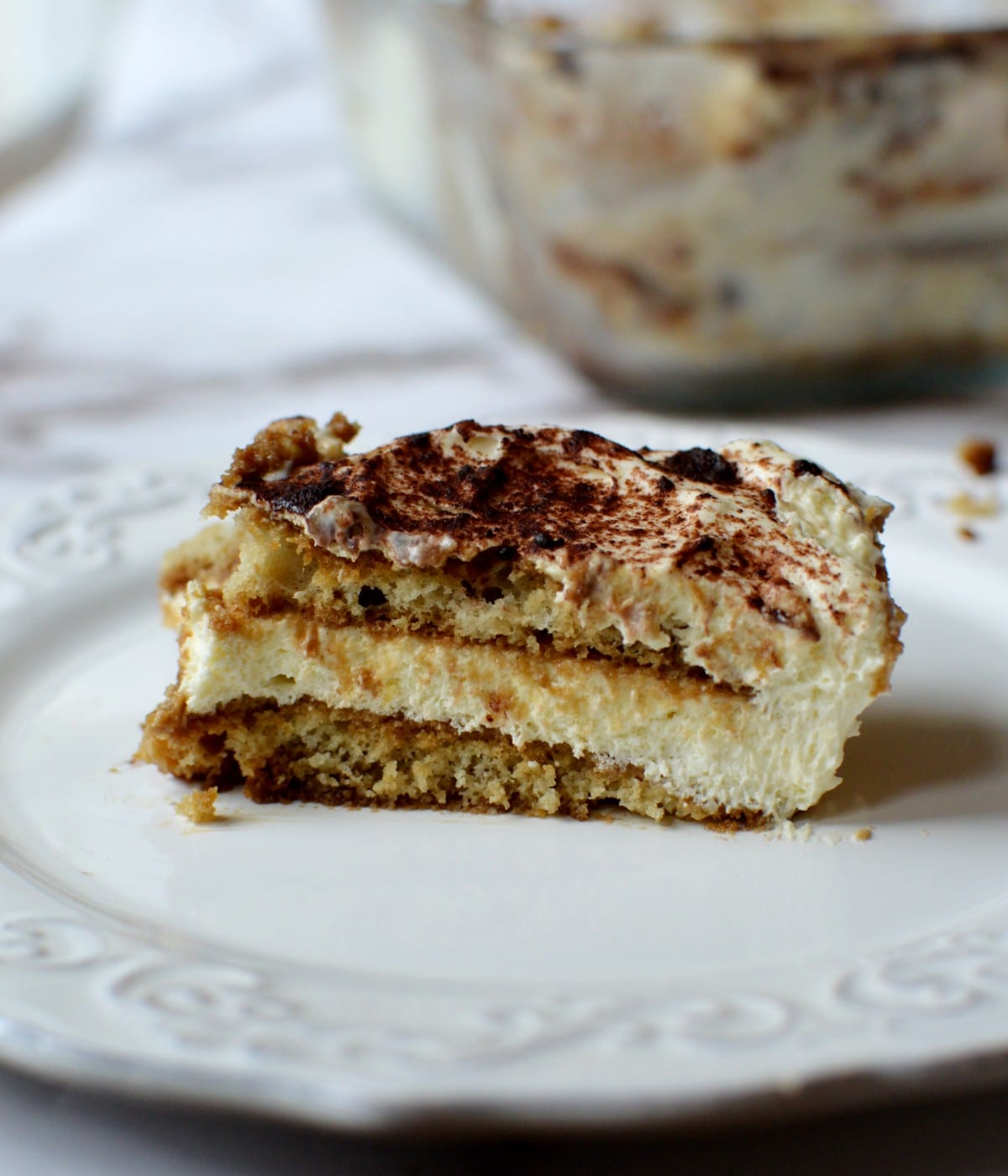 Ingredients
Eggs - The eggs are separated and then whipped. The yolks are whipped with sugar until they lighten in color and gain volume. The whites are whipped separately with sugar until stiff peaks form then they are folded together with the dry ingredients.
Sugar - Sugar sweetens these gluten free cookies but also adds stability.
Gluten free flour - I use Bob's Red Mill 1:1 Gluten Free All Purpose Flour. It's my absolute favorite in terms of taste and texture plus it's easy to find. You can find it at Walmart, Lowe's foods, Target, or Amazon.
Baking powder - Baking powder helps the cookies rise.
How to whip egg whites
Many people think whipping egg whites is tricky and it can be if you go into it uninformed. But if you know what to look for and what to avoid it's truly simple.
Room temperature eggs whip up better so pull them out at least an hour before you intend to make these.
Fat (egg yolk) inhibits the protein in the egg whites from bonding and thus they don't whip or gain volume. I've always known this to be true but I found this article on Serious Eats especially interesting where they tested it out. As it turns out a tinsy bit of yolk won't change the structure but a large drop will mean the whites won't whip! Either way don't risk it! If you get egg yolk in your whites throw them out and start fresh.
Use the whipped egg whites right away. If you let them sit the texture changes and they are harder to fold in without getting small bits of egg white throughout the batter.
Don't stir but use a spatula to fold the egg whites in. Don't stress too much over this just try your best to fold.
And finally - don't overwhip! It's better to slightly under-whip than over-whip. If you over-whip the whites will get watery and grainy.
The egg whites are at stiff peaks when you lift the whisk out of them and some of the whites make points without falling over like the picture below.
How to make ladyfinger batter
Preheat the oven. Line a sheet pan with a silicone baking mat. Have a pastry bag ready with a large round tip. I made a large one out of parchment paper and cut off the end.
Separate the eggs into two bowls. Place the egg whites in the bowl of a stand mixer and the egg yolks in a large mixing bowl.
In the bowl of a stand mixer whip the whites until foamy. While the egg whites are whipping gradually add in a half cup of the sugar and continue to whip until the whites reach stiff peaks. This should take anywhere from 6 to 9 minutes. It will take longer with the sugar in there.
Whip the yolks and half the sugar with a hand mixer until the color has lightened and its gained volume. It should be a pale yellow instead of a bright yellow. This should only take a couple minutes.
Using a sieve sift the flour and baking powder over a large sheet of parchment paper. Then when ready you can simply pick up both sides of the parchment paper and let the flour fall into the bowl.
Fold half the egg whites into the yolks then add in the sifted flour and fold it in. Fold in the the rest of the egg whites.
Everything should be folded in well and the batter should be a very pale color like below.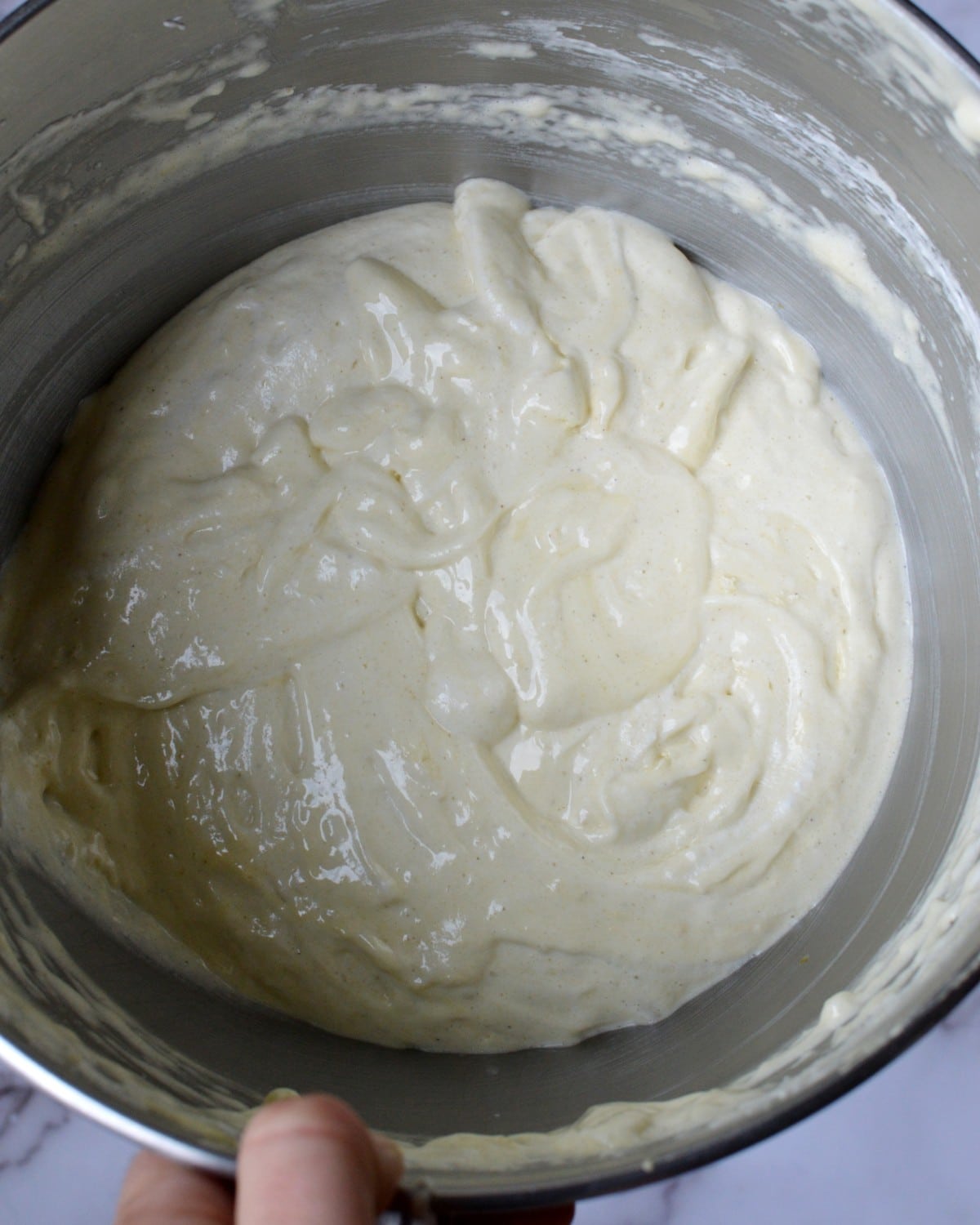 Gluten Free Ladyfinger Tips
If possible use a large disposable pastry bag to pipe the ladyfingers onto the pan. You don't have to bother cleaning it and you can just snip off the end instead of having to use a coupler and tip. If you know how to make a large one out of parchment paper this works too!
Let the ladyfingers cool on the pan and then use an offset spatula to take them off.
The ladyfingers should taste like a dry meringue cookie. This way when you use them for tiramisu they will soak up the coffee and rum mixture.
Other Gluten Free Desserts You Might Love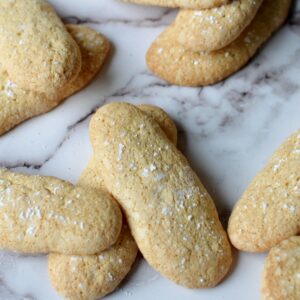 Gluten Free Ladyfingers
Follow this recipe to make perfect gluten free ladyfingers. These sweet meringue cookies are essential for a delicious gluten free tiramisu.
Equipment
Stand mixer and hand mixer (or whisk)

Large mixing bowl

Large piping bag

Silicone baking mat

Sheet pans
Instructions
Preheat the oven to 375 degrees Fahrenheit. Line two sheet pans with parchment paper or silicone baking mats.

In a large mixing bowl whip the egg yolks and half of the sugar until light in color and fluffy. This should take a couple of minutes then set aside.

In the bowl of a stand mixer whip the egg whites until frothy then gradually add the sugar. Continue to whip until they reach stiff peaks - between to 6 to 9 minutes. The whites will have a glossy sheen.

While the egg whites whip sift the flour and baking powder onto a large piece of parchment paper.

Fold half of the egg whites into the yolks and then add the flour mixture and fold it in. Add the rest of the egg whites and fold it in until a light and fluffy batter forms.

Pipe 3 ½ inch long ladyfingers onto the pan at least an inch apart (they will spread some). Dust the cookies with powdered sugar and bake for 12 to 15 minutes. The outsides should be lightly golden and the insides should be dry and crisp.