Make the most of peak-season juicy watermelon chunks in this watermelon banana smoothie! It's the perfect summer pick-me-up, with fresh fruit and no added sugar.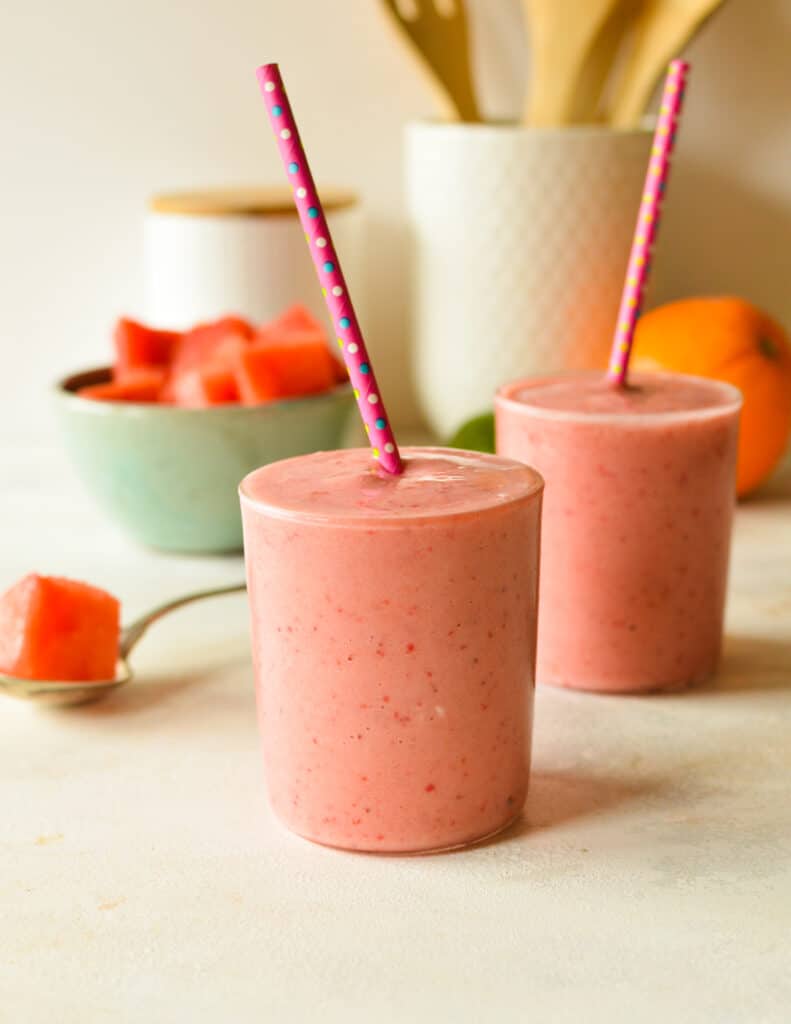 This banana watermelon smoothie is a sweet way to kickstart your morning!
Why you'll love it
Who can resist the taste of a perfectly ripe watermelon as the juice drips down your chin and hands? It's pure heaven. My kiddos beg me to buy a basketball sized watermelon every time we visit the grocery store during the summer and I almost always oblige.
Watermelon is such a tasty snack, but it's also amazing in smoothies! Since a watermelon is 92 percent water and plenty sweet, you don't need to add any sugar and barely any liquid. It's low in calories, jam-packed with vitamins, and super refreshing. Like summer in a glass.
Key Ingredients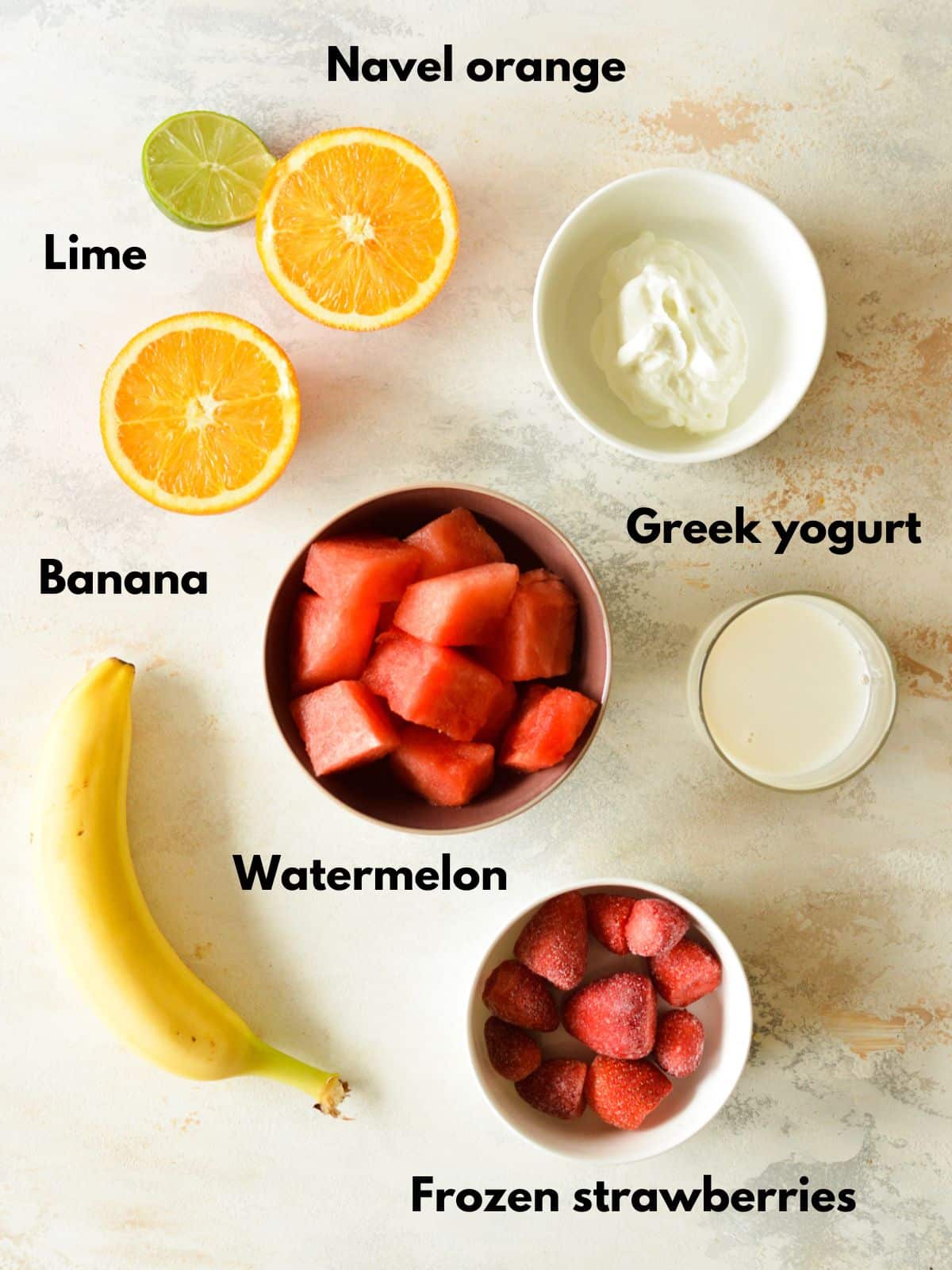 Watermelon chunks - You can buy precut watermelon or cut up a whole one. Just be sure to use a sweet, ripe watermelon! This is a great smoothie to make in the summer when watermelon is in season, but I've made it in the winter with good success too.
Banana - Bananas act as a natural sweetener and thickener. Again, use a ripe banana! Green underripe bananas taste chalky and bitter.
Navel orange - I always keep navel oranges in my fridge for smoothies! They add a pop of sweet citrus and make smoothies so much better. If you don't have an orange, a splash of bottled orange juice works too.
Lime - Limes are rich in vitamin C and antioxidants, plus they bring out the sweetness of the watermelon! Always use fresh lime juice. It's far superior to bottled lime juice.
Frozen strawberries - Frozen strawberries thicken the smoothie without the need for ice!
Greek yogurt - For creaminess and a boost of protein! I always use unsweetened Greek yogurt, since the fruit is plenty sweet.
How to Make a Watermelon Smoothie
Combine the watermelon, banana, frozen strawberries, and Greek yogurt in the base of a high-speed blender. Squeeze the juice from the lime and navel orange into the blender.
Blend until smooth.
Pour the watermelon and banana smoothie into a glass or two and enjoy!
Recipe Tips
Don't add more liquid. It's not a mistake that I only add the juice of an orange and a lime. Watermelon is 92 percent water which means when you blend it, it releases a lot of liquid. If you add more juice or plant milk, the smoothie will be too thin.
Adjust the consistency as needed. If you want the smoothie thicker, add more frozen strawberries to thicken it.
Use a ripe watermelon! Ripe watermelons are sweet and juicy. Unripe watermelons taste bland and diluted.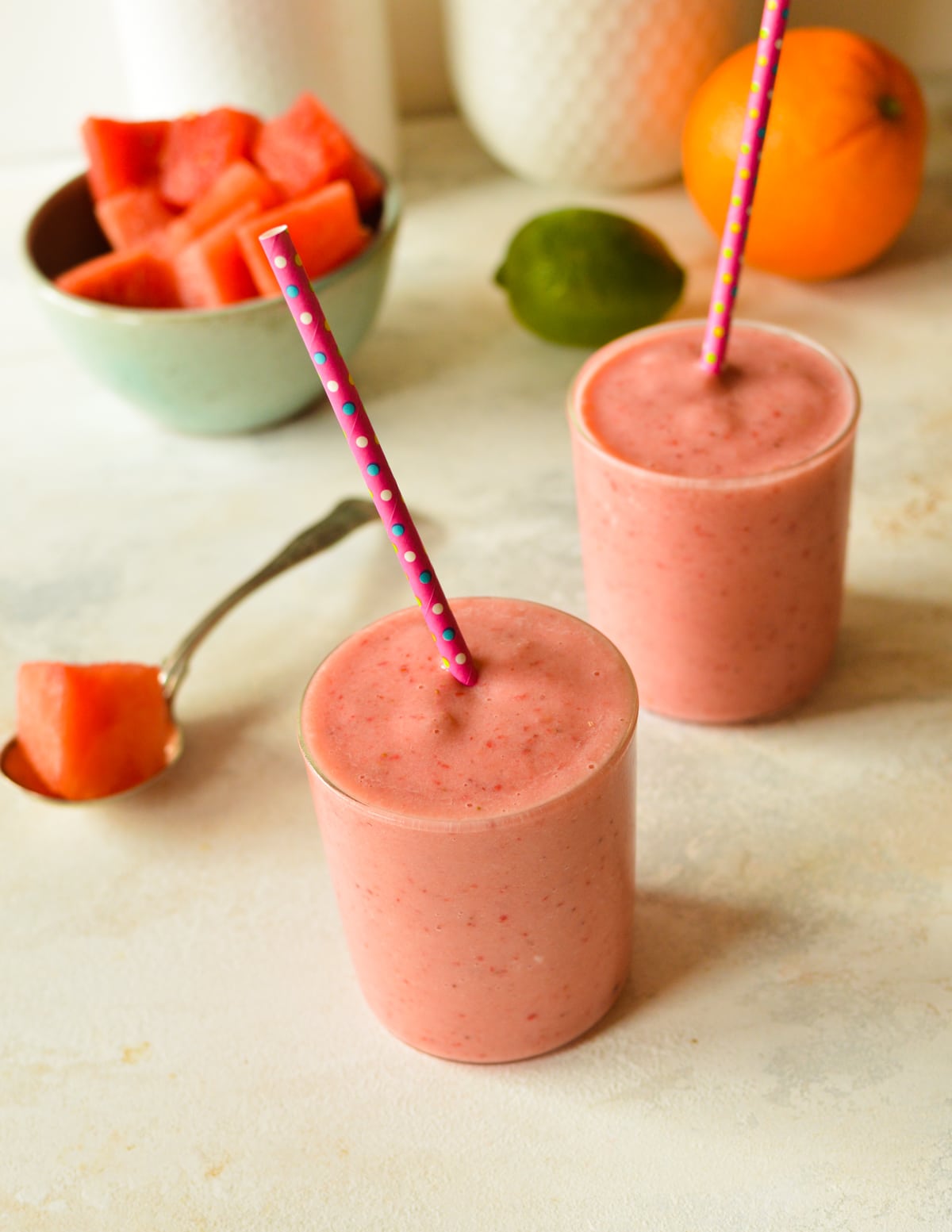 Storing Tips
Smoothies should be enjoyed freshly made, otherwise the frosty texture suffers. That being said, if I don't finish my smoothie I like to pour into popsicle molds and freeze. Homemade smoothie pops make a refreshing treat/snack!
Variations
Make it dairy-free - Swap the Greek yogurt with unsweetened dairy-free yogurt, like almond milk or coconut yogurt.
Change up the fruits - Swap the frozen strawberries with frozen mango, pineapple, raspberries, or peaches! Just be sure to use frozen fruit to thicken the smoothie.
Health Benefits of Watermelon
This sweet fruit is full of health benefits!
It's hydrating! There's a reason watermelon is so juicy and fresh. It's made up of 92 percent water. Staying hydrated is crucial for all your major organs to function properly.
It's rich in vitamins and antioxidants, including vitamin C, carotenoids, lycopene, potassium, and magnesium. Antioxidants fight free radicals, unstable molecules that can damage your healthy cells.
It's good for your heart. Watermelon is rich in lycopene. Studies suggest it can help lower cholesterol and blood pressure.
FAQs
Is a watermelon banana smoothie healthy?
Yes! This watermelon banana smoothie is full of fresh fruits with no added sugar! Both strawberries and watermelon are a great source of vitamin C and antioxidants, plus the Greek yogurt adds a protein boost.
What is the best fruit to mix with watermelon?
Watermelon is sweet and goes well with most fruits! Try pineapple, mango, raspberries, peaches, or cherries.
Can I use frozen watermelon in this smoothie?
You can use frozen watermelon in this smoothie, but you may need to add more liquid to compensate. If the smoothie is too thick or won't blend well, add more navel orange juice or unsweetened almond milk to it.
How long is watermelon good for in the fridge?
Cut watermelon stored in an airtight container in the fridge will last for up to 5 days. If it starts to look or smell off, throw it out.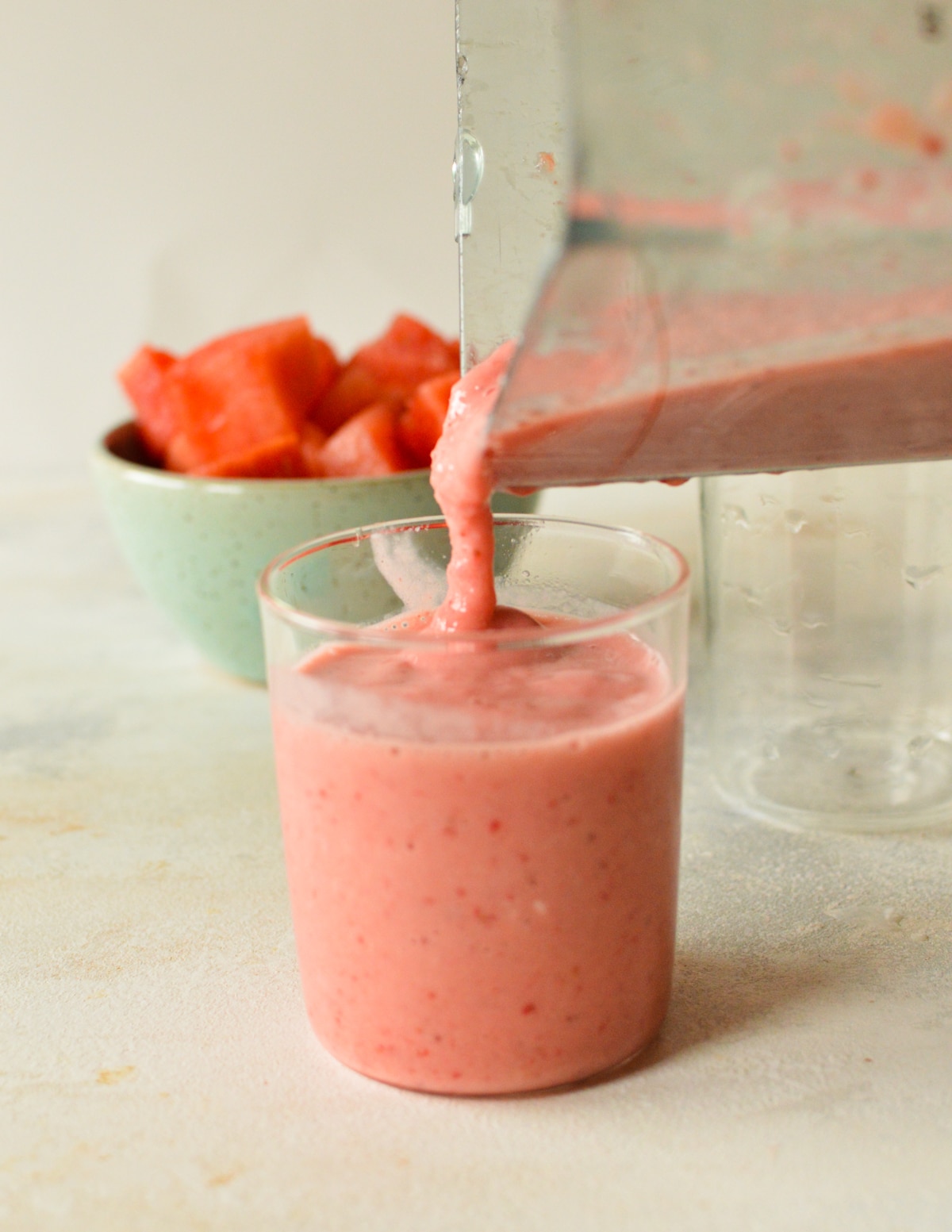 More Smoothie Recipes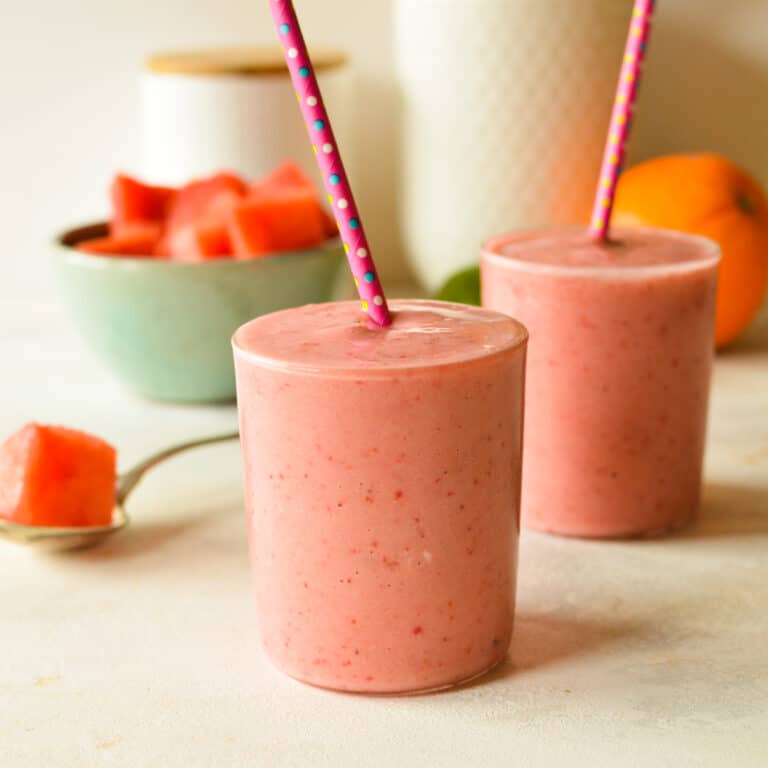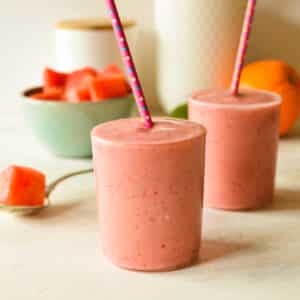 Watermelon Banana Smoothie
Make the most of peak-season juicy watermelon chunks in this watermelon banana smoothie! It's the perfect summer pick-me-up, with fresh fruit and no added sugar.
Ingredients
1

medium banana

peeled

2

cups

frozen strawberries

2

cups

watermelon chunks

⅓

cup

greek yogurt

1

navel orange

cut in half

½

lime
Instructions
In the base of a high-speed blender, combine the banana, frozen strawberries, watermelon chunks, and Greek yogurt.

Juice the orange and lime and add to the blender. You can just squeeze them over the blender so the juice falls inside.

Blend until smooth. Pour into a glass and enjoy!
Nutrition
Calories:
204
kcal
Carbohydrates:
48
g
Protein:
7
g
Fat:
1
g
Saturated Fat:
0.2
g
Polyunsaturated Fat:
0.4
g
Monounsaturated Fat:
0.2
g
Cholesterol:
2
mg
Sodium:
17
mg
Potassium:
782
mg
Fiber:
7
g
Sugar:
31
g
Vitamin A:
1103
IU
Vitamin C:
148
mg
Calcium:
109
mg
Iron:
1
mg