It's not hard to tell if spinach has gone bad! A simple look, smell, and feel will tell you if it's time to ditch it. Learn how to spot bad spinach, and how to prevent it in the first place.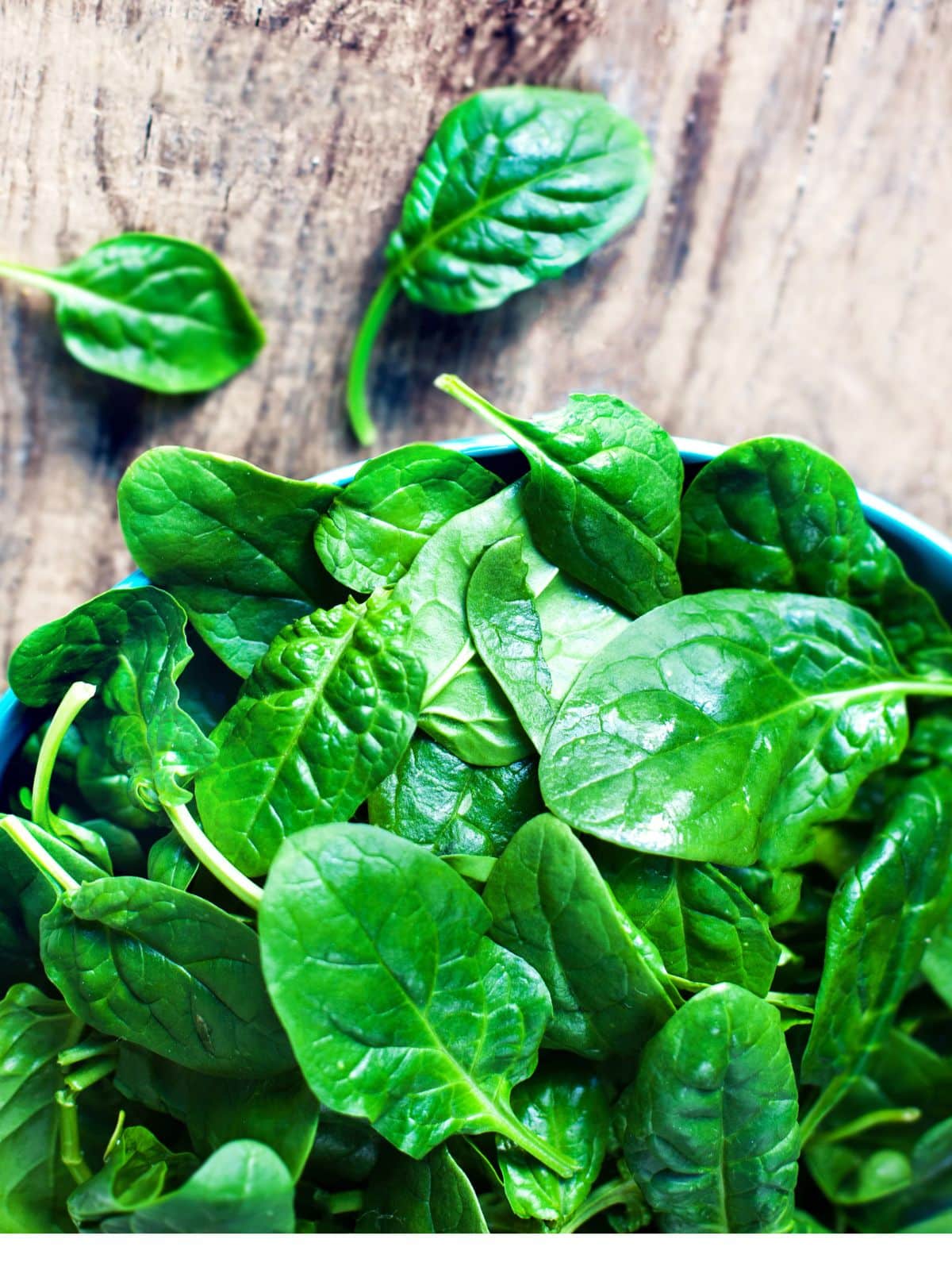 Spinach is a versatile veg that tastes delicious in everything from smoothies and omelets to pasta, soup, and salad! I keep spinach in my fridge at all times, so I know how to spot the signs of spoilage. Thankfully, it's super easy!
More important than knowing how to tell if spinach has gone bad is how to prevent it in the first place! I have plenty of tips and tricks up my sleeve, so keep reading.
How to Know if Spinach is Bad
Like a loud person in a game of hide-and-seek, spinach gives itself away! It's very obvious when it's gone bad. It will look, feel, and smell funky. Here's what to look for:
1. It's slimy
Spinach shouldn't look or feel slimy! If it's wet and soggy with dark green spots, it's gone bad. Spinach leaves should be tender but perky, with bright green leaves and no dark spots.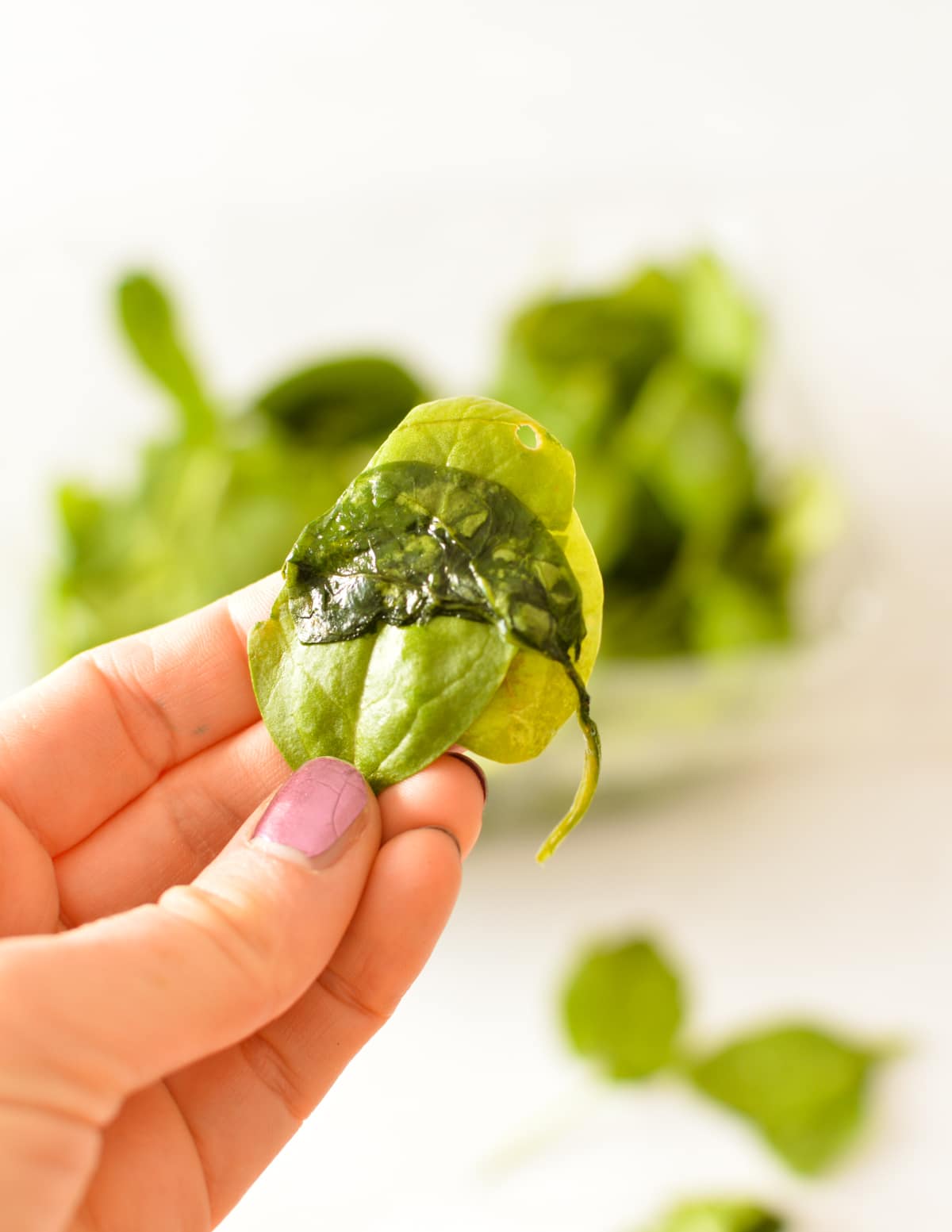 2. It smells funky
If you've ever smelled bad cabbage, you know what I'm talking about. It's a distinctly funky smell that's musty or sour. Fresh spinach has little to no smell, so if the smell hits you in the face once you open the bag, it's probably time to throw it out.
3. It's wilted & soft
Fresh spinach should be mostly dry. A small amount of moisture is okay so long as the leaves look bright green and perky. If the leaves are wilted and soggy, the spinach isn't good anymore.
How to Prevent Spinach from Going Bad
The best way to prevent fresh spinach from going bad is to use it right away so it doesn't have time to spoil!
However, sometimes life gets in the way and spinach gets forgotten, so here are a few other ways to prevent spinach going bad: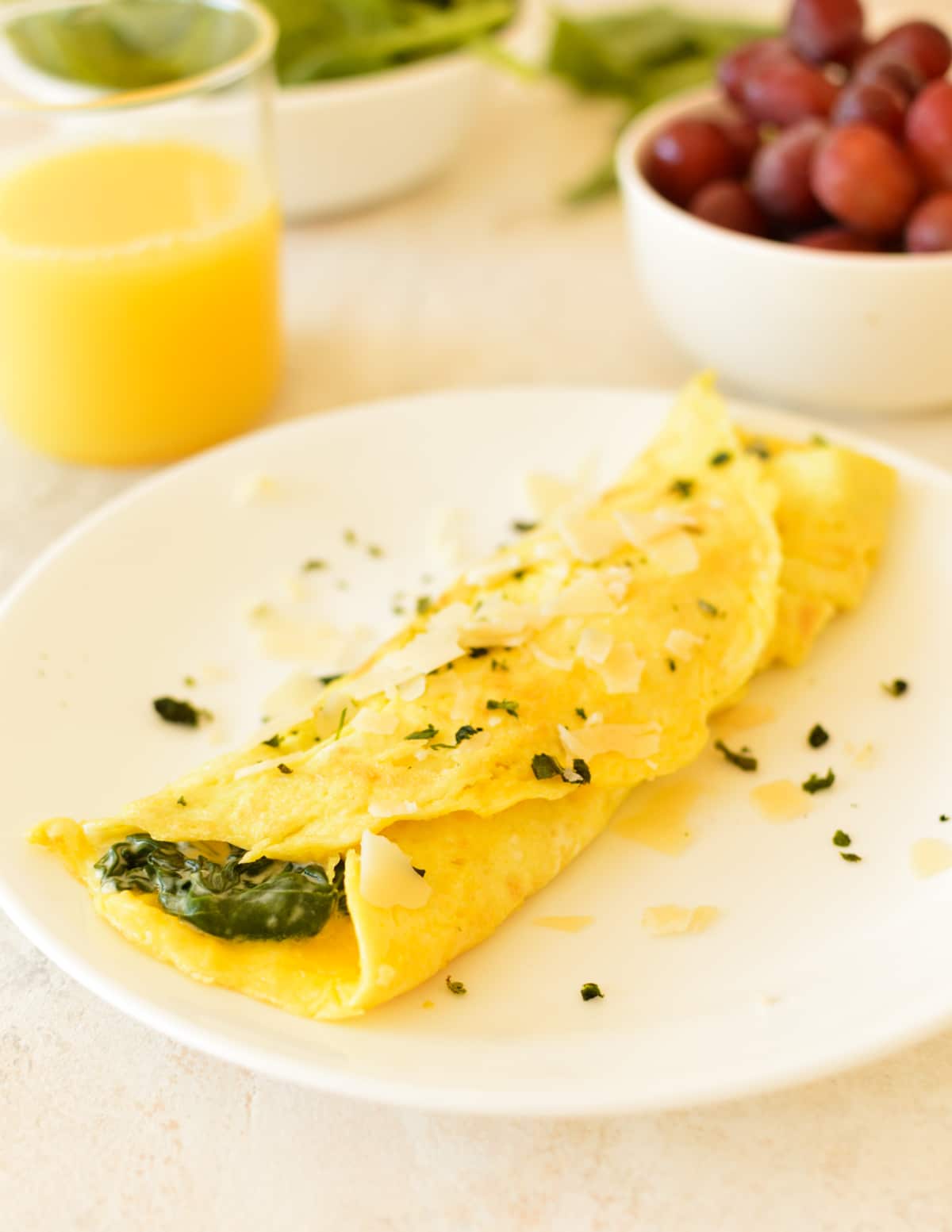 Freeze it. If you bought a bag of fresh spinach with no cooking plans in sight, freezing it immediately is a surefire way to prevent it from going bad. See the directions to do so below.
Store it properly. If you store spinach properly, it will last longer. It only takes an minute of forethought to buy you a couple extra days in the fridge.
Throw it into a smoothie. Spinach is surprisingly mild and goes great in fruit smoothies! The sweetness of the fruits disguises the taste of the spinach and gives you plenty of nutrients.
Scramble it with your eggs! You can totally sauté some spinach and serve it with or in scrambled eggs. Parmesan is a great addition too!
Throw it into a bowl of soup. Spinach tastes great in virtually any kind of soup! And you don't have to make it fresh. If you have a can of soup you love, add some spinach for a boost of nutrients.
How to Properly Store Spinach
The best way to prevent slimy spinach is to store it properly in the first place! Here's what you should do:
Pick out any slimy, dark green, or soggy leaves. Doing so prevents the other leaves from going bad faster.
Lay a paper towel or two in the bottom of a large container. Carefully place the dry spinach on top of the paper towels. The paper towels are there to absorb excess moisture. Moisture is the enemy of fresh spinach!
Place the lid on the container and store in the refrigerator. Replace the paper towel as necessary. If it gets too wet, it will not absorb the excess moisture.
If you have a lot of fresh spinach, you may need to layer the spinach with paper towels instead of just placing it on the bottom.
Wash your spinach right before you plan to use it! In my experience, washing your spinach before you plan to store it makes it go bad faster.
How to Freeze Spinach
Fresh spinach should be blanched before freezing. Blanching just means you submerge the spinach in boiling water for a few minutes, then shock it in ice water to prevent it from overcooking.
You will need a large pot, a large bowl of ice water, and a slotted spoon or spider. Here's what to do:
Bring a large pot of water to a gentle boil. Alternatively, you can steam the spinach in a steamer basket. Steaming the spinach retains more of the nutrients.
Drop the spinach into the boiling water and stir.
Cook the spinach for 2 minutes.
Use the spider or spoon to carefully scoop the spinach into the bowl of ice water and let it sit for 2 more minutes.
Remove the spinach from the ice water and squeeze out the excess moisture.
Transfer the spinach to a Ziplock bag, press out any excess air, and freeze for up to 9 months.
Add it directly to soups and stews or thaw it first in the refrigerator.
Health Benefits of Spinach
Fresh spinach is jam-packed with nutrients, which is why I always keep it on hand! A 3.5 ounce serving of raw spinach boasts a measly 23 calories, with almost 3 grams of protein and 2 grams of fiber. Here's a few of it's best attributes:
It's high in insoluble fiber. Insoluble fiber can prevent constipation and improve your gut health.
It's rich in essential vitamins and minerals. Vitamins A, C, K1, folic acid, iron, and calcium can all be found in spinach! It's especially rich in iron, which transports oxygen to all of your body's tissues.
A great source of plant compounds and antioxidants. Antioxidants have been shown to decrease your risk of certain diseases and cancers, plus fight off inflammation.
Spinach FAQs
What happens if you eat bad spinach?
It's not safe to eat spoiled spinach. Bad spinach can give you food poisoning and make you sick, including nausea, vomiting, and/or diarrhea. Always throw away spoiled spinach instead of eating it.
How long can spinach last in the fridge?
If spinach is stored properly, it can last up to 10 days in the refrigerator. I've found my spinach doesn't usually last that long though. Be sure to look it over to make sure it's good before you cook it.
Why does spinach expire so fast?
Moisture causes spinach to go bad quickly. If you can keep the spinach dry, it will stay fresh longer. To do this, place a dry paper towel in a container and place the dry spinach on top. Put the lid on the container and store the spinach in the fridge.
Spinach Recipes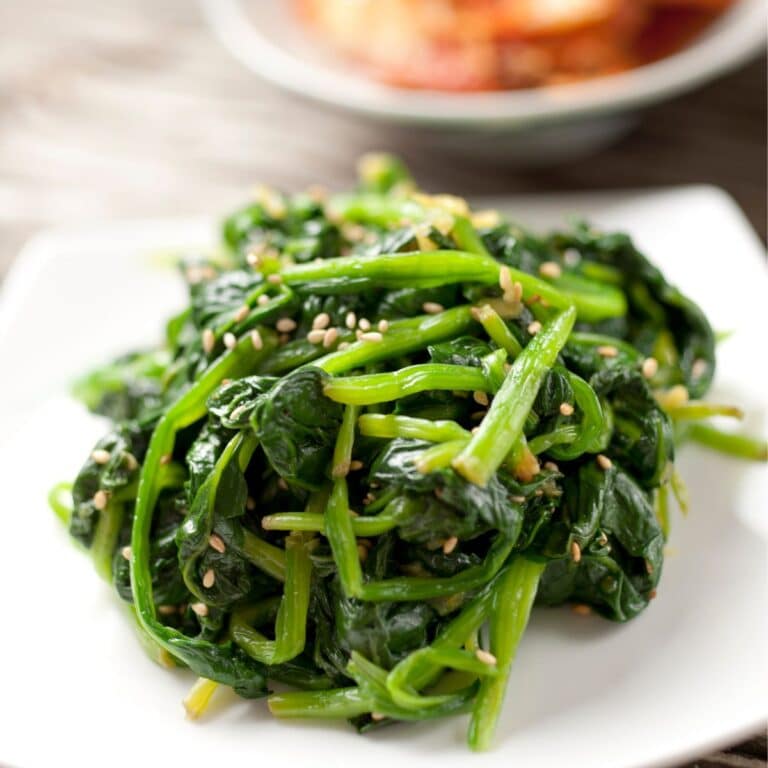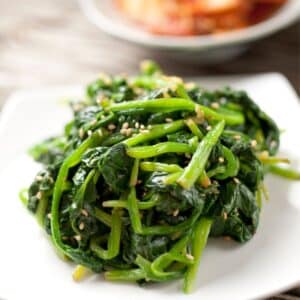 Quick Sauteed Spinach
Sauteed spinach is a quick and simple side dish that goes with nearly anything! You only need three ingredients and less than 10 minutes to whip up this nutritious side.
Ingredients
5

ounces

fresh baby spinach

2

teaspoons

olive oil

1

garlic clove, minced
Instructions
In a large nonstick skillet over medium heat, add the olive oil.

Once the olive oil is hot, add the garlic and cook for 30 seconds or so, until the garlic is fragrant.

Add the baby spinach and cook until wilted, stirring as necessary. Season with kosher salt and freshly ground pepper, then stir again.
Nutrition
Calories:
54
kcal
Carbohydrates:
3
g
Protein:
2
g
Fat:
4
g
Saturated Fat:
1
g
Polyunsaturated Fat:
1
g
Monounsaturated Fat:
3
g
Sodium:
56
mg
Potassium:
402
mg
Fiber:
2
g
Sugar:
0.3
g
Vitamin A:
6646
IU
Vitamin C:
20
mg
Calcium:
73
mg
Iron:
2
mg